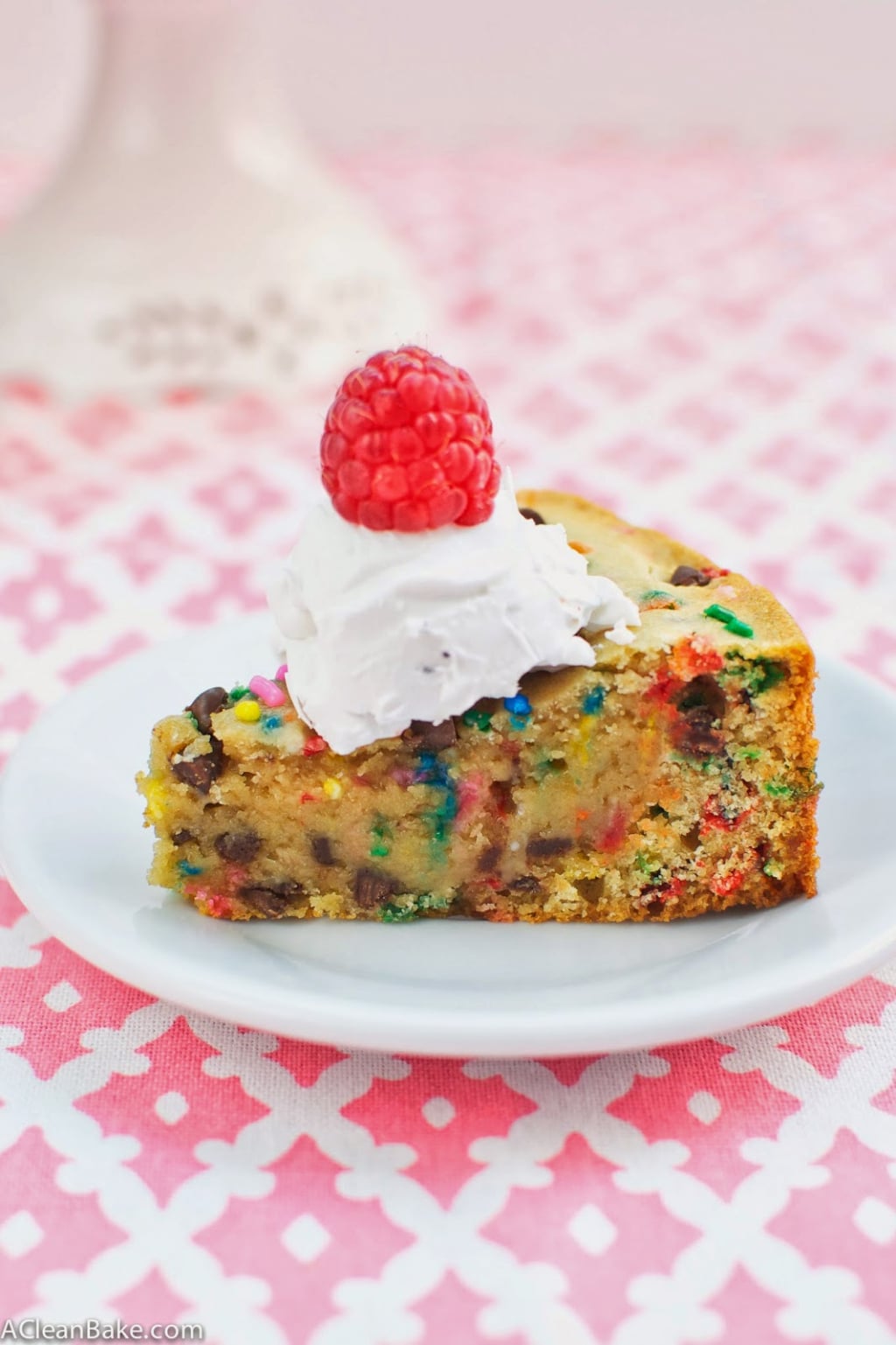 Today marks 1 year to the day since I decided to impulsively launched a baking blog. I don't know what I was thinking. I was bored, I guess, and proud of finally piping some frosting onto the top of a batch of cupcakes in a way that did not resemble dog poo. TMI? Well, it's the truth.
It's been a long year, filled with many challenges, as every year tends to, but many causes for celebration as well. Many significant causes for celebration, in fact. I felt like I should have taken the opportunity to throw a huge party for any one of them, but I was too sick and too exhausted. Now, as I begin to feel better every day, I'm ready to celebrate! Let's start with cake.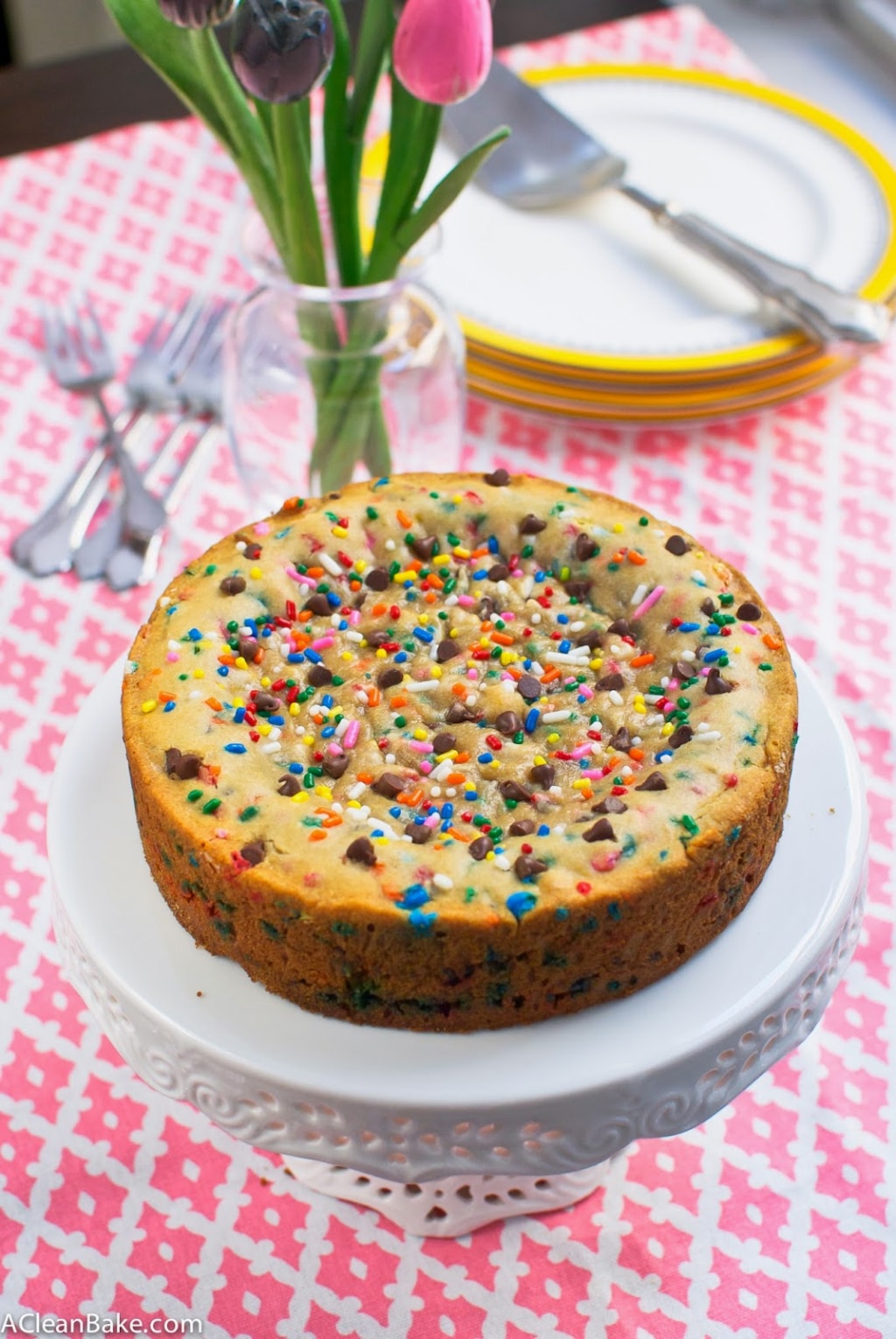 The truth is that although I love to bake them, fancy cakes really aren't my thing, and all I ever want is a good cookie. So, to celebrate this momentous occasion, I made a cookie cake, and of course added sprinkles, because nothing says celebration like brightly colored tubes of chemicals! I realize sprinkles do not even closely resemble healthy or clean food, but I decided that in moderation, for a special occasion, it didn't bother me. You can feel free to leave them out. This will not alter the recipe is any way other than aesthetically. I also realize that, for a blog that is about 5 minutes old, we have a relative plethora of chocolate chip cookies, but I promise this is the last one for awhile. Kinda. Maybe.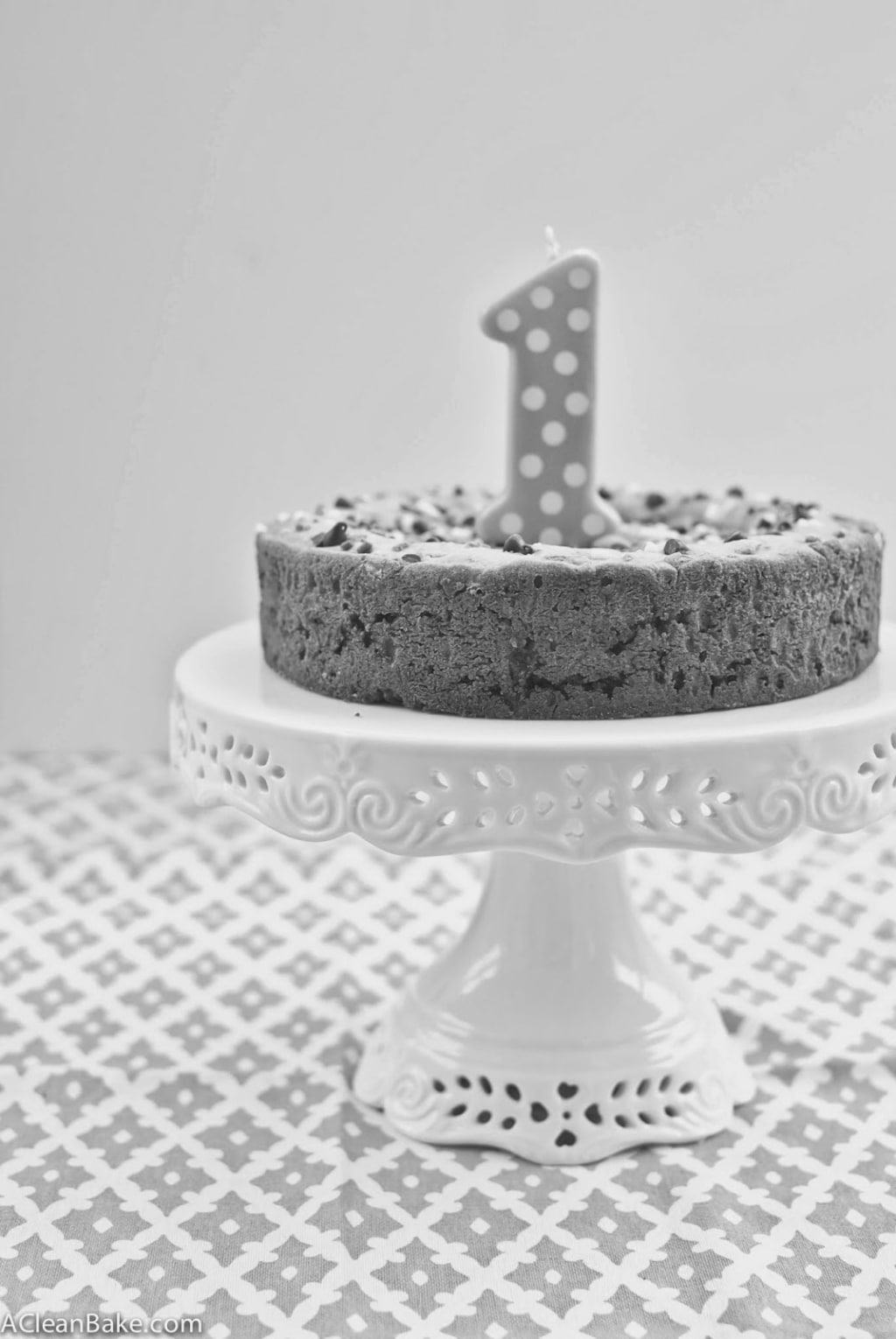 With or without the sprinkles, this cake is definitely going to be an unexpected hit. It only requires one bowl, a fork or whisk and some elbow grease (or a bowl and mixer, no grease!). It is moist and rich, chocolatey and sweet (but not too sweet!). It bakes up firmly around the edges, but still soft and gooey in the center, and the soft center collapses into itself just enough to create the perfect well to accommodate a few scoops of ice cream – I recommend the coconut milk variety; it's incredible – or whipped cream/coconut cream.
I splurged a little bit in the sugar department and used semi-sweet chocolate chips, but you can go with chopped up dark chocolate for a lower-sugar option. The ideal option would be mini dark chocolate chips, but I can't find them anywhere. If you happen to know where to get such a thing, please leave me a comment below!
You can also easily swap in a dairy-free brand of mini-chocolate chips, such as Enjoy Life brand, and if you want to make it completely vegan, you should be able to swap out the egg + yolk for 1.5 flax eggs (see this page for a how-to) but I have not tried it. I do know that it won't brown as much if you use flax eggs, so keep that in mind for baking time.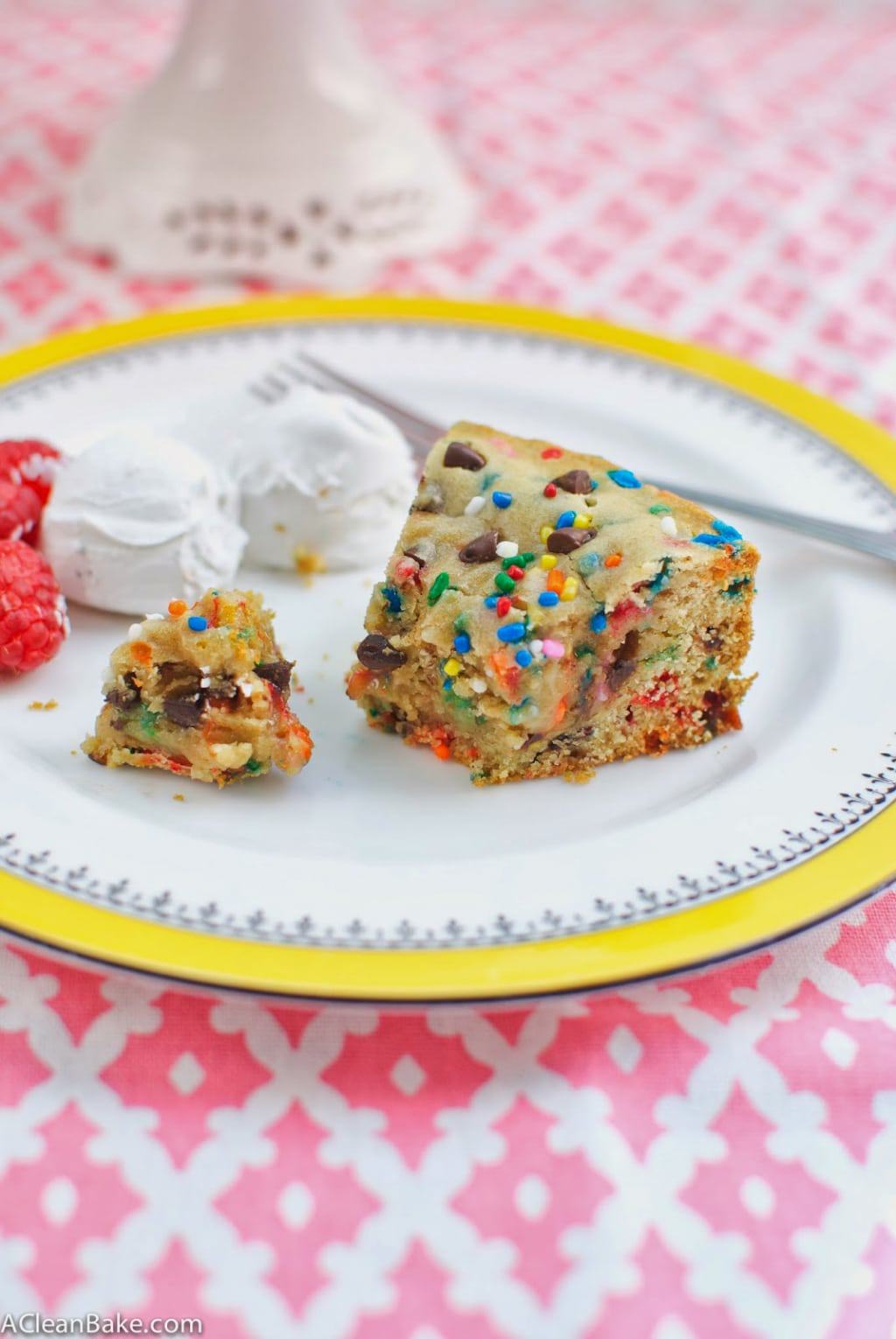 Keep in mind, though that the sweetness of the batter accommodates the semi-sweet chocolate chips, especially if you do decide to swap in dark chocolate. Luckily, as with most of my cookie recipes, you can feel free to adjust the sweetness to taste. But! Beware that, in this case, the honey adds moisture in addition to sweetness. Since reducing the sweetness also reduces the moisture, make sure you are adjusting your baking time toward the "under baked" (15 minute) range, or maybe a minute or two less if you decide to eliminate the sweetener entirely. Conversely, if you prefer not to under bake the cake, and want it less gooey, add 3-5 minutes to the baking time. As you can see, I prefer the under baked version, but whether you go for the gooey version or the fully-baked one, you're going to love this cake!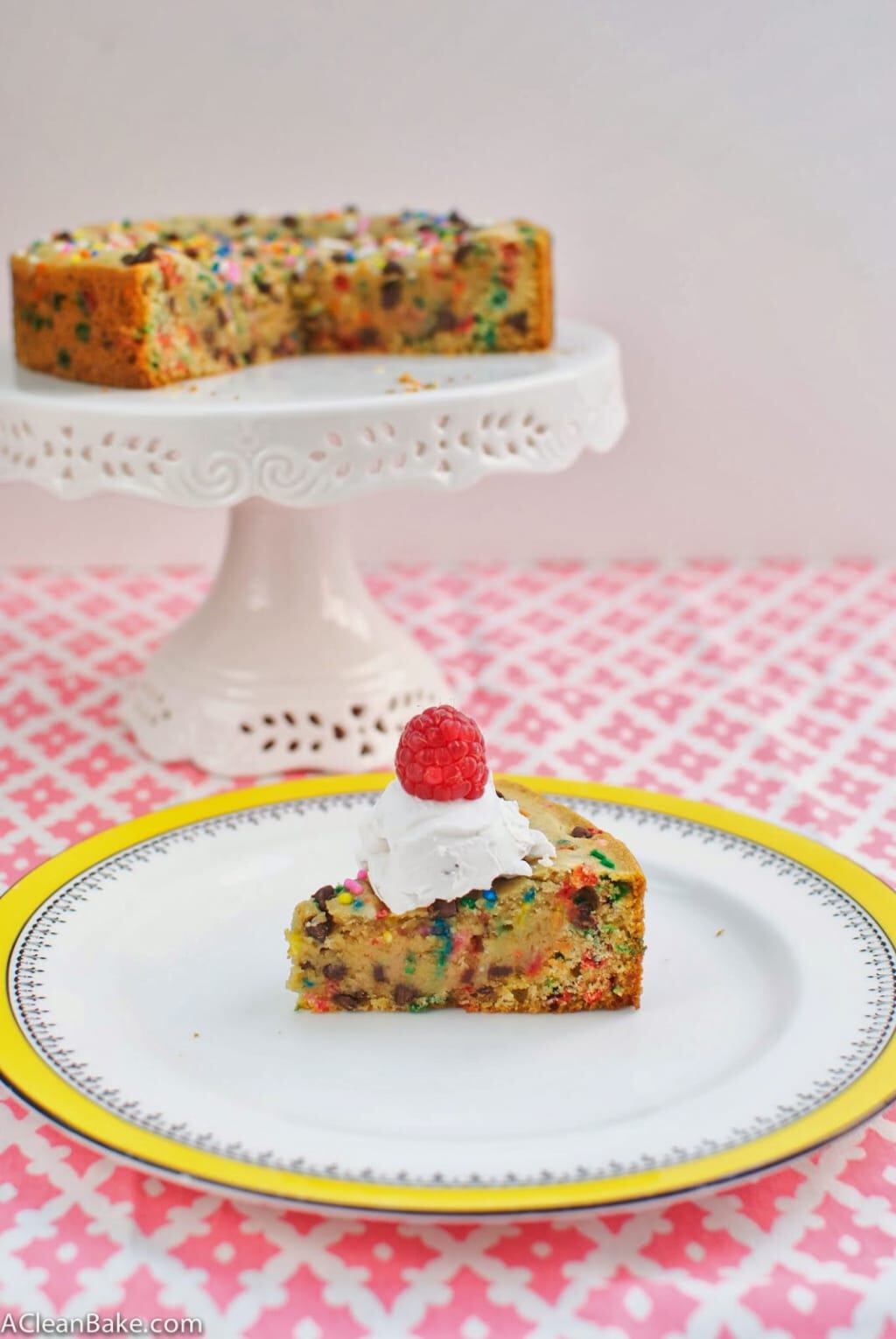 Gluten-Free Deep Dish Chocolate Chip Cookie Cake
Ingredients
1 cup gluten-free oat flour (see note)
1/2 cup sweet rice flour (see note)
1/4 cup potato starch (see note)
Pinch salt
1 teaspoon baking soda
1/4 cup honey (or adjust to taste)
1/2 cup vegan butter, melted (you can substitute regular butter or coconut oil)
1 1/2 teaspoons vanilla extract
1 large egg + 1 large yolk, lightly beaten (or 1 1/2 flax eggs)
1/2 cup mini chocolate chips, or to taste, plus more for garnish
1/4 cup rainbow sprinkles, plus more for garnish
Cooking Directions
Preheat the oven to 350F. Thoroughly grease a 6″ springform pan.
In a large mixing bowl, combine the dry ingredients (flours, salt, baking soda).
Pour the honey into a small mixing bowl or cereal bowl and pour the melted butter over it while it is still warm. This will soften the honey and make it easier to mix. Pour vanilla in and mix to combine, then stir into dry mixture.
Add eggs and whisk or mix until completely combined.
Gently fold in chocolate chips, then sprinkles, except for the portions of each that you are saving for garnish.
Pour into prepared pan. Distribute the remaining sprinkles over the top of the batter, then the remaining chocolate chips over the sprinkles.
Bake for 15-18 minutes until edges begin to turn golden. A tester will likely NOT come out clean. Remove from oven and allow to sit in the pan for 20-30 minutes during which time the cake will continue to firm up while it cools. Serve immediately or transfer to wire rack to cool completely.
Yield: Makes 1×6″ round cookie cake. You can use a 9″ springform pan instead, but your cookie will not be as thick, and you will have to reduce the baking time accordingly.
Note: You may substitute 1 3/4 cups of your favorite good quality gluten-free all purpose flour mix for the first three ingredients. If the batter becomes too dry as a result, add a bit of your milk of choice until the batter thins out just enough to be spreadable – almost the thickness of toothpaste. It should be more moist than drop cookie dough.