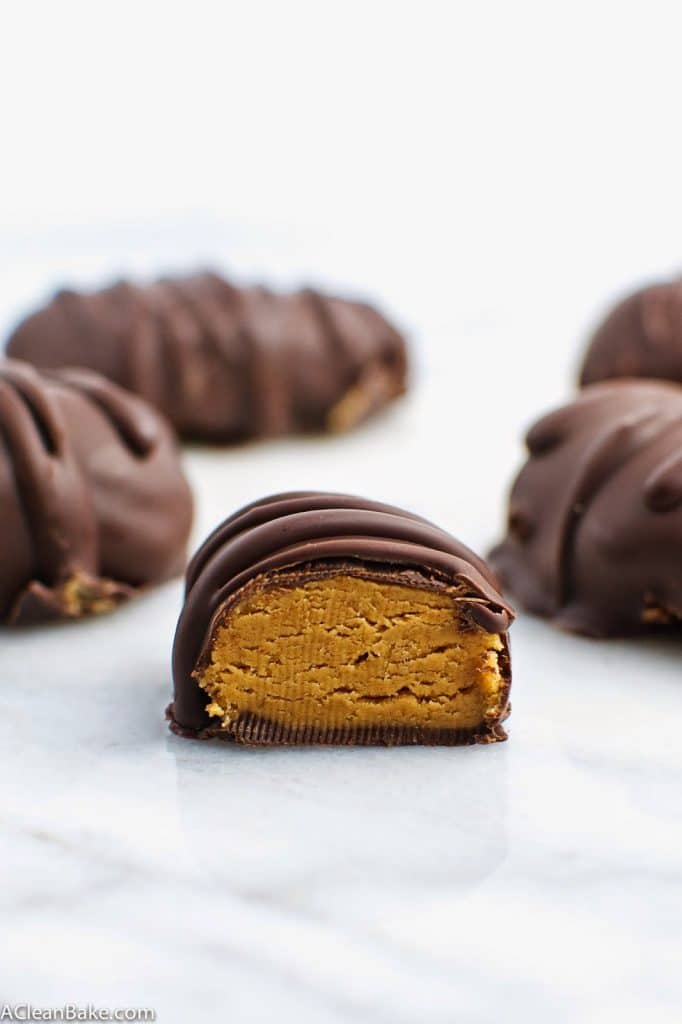 When you grow up in a family that isn't religious, Easter means only one thing: candy. And maybe some other fun stuff in your basket – you never know! But, really, candy.
In my day, kids settled for regular cup-shaped Reese's no matter what time of year it was (thehumaaaaaanity) but these days, modern technology/the Reese's marketing department has afforded us the great luxury of being able to eat our peanut butter cups in the
seasonally-appropriate shape of an egg!
There is something about Reese's in festive shapes that is simply irresistible…until you look at the ingredient label. All the preservatives and stuff aside, there are 21 grams of sugar in 2 PB cups. 21 grams! I am not mentioning this to transition into some sort of health tirade, but just to explain why, when I bit into one recently, all I could taste was sickly sweet sugary mush. All of the chocolate and peanut butter flavor was tragically overshadowed. What a waste.
Not so with the homemade version. The ingredient list is to simple, you'll laugh: peanut butter, honey, coconut flour to get the Reese's texture, and dark chocolate to coat. Or use semi-sweet if you prefer. Add salt, if you want (I did; it complements the sweetness). That's ALL. Easy and no-bake, a quick spin in a food processor is all that stands between you and these crispy-on-the-outside, soft-and-peanut-buttery-on-the-inside, way-better-than-Reese's peanut butter eggs.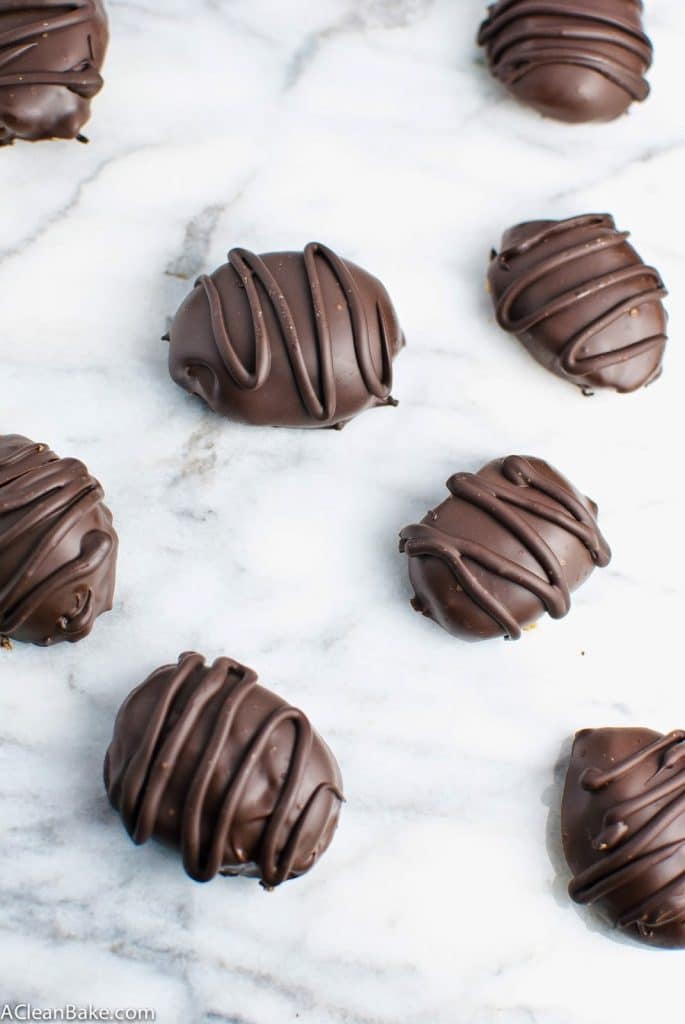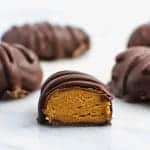 Healthier Copycat Reese's Peanut Butter Eggs
Ingredients
1/2

cup

creamy natural unsweetened peanut butter

or other nut or seed butter

1

Tablespoon

honey or maple syrup

or to taste

1

Tablespoon

coconut flour

or more if your nut butter is very oily

Pinch salt

optional, but recommended

1/2

cup

dark or semi-sweet chocolate chips; use a dairy-free variety if vegan or paleo
Instructions
In the bowl of a food processor, puree together the peanut butter, honey, coconut flour and salt until it forms a mass. If the dough doesn't stick together completely, add a little more flour, 1/2 Tablespoon at a time, until it forms a single mass and the oils are mostly absorbed (it will look matte).

Roll Tablespoons of dough into ball, and then flatten and lengthen between your palms into an egg shape.

Place freeze peanut butter eggs in an airtight container lined with wax paper, for at least an hour, until firm.

Melt the chocolate in the microwave in 30-second intervals, stirring in between, for about 90 seconds total. After the third interval in the microwave, continue to stir until the chocolate is completely smooth and shiny.

Dunk each PB egg into the chocolate and lift out with a fork. Firmly tap the fork several times on the side of the bowl to get rid of the excess chocolate before returning the egg to the wax paper to dry.

Repeat until all of the extra eggs are covered.

Pour the remaining chocolate into a small zip-top bag, squeeze it into a corner, and snip off a tiny piece of the corner of the bag. This will give you a makeshift piping bag that you can use to drizzle the remaining chocolate on top of the eggs.

Allow the eggs to sit at room temperature or in the fridge until chocolate has completely hardened before eating.

Store in an airtight container in the fridge for up to a week.