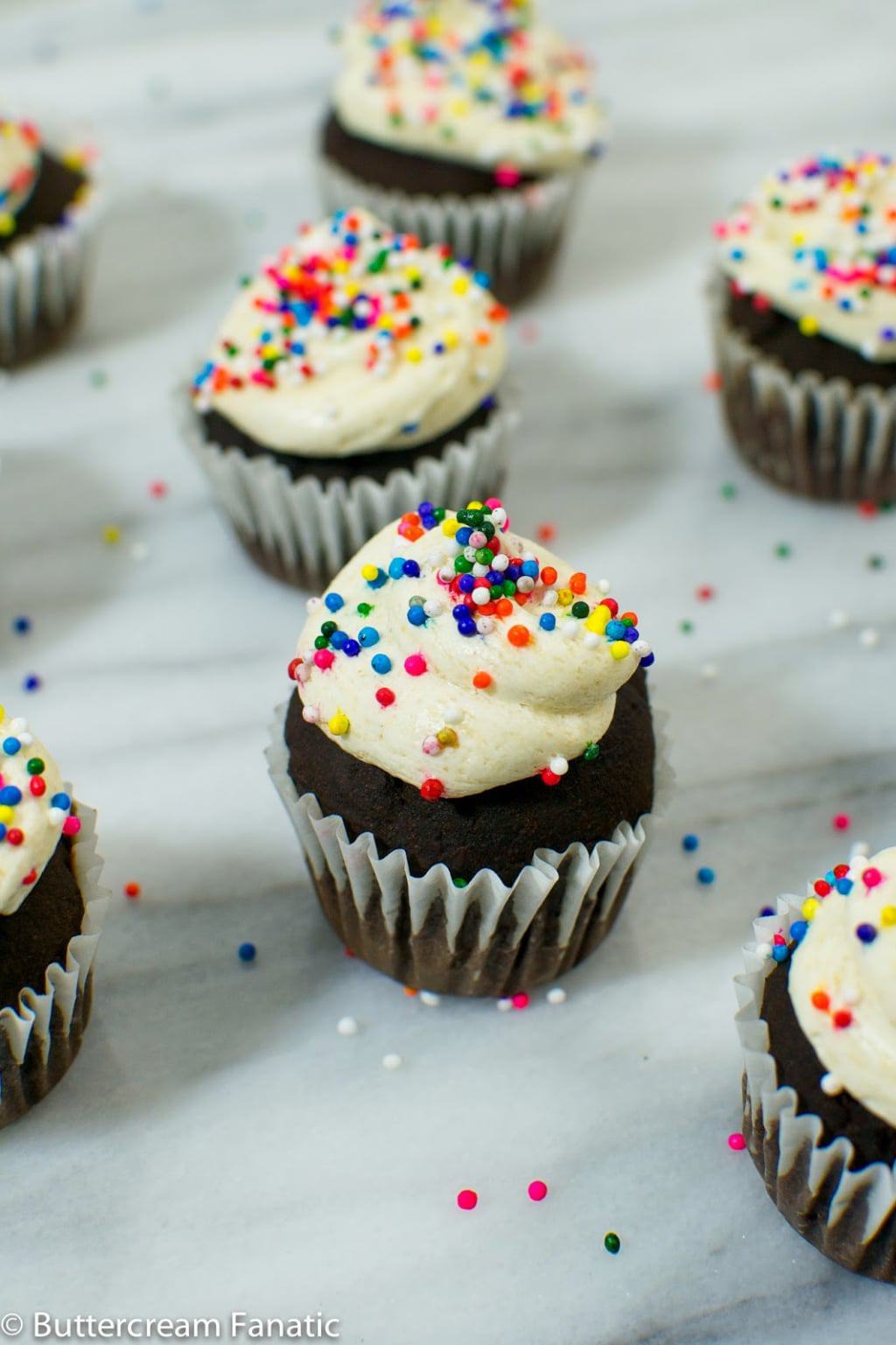 Beware: lots of pictures ahead. I just couldn't resist. There is something so darn cute about these colorful little two-bite beauties. And, man, do they taste good.
The problem with just about every healthy-eating attempt is that sooner or later, you get hungry, or stressed, or sweet-tooth-y and you Need some cake. With a capital "n".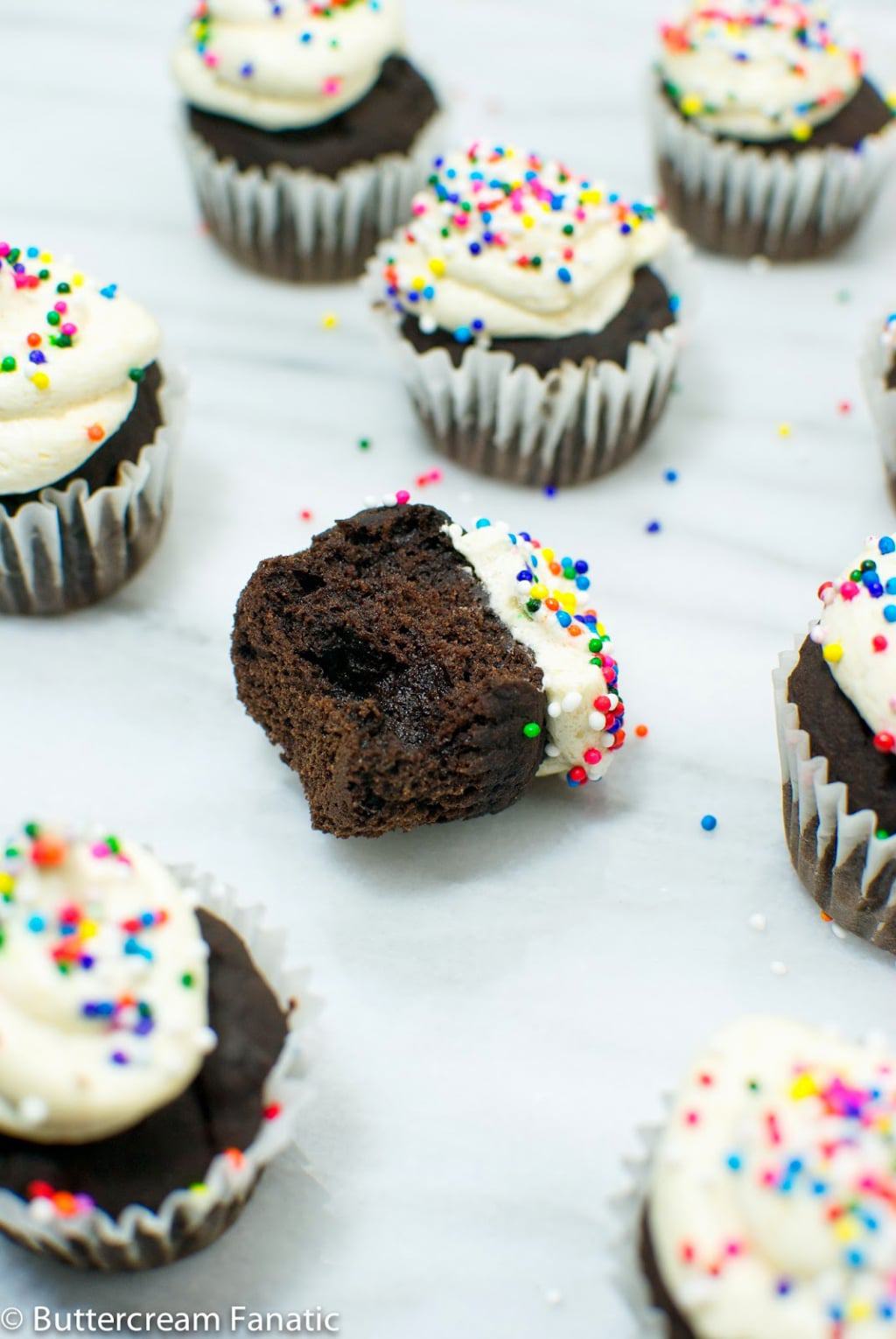 These tiny heroes are the guilt-free answer to your worst comfort-food craving: moist, fat-crumbed, chocolatey and topped with creamy buttercream. Er, "buttercream". These can't possibly be healthy, right? Wrong. Not only are they the size of the palm of your hand (portion control? Nope, just means you can eat twice as many.), they are also 100% gluten, lactose and refined-sugar free (sweetened with beets, maple syrup, and just a touch of stevia, if you can believe that!), but you would never, ever know it.
When I proudly announced to Bryan (taste-tester/skeptic/lover of classic, non-beet-riddled desserts) that I had created the perfect cupcake that didn't taste healthy but was free of all of the allergen-irritating, diet-busting ingredients that a cupcake usually requires, his exact response was something like "ohhh gee, you're really selling me on those". Then he took a bite…and ate three of them in under five minutes. His only critique – said while his mouth was still full by the way, because why stop eating these if you don't have to? – was to ask if these have banana in them. That's his diplomatic way of saying he doesn't like the taste of banana (except in
this
or
this
of course). Yes, there is a whiff of banana in the frosting, but it's barely noticeable. And if that really bothers you, you can feel free to swap in a butter-based frosting (try
this
or
this
).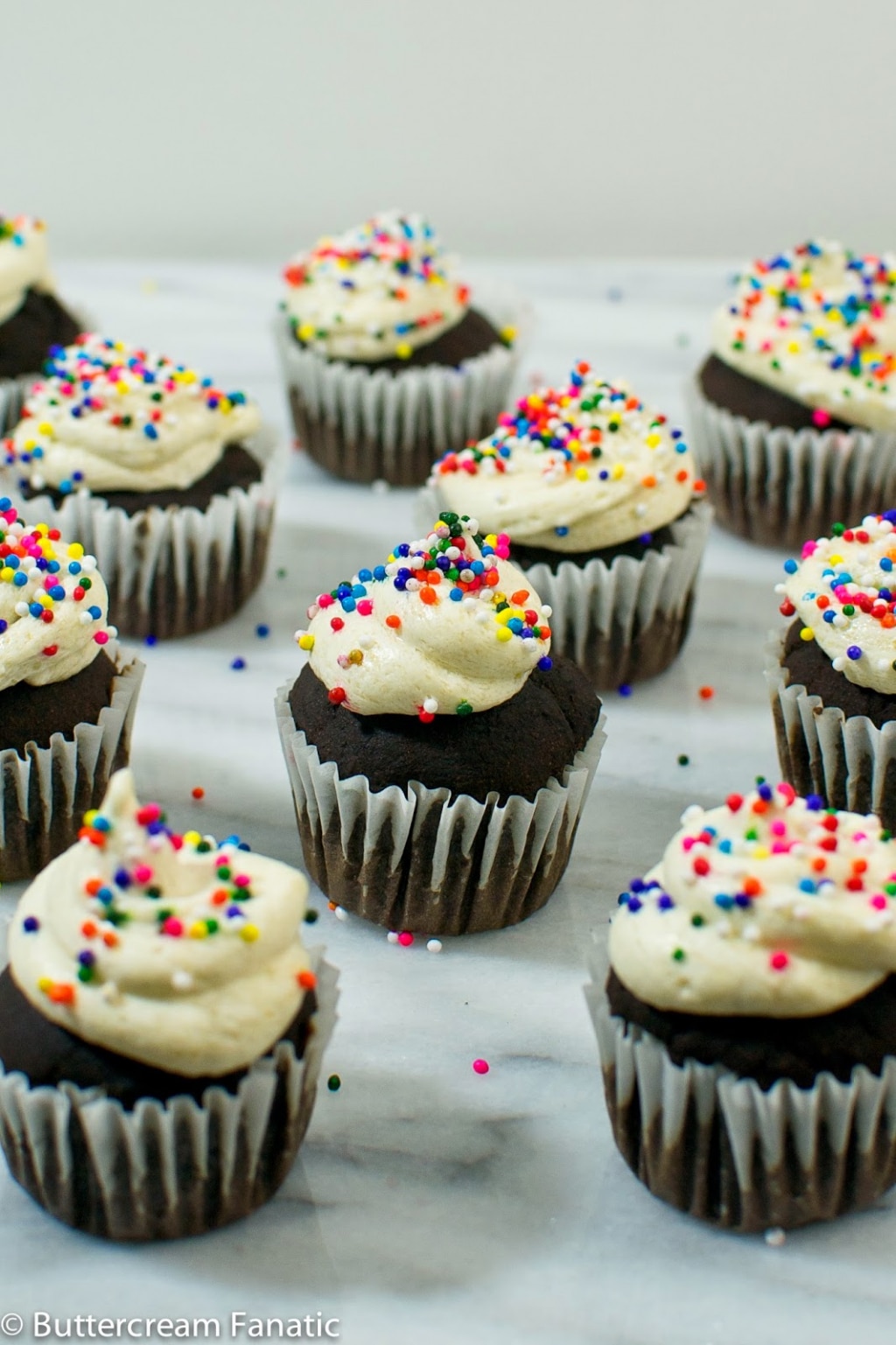 There are two little secrets to making these amazing: first, make sure you are using a great quality vanilla extract in the frosting. Typically, I use the Trader Joe's brand vanilla and it works just fine, but I had no idea how much better it could be until I tried a new brand called
Lagrima
. The vanilla is so pure it comes with the vanilla beans still in the bottle. The company is run by a friend in Seattle, who I happen to know in a completely non-blog-related capacity. He was nice enough to bring me a bottle of the vanilla to try and I can honestly say that it lives up to the hype (by the way, he doesn't know I am writing this, and certainly didn't put me up to this! I just really thought this product was special.).
The second little trick to making these a success is to make the cupcakes a day ahead of time because storing them in an airtight container (unfrosted) at room temperature overnight does something to the moisture that I don't totally understand but completely and totally approve of. Allowing them to sit overnight really is the secret "ingredient". But it won't be the end of the world if you don't have time to make them until just before serving. Just make sure that the cakes are cooled completely before you frost them; don't be afraid to cool them in the fridge if necessary just to be sure. Otherwise, the frosting will slide right off the tops. And then where will you put your sprinkles?!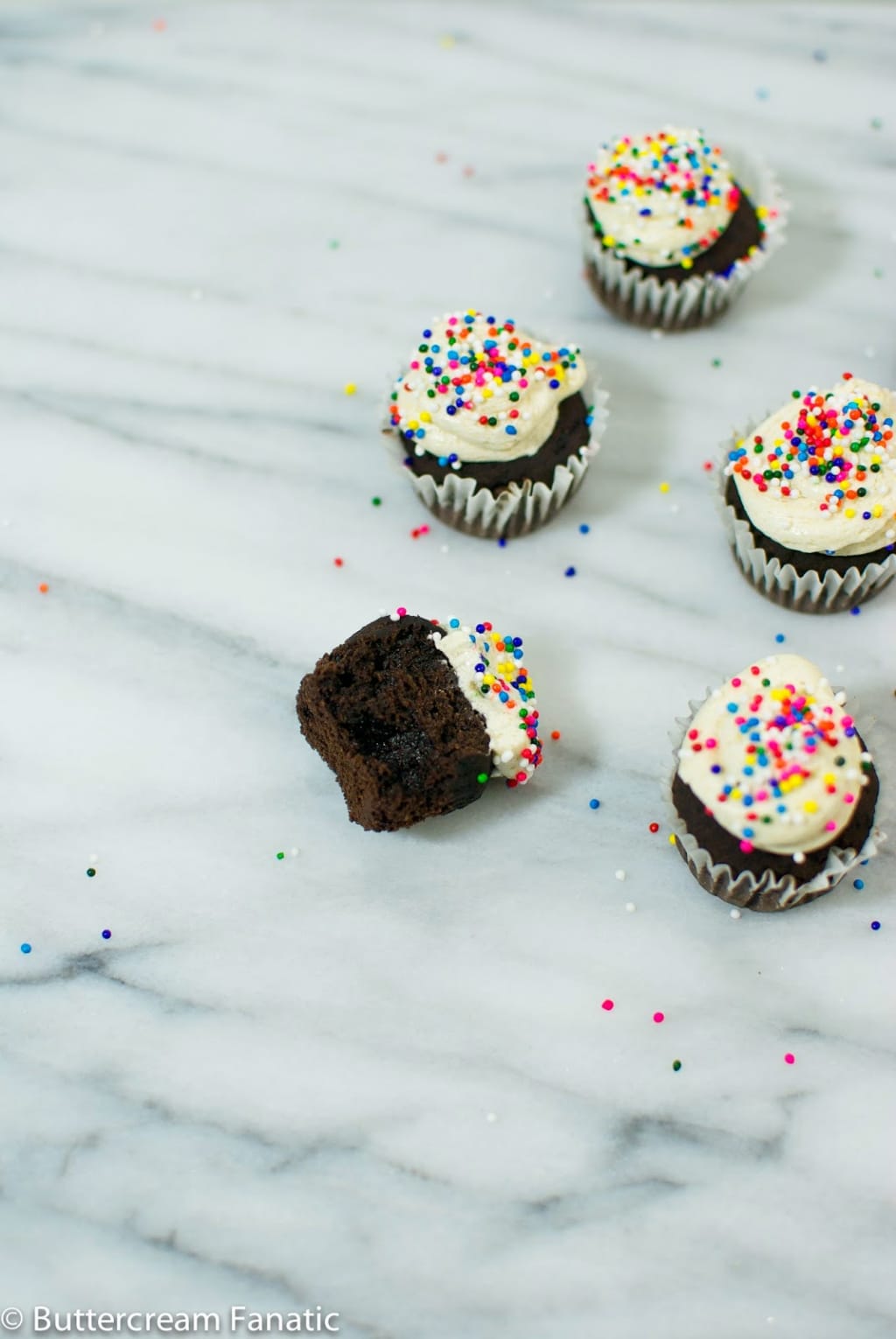 Last but not least, I want to leave you with a request. A pleading request, if you will: please don't be put off by the ingredients in these cupcakes. If you want something light, airy, moist and chocolatey, you've come to the right place. These are like a mini-me version of
the very first recipe I posted
on this page, and man do they taste like it. If these don't prove to you that you can eat well and still stick to your new year's resolution, then I don't know what will!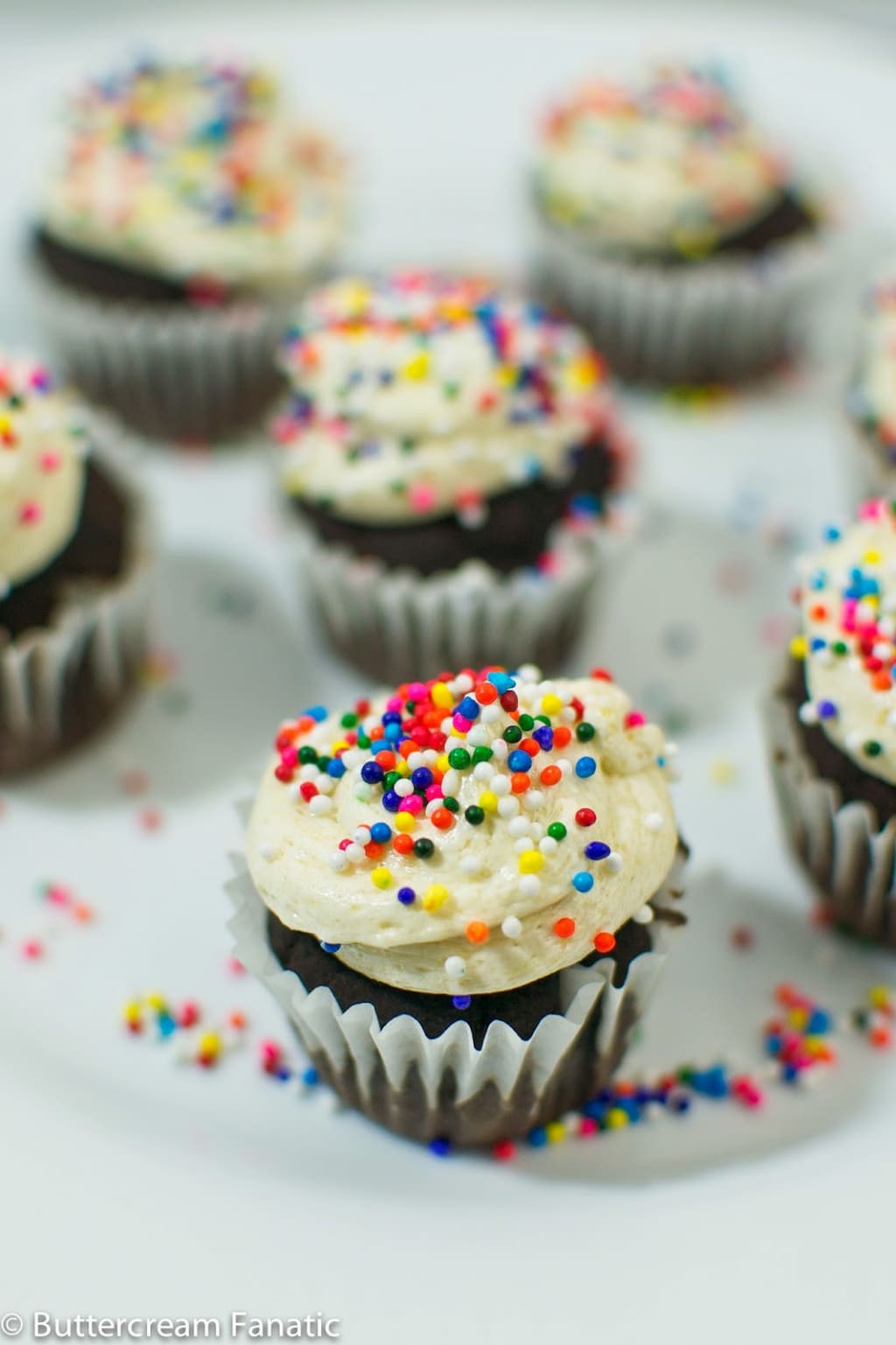 Mini Chocolate Cupcakes with Vanilla "Buttercream" Frosting
Ingredients
Ingredients for the cupcakes
1

egg

lightly beaten

1/2

cup

beet puree

2

Tablespoons

vegan butter substitute

or coconut oil, melted

1/4

cup

+ 1 Tablespoon unsweetened coconut milk

or almond

1/4

cup

good quality maple syrup

1/2

teaspoon

vanilla extract

3/4

cup

gluten-free flour blend

2

Tablespoons

coconut flour

2

Tablespoons

good quality cocoa powder

2 1/2

Tablespoons

powdered Stevia

Pinch salt

1

teaspoon

baking soda
Ingredients for the frosting
2

Tablespoons

very ripe banana

about 1/4 of a large banana, pureed until smooth

1/3

c

. vegan butter-replacement spread

like Smart Balance, softened

1 1/2

Tablespoons

powdered Stevia

or to taste

1 1/2

Tablespoons

coconut flour

1/2

teaspoon

vanilla extract

1/2

Tablespoon

unsweetened almond or coconut milk

optional
For garnish
Multicolored sprinkles

optional
Instructions
Preheat the oven to 400 degrees. Line a mini muffin tin with muffin papers.

Mix the wet muffin ingredients (egg through vanilla) in a large bowl and the dry ingredients (flour through baking soda) in another. Add the wet ingredients into the dry, whisking until smooth and no clumps remain.

Fill the tins to almost, but not quite, full (about 1/2" below the top). Bake 1 minute before turning the heat down to 350. Bake an additional 9 minutes.

Remove the cupcakes from the tin and cool completely on a wire rack. For best results, make the cupcakes ahead and store in an airtight container at room temperature overnight before serving, which allows the moisture to distribute better.

When you're ready to serve the cupcakes, prepare the frosting: In the bowl of a food processor, combine banana, vegan spread, Stevia, coconut flour and vanilla extract and process until smooth. Absolutely no clumps should remain.

Transfer mixture to a bowl and beat with an electric beater until light and fluffy. If too thick, add coconut milk, a little at a time, until spreadable.

Transfer icing to a zip-top sandwich bag. Snip a tiny triangle of the plastic off the corner, and twist the excess plastic into a handle. Hold the bag with the snipped-off portion down toward the cupcakes. You have a pastry bag! Use it to swirl the frosting on top of each cupcake. Garnish with sprinkles.

Chill cupcakes in the refrigerator, uncovered, for an hour before serving, to allow the frosting to set.
Recipe Notes
Store leftovers in an airtight container in the fridge for up to 3 days.
Yield: 2 dozen mini cupcakes.