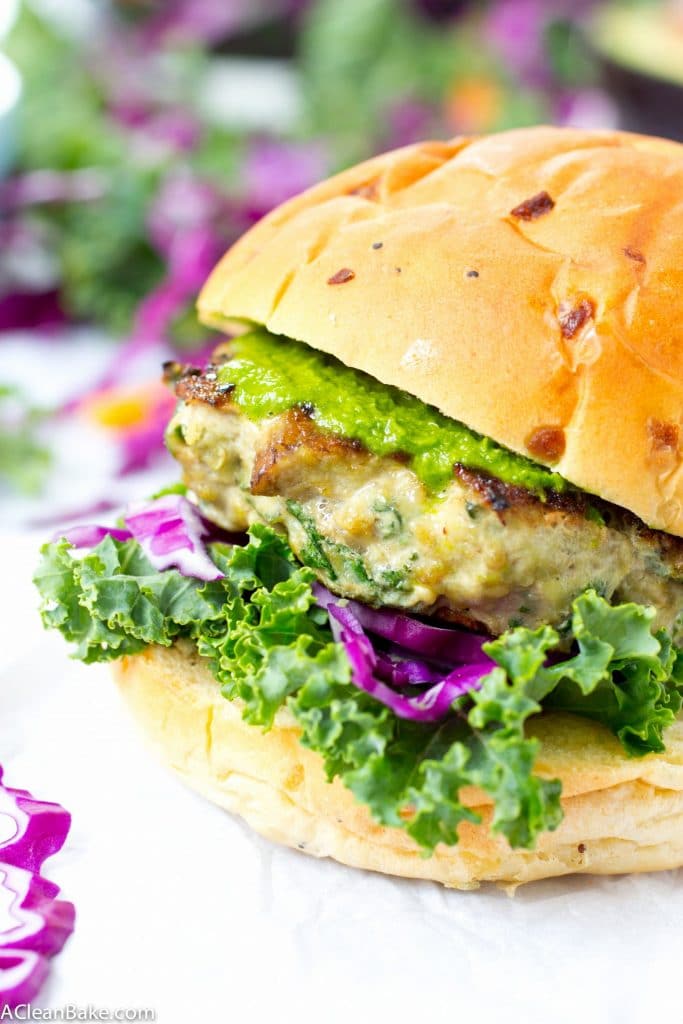 A burger is a food for all seasons. That's poetry, folks, as are these burgers.
These are not the turkey burgers you have heard about. Far from the dry, flavorless hockey puck reputation that turkey burgers often receive (sometimes fairly, sometimes not), these burgers are succulent and flavorful, and nutritious too, thanks to the hearty winter vegetables baked right in.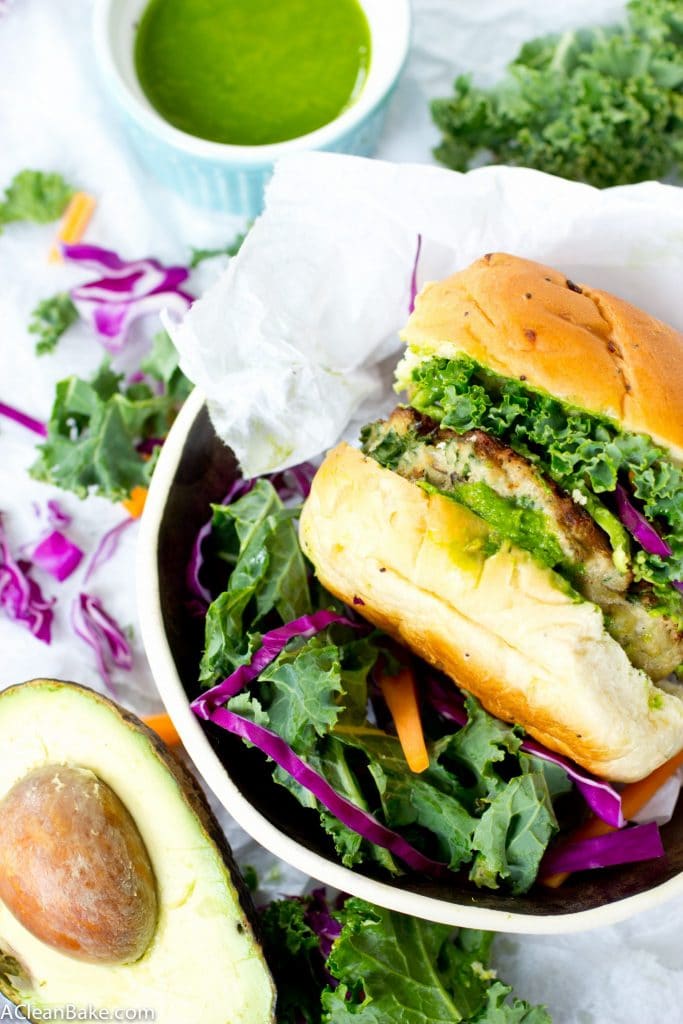 I am by no means a burger person. Short of those cow pies mascarading as premade frozen veggie burgers, I went for over a decade without a burger and never missed it for a second. When others crave a fat, juicy burger, I crave a fish taco or sushi or shawarma or did I mention a
fish taco
? I'm just not a burger person in the same way that most people are, but I nonetheless devoured these burgers. I ate about 4 in one day (they're small, if that helps).
I don't want to overstate anything here, but these are literally the best burgers I have had in recent memory. And I can't take much credit for them. The recipe was (very slightly) adapted from one of my new favorite cookbooks, Let Them Eat Kale. Now, a few weeks into the new year, is usually around the time when the healthy eating plans and detox diets start to get a little stale and the siren song of the cheeseburger gets louder and louder (just me?).
That, and one million other reasons, are why you should get your hands on this kind of cookbook. I love Let Them Eat Kale because the recipes are varied across meals and cuisines, but still stay well within the bounds of healthy eating, and – for obvious reasons – are built around vegetables and flavor, rather than fat and empty calories… like this burger! It's seriously mindblowing, in case I haven't already made that point.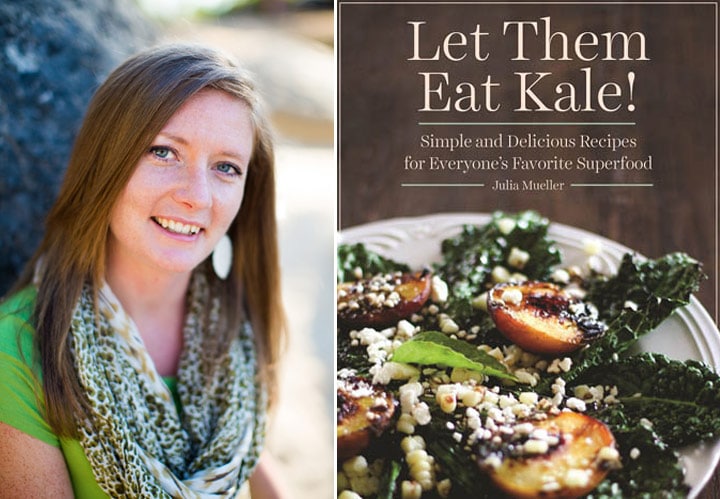 So, not only should you bypass the greasy cheeseburger in favor of this healthy, flavorful alternative,
you should also enter to win your own copy of this cookbook
that will provide you tons of inspiration to power through your new year's resolution successfully (scroll down to enter; raffle runs today through Sunday night). Did I mention this burger is amazeballs!?
PS: The bun pictured here is not gluten-free, but I ended up eating these burgers on a bed of slaw, which was amazing. I recommend doing that for the time being, but I have gluten/grain free roll and bread recipes coming up soon!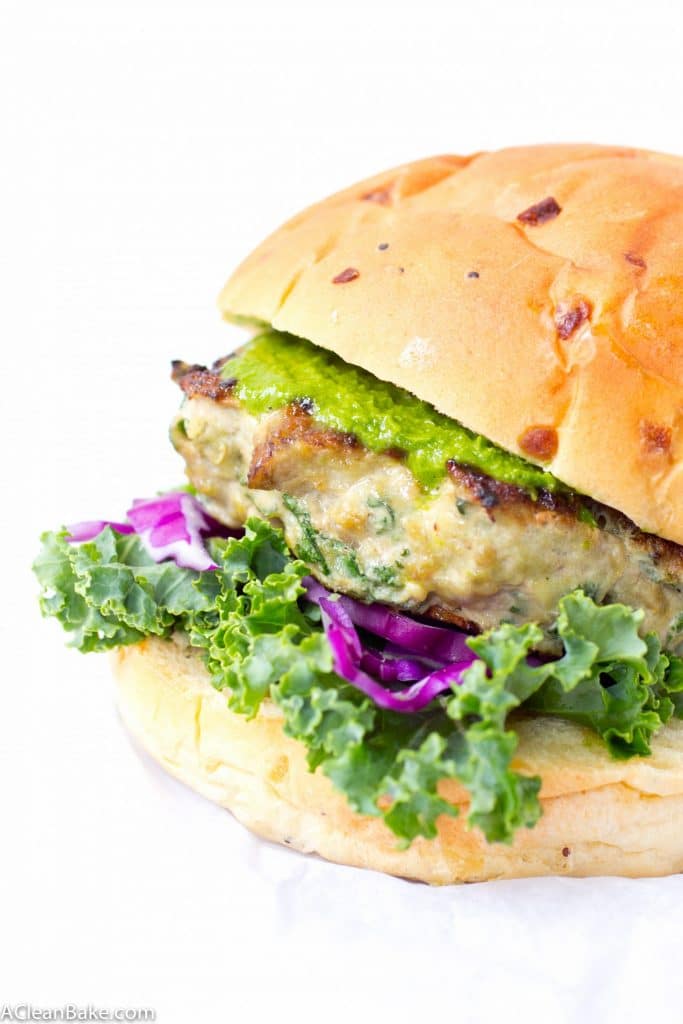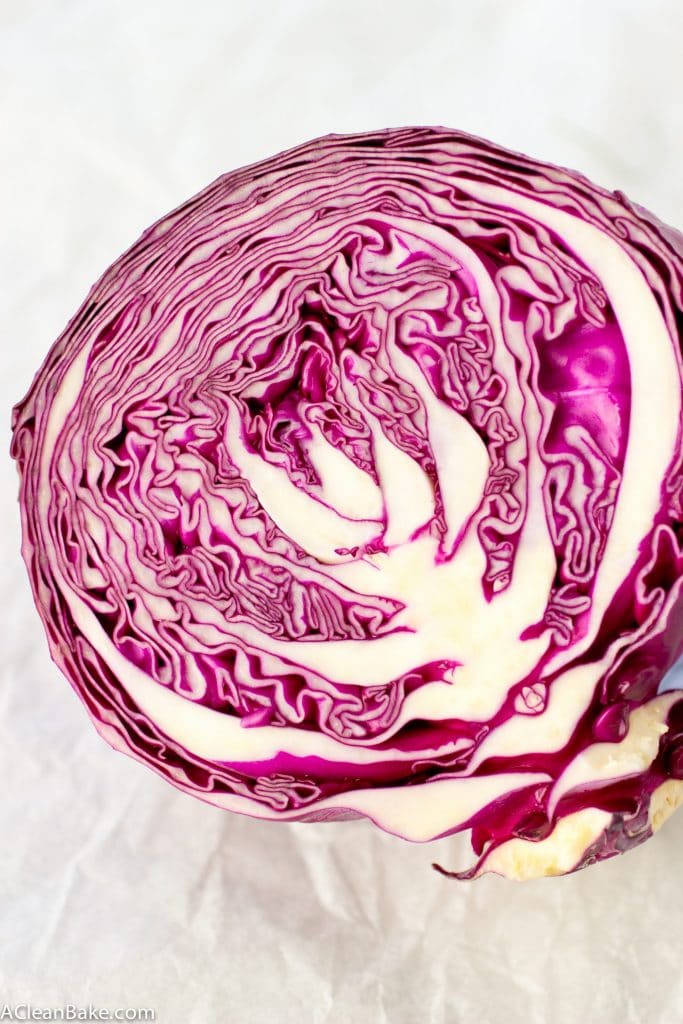 a Rafflecopter giveaway
Portobello Mushroom and Kale Turkey Burgers
2015-02-15 11:15:14
Ingredients
1/4 cup extra virgin olive oil
1/4 cup chopped white or sweet onion
1/4 teaspoon minced garlic
4 large baby bella mushrooms
2 packed cups of washed, stemmed and chopped curly kale
1 pound ground turkey meat
1 Tablespoon fresh oregano leaves, finely chopped
1 Tablespoon chimichurri sauce (or sub olive oil)
1/4 teaspoon salt
For Assembly
Kale and Cabbage Slaw (recipe follows)
Buns of choice, avocado, mayo and/or additional chimichurri sauce
Instructions
Heat 2 Tablespoons olive oil in a large skillet and add the onions and garlic. Saute until soft and translucent. Add the mushrooms and saute until softened, then add the kale, stir a few times and cover the pan. Cook down until the kale is softened and has reached a deep green color. Remove pan from heat and set aside to cool.
When the mushroom/kale mixture has cooled, combine it with the turkey meat, oregano, chimicurri, and salt and stir vigorously to combine. You can also use your hands if it's easier.
Heat remaining 2 Tablespoons olive oil in a large skillet. Portion the burgers into small patties (mine were about 3-4 Tbsp worth of the turkey mixture) and fry until crispy and browned on the bottom, about 2-4 minutes. Flip and repeat on the other side. They are done when the burgers feel firm when pressed and the juice that runs out is clear.
To assemble: Either coat the buns with mayo and chimichurri sauce and build the burger + slaw + avocado on top, or for a paleo option, serve the burger (topped with mayo mixed with chimichurri, or just additional chimichurri) on top of the bed of slaw and garnish with avocado slices.
Notes
The original recipe actually calls for the sauteed mushrooms and kale being used as a burger topping, rather than cooked into the burgers, with the slaw as a separate recipe. So feel free to go that route.
This recipe has been slightly adapted from Let Them Eat Kale and has been reprinted with permission from the author.
A Clean Bake http://acleanbake.com/
Cabbage Kale Slaw
2015-02-15 11:16:30
Ingredients
1 small head red cabbage, sliced thinly
2 large carrots, peeled and sliced into thin matchstick shapes
1 head kale (I used curly, but the original recipe suggests dino), washed, stemmed and sliced thin
1 Tablespoon olive oil
Zest of 1 lime
1/4 cup fresh lime juice
1 Tablespoon ginger, peeled and finely grated
1 clove garlic, minced
1/4-1/2 teaspoon salt, or to taste
Instructions
In a large bowl, toss the cabbage, carrots and kale together to combine.
Whisk together the remaining ingredients (oil, lime juice and zest, garlic and salt) in a separate bowl, then pour over the vegetables and toss to coat.
Notes
The slaw recipes makes many extra servings; feel free to halve it if you don't want lots of leftovers. But it keeps very well, especially if you don't toss it with the dressing until you're ready to eat it, for several days.
This recipe has been slightly adapted from Let Them Eat Kale and has been reprinted with permission from the author.
A Clean Bake http://acleanbake.com/