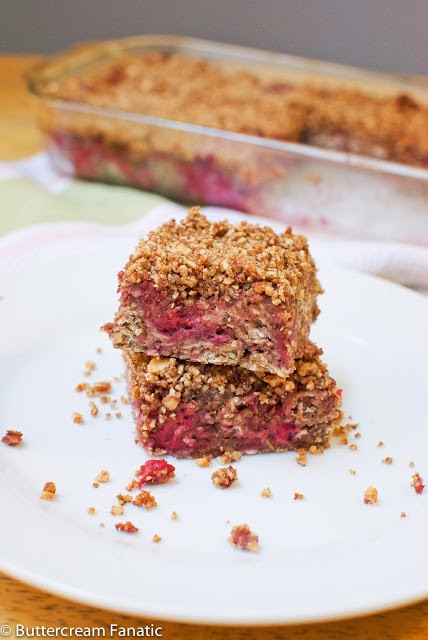 Remember last week, when
I mentioned
healthier recipes on the horizon? I think I'm just about due. Overdue, maybe. I'm ready for a break from butter and sugar. And remember, delicious and healthy are not mutually exclusive. I promise these will not let you down.
Let's start with delicious: These streusel-topped baked oatmeal squares are chewy, subtly sweet, and bursting with fresh raspberry flavor. But they are healthy, too: they're full of fiber, low fat, very low sugar, and contain some healthy fats thanks to the almonds. Plus, they are gluten-free, and can be easily adapted to be fully vegan. What more could you ask for?
Oh, wait, I know what else you could ask for: They travel really well, either to your desk or on a road trip to another state (I've tested both, for the record). They can be eaten warm or cold, so they're great for a quick breakfast as you're rushing out the door in the morning, or as a convenient nosh at work (not that anyone around here gets out of bed to late to eat breakfast at home and instead eats at their desk almost every morning… *side eye*). And since they can stay fresh without refrigeration for a couple days, if necessary, these would be perfect for camping. Or…I'd assume so.
We all know
I am not speaking from experience.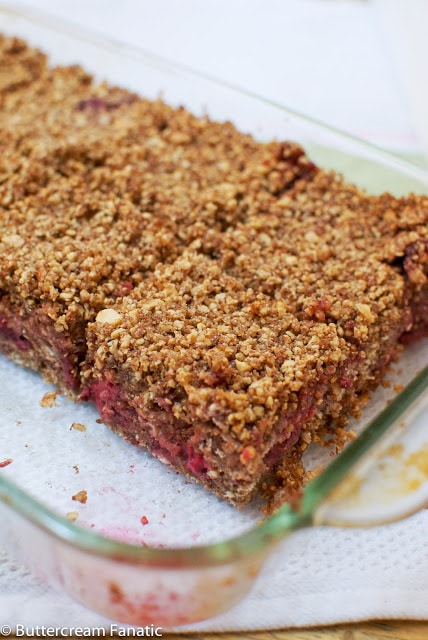 Fair warning: these aren't like most of the recipes I've been posting lately, in that they are not terribly rich or sweet. If you like things on the sweeter side, follow the recipe below exactly (including 1/4 c. maple syrup or honey – whichever sweetener you prefer), but if, like me, you aren't a big fan of sweets on typical mornings, dial back the sweetener to 1 Tablespoon. Just make sure that you add additional almond milk to make up for the lost moisture (see recipe for specifics).
I only mention this because I've gotten a little bit of, ahem, constructive criticism (more criticism, less constructive) on my healthier recipes in which people complain that either (a) it's not sweet enough or (b) they can taste the healthy ingredients too much. On some level, I understand that people taste things differently, but I also firmly believe that I am not going to call something healthy if it really isn't. In this case, one of the ways that this is healthier is by minimizing the added sugar/sweeteners. So the flavor of these is nicely balanced without the full quarter-cup of maple syrup or honey, but if you are used to something a little sweeter in the morning, go ahead and use it all. That's why the recipe contains some variation.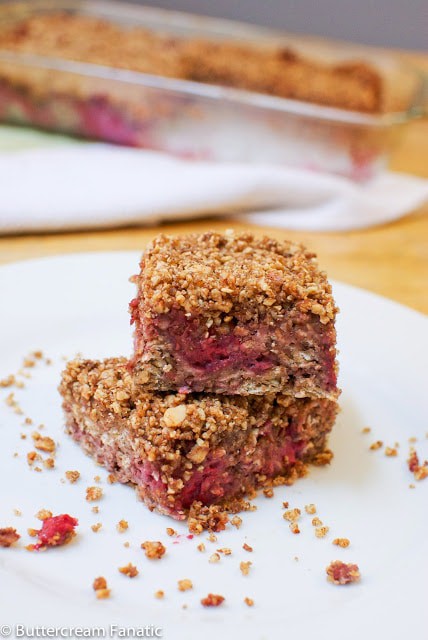 And for the record, if you like things on the sweeter side, that's cool! I respect that, and more so, I appreciate that because who would eat all of the things I bake if not for everyone's sweet tooth? I hope you understand where I am coming from.
Anyway, I really do hope you like this one – healthfulness and all!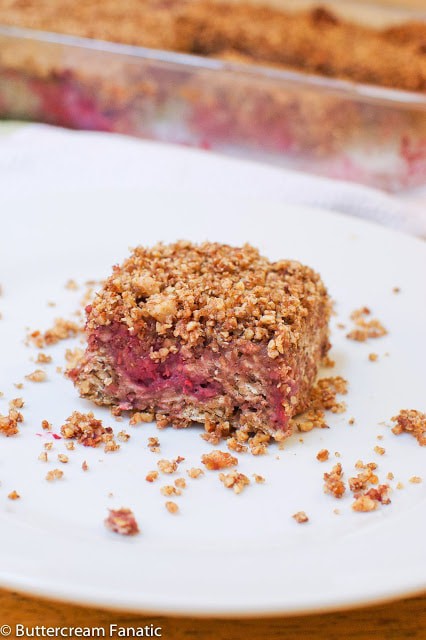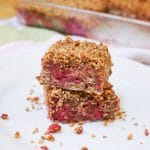 Raspberry-Almond Baked Oatmeal with Healthy Streusel Topping
gluten free, vegan
Ingredients
Ingredients for the bars
3 1/2

cups

rolled oats

divided*

2

teaspoons

cinnamon

1/4

teaspoon

allspice

1/4

teaspoon

salt

1/4

cup

ground flax seeds

1

large egg or flax egg

1

teaspoon

vanilla

1/2

cup

maple syrup or honey**

3/4

cup

almond milk

If not using maple syrup, add additional 1/2 c. almond milk

1 1/2

cups

raspberries
Ingredients for the streusel topping
1

cup

whole almonds

3

Tablespoons

raw sugar**

turbinado

2

teaspoons

cinnamon

2

Tablespoons

olive oil

1/2

teaspoon

almond extract

optional, for more pronounced almond flavor
Instructions
Preheat the oven to 350 degrees. Thoroughly coat a 7″x11″ baking dish with cooking spray and set aside.

In the bowl of a food processor, pulse 1 1/2 cups of the oats for about a minute until finely chopped, almost flour-like. Set aside the remaining 2 cups of oats for the moment.

To the food processor bowl, add the remaining oatmeal ingredients, except the rest of the oats and the raspberries. Pulse until the mixture is thoroughly mixed, but retains its grainy texture from the oats. Transfer batter to a large mixing bowl and gently fold in remaining oats, and then berries. Turn batter into prepared pan and spread evenly. Gently press into pan.

Rinse out the food processor bowl and add almonds. Pulse 5-10 times until almonds are finely chopped. Add sugar, cinnamon, olive oil and almond extract (if using) and pulse 2-3 more times until completely mixed. Pour topping over the oatmeal batter in the pan, spread into an even layer, and press down firmly.

Bake for 15-20 minutes until a tester inserted into the center comes out clean, although there may be a few streusel crumbs on it. Allow to come to room temperature (If it is especially hot, you may want to chill the pan in the fridge) before cutting into bars.
Recipe Notes
If gluten is a concern, make sure to use certified gluten free oats.
The sweetener is optional – you can use all or less. I don't like overly sweet breakfasts, and I found that I liked the oatmeal with only 1 Tablespoon of honey or maple syrup just to round out the taste. If you opt not to use the sweetener, or only use 1 Tablespoon, I'd advise increasing the almond milk to 1 1/4 c. or risk the finished and cooled oatmeal becoming way too dry. Same goes for the topping: You can reduce the sugar if you prefer, or simply leave the streusel off altogether and add chopped almonds to the oatmeal layer.
Store in an airtight container at room temperature for up to 3 days, in the fridge for up to 2 weeks or in the freezer for up to 3 months.
Yield: 18-24 bars, depending on how large you slice them.