While I'm off getting married, several of my beloved blogging buddies are stepping in to share some recipes so that you, my wonderful readers, don't get too lonely (or hungry).
Today's post comes from Monica, the brilliant, funny, and creative co-author of the decadent baking blog Pass the Cocoa. If you aren't familiar with Monica and her co-blogger Caroline's work, you can find them on their blog, as well as on Facebook, Twitter, and Pinterest.
Monica is one of the few blogger friends that I have had the pleasure of meeting in person and boy did we have a blast! We had so much to talk about and I felt like I had known Monica for ages. (You may feel the same way about her, after seeing her mentioned many times in this space before!)
I am so grateful to her for agreeing to post because I know that between college classes, med school applications and running her own blog, her time is extremely limited! Not to mention that gluten- and dairy-free* baking is not her forte. But you would never know it, would you, judging from these beautiful little cake bites below? Read on for more!
*Although this recipe is not written to be dairy-free, it is very easily adapted for those of you who aren't good with lactose. Please see my notes below the recipe for suggested substitutions.
**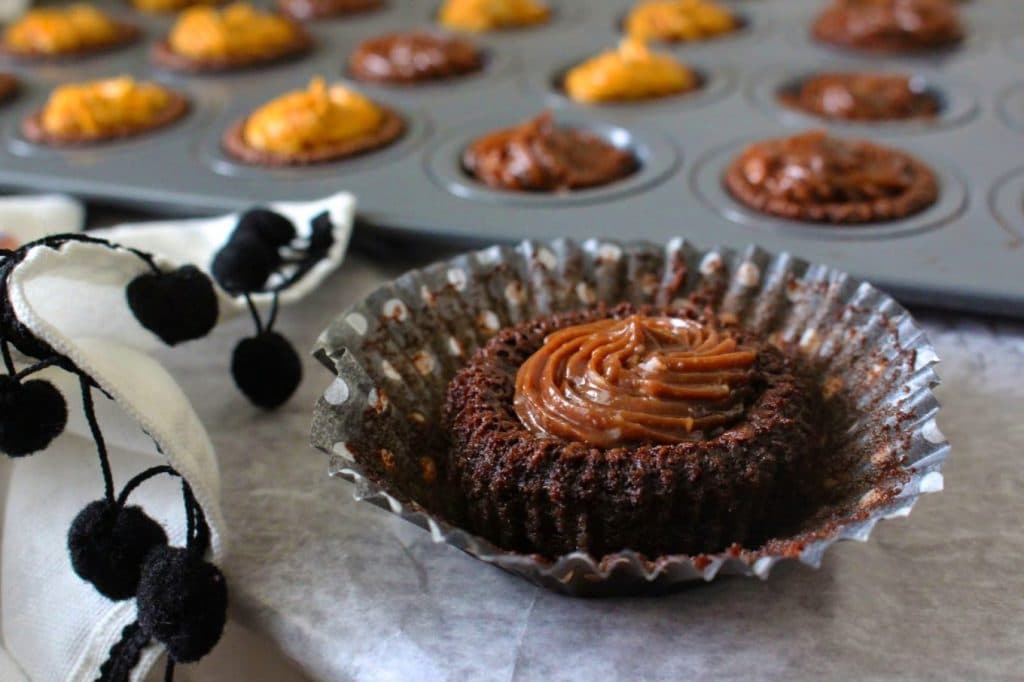 Hey guys! My name is Monica, and I co-write the blog Pass the Cocoa with Caroline.
Nora is one of those people you can have a conversation with and then feel an instant connection. That is, at least, how we began our friendship — based on our mutual love of Nutella, to be exact — just a short year and a half ago. Still, a lot has happened in that short span of time. We traded countless comments and emails and a couple guest posts (like this and this). We even had the opportunity to meet each other in person over the past summer (perks of living in a big city and a small world). Let me just say this much: Yes, Nora is every bit as much of a fun, vibrant young woman as she is on the blog. Such sweet people do exist!
I think it can be said for many people that blogging is as much about the food as it is about being adventurous, taking on new challenges, and bringing your own life experiences into the recipe. That's what makes each blog unique, and ever since Nora's shift from the Buttercream Fanatic of decadent baking to A Clean Bake of healthy desserts, my admiration for her has only grown. Her recipes take what is conventional and add a flair of originality and a little spice of life. It is this creativity, along with Nora's friendly and effortlessly witty prose, that keeps me coming back for more.
In any case, I am thrilled to be posting for Nora while she is having her much deserved "wedding leave." I've been teasing Nora with the idea of a Nutella dessert since like the beginning of time (aka when she first asked me to guest post). We have a thing for Nutella, as you can begin to see.
So today, I present to you these Mini Chocolate Cake Bites. Decorated with Nutella AND pumpkin cream cheese frosting, these mini cake bites are all kinds of amazing. They melt in your mouth and satisfy your deepest chocolate craving. Yes, they're gluten-free, which is awesome. Plus, they're miniature. Which is always so much more fun.
Congratulations to the lovely bride, Nora! May your marriage always be filled with love and happiness together… (:
Love,
Monica & Caroline
IMPORTANT notes on the recipe
: I used a
"mini whoopie pie pan,"
which actually served very well to make mini muffin/cakes. This recipe is exactly the same as the
White Chocolate Mousse Truffle Cake
, except without the white chocolate mousse part, and the chocolate cake portion size is reduced. I would recommend taking the pumpkin cream cheese frosting recipe with a grain of salt. I used pumpkin butter, which may have a different consistency than regular pumpkin puree, and I wanted to make a very small amount that is just enough to frost half of the cakelets, so I only approximated that I think should be enough to frost all 30 mini cakes.
For the mini chocolate cake bites
:
1/2 cup

chocolate chips

1/2 cup butter, melted

2 1/2 tablespoons warm water

1/2 teaspoon pure vanilla extract

1/2 teaspoon salt

3 eggs

1/2 cup granulated sugar

1/4 cup

cocoa powder
For the Nutella/pumpkin cream cheese frosting
:
2 ounces (1/4 cup) cream cheese, cold

2 – 4 tablespoons Nutella

2 – 3 tablespoons sour cream

5 tablespoons powdered sugar
2 ounces cream cheese, cold

2 – 4 tablespoons pumpkin filling

1 – 1 1/2 cup powdered sugar
Preheat oven to 350 degrees. Prepare a mini muffin pan with liners, or not.

Melt butter and chocolate and stir to combine until smooth. Add warm water, vanilla, and salt. In a separate bowl, thoroughly beat eggs and sugar. Slowly mix in the cocoa powder until smooth. Then add chocolate/butter mixture.

Bake for 7 – 12 minutes. Cool completely before frosting.

For the cream cheese frostings, simply combine the ingredients in a bowl using a hand-mixer or a food-processor. Frost, serve, and enjoy!
Notes:
(1) Note from Nora: If you can't eat dairy, you can replace the butter with vegan butter or coconut oil, the sour cream with coconut yogurt and the cream cheese with coconut cream. If you don't eat refined sugar, replace the granulated sugar with coconut sugar or granulated honey, and pulse it in the food processor to replace the powdered sugar in the frosting.
(2) Adapted from
Yammie's Noshery
Yield: ~30 mini chocolate cake bites