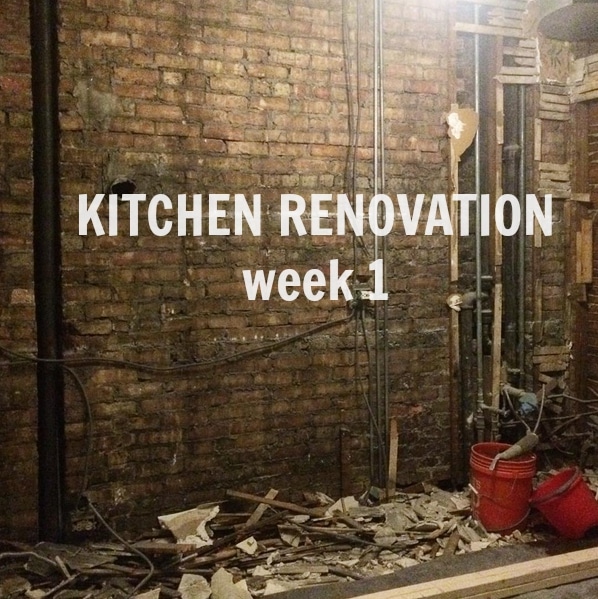 I know some readers are as excited as this kitchen renovation as I am, and wanted to be kept up to date as to its progress. If you're not one of those people, I'll be back tomorrow with the recipes you know and (hopefully) love!
We're on day 8 of our massive kitchen renovation and I have to say that it has been challenging but not nearly as difficult as I expected. Last time we did a major renovation, it was chaos: lots of unexpected challenges, delays and budget-busting overages. This time, luckily, we haven't (yet) run into anything too surprising. It helps, in older houses like ours that have been renovated multiple times over the years, to go into the project assuming that everything will need attention. Then, if it doesn't it's a pleasant surprise, but if it doesn't it's baked into the budget anyway. The downside of that plan is that a thorough renovation is a time-consuming one, and I'm already getting a little itchy being away from the stove and oven (and I've found the hard way that the toaster oven will work in a pinch, but is not ideal for baking – and blows a fuse about 3 out of 4 times I use it).
We persevere.
There is a lot of progress to show from the first week of the project, including massive demo and clean-up, reframing the space, and re-working the HVAC system.
Day 0: The "Before"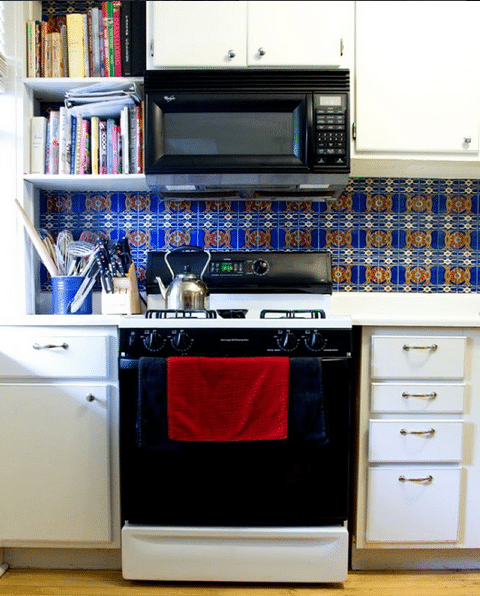 Day 1: Demolition of the fixtures, tile and part of the walls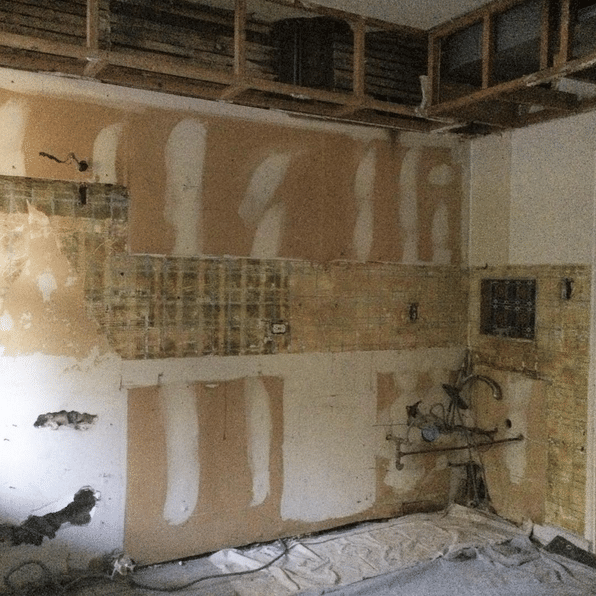 Day 2: Completion of demolition, of the walls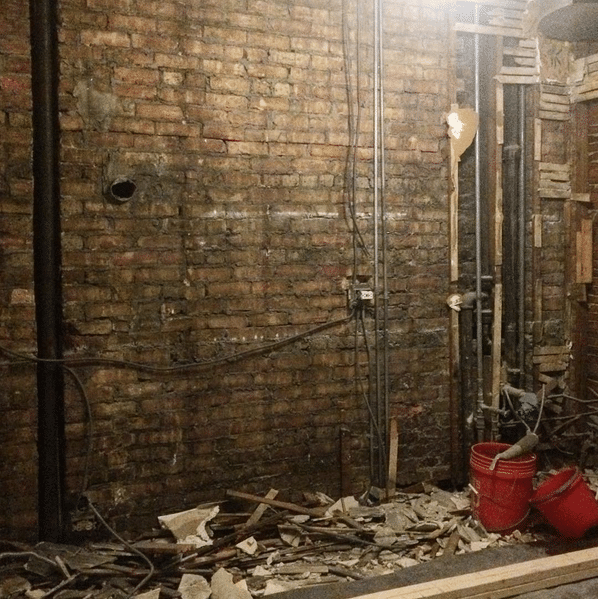 Day 3: Beginning of the new walls (the framing)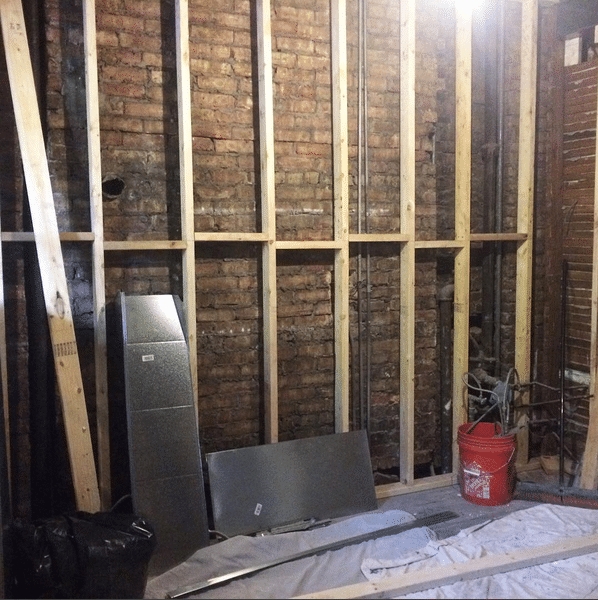 Day 4: Completion of the framing, and beginning of the new HVAC system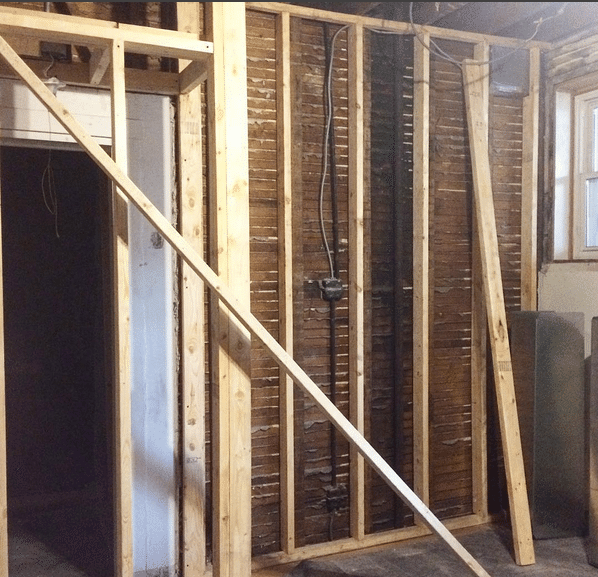 Day 5: Completion of the HVAC, and working on the structure for the bulkhead that will house the HVAC (that's what the ladder-looking thing is)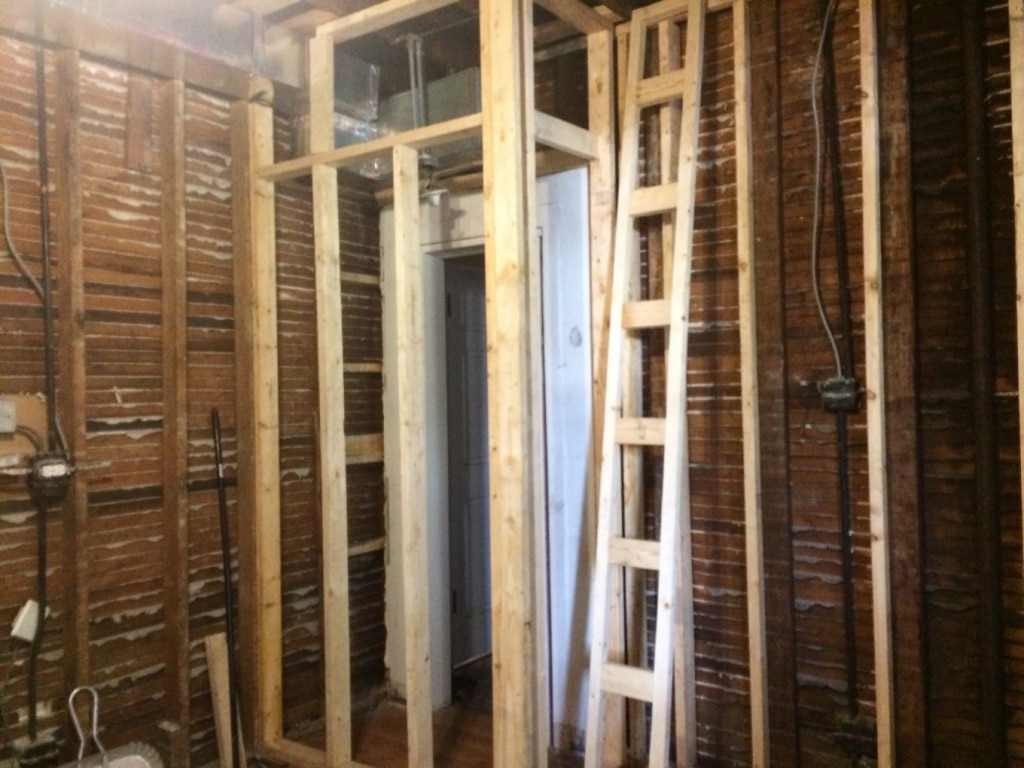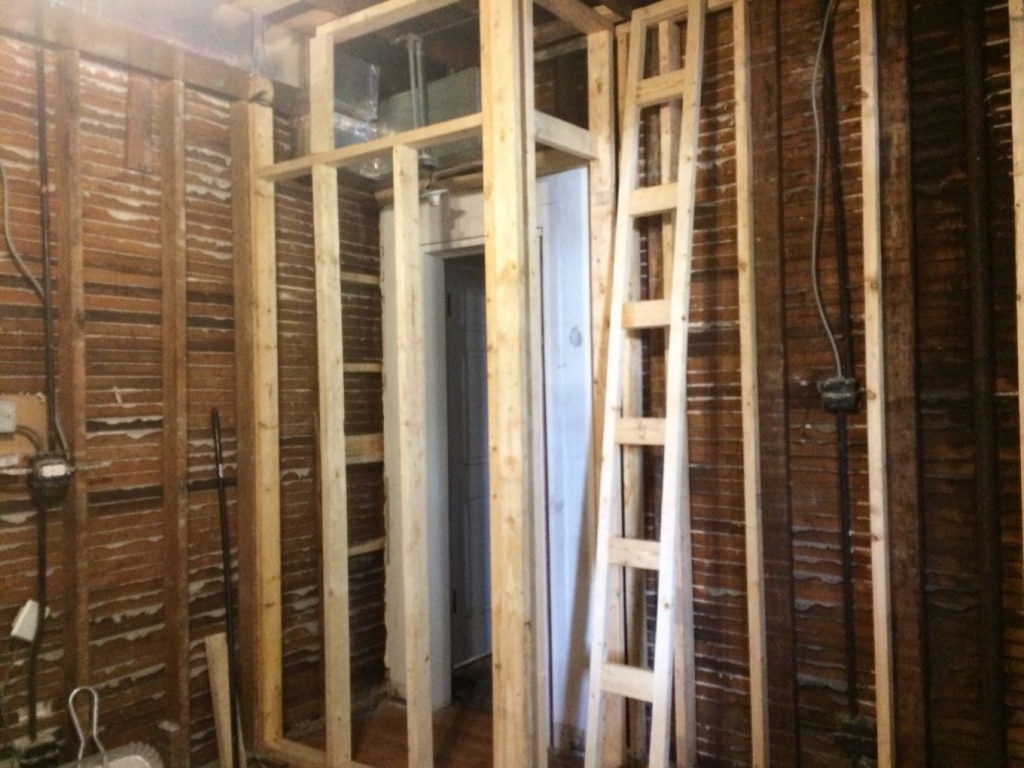 After "how will you bake", the most common question is "how and what are you eating?". We're not eating out every day, though I suspect that the rate at which we're going to be eating out will be higher that usual, especially as the process continues. I'm already a little drained from the extra energy and planning that goes into cooking without a kitchen. The best advice I would give myself-of-a-month-ago is to prep meals and freeze them. I didn't do enough of that when I had the luxury of a kitchen, so I am trying to do it as I go. The freezer is filling up fast with leftovers, which will hopefully keep us on track as the project drags on and my energy (and patience and the novelty of it all), frankly, runs out.
I'm not sure I will share our weekly menu every week (unless you want me to? You can just follow me on Instagram to see what I'm cooking and eating.) but just to give you a sense of how we're faring, here is what Week 1 looked like:
Day 0: Sunday night, we had moved everything out of the kitchen, but had a dinner with friends scheduled so it wasn't a problem. I didn't have a huge appetite so I had a lot of leftovers for the next day. Over the weekend, I also prepared a huge batch of hard-boiled eggs, some mini quiches, and a batch of breakfast cookies. I've been squirreling away some leftovers in the freezer for the last week or so as well, so there are some options outside of eating out every meal.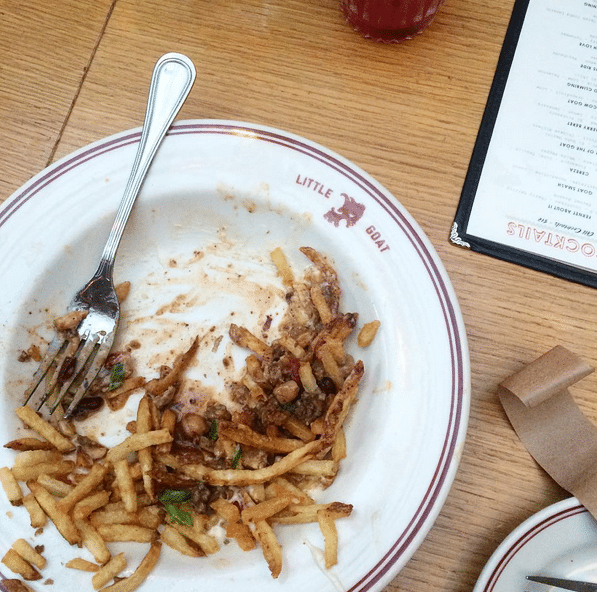 Day 1: For breakfast, I was sort of disoriented, so I didn't have a ton of creativity and breakfast was a little….bonkers. I had a hard boiled egg, some kimchi and some pickles. Boring, but fast and easy to prepare. For lunch, I ate the leftovers from the night before and then for dinner, I had a lovely crockpot meal planned, only to find that I had started it too late. Whoops. Instead Bryan had a sandwich and I had soup.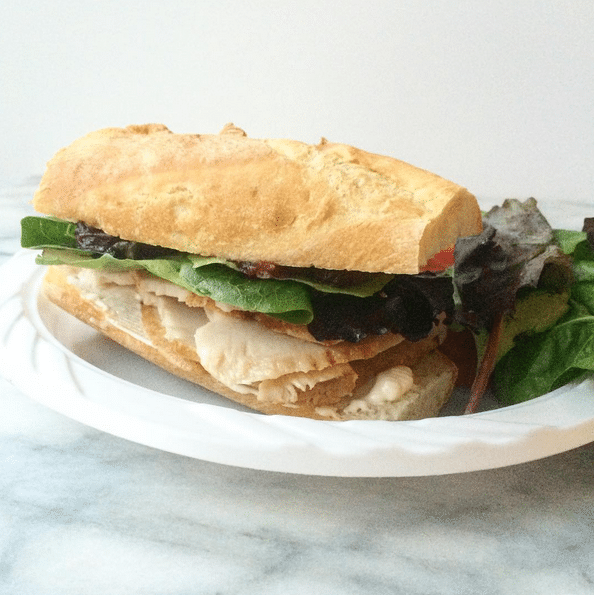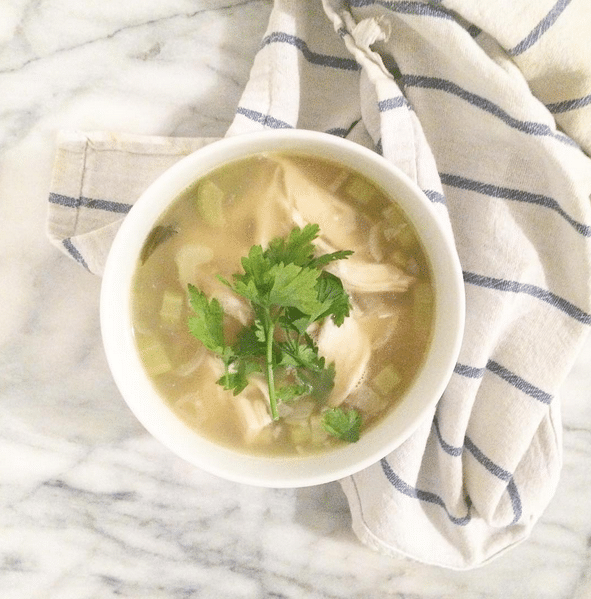 Day 2: I was a little more creative for breakfast the next morning and had hard boiled eggs with veggies and babaganoush (on a related note: this babaganoush freezes and defrosts again really well). I used to think that eating vegetables for breakfast was odd, to put it mildly, and now I feel like the morning is incomplete if I don't eat any. So eggs + raw or sauteed veggies is a pretty standard breakfast formula for me, and I don't mix it up much because it not only works, but I am not that awake or creative first thing in the morning.
For lunch, I had an open faced turkey sandwich (Costco sells sliced turkey breast, so no nitrates and all those other nasty additives that you see in lunch meat) on grain free sandwich bread which, coincidentally, also freezes and defrosts very nicely. It works best if you slice it before freezing and then just defrost what you need when you need it. Don't defrost and refreeze the whole loaf over and over.
At dinner time, I had the pleasure of celebrating my friend Jocelyn on the launch of her stunning new book (<— if you don't always bake gluten free cakes, I would highly recommend this book! It is really a labor of love and I plan to make the recipes for friends and family on special occasions, even if I can't partake).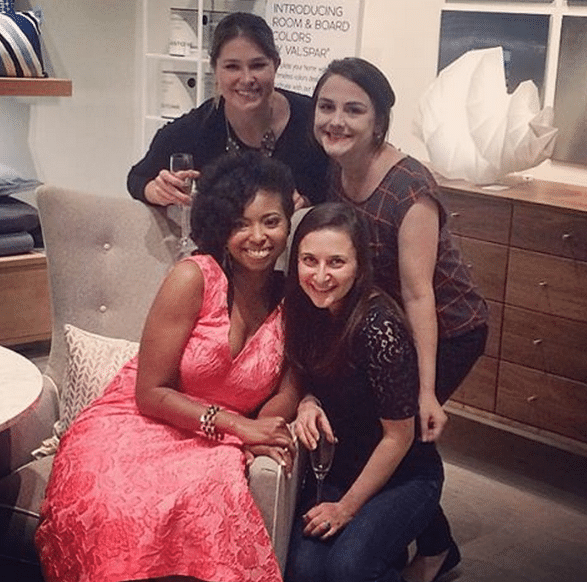 The party was overrun with samples of Jocelyn's delicious recipes, but I couldn't try any, so by the end of the event, I was starving and Kristen, Laura and I grabbed some sushi around the corner. I didn't take a picture of my boring rolls, but Laura's was too cute not to document.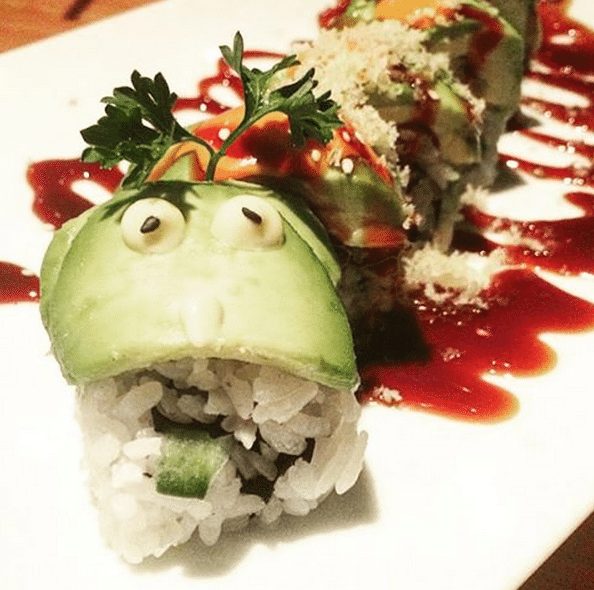 Day 3: For breakfast, I had – wait for it – a nut-free breakfast cookie (bet you didn't see that coming). These things are so good that it's hard not to eat the whole batch. For lunch, I threw together a huge batch of Mediterranean tuna salad, which lasted me a few meals (can you tell that this is where I started to lose patience with this whole routine?). It was sort of on a whim, so I don't have the measurements, but it consisted of: canned tuna, olive oil, artichoke hearts, sun dried tomatoes, caramelized onions, fresh basil, salt, pepper and garlic powder.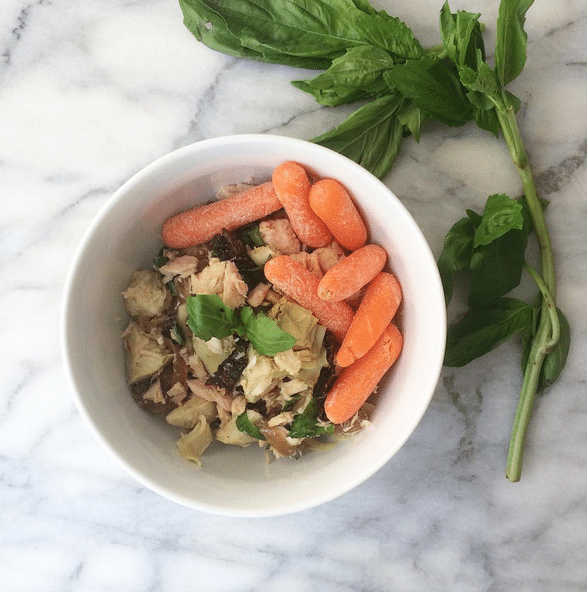 For dinner, I just had a salad with basically everything I could find in the fridge. There have been – and likely will be – a lot of salads in lieu of a proper meal. I'm trying to accept that (and stock my freezer with alternatives).
Day 4: I decided to try cooking an egg in the microwave. Don't judge me. It actually worked, if you can believe that, and it didn't taste rubbery or anything. If you want to try it, just lightly beat the egg, pour it into a greased coffee mug and microwave it (on high) for 50-60 seconds. So, that (plus tomatoes and strawberries because vitamin C!) was breakfast. For lunch, I ate more of the tuna salad from yesterday with some greens, tomatoes and caramelized onions and I had more salads planned for dinner, but I just couldn't take it anymore. Instead, we went out and got fish tacos. Thank goodness.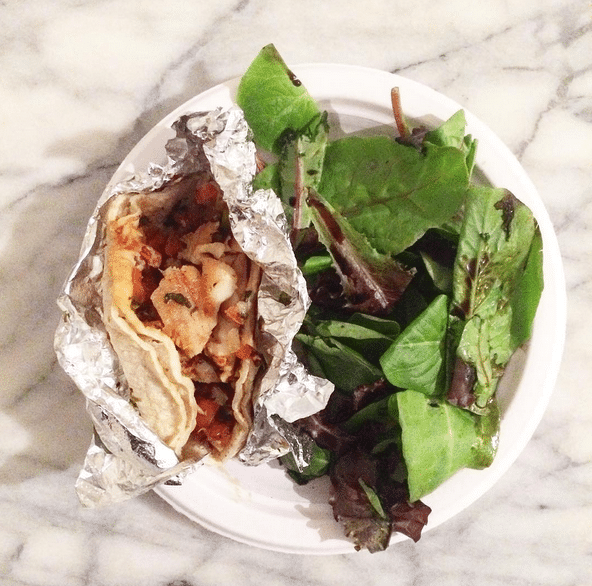 Day 5: If you can't already tell, I was working from home all week, and yet I was so busy that I forgot to even take note of what I ate for breakfast (told you I'm not a morning person). It involved eggs, obviously. For lunch, I had the leftovers from dinner the night before, plus a bunch of veggies and trail mix. One of the best tips I can give anyone on meal prepping, with or without access to a proper kitchen, is to wash and chop as many vegetables as you can, and buy the prewashed baby greens if possible. What's grabbable is snackable, so if your fridge is full of fresh vegetables, you will reach for that instead of the chocolate chips. And by "your", I mean "my". But it probably applies to other, too, right?
Since I was fortunate enough to be working from home, I used a few minutes during my lunch break to throw some chicken breasts in the slow cooker. I use this method a lot to cook chicken easily, especially if I want to shred it for salad, tacos, etc: Place the chicken in a single layer in the crockpot, fill with enough water to cover the meat about half way, and sprinkle with salt, pepper, and – optionally – chili powder and garlic powder. Cover and cook on high for 3-4 hours until the juices run clear. I used that chicken for dinner, on a salad for me (with stawberries and pecans, which is different from the norm, at least), and in some cream of wild rice soup for Bryan.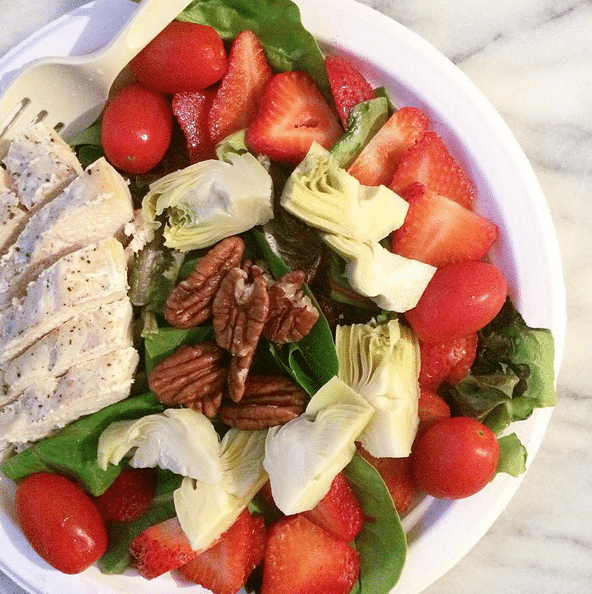 Day 6: I grazed most of the day, but have also been working on crockpot BBQ recipe that I will share later in the week. We decided to give it a spin and see how it held up on the grill, so BBQ chicken was the centerpiece of dinner, and I served it with a bunch of veggies from the fridge.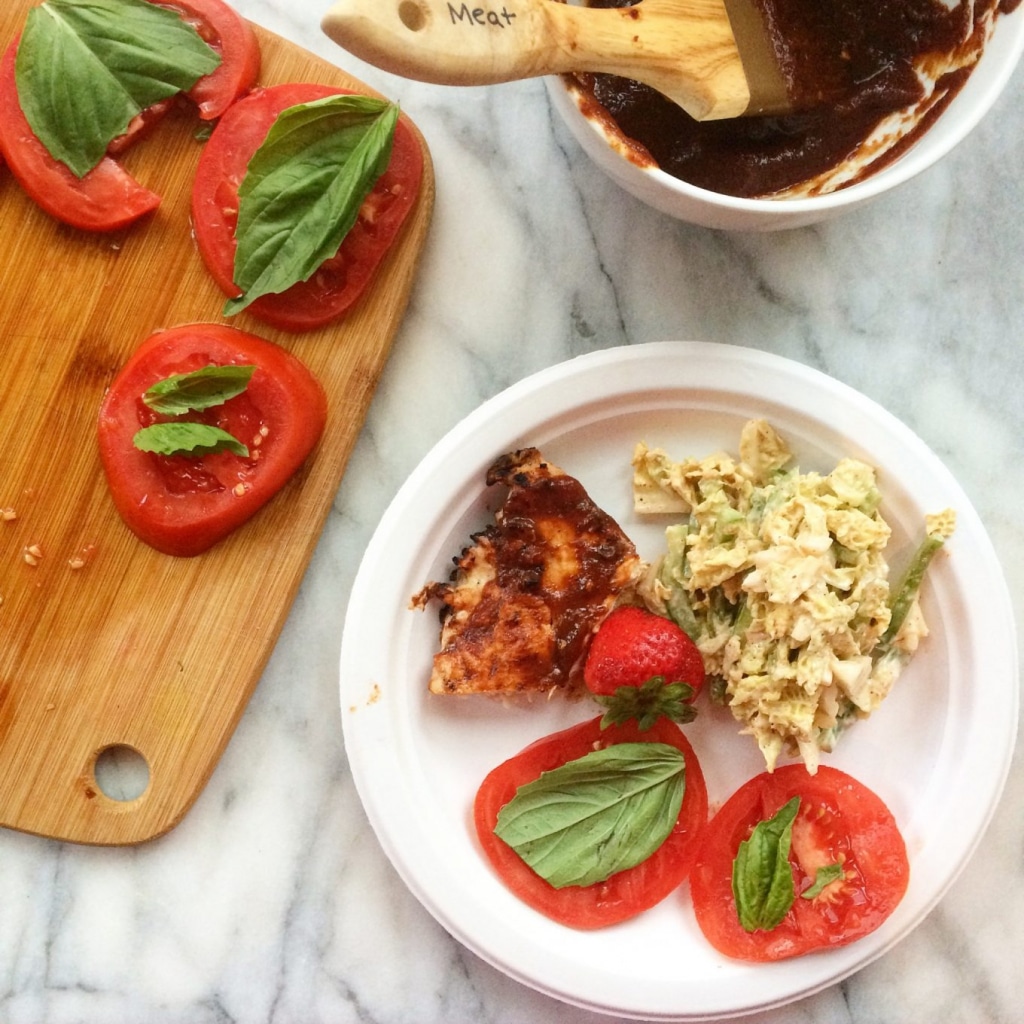 Day 7: I didn't have much in the way of breakfast (some coffee and an egg), because I was saving myself for … tacos. I am just now realizing that I may need to be checked into some sort of Betty Ford-like taco rehab by the end of this project, if i haven't fully transformed into a taco first. You are, after all, what you eat. And I love tacos.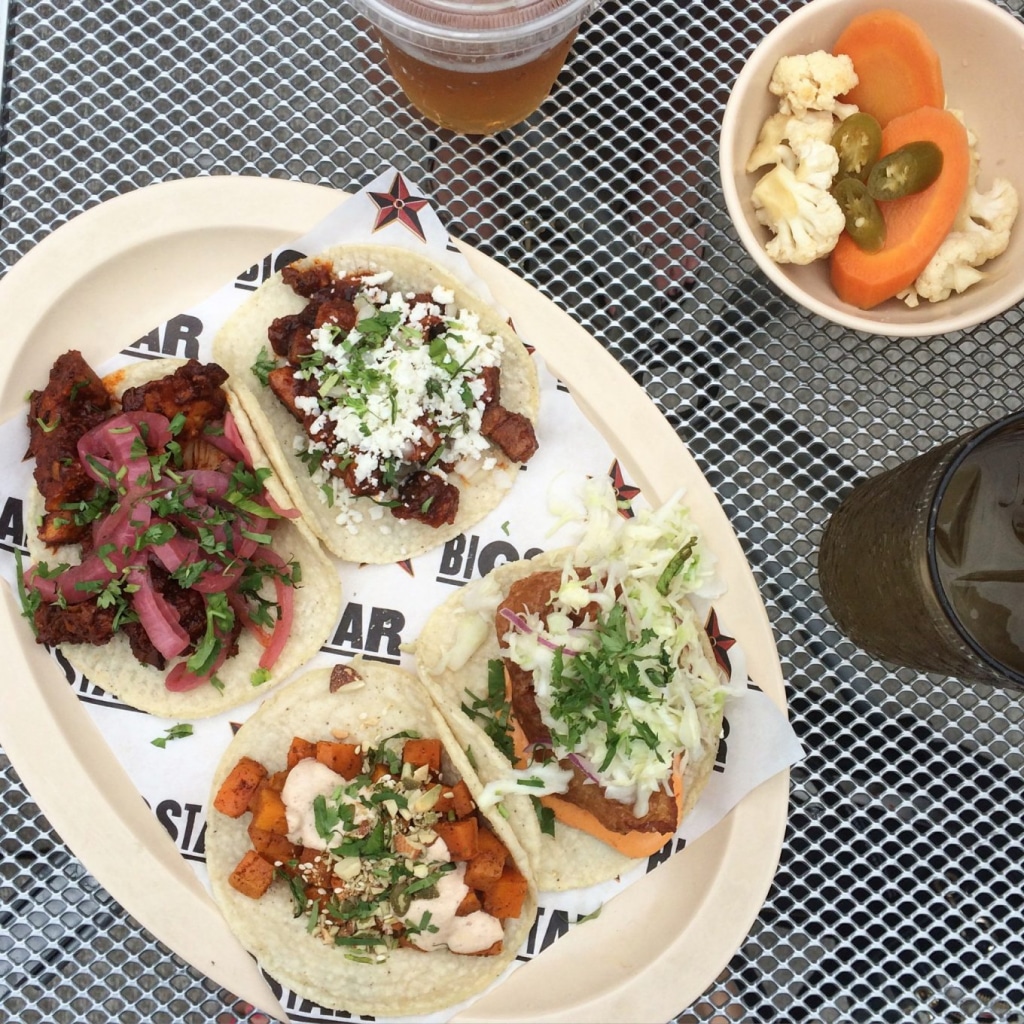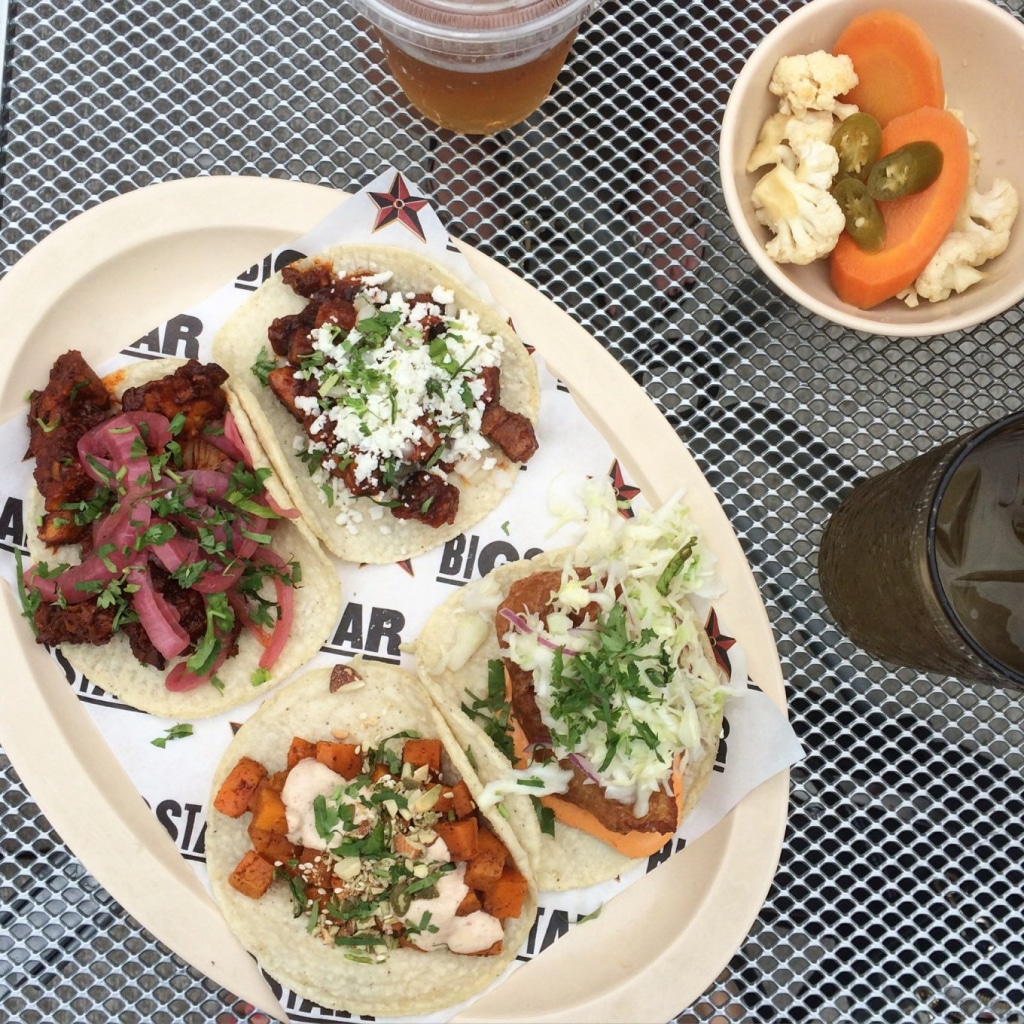 I had had plans to go to an all day event with a friend but had to take care of a bunch of kitchen-related stuff so we decided to just do lunch instead. Lunch at Big Star turned into a full on taco crawl (if you can call a 2-stop tour a crawl), followed by some Jeni's ice cream, which I have heard so much about and it did not disappoint. I so rarely eat dessert that I didn't make these days, so I try to make it count when I do, even if I get a sugar headache all afternoon. #worthit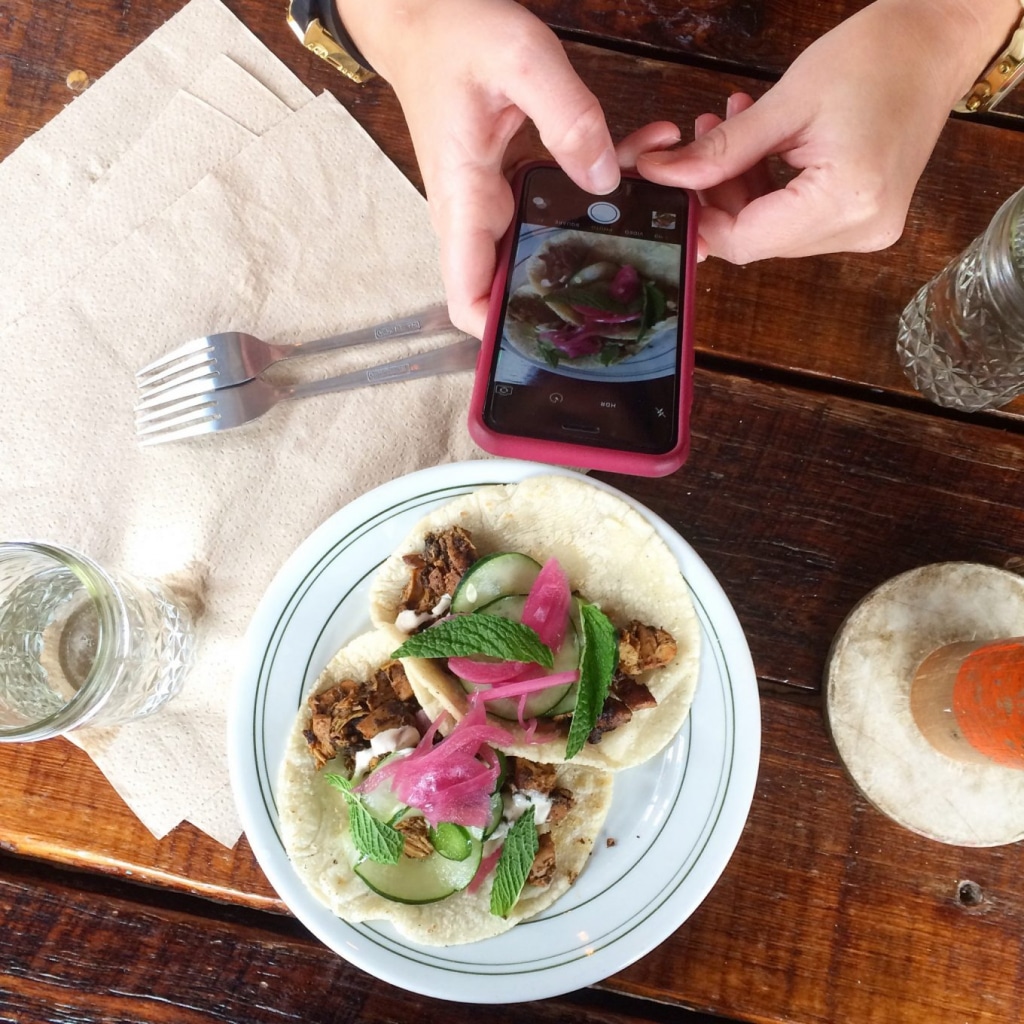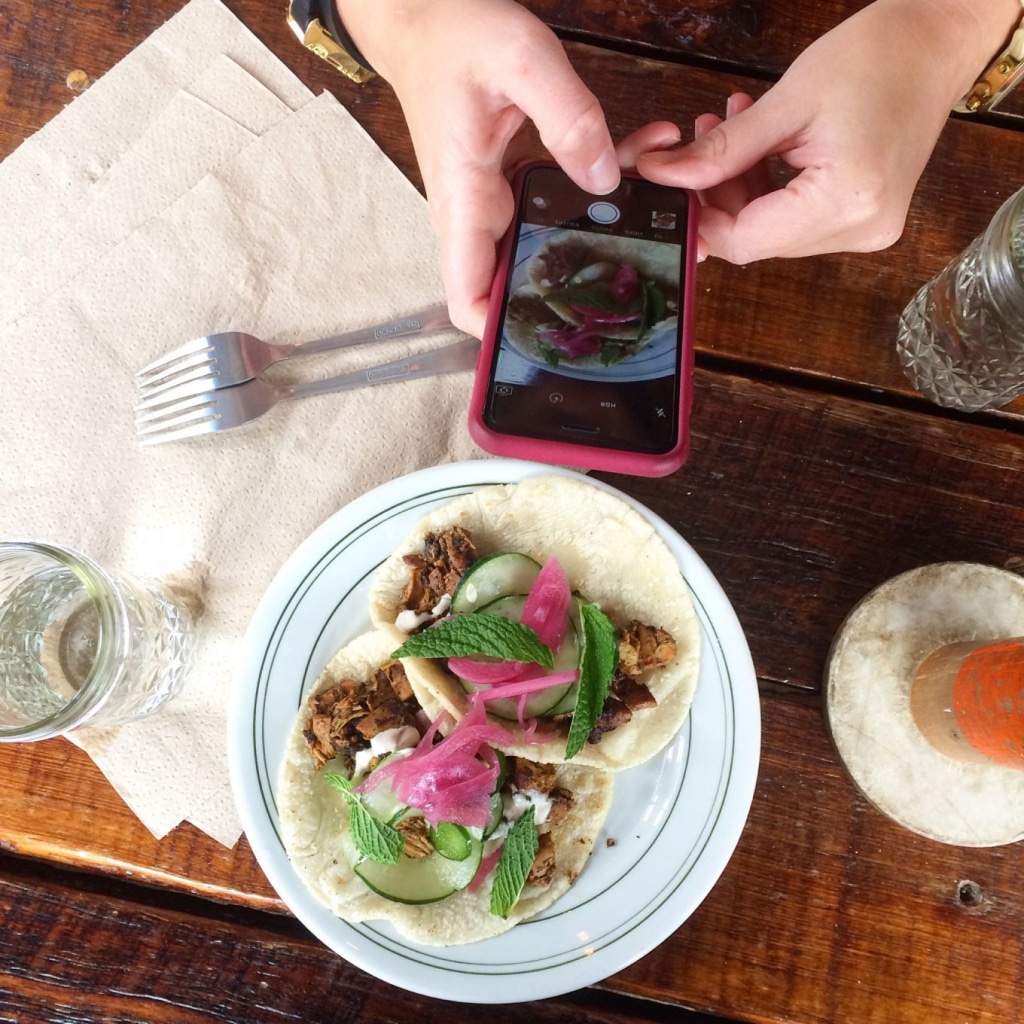 And after that I was so full that I had a small, boring salad for dinner. No picture, because it wasn't worth it.
So there you go. Granted, I ate out a lot more than I usually would this week, but 2 of the three outings were planned regardless of the kitchen situation. I don't anticipate this pace of eating out to keep up, but we'll see. Preparing food is exhausting, since the sink is in the other room and washing produce, dishes, and hands is a big production.
Next week, maybe I'll break out my electric burner thingie and pretend I have a stove. Stay tuned!
See next week's recap here!