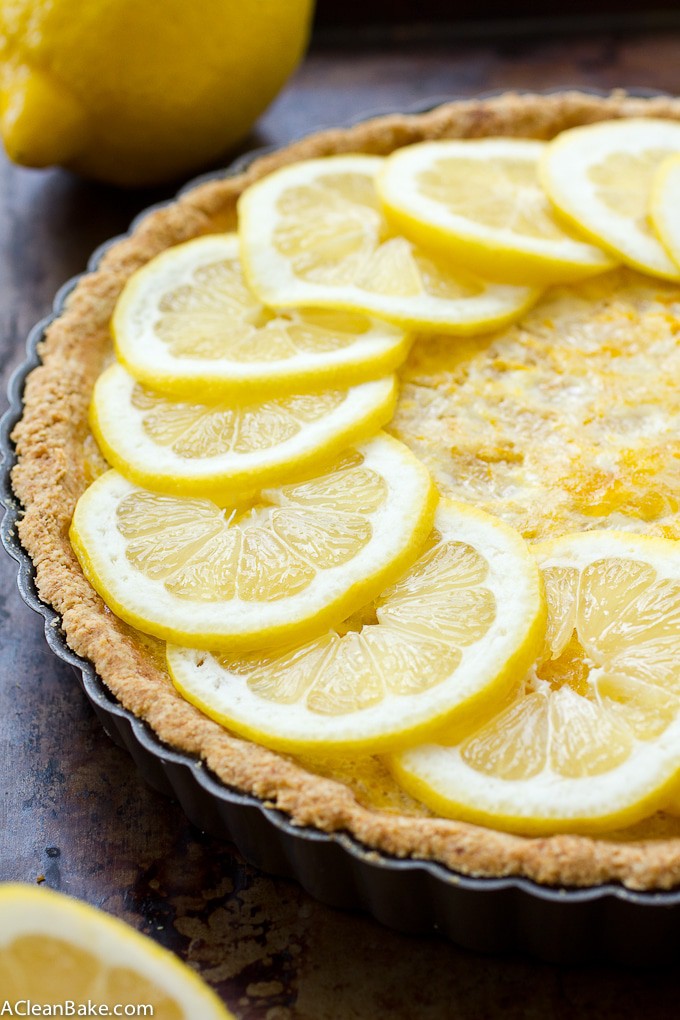 When you take your first slice out of this lemon tart, you're going to want to immediately dig into the nutty crust and the soft, silky center that emits waves of bright lemony aroma. But, what you should do, instead, is to orient the tart so that the missing slice forms a mouth aimed at a row of lemons, like Pac Man about to gobble up some… uh… food blobs (video game experts: what is the technical term for the stuff that Pac Man eats?! I must know!). Why do this? Well, isn't the real question why not? It's fun! Isn't that enough?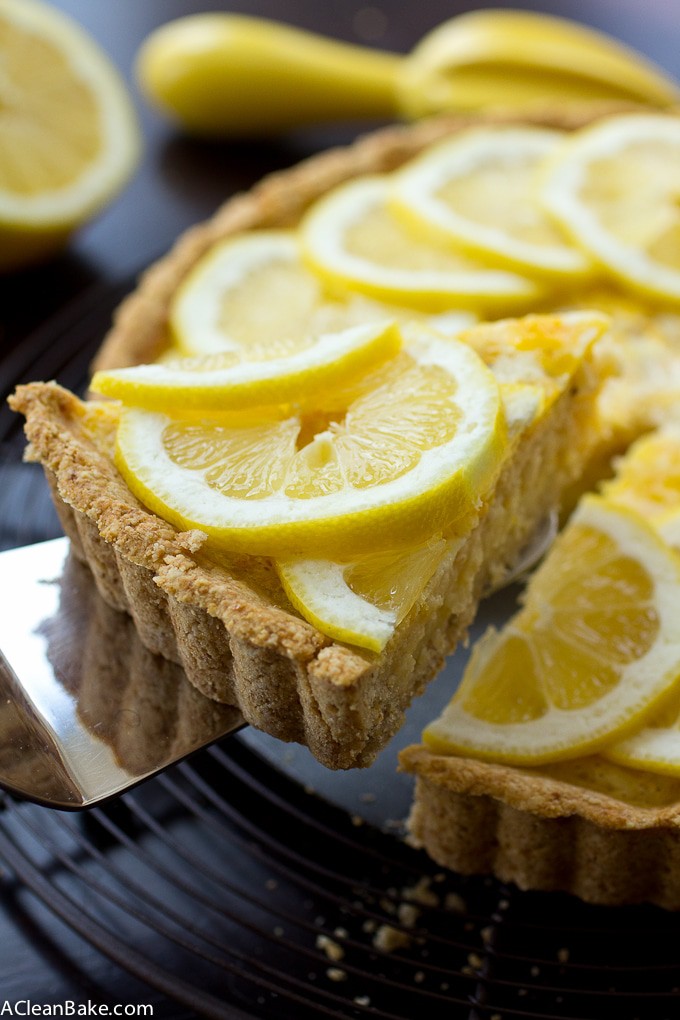 Does the idea of a tart or custard intimidate you? Maybe it should in theory, but I hope you trust me enough by now to know that I am too lazy, er, committed to making simple, manageable recipes (ok, both) to taunt you with an irresistible treat, only to ruin it with a series of fussy, labor-intensive instructions. Nope, none of that.
In fact, the filling only requires a few ingredients and a single bowl, and I used Simple Mills bread mix for the crust. You remember Simple Mills, right? I've shared recipes using their products before (doughnuts! gnocchi! OMG chocolate chip cookie s'mores!!!) but if you are newer to the blog, you may not be familiar with this wonderful brand. Don't worry: you will be soon.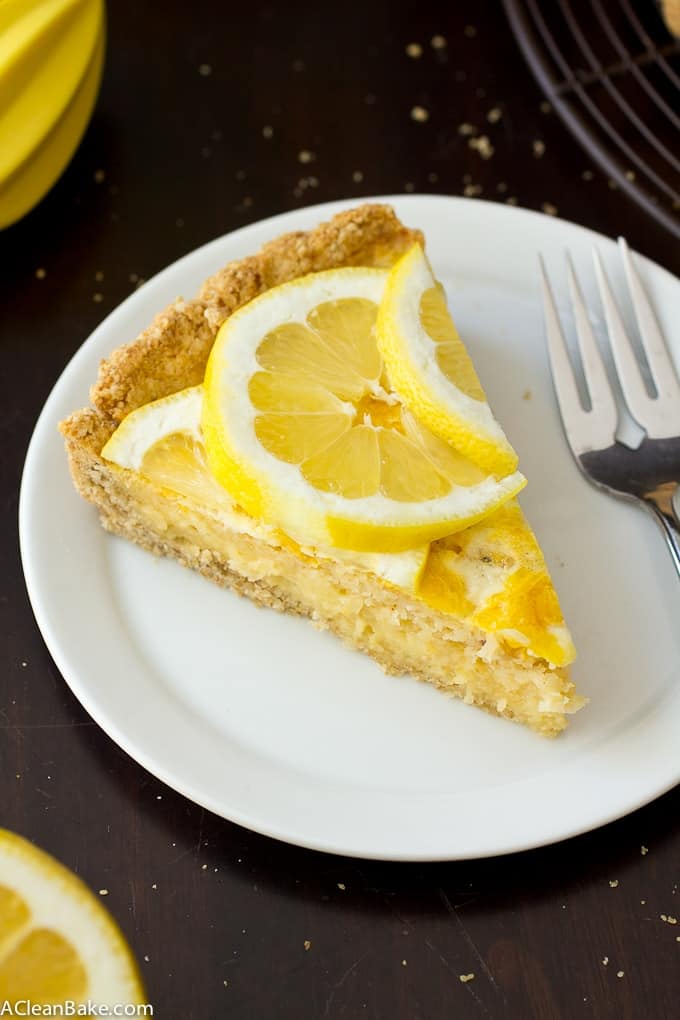 In a nutshell, their products are made of nothing more than a few simple (pun slightly intended), real food ingredients that you would find in your own kitchen, like almond flour, coconut flour, high quality sea salt, baking soda, and arrowroot starch, to name a few. Like any other product I tell you about on this site, Simple Mills mixes are products that I've been using in my kitchen for a long time, and I'm going to start showing you a recipe every month or two that highlights their products and all the versatile ways they can be used in your kitchen. Like, oh, I don't know, turning bread mix into pie crust, for example!
…And filling it with a rich, tart-sweet lemony custard that, incidentally, would be perfect for Mother's Day!
Oh, and if you'd like to see the rest of the recipes that I've made using Simple Mills products, go here.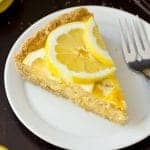 Lemon Custard Tart
gluten free, grain free, paleo, naturally sweetened, dairy free, low carb
Ingredients
Ingredients for the crust
1

large egg white

4

Tablespoons

butter or coconut oil

melted and slightly cooled

2

Tablespoons

water

3

Tablespoons

granulated stevia

1

box Simple Mills bread mix
Ingredients for the filling
2

large eggs

2

large egg yolks

Zest of one large lemon

½

cup

fresh lemon juice

½

cup

granulated stevia
Ingredients for garnish
Lemon slices

raw or candied, optional

Powdered sugar

optional
Instructions
Preheat the oven to 350F. Lightly grease a tart pan with a removable base and set aside.

Prepare the crust: in a large bowl, whisk together the egg white, melted butter (or oil), water and stevia. Add the bread mix, and mix until combined.

Gather the dough into a ball and transfer to the prepared tart pan. Use the heel of your hand to gently press the dough into an even layer across the bottom of the pan, then up the sides. Use your fingertips to pinch off the excess dough that rises above the edge of the pan.

Top the crust with a layer of parchment paper, then fill the shell with pie weights (see note) and cook for 10 minutes.

While the crust is pre-baking, make the filling: in a stand mixer fitted with the beater attachment, or using a hand mixer, thoroughly mix the eggs and yolks together so that no clumps of white or yolk remain. Add the lemon zest, juice, and stevia, and beat until combined.

Once the crust is done pre-baking, do not turn off the oven. Pour the filling into the crust and bake, still at 350F, for 35-45 minutes until a firm crust forms on top, but the filling is still a little soft to the touch. If you prefer a less custard-y texture, bake an extra 5 minutes until firm.

Remove and cool before serving. Garnish with lemon slices if desired, but if using raw lemon slices, remove them before eating. Alternately, you can dust the top of the tart with powdered cane or coconut sugar before slicing.
Recipe Notes
There is no need to purchase expensive pie weights for this recipe! Just buy a bag of dried beans – any variety will do – and use them as pie weights. Let them cool and store them in a jar for re-use. Do not eat them once they've been used as pie weights, though!
If you can't find Simple Mills mixes nearby, you can order them online, or use my grain free pie crust recipe instead.
Yield: One 10" tart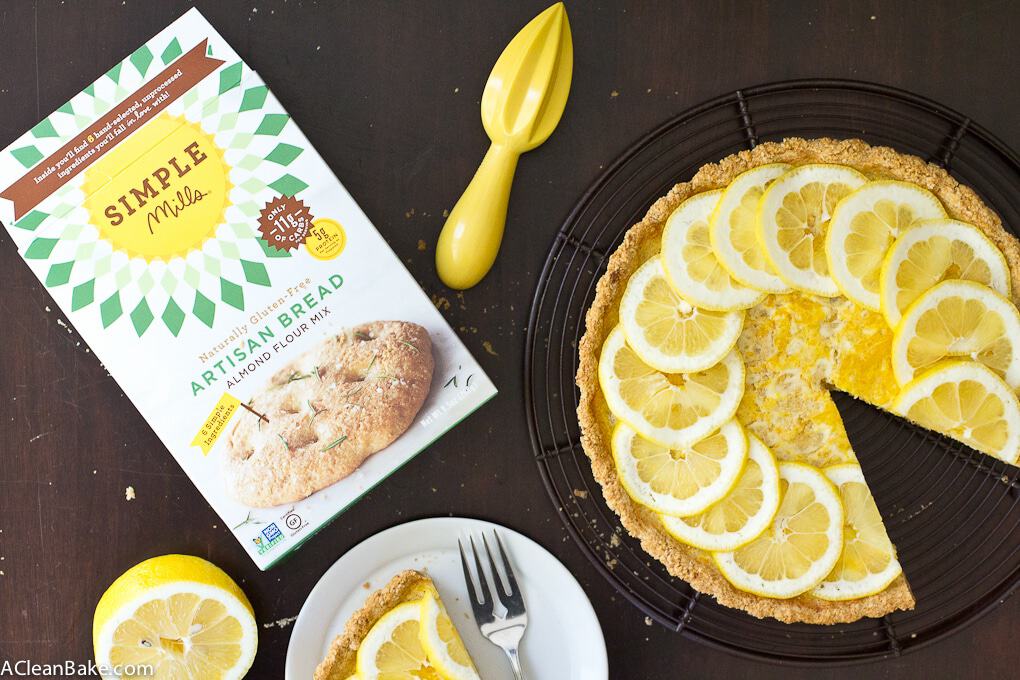 Thank you to Simple Mills for providing the ingredients that inspired this delicious recipe. This post contains affiliate links, which means that if you click through and purchase a product, A Clean Bake receives a small commission, which goes toward continuing to bring you delicious, healthy recipes every week. This does not affect the price you pay. Thanks for supporting A Clean Bake!