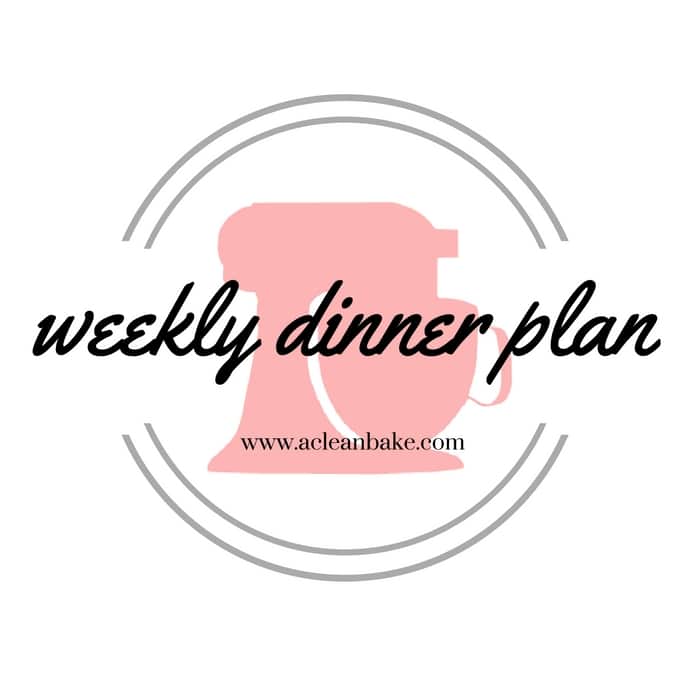 Isn't there a saying about making plans and [insert deity or higher power you believe in here] laughing? That's what happened last week. Just when I thought we'd started to get the hang of making and sticking to a meal plan – and it was a good time to start sharing – our schedule went off the rails again. For one thing, I totally forgot that my colleagues and I had scheduled a little meet-up so I wouldn't even be home for dinner. And for another, work is, for me, a total cluster lately and is shaping up to be pretty all-consuming right up until the last minute before my maternity leave starts.
While planning is all well and good, it's the follow through (or rather the energy for follow through) that I am having trouble with. So, this week, I am trying to keep it as simple and no-frills as humanly possible. 30 minutes or less, please!

Here's what we're eating this week:
Monday: Green Chili Meatballs with Tomatillo Sauce (based on this recipe, but with jalapeno in place of green chilis, coconut flour in place of oats, and I probably will not stuff them with cheese). As for the tomatillo sauce, I will probably either wing it (puree tomatillos with some spices), or use the green salsa from Trader Joe's. [this is the recipe that is recycled from last Thursday. If you already had it, try these turkey burgers instead!]
Tuesday: PaleOMG's Buffalo Chicken Casserole. I've heard so many raves about this recipe so I am excited to try it for myself! Admittedly, this is probably not a 30-minute recipe, as I'd hoped for this week. But the ample amount of leftovers that I'm sure we'll have will make it worth the extra time.
Wednesday: Breakfast for dinner – eggs, bacon, and pancakes, plus a vegetable of choice. For the pancakes, I use my own recipe, but if you don't have a favorite, I'd highly recommend Simple Mills's pancake mix.
Thursday: Wild card meal (leftovers, recipe you've been meaning to try, or eat out)
Friday: Chicken Mole over polenta with a side of greens, sauteed with olive oil, salt, and garlic. Bake the chicken, then top with a store-bought mole sauce (Trader Joe's has a good one, I think) or make your own (google it). This is the recipe I use for the polenta, though I use all water instead of the prescribed combination of water and milk. As for the greens, I usually use spinach but you can use whatever you like best!
Saturday: Grilled chicken (seasoned with olive oil, salt and pepper) with caprese salad and green beans
Sunday: Pizza. I will probably be testing a recipe and we'll eat the results of the test, or else we'll top this grain free thin crust recipe (from Primal Palate's book Make It Paleo 2) with our favorite toppings. For a faster option, try Simple Mills's pizza crust mix.
PS: Check out the first week of dinner planning here!
**
Have a great week!
This post contains affiliate links, which means that if you click through and purchase a product, A Clean Bake receives a small commission, which goes toward continuing to bring you delicious, healthy recipes every week. This does not affect the price you pay. Thanks for supporting A Clean Bake!