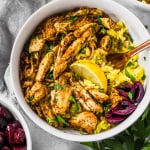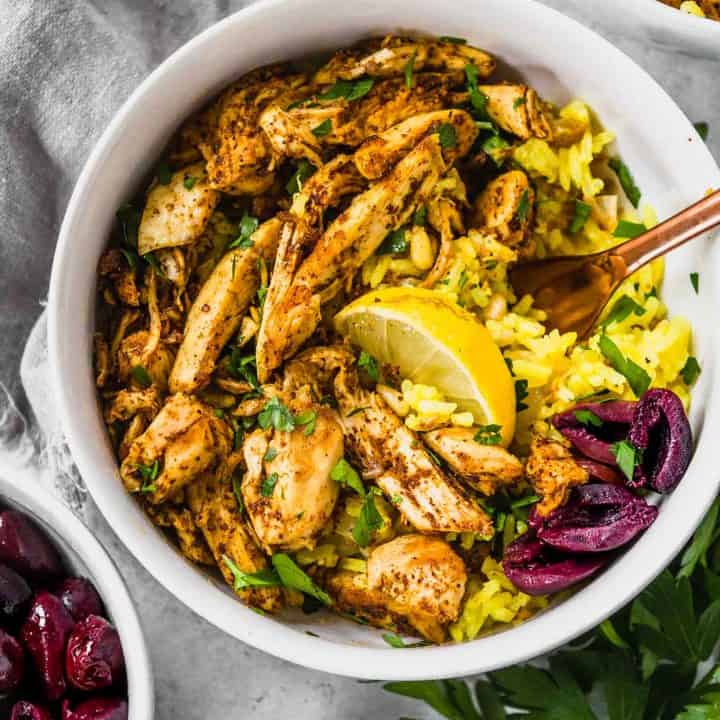 Print
Slow Cooker Chicken Shawarma
Slow cooker chicken shawarma combines the ease of a slow cooker meal with the complex flavor of a slow-roasted middle eastern chicken feast! This is a quick version of the middle eastern favorite: the slow cooker does a lot of the work and it can be prepped ahead of time. Various serving options make this sensational paleo and gluten free dinner recipe adaptable for low carb and Whole30 compliance, too!
Total Time
2
hours
20
minutes
Place chicken in the bowl of your slow cooker, and add water. Cook on high 2 hours until the chicken is cooked through (the juices run clear and the fat has rendered out of the chicken).

When the chicken is cooked, slice each breast against the grain.

In a large bowl, mix together all of the spice mix ingredients. Set aside.

Over medium high heat, preheat 2 Tablespoons of olive oil in a heavy bottomed pan large enough to hold all of the chicken in a single layer without being too crowded.

Add the chicken to the skillet and sprinkle the spice mixture evenly over the chicken.

Allow the chicken to fry, without moving it, until crisp.

Pour 1 Tablespoon more of oil over the chicken and flip the chicken, stirring gently to make sure that the chicken is well coated with the spice mix. If the chicken is starting to stick to the pan once flipped, add the remaining Tablespoon of oil and stir gently.

Remove chicken from pan as soon as it is crisped to your liking.

If serving with lemon tahini sauce, combine all sauce ingredients in a blender and blend until smooth.

Serve immediately, with lemon tahini sauce, if desired. (See notes for serving suggestions.)
You can definitely make the chicken ahead of time. Don't worry about it getting cold; it will heat up when you finish cooking it in the pan with olive oil and a to-die-for homemade spice mix.Make the chicken the day before (or even a few days before) you plan to serve it, store it in an airtight container in the fridge until you're ready to eat, and then do the pan frying part right before your meal. You can also make the spice mixture in advance; store it in an airtight container at room temperature for up to a week. 
Chicken shawarma is, in my book, the kind of thing you don't each on your own, but instead serve in a bowl full of lots of textures and flavors - rice, olives, sumac onions (or marinated red onion), and a drizzle of fresh lemon juice on top - with a fresh, crisp salad (I'm biased, I know, but I think my Jerusalem salad goes really well with this!) on the side to balance out the silky rice and aromatically-spiced chicken.
As for what to serve it over, rice is, as I said, my preference. But you can certainly stuff a gluten free pita bread to make it into a sandwich, or keep it in the bowl, but use a base of cauliflower rice to make it low carb and Whole30 compliant.
Calories:
317
kcal
|
Carbohydrates:
3
g
|
Protein:
34
g
|
Fat:
18
g
|
Saturated Fat:
2
g
|
Cholesterol:
96
mg
|
Sodium:
281
mg
|
Potassium:
614
mg
|
Vitamin A:
3.5
%
|
Vitamin C:
5.4
%
|
Calcium:
2.8
%
|
Iron:
8.1
%