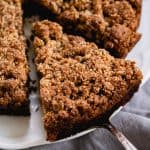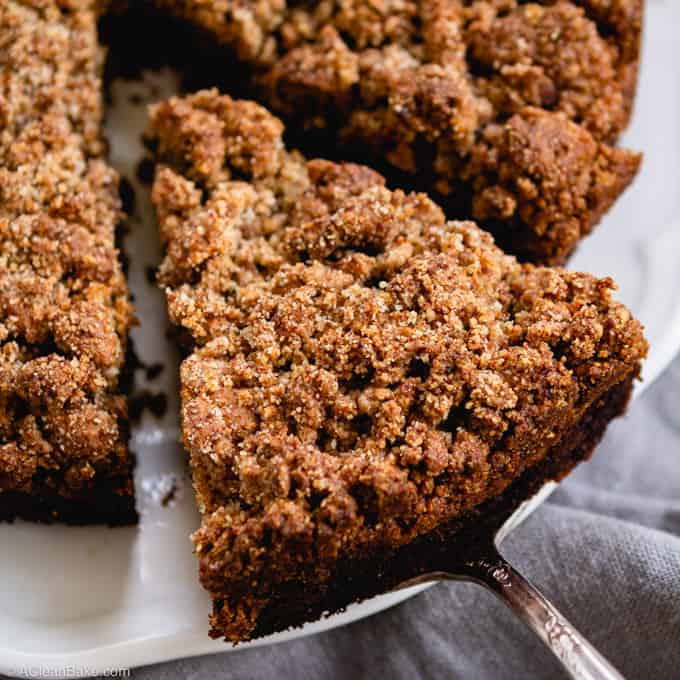 Print
Paleo Blueberry Crumb Cake
This paleo blueberry crumb cake is so easy and pairs perfectly with your coffee! Use fresh or frozen blueberries to make this naturally sweetened cake!
Cook Time
1
hour
10
minutes
Total Time
1
hour
35
minutes
Ingredients for the crumb topping
Make the cake
In a large mixing bowl whisk together the almond flour, coconut sugar, coconut flour, arrowroot flour, baking soda, and salt. Set aside.

In a small bowl, whisk the eggs.

Once the melted oil is cooled slightly, whisk it into the eggs, then whisk in the maple syrup, lemon juice and zest (if using), and vanilla extract.

Pour the wet (eggs, oil, etc.) mixture into the dry (flours, etc.) mixture and stir to combine.

Fold in the blueberries.

Transfer the batter to the prepared pan and smooth into an even layer. The batter will be VERY thick, particularly if you're using frozen berries.

Set the pan of batter aside.
Make the crumb topping
In a medium mixing bowl, whisk together the almond flour, coconut sugar, arrowroot flour, and salt.

In a small bowl, whisk together the oil and maple syrup.

Pour the wet mixture into the dry mixture and stir until well combined. There will still be a bit of the dry mixture at the bottom of the bowl that won't get incorporated.

Pour the crumb topping into the pan and spread into an even layer over the cake batter. Pack the crumb topping down gently.

Bake the cake for 60-75 minutes until a tester comes out clean.

Cool for 15-20 minutes, then gently removing the ring of the springform pan to allow the cake to cool completely.
When adding the oil to the eggs (step 4), make sure the oil is the right temperature. The oil can be warm, but if it's too hot, it will cook the eggs. A good rule of thumb for determining when the coconut oil is cooled enough is whether you're able to hold your finger in it for the count of 10 without it hurting. 
If using frozen blueberries, do not defrost before adding them to the cake.
This is the springform pan I use.
If you're having trouble removing the ring from the springform pan, run a thin knife around the edge of the cake to release it from the ring before loosening the ring. 
Store leftover cake in an airtight container at room temperature for up to 2 days, or in the freezer for up to 3 months. 
You can make this up to 24 hours ahead of when you want to serve it. Store it, uncovered, in a cool, dry place until ready to serve.