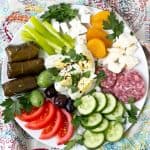 Print
A Full Turkish Breakfast
Turkish breakfast is the best reason to get out of bed in the morning! The meal consists of meats, cheeses, fruit, veggies, and a little something sweet. It's a gluten free and grain free plate that is filling, healthy, satisfying and great any time of day!

Hard boiled eggs

typically one per person

Stuffed grape leaves

Sliced green peppers

Sliced tomatoes

Sliced cucumbers

Black olives

Green olives

Dried apricots

Good quality cured meat

like salami

Good quality salty cheese

like feta

Good quality creamy cheese

like mozzarella

Sumac

salt and pepper, for sprinkling

Chopped fresh flat leaf parsley

for garnish
Cut the egg(s) in quarters and place in the center of the plate.

Arrange the remaining items on the plate around the egg.

Garnish the egg with sumac, salt and pepper, and sprinkle the entire plate with flatleaf parsley.
If you are only making one serving, you only need a few of each item. If you're making a platter to feel multiple people, assume 2-4 pieces of each item per person. With so many edibles on the plate, you'll fill up fast!
To make this vegetarian, simply omit the meat and add an additional hard boiled egg and some extra cheese.
If you want a little bit more sweetness, serve it with a dollop of chocolate hazelnut spread and some bread or cut up fruit to spread it on.