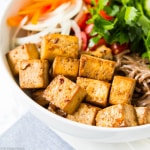 Print
Five Ingredient Baked Tofu
This vegan 5-ingredient baked tofu recipe is a quick and easy plant-based protein that tastes great! It comes together so easily: just whisk together a marinade, soak the tofu, spread the tofu on a pan, bake and enjoy! It comes out of the oven crispy, flavorful, and ready to add some zing to salads, noodle (or zoodle) bowls, sandwiches, and more.
Preheat the oven to 400F. Cover a cookie sheet or backing dish with a

nonstick pad

and set aside.

Drain the tofu, wrap it in a clean towel and then press it for 15-30 minutes.

Once tofu is thoroughly drained, cut it in half widthwise, then cut each half into 16 pieces.

Transfer the cubes to a large mixing bowl and set aside.

In a small bowl, whisk the rest of the ingredients together to make the marinade.

Pour the marinade over the tofu and toss to coat. Let sit at least 30 minutes.

Drain and discard marinade.

Arrange tofu in a single layer on the prepared baking sheet.

Bake for 10-15 minutes, then turn the cubes and bake for an additional 10-12 minutes until crisp.

Cool slightly before serving.
You can sub honey for maple syrup if not vegan.
The original recipe calls for olive oil instead of sesame oil. I like sesame oil for a little extra flavor complexity, but use whichever you prefer.
To press tofu, do this:

Wrap the block of tofu in a clean kitchen towel. Then wrap it in another one.
Place it on a firm, flat surface. A cutting board will do. 
Carefully stack a few heavy things on top. A small cast iron skillet with a few things inside works. I usually use 3-4 overturned (for better balance) salad plates. Just be careful that you have balanced the pressing implements well, so that they press evenly and stay level as the tofu contracts.
Now you're ready to slice and proceed with the recipe!

If time permits, marinate the tofu for an hour or two (or whatever time you have) before baking. 
Store leftovers, covered, in an airtight container in the refrigerator for up to a week. 
Calories:
56
kcal
|
Carbohydrates:
5
g
|
Protein:
5
g
|
Fat:
1
g
|
Sodium:
817
mg
|
Potassium:
149
mg
|
Sugar:
3
g
|
Vitamin C:
1.5
%
|
Calcium:
2.6
%
|
Iron:
5
%