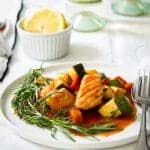 Print
Braised Cod with Summer Vegetables
Braised cod with summer vegetables is an easy, flavorful and highly adaptable dish that the whole family will love! Better yet, pair it with a glass of Pinot Grigio for a no-fuss date night.
Servings
2
large servings
2

Tablespoons

extra virgin olive oil

3/4

cup

thinly sliced onion

(yield of about one medium)

3/4

pound

fresh or frozen defrosted cod fillet,

cut into large chunks, if desired (optional; you can leave as fillets)

1

cup

unsalted tomato puree

1

medium

tomato,

diced

1

large

red pepper,

seeds and stem discarded and diced

1

large

zucchini,

stem discarded, diced (no need to peel)

1-2

Tablespoons

freshly squeezed lemon juice

(to taste)

2

Tablespoons

fresh tarragon leaves

1/4

teaspoon

ground black pepper,

or to taste

1/8

teaspoon

fine sea salt,

or to taste
Preheat the olive oil in an heavy-bottomed pan with a lid - ideally a dutch oven.

Add the sliced onions and cook slowly (sweat), over medium heat, until translucent and softened.

Add the cod and cook until it begins to brown slightly. You won't get a crust like you would with fattier fish, so just look for a bit of golden, particularly at the edges. This should only take a minute or so if you've cut up your fish. If you've kept the fillets intact, it will take slightly longer.

Add the tomato puree and stir. Then add the vegetables, lemon juice, tarragon, salt and pepper and stir again.

Cover and cook until the vegetables are tender (but not soft; don't risk overcooking them or the fish).

Adjust seasonings to taste, and serve immediately.
Use whatever summer produce is most fresh. Or, if your goal is to minimize waste, least fresh works too.
Same goes for the herbs: I used tarragon here for a pseudo-south-of-France flavor. I imagine eating a dish like this in some seaside town while wearing a striped shirt and listening to the sound of the ocean. But you can use something else - maybe thyme? - if you prefer. You can also use Herbs de Provence (here are some other recipes that you can make to use up the jar of Herbs de Provence)
On that note, feel free to use wild caught fish that was pulled out of the ocean just hours before it goes into the pan but for those of us who live in reality (or landlocked locales), just find the freshest, best quality (meaning wild and/or sustainably caught) mild fish you can. Tilapia would work if you can't find cod, though I have seen wild caught frozen cod at Mariano's (a Chicago Kroger-owned chain) and Costco. It's probably available elsewhere, and defrosts with little to no "fishy" flavor, which is why I love to use it in this.
This recipe lacks starch but if you want to include it (especially if you are pairing it with Pinot Grigio, which I recommend!) you can add potatoes (either on the side or directly into the dish), serve it over rice or find some really good crusty gluten free bread to sop up the sauce.
The recipe yields two very large portions, or three to four smaller ones. This is a lighter dish so if you are not serving it with a starch, you'll probably eat the whole batch between the two of you. 
Store leftovers in an airtight container in the refrigerator for up to 3 days. 
Calories:
415
kcal
|
Carbohydrates:
32
g
|
Protein:
37
g
|
Fat:
16
g
|
Saturated Fat:
2
g
|
Cholesterol:
73
mg
|
Sodium:
297
mg
|
Potassium:
2207
mg
|
Fiber:
7
g
|
Sugar:
16
g
|
Vitamin A:
81
%
|
Vitamin C:
196.6
%
|
Calcium:
17.6
%
|
Iron:
35.1
%