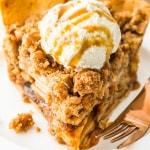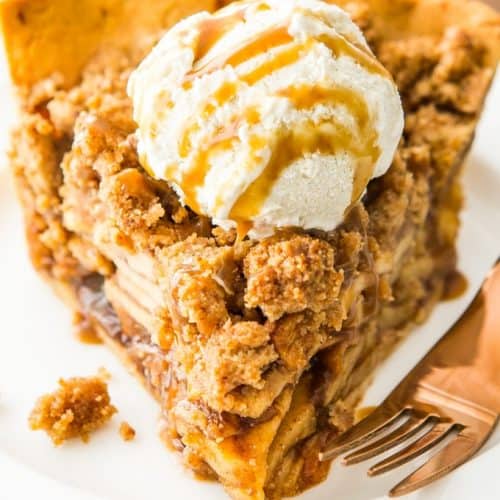 Print
Paleo Apple Pie with Crumb Topping
Paleo apple pie is much easier to make than you'd think when you fill a reliable grain free and low carb crust with three kinds of apples, warm cinnamon, and rich coconut sugar, and top it all with a thick layer of luscious crumb topping! Finish it with a dollop of ice cream and a drizzle of caramel sauce. No one will believe it's gluten free, grain free, and dairy free!
Total Time
1
hour
10
minutes
Make the crust
Preheat the oven to 350°F. Lightly grease an 8 1/2 inch pie plate and set aside.

In the bowl of a food processor fitted with the "s" blade, pulse together the almond flour, coconut flour, tapioca flour, and salt a few times, to combine.

Add the egg, maple syrup and butter, and process until the dough comes together in a ball. Scrape down the sides once or twice to ensure everything is well combined. The dough will be sticky.

Let sit 10 minutes for the dough to firm up.

Turn the ball of dough out on to a piece of wax or parchment paper. Cover with another piece and roll out into a circle about 13" wide (the width of your pie plate's base + the length of two of the sides).

Carefully pick up the dough and transfer it to the plate. Press it into the corners and trim the edges, or crimp them between your thumb and first two fingers.

Cover the dough with a piece of parchment paper, and fill the shell with pie weights or dried beans.

Bake 10 minutes.

Remove from the oven and set aside to cool. Keep the oven on.
Make the filling
In a large mixing bowl, toss together all of the ingredients until well combined.

Pour the filling into the pre-baked and cooled pie shell and use a spatula to spread it into an even layer. Set aside.
Make the crumb topping
In a medium mixing bowl, whisk together the almond flour, coconut sugar, coconut flour, cinnamon and salt. Set aside.

In a small bowl, whisk together the oil and maple syrup.

Pour the wet mixture over the dry mixture and stir to combine.

Use a spoon or your fingertips to drop dollops of crumble all over the top of the pie, covering all of the apples.

Optional step: Whisk an egg with 1 Tablespoon of milk or water to create an egg wash. Brush the edges of the crust. This will produce a golden brown crust, but will also make it crisper. For a more tender edge, skip this step.

Bake for 30 minutes. Then loosely cover the edges of the crust with tinfoil (or a shield) and bake for another 30 minutes or so, until the top is golden.

Cool completely (or mostly) before serving.
Calories:
437
kcal
|
Carbohydrates:
42
g
|
Protein:
7
g
|
Fat:
28
g
|
Saturated Fat:
13
g
|
Cholesterol:
18
mg
|
Sodium:
109
mg
|
Potassium:
97
mg
|
Fiber:
5
g
|
Sugar:
24
g
|
Vitamin A:
0.9
%
|
Vitamin C:
5
%
|
Calcium:
9.8
%
|
Iron:
8.6
%