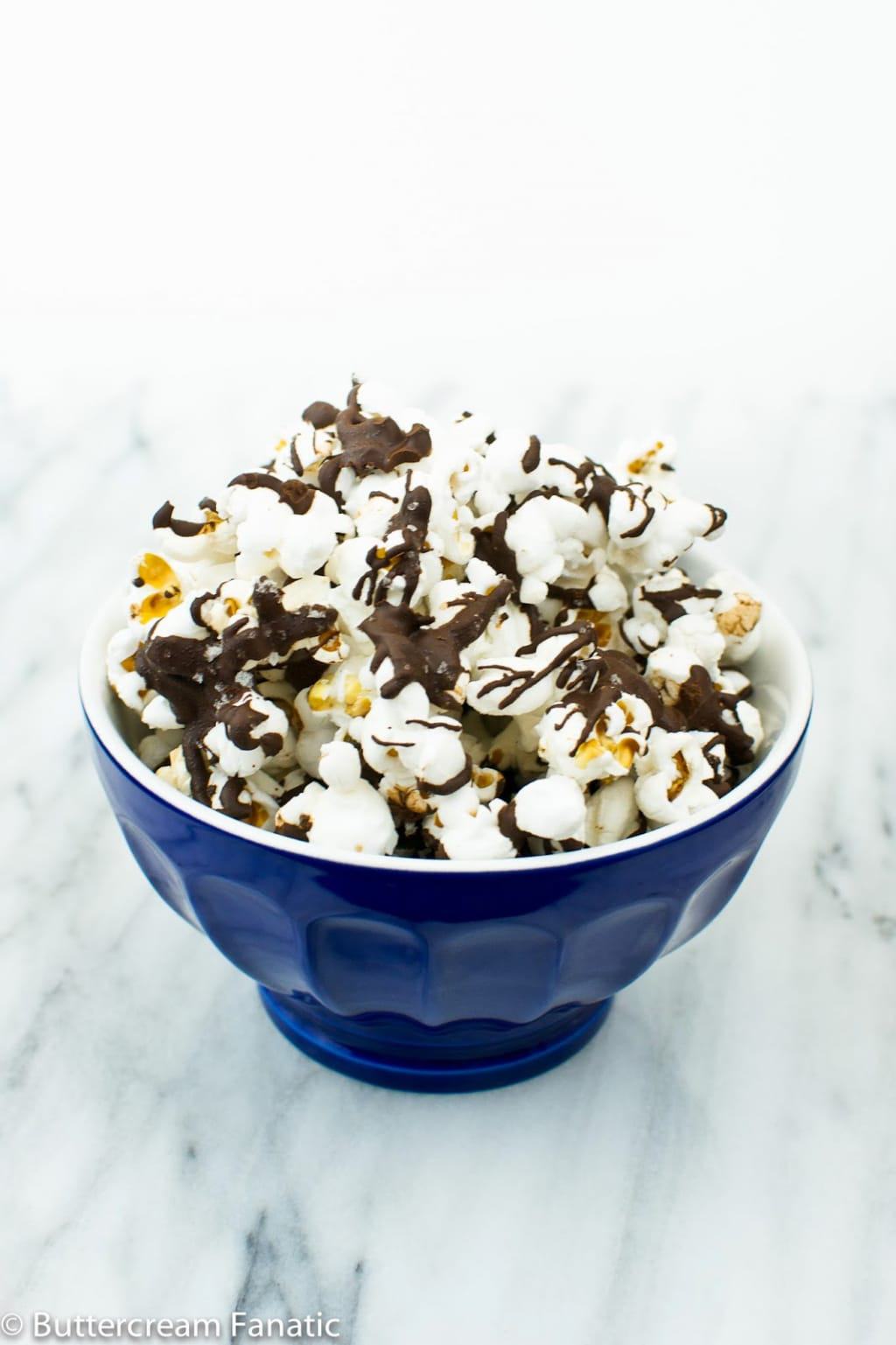 The hardest thing about eating healthy (or, dare I say, dieting?) is snacking, right? Especially when you are trying not to reach for a cookie or a muffin or a bowl of ice cream. Popcorn is one of my favorite snacks that tastes like an indulgence but actually, if its made right, is not at all bad for you. By "if it's made right", I'm obviously not talking about the kind from the movie theater which, as we all know, is infamous for containing 309482093842093840928 calories per 1/2 cup.
No, instead, I am talking about making the stuff at home, popping it by air or in a slight bit of oil – I only use about a Tablespoon for 1/3 cup of kernels, which makes about 5-6 cups of popped corn – and adding a drizzle of good quality chocolate and a pinch of coarse sea salt that will give you the satisfaction of a treat, without slamming your body with a million grams of sugar and salt – not to mention gluten, if that is something you care to avoid.
As you've probably noticed, I put chocolate in most all of my healthy treats, because, without a little bit of the good stuff, it tastes like diet food and I don't like diets. Eating healthy is a totally different thing though, which involves not depriving yourself but also not going overboard.
The only way for this to work, though, is to use the good stuff. Yes, this is the time to splurge on good chocolate and fancy sea salt. There actually is a difference in salt! You're only going to need a little bit of each, so I promise this won't break the bank. I actually got my coarse sea salt on clearance at TJ Maxx. The reason to spend a little more than you usually might is because, with so few ingredients, each one is very important. In your mouth, that is. For example, I used good quality dark chocolate (70% cocoa) here, which produced a flavor that was not only unmistakeable but also concentrated enough in each bite to not even consider wanting a brownie. Seriously! I know this sounds like witchcraft, but give this recipe a shot: it's quick and easy, appropriate for any experience level and produces a ridiculously good snack or party food.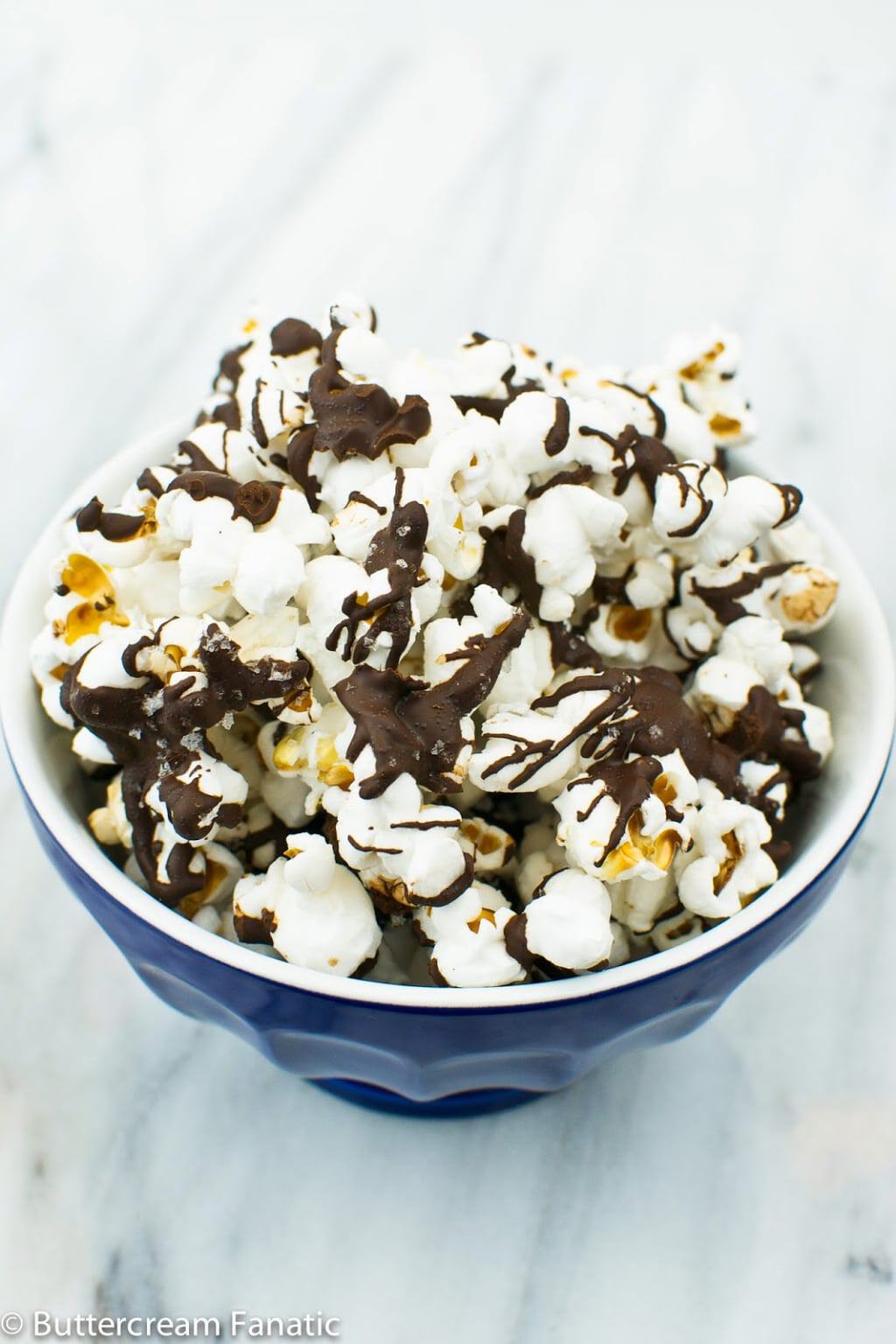 Dark Chocolate Sea Salt Popcorn
Ingredients
1 Tablespooncanola oil
1/3 cuppopcorn kernels
3 ouncesdark chocolate (I recommend 70%)
Coarse sea salt, for sprinkling
Cooking Directions
In a large stock pot, preheat the oil for a minute or two before adding the kernels. Cover and cook over medium high heat, shaking the pan often until the kernels are mostly popped. You'll know they're ready when the pops are 1-2 seconds apart.
Remove from heat and spread in an even layer on a nonstick pad or piece of parchment paper. In a microwave-safe bowl, heat the chocolate in 30-second increments, stirring in between, until melted and smooth. Use a spoon to drizzle chocolate in a thin stream across the popcorn. Follow immediately with a sprinkle of sea salt, about 5-6 pinches for the whole batch (depending on the coarseness of your salt and the size of your pinch).
Allow to cool completely, so that chocolate hardens, before serving or storing. This will keep in an airtight container at room temperature for about a week, or in the freezer for up to three months.