This Ratatouille recipe comes together quickly for a fresh weeknight dinner. Plus, it's suitable for gluten free, paleo and vegan diets!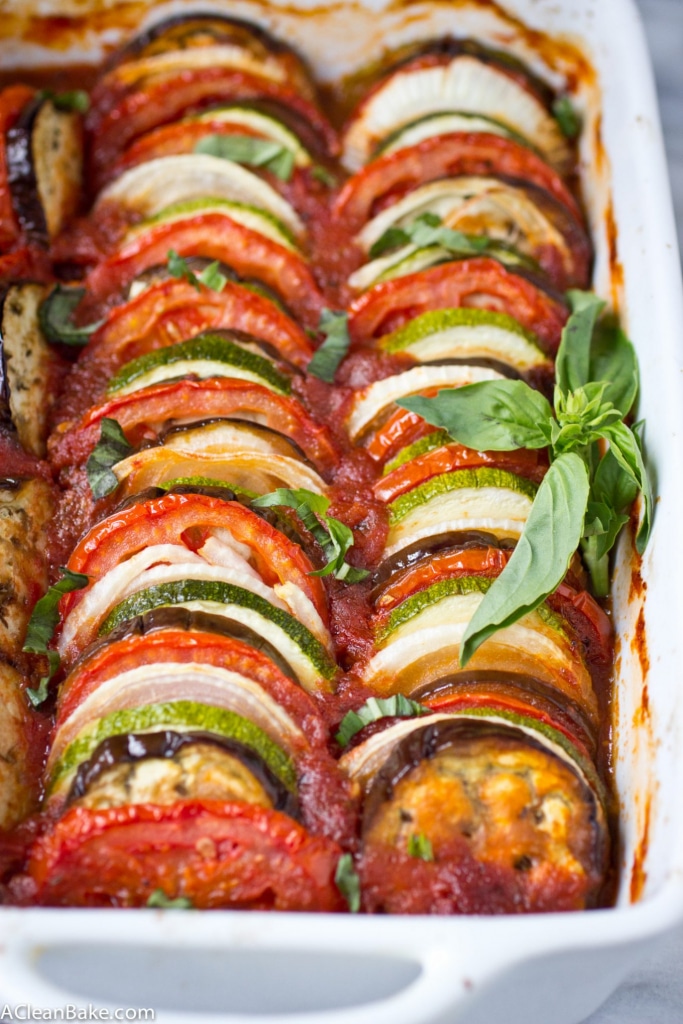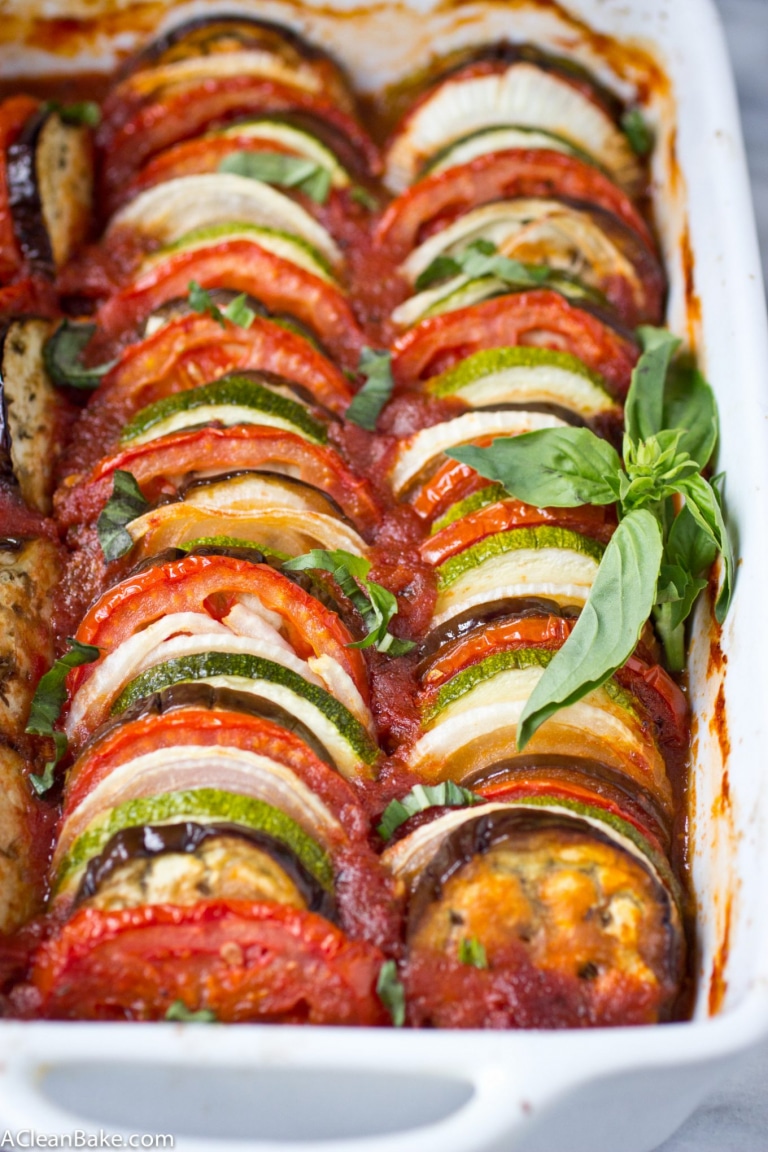 Granted, this might be the yuppiest thought to have ever been uttered, tied only with "OMG! They're out of pumpkin spice lattes!" and "Ugh my premium high speed internet is totally only running at the speed of standard" but can I just ask what the heck we did before CSAs?
All over the country, small farmers are pulling insanely fresh, plump vegetables out of the ground and off of vines or trees or… well, this is why I leave the farming to the farmers. Anyway, I only mention it because a CSA means you not only get to support these fabulous farmers, but receive, in return, a weekly box full of said freshly picked veggies (and, in some CSAs, fruits too).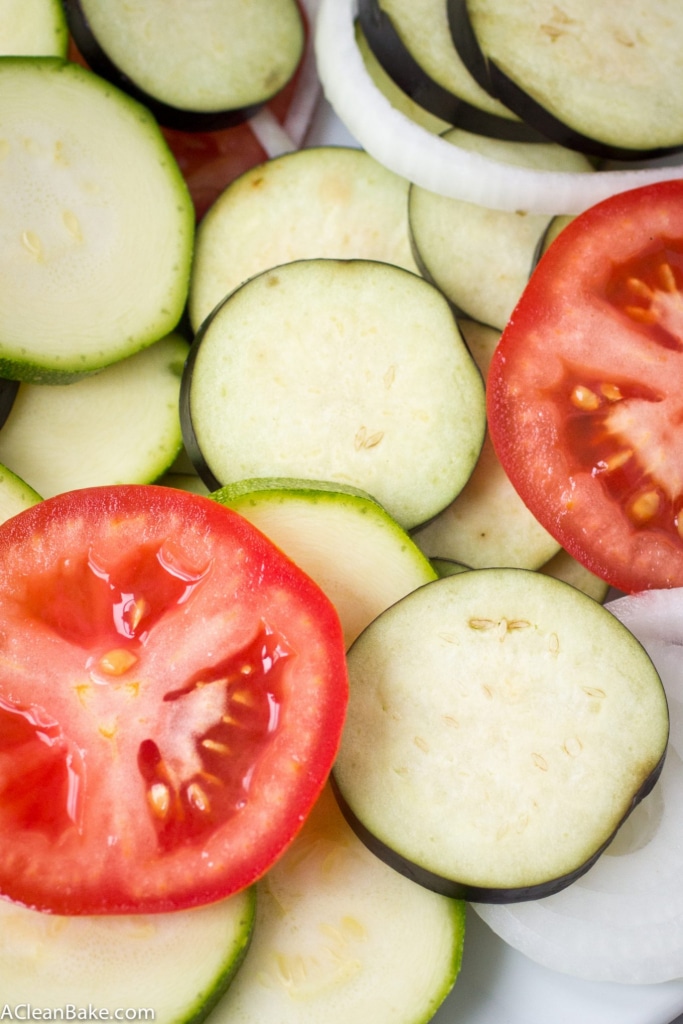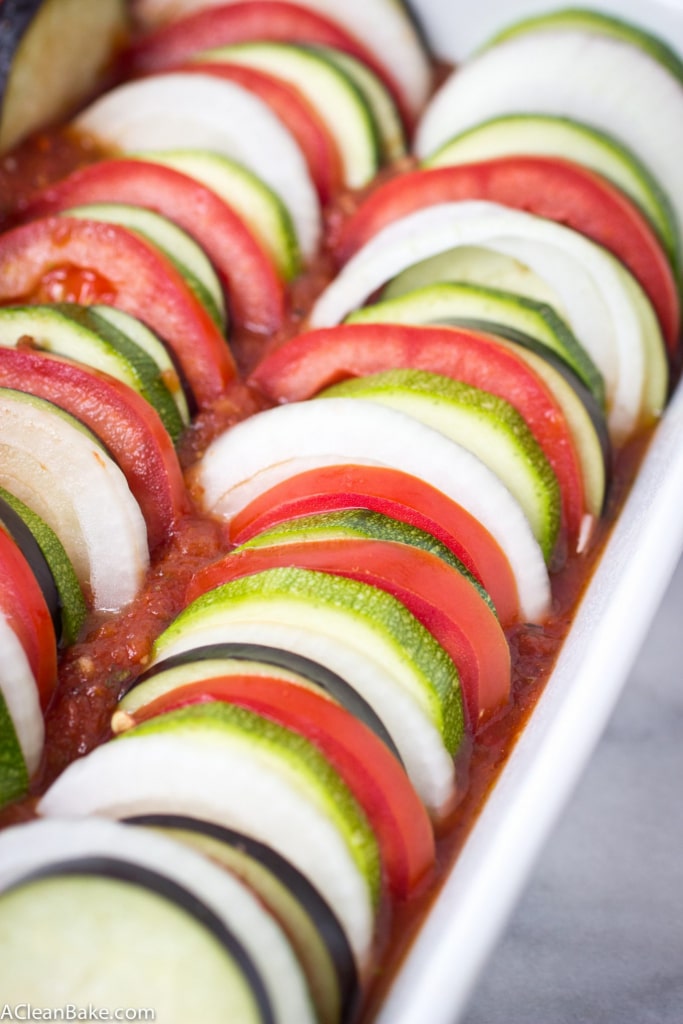 Every week, I open my box with big eyes and a hopeful stomach, hoping for another round of the crisp zucchini and tender cucumbers that were in last week's box. It seems like my CSA's cucumber stock has been exhausted (damn. But don't think I am not still making fridge pickles.), but they've wisely softened the blow by replacing them with plump tomatoes and long, smooth Japanese eggplants. Those, combined with the extra onions that went unused from this recipe, just screamed MAKE ME INTO RATATOUILLE!
What the heck is ratatouille? It's not not the fancy, complicated dish that the name sounds like. Oh, and it's not a cartoon mouse either. (As someone who, as a rule, detests cartoons, the degree to which I adore that cartoon mouse is somewhat alarming. But that's for another post. But seriously, how could you not love that face?)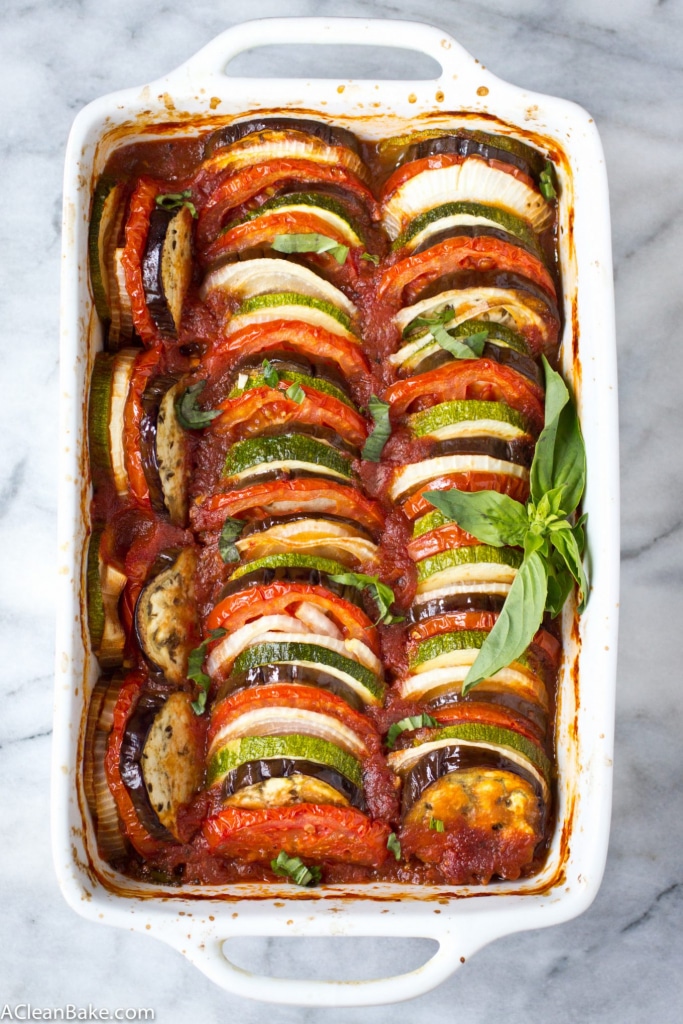 I've seen this dish in several forms, from the probably-original peasant stew in which the veggies are roughly chopped and simmered or baked in a thick tomato-based sauce to an overly fancy and (if you ask me) time consuming swirl, culminating in a flourish of some kind of flower pattern in the center. Who has time for that??
Not me. The easiest way to do it, in my opinion, is to quickly stir the sauce together and pour it into the bottom of the pan (you could even mix it in the pan if you wanted to) before layering the veggies on top. I like to slice them up separately and then create an assembly line so you can grab them in order, shove them into the pan and then grab another set. That's the easiest way to get this dish to look like you spent all day on it, but we're really only talking about an extra 2-3 minutes of effort.
Don't worry about perfection here. If you look closely at my version, you'll notice that the pattern is spotty at best, betraying my limited attention span while I was putting this together (no matter how many times you watch Gilmore Girls through, it is always SO good, amiright?). But look, if you came to this site for perfection, you might be sorely disappointed. We do our best, but I'd rather have stellar flavor and an imperfect veggie pattern any day.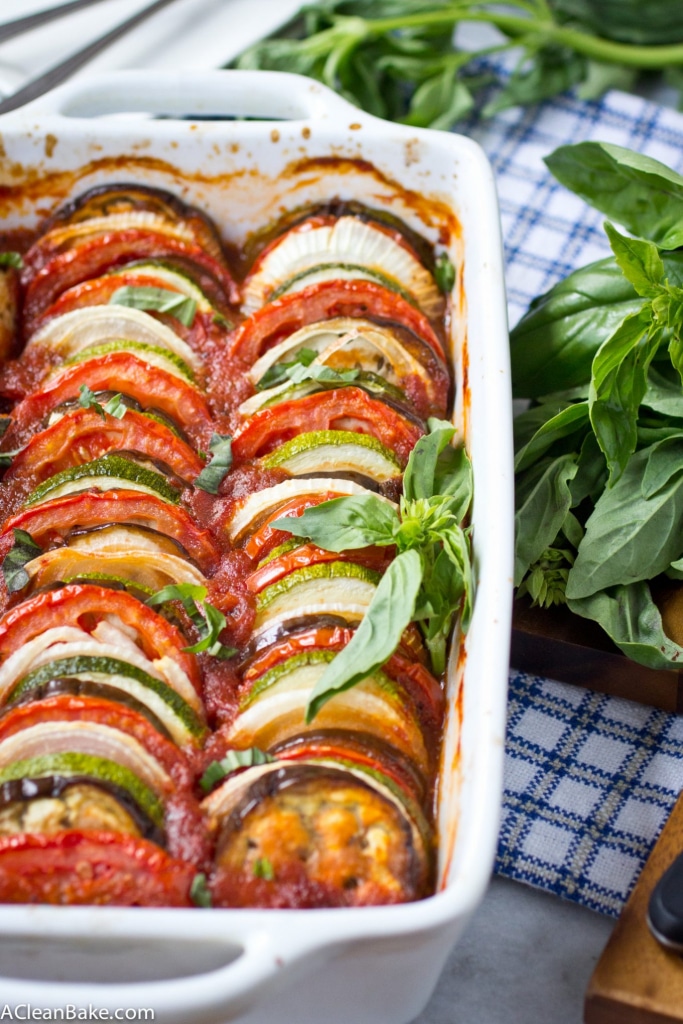 And, boy, does the flavor deliver on this. Great quality fresh vegetables have a beautiful flavor on their own, and I also used super high quality crushed tomatoes (in this case, they were also from my CSA, but you can get good quality canned tomatoes at the store. Try San Marzanos, if you can find them. It's worth the investment). So, the dish didn't need much help, but I added a couple of flavor enhancements – fresh garlic and basil, and a spice mix called Herbs de Provence – just to take it over the top. Please don't hate me for requiring you to buy a new spice for this dish. It is 100% worth it, and you can sprinkle it on chicken and potatoes for a quick, one pan weeknight dinner (or use it for these recipes). If you really don't want to purchase Herbs de Provence, you an replace with 1/4 teaspoon each of dried or fresh rosemary, oregano and thyme.
But wait, we haven't finished discussing THIS quick one-pan weeknight dinner. It's super healthy, quick and filling, and all you need to make it a meal is your favorite protein. I picked up a rotisserie chicken to accompany this, and then subsequently ate the leftovers cold with a runny egg on top for breakfast. After a day or two in the fridge, the flavors mature and meld and I'm not committing to anything here, but there is a chance the leftovers might be better than the freshly made dish. So, all I'm saying is you should probably double the recipe…just to be safe.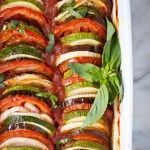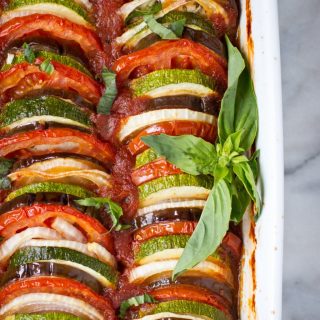 Ratatouille
This Ratatouille recipe comes together quickly for a fresh weeknight dinner. Plus, it's suitable for gluten free, paleo and vegan diets!

Ingredients
1

cup

crushed tomatoes

1

Tablespoon

extra virgin olive oil

1/4

teaspoon

apple cider vinegar

1

teaspoon

minced garlic

1

Tablespoon

fresh basil

about 3-4 large leaves, sliced , plus more for garnish

1

teaspoon

herbs de Provence spice mix

1/4

teaspoon

salt

1/4

teaspoon

pepper

1/4

teaspoon

chili powder

1

medium sweet or red onion

sliced

1

large zucchini

about 1 1/2 cups slices, sliced

1

large Japanese eggplant

about 3 cups slices, sliced

3

large roma tomatoes

about 3 cups slices, sliced
Instructions
Preheat the oven to 350F. Lightly grease a 6"x9" baking dish and set aside.

In a medium mixing bowl, combine the crushed tomatoes, oil and vinegar. Stir in the garlic, basil, herbs de Provence, salt, pepper, and chili powder.

Pour the tomato mixture into the prepared baking dish and smooth it into an even layer on the bottom of the pan.

Stack the veggie slices in alternating patters (e.g.: onion, zucchini, eggplant, tomato; repeat) and place them on their side in the pan, leaning against the edge of the pan. Repeat until you've formed a couple of rows of veggies, filled the pan, and used up all of the veggie slices.

Optionally, spray or brush the exposed tops of the veggies with oil to encourage browning in the oven. This is more for appearance, so feel free to skip this step if you want.

Bake for about an hour, until the tomato sauce at the bottom is bubbling and the veggies are tender.

Garnish with additional chopped fresh basil before serving (optional). Serve hot or cold.
Recipe Notes
The vegetables, including the crushed tomatoes, take center stage in this dish and there is relatively little in the ingredient list to season them, so flavor is very important. Try to get the absolute best quality vegetables you can. It really is worth the splurge, and will take this dish from good to great.
Some people have cautioned that Herbs de Provence contains a little bit of Lavender, so if you are especially sensitive to that flavor, replace the herbs de Provence with a heaping 1/4 teaspoon each: dried or fresh rosemary, oregano and thyme.
Here are a few other recipes to help use up those Herbs de Provence.
This may seem like a lot but is really enough for 2-3 people. If you're feeding a family or a crowd, double the recipe and bake it in a 9"x12" pan.
Store leftovers in an airtight container in the refrigerator for up to 3 days.
Pin This 👇

This post contains affiliate links, which means that if you click through and purchase a product, A Clean Bake receives a small commission, which goes toward continuing to bring you delicious, healthy recipes every week. This does not affect the price you pay. Thanks for supporting A Clean Bake!