Stop what you're doing and bookmark this recipe, because it is the only paleo chocolate cake recipe you'll ever need! It's easy to make – no mixers or special equipment required – and produces a surprisingly light, moist, just-sweet-enough dark chocolate cake with a nice spring and a tight crumb. All the taste testers loved it, and many of them didn't even know it wasn't a "regular" cake!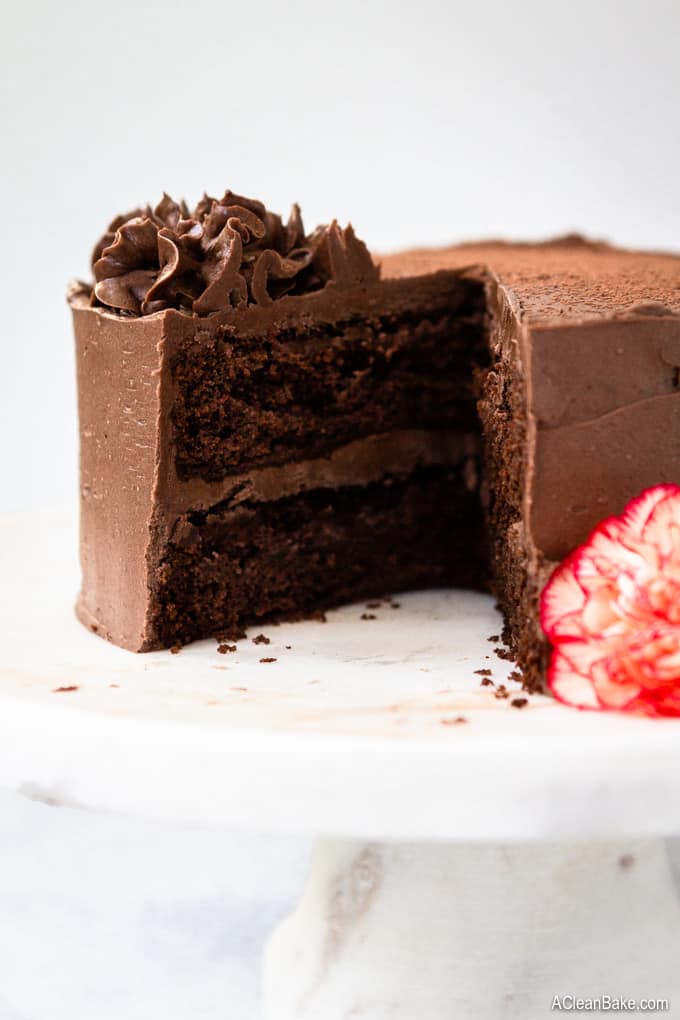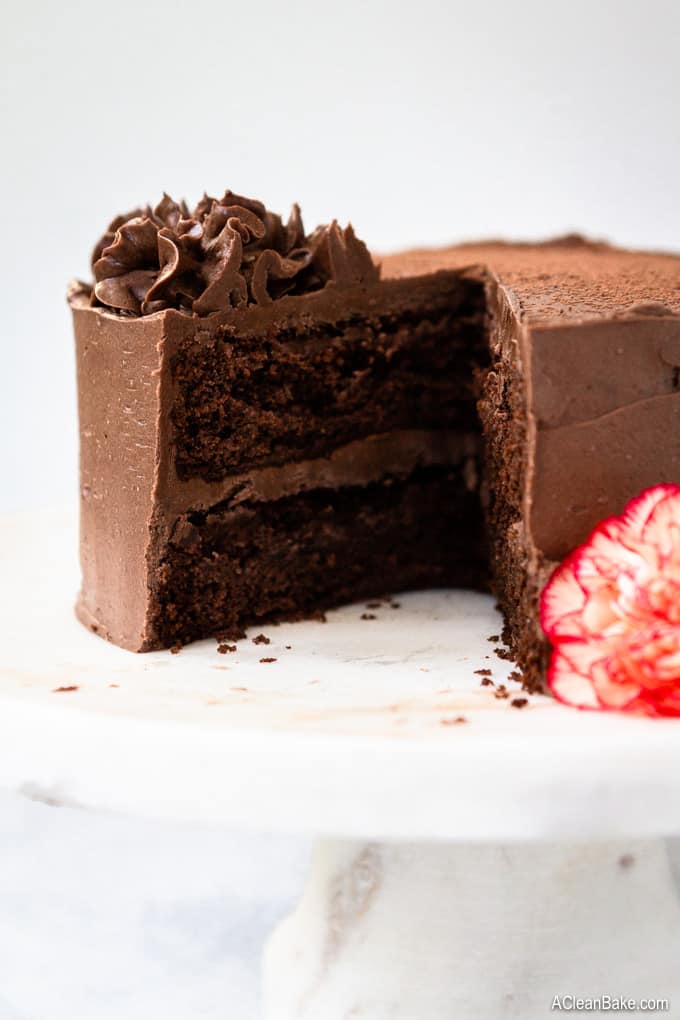 I've teased you with this recipe so many times over the last six months…
…First, when I made it for my son's first birthday in November (????)…
….and again when I tested it in cupcake form form for ACB's birthday in March…
…and once more when I Instagram-storied my dad's birthday cake.
If you only knew how many times I made this recipe in between. I tested this one more than I tested my vanilla cake recipe, which now holds the second most tested recipe title, at 18 iterations.
So, I'm sorry for all the teasing. It was unintentional, but I just wasn't ready to share this until it was the perfect paleo chocolate cake recipe. It was definitely worth the wait.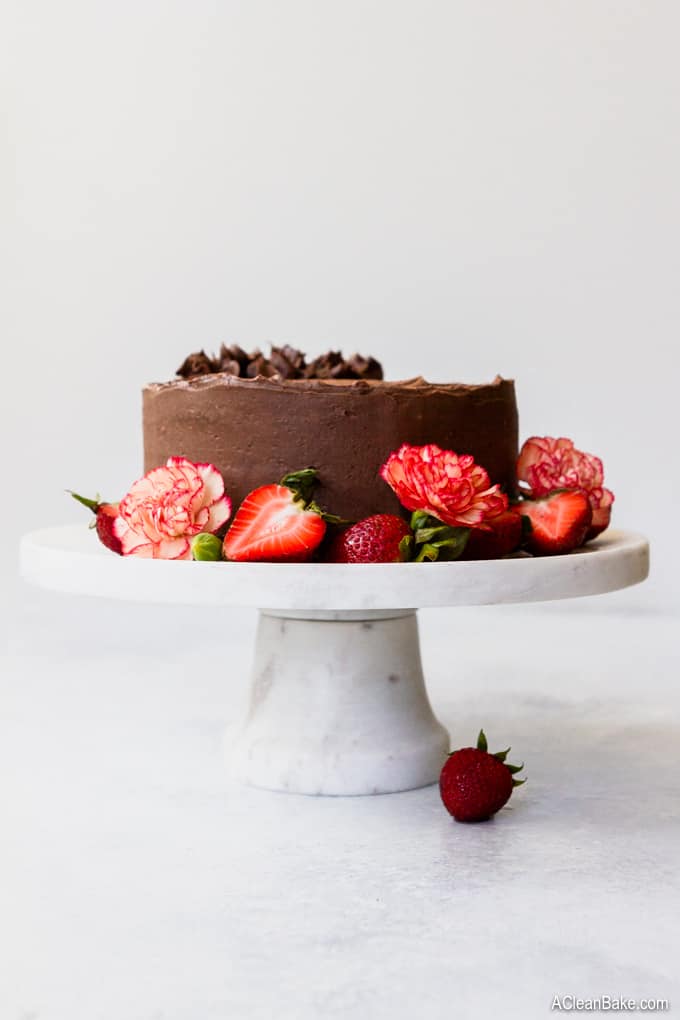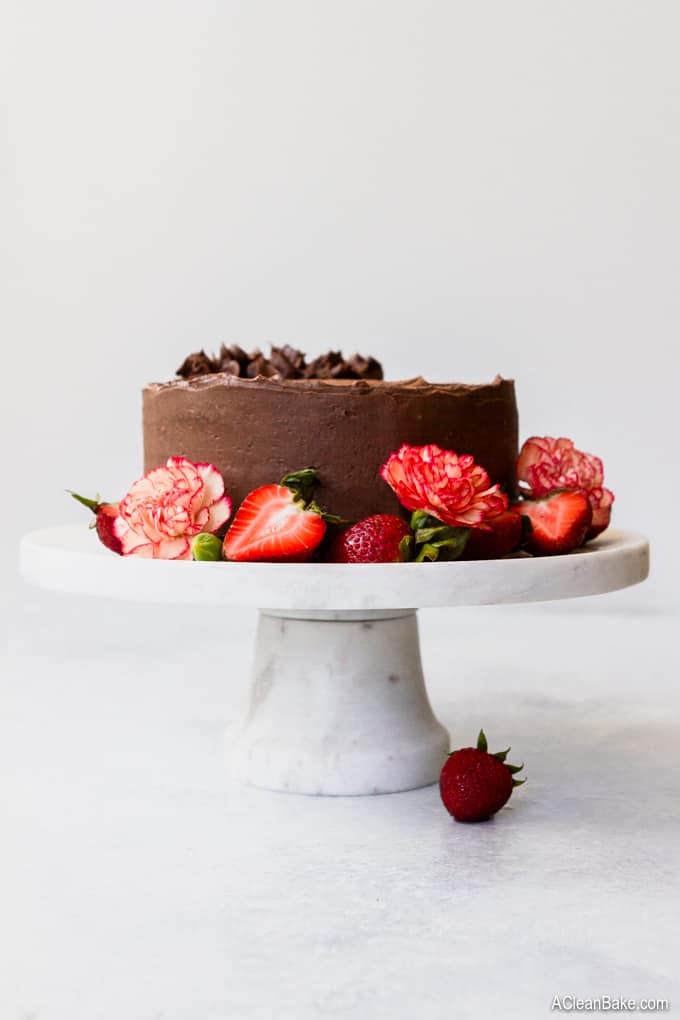 What Makes For The Best Paleo Chocolate Cake?
The ingredient list for this paleo chocolate cake is simple and straightforward, full of predictable ingredients in a seemingly obvious formula. So, you may be wondering why it took me almost a year to get this recipe just right. Each ingredient is precisely selected and measured to make the best paleo chocolate cake you've ever had.
Almond Flour
Almond flour not only provides the base of the batter, but is the secret to the moist, tight crumb you require in a killer paleo chocolate cake. I get asked about subs for almond flour all the time and, unfortunately, I would not recommend trying to substitute anything for almond flour in this recipe. Use the most finely-ground blanched almond flour you can find. I use, and recommend, Honeyville brand.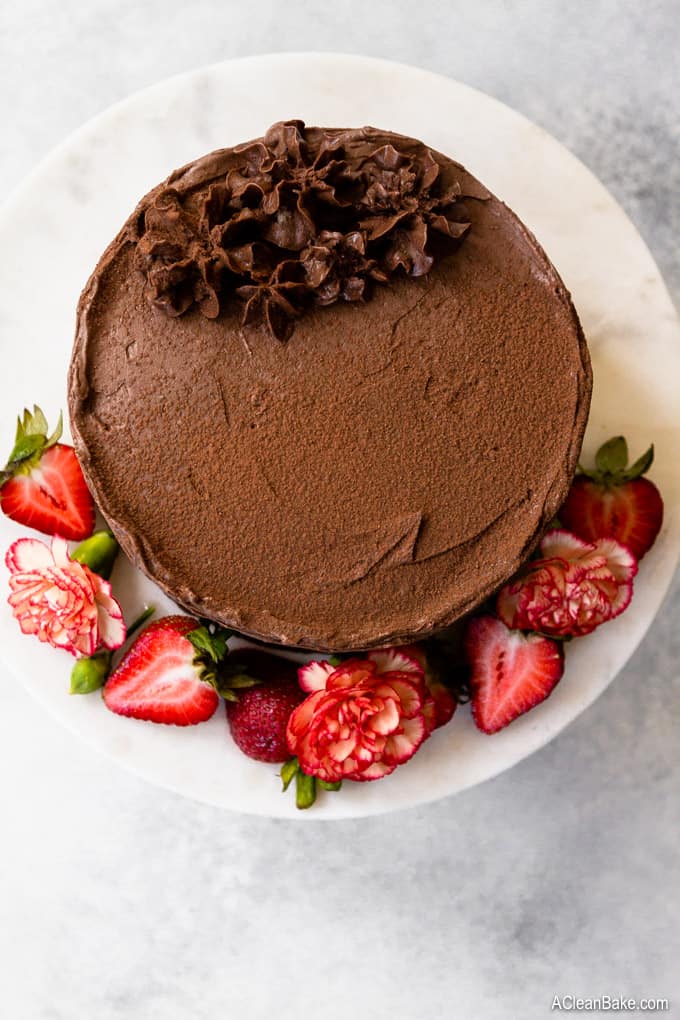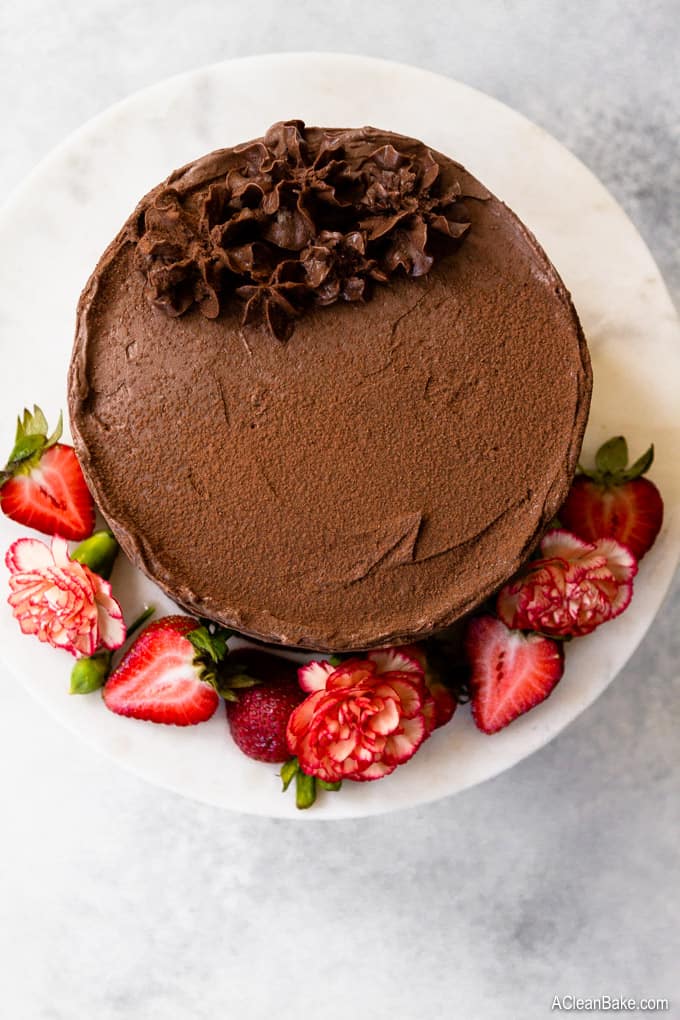 Coconut Sugar
The roast-y, caramel-y, depth of flavor is one of the reasons I love to coconut sugar, and it complements the roasted, slightly (pleasantly) burned flavor of the cocoa powder. It is essential that you use coconut sugar, not stevia or granulated monk fruit. Coconut sugar is hydroscopic, which mean it absorbs and holds moisture in the cake. Stevia and monk fruit are not hydroscopic, so using them will result in a rock hard, dry-as-a-bone cake. I don't have to tell you that no one wants to eat that!
Cocoa Powder
This is, obviously, where the chocolate flavor in the cake comes from. This isn't called a Death By Paleo Chocolate Cake for nothing; there is a high cocoa-to-sweetener ratio in this cake, to make it just a notch chocolatier than your normal chocolate cake. I do not mess around. But, since the cocoa powder is so essential to the flavor of the cake, you'll need to make sure you're using the best quality you can find. Splurge, if you can.
A word of caution, though, as you're selecting your cocoa powder: cocoa is not just the flavoring agent in this cake, but is also important for leavening. Leavening (rising) in baking is the result of a chemical reaction between an acidic ingredient and a basic one (not basic like Uggs-and-pumpkin-spice-latte, but like pH over 7.).
In order for your cake to rise properly, it needs acid from the cocoa powder to reach with the base of the baking soda. Only natural cocoa powder is acidic; processed (also known as Dutched or Dutch) cocoa powder is basic. Since a base and a base won't react, you need to make sure you're using natural cocoa and not processed or Dutched, including Hershey's Special Dark. So, read your label carefully before you begin to bake!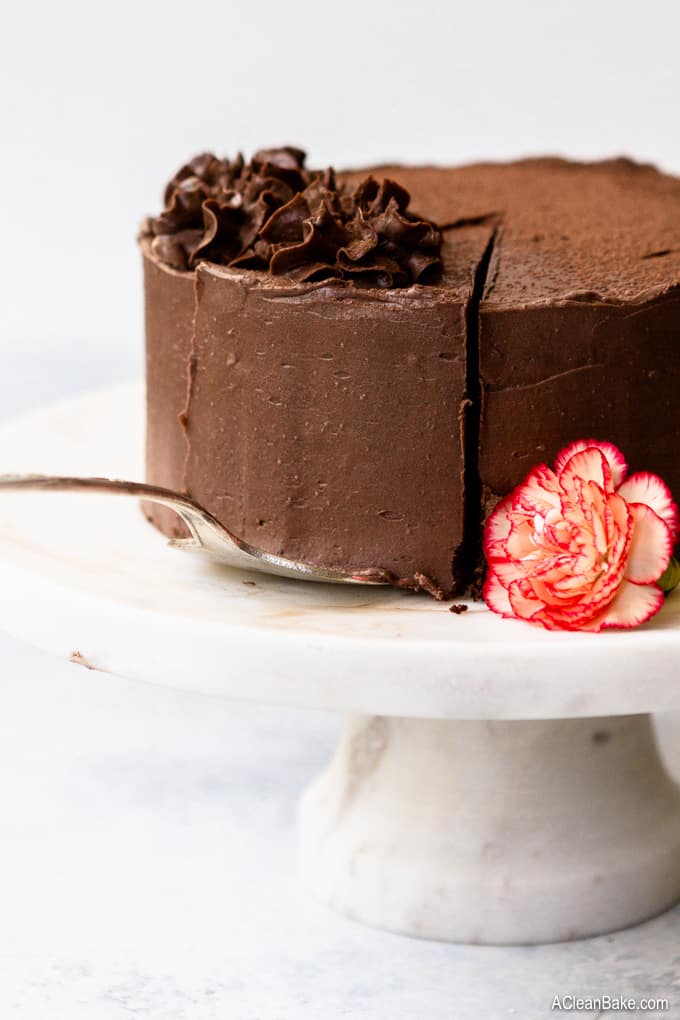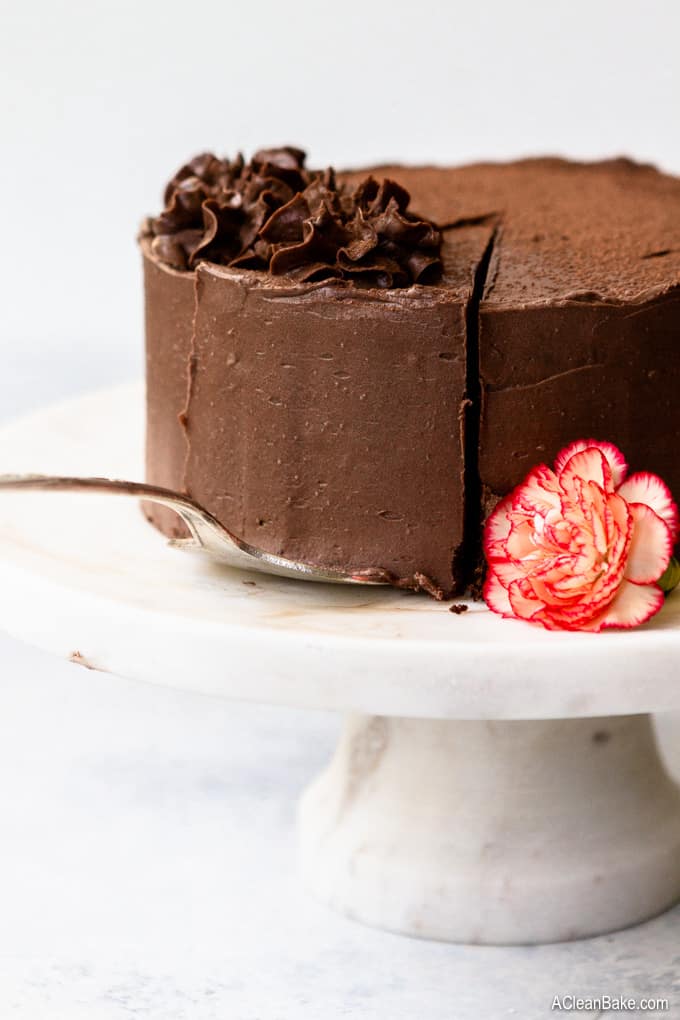 Arrowroot Flour
Arrowroot is a starchy flour that is often confused with tapioca. They are both made from root vegetables, but the two flours come from different plants. Tapioca flour is made from the root of the cassava plant, while arrowroot is from the Maranta arundinacea plant. As a result, they are tolerated differently. I tolerate both of them, but arrowroot works better in this recipe, producing an ideal soft and springy crumb.
You can sub tapioca flour if you must, but your cake will be a little denser and gummier. I don't recommend it, if you can avoid it.
Baking Soda
I kind of already covered this above, but baking soda is the primary leavening agent. Baking soda is a base ingredient that reacts with acid in the recipe to produce rise. Without baking soda, the cake would be dense and unpleasant.
I often get questions about cakes not rising. If this happens, the primary culprit is usually expired baking soda. Check your package before you bake to ensure success, and if it's more than 3 months old, use it for cleaning or odor absorption and use a new box for baking.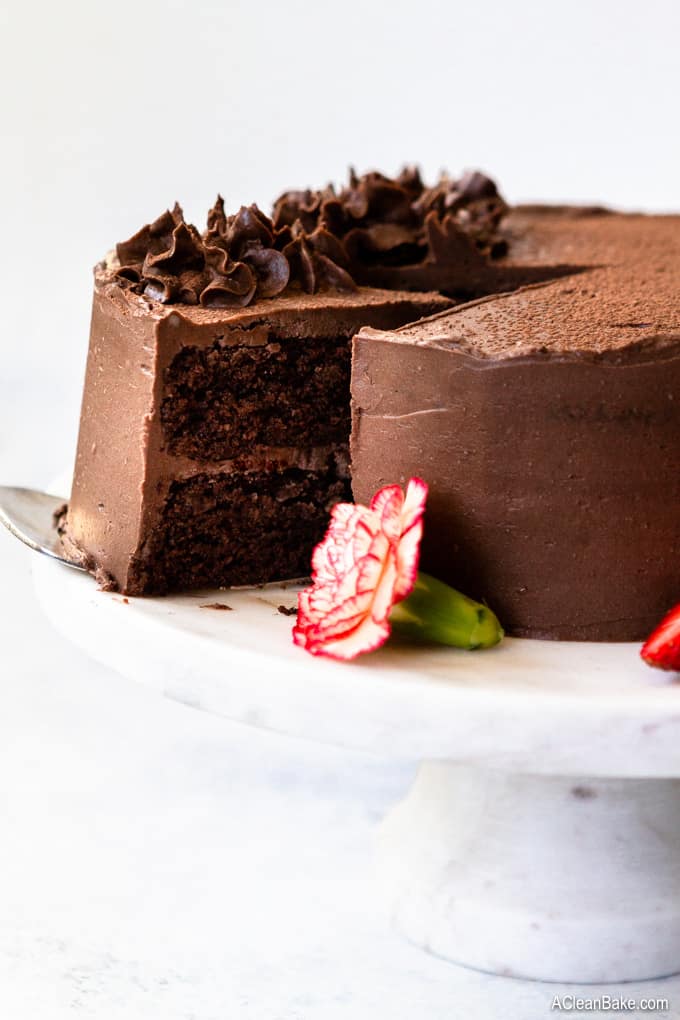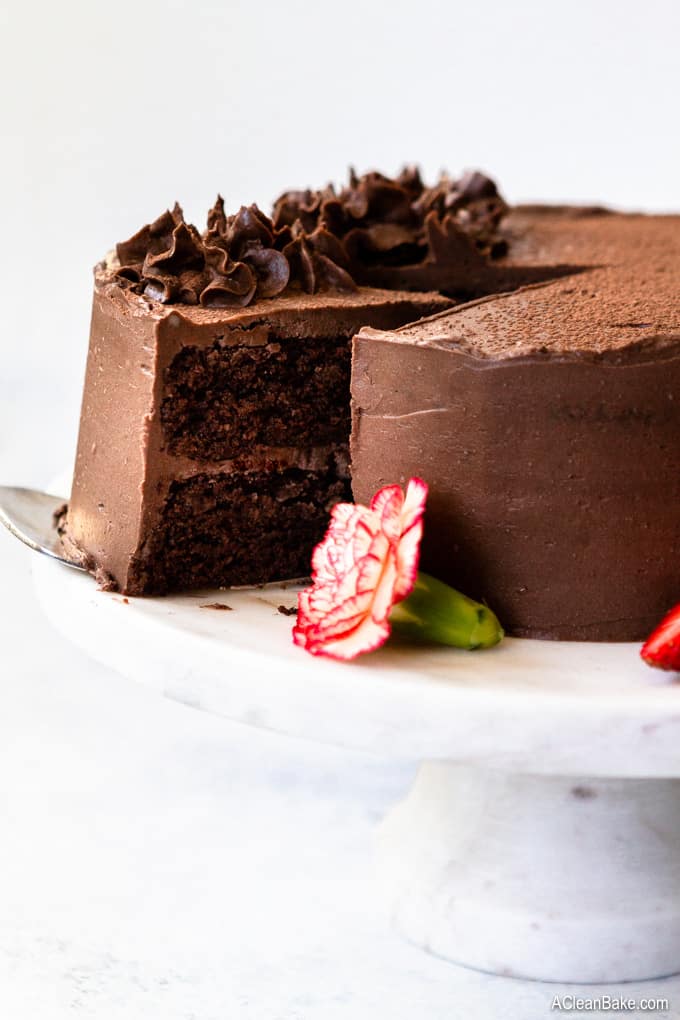 Eggs
Eggs are crucial in baking chemistry, which is why I am very selective of which recipes I tell you to use egg substitutes in. I would not recommend trying to make this cake egg free, because eggs provide moisture, texture, and lift. The fat in the yolk moistens the cake, the whites bind the cake together so that it doesn't crumble, and the whole egg is acidic, meaning it contributes to the baking soda reaction that makes the cake rise.
For the best cake success, make sure your eggs are at room temperature before incorporating them into the batter. This allows them to break down and become evenly distributed throughout the batter. If you forget to set your eggs out well in advance (because who does!?), simply submerge them in a bowl of very warm water for 10 minutes before you whisk them into the batter.
Avocado Oil
Oil is the primary source of moisture in the cake and makes sure the crumb stays nice and tight for you to sink your fork into. The recipe calls for avocado oil, but you can use any mild-flavored oil that you prefer. Grapeseed oil would work fine, as would organic canola oil.
Whatever you choose, it must be an oil that is liquid at room temperature though. That means you can't use coconut oil, which solidifies at room temperature and will make the cake seem much harder and drier than you want it to be.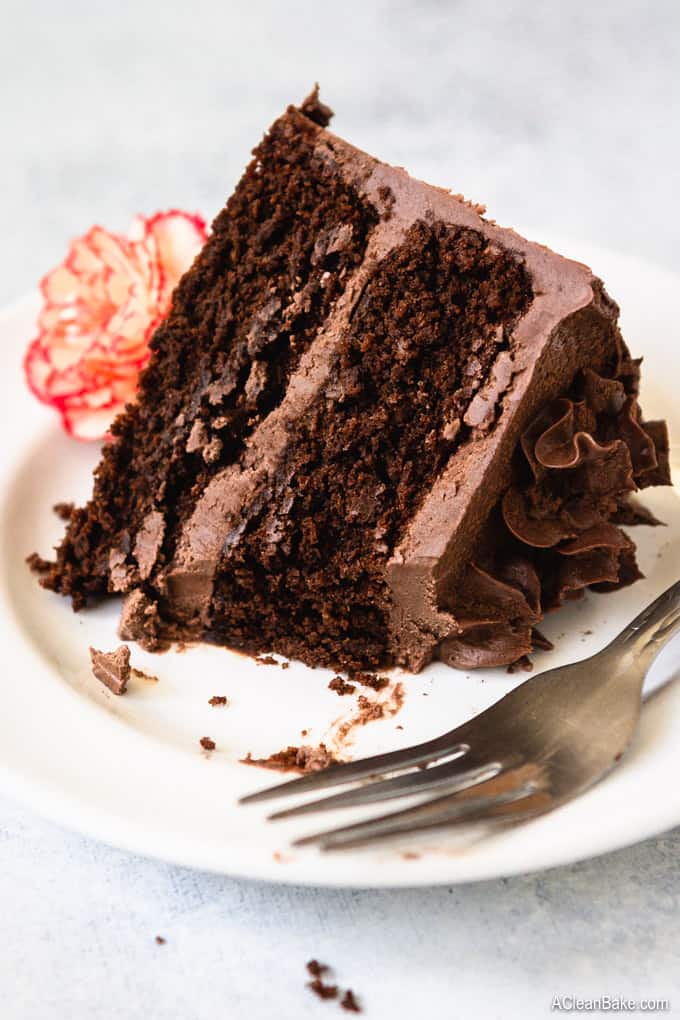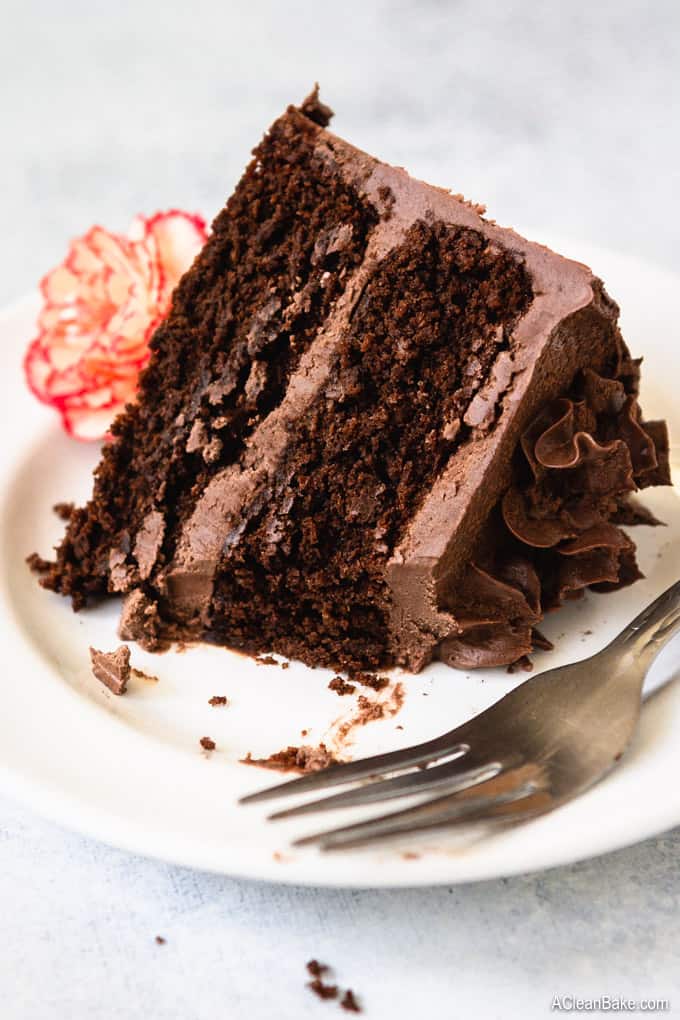 Vanilla Extract
Despite the small amount in the batter, this flavor is crucial for making sure the chocolate tastes as rich and, well, chocolatey, as it can! Make sure you're using the absolute best quality you can find, and whatever you do, do not use imitation vanilla.
It this the best paleo chocolate cake recipe you'll ever have? Well…
It would be quite a declaration for me to say this is the best paleo chocolate cake recipe out there… but I'm not not saying it's the best. You be the judge.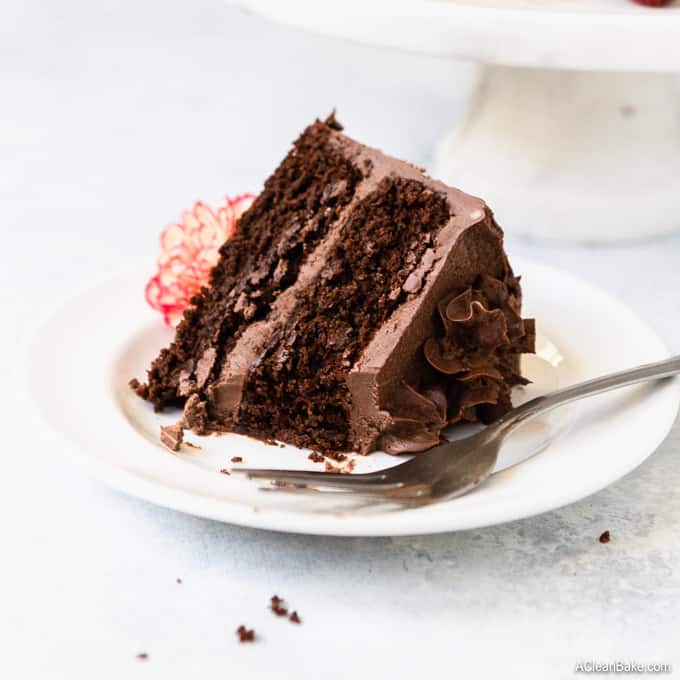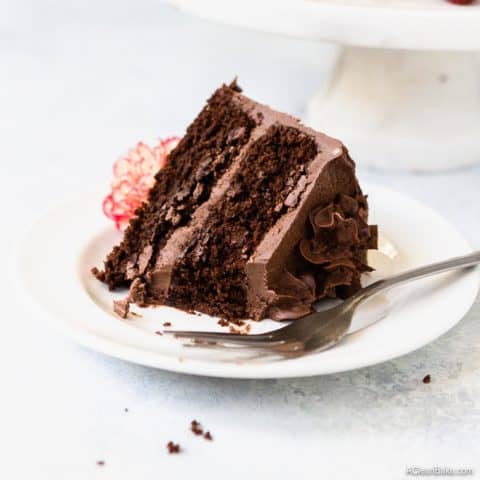 Paleo Chocolate Layer Cake
Stop what you're doing and bookmark this recipe, because it is the only paleo chocolate cake recipe you'll ever need! It's easy to make - no mixers or special equipment required - and produces a surprisingly light, moist, just-sweet-enough dark chocolate cake with a nice spring and a tight crumb. All the taste testers loved it, and many of them didn't even know it wasn't a "regular" cake!
Ingredients
1/4 teaspoon baking soda
2 large eggs, at room temperature
Instructions
Preheat the oven to 350F. Grease two 6" round cake pans, then dust them with cocoa powder. Set aside.
In a large mixing bowl, whisk together the almond flour, coconut sugar, cocoa powder, arrowroot flour, baking soda, and salt. Set aside.
In a small mixing bowl, whisk the eggs, then whisk in the oil and vanilla.
Pour the wet (egg, etc) mixture into the dry (flour/sugar) mixture. Stir to combine.
Divide the batter equally between the two prepared baking pans.
Bake for 20-25 minutes (it's perfect at about 22 minutes), until set.
Remove from the oven and let cool in the pan about 20 minutes before turning out onto a baking rack to cool completely. If, while the cakes are cooling, they start to cave in at the center, cool the pans upside down on a wire rack.
Cool completely, or even chill in the fridge, before stacking and frosting.
Notes
This recipe makes a double layer 6" chocolate cake. To make a single layer cake, make this recipe as written through step 4, then pour the batter into a 9" round pan. To make a double layer 9" cake, double the recipe and divide the batter between two 9" round pans. It will take longer to bake than written; bake until a tester inserted into the center comes out mostly clean.
If you'd like to make these into cupcakes, divide the batter into 8 compartments of a cupcake pan and bake at 350F for 20-25 minutes.
Do not use almond meal or coarse-ground almond flour for this recipe. Use very finely ground blanched almond flour for best results. I used and recommend Honeyville brand.
You can substitute tapioca flour for arrowroot flour if you need to, but the texture will be a little more dense and sponge-y.
For a sugar free and/or dairy free frosting, use this recipe instead.
Recommended Products
As an Amazon Associate and member of other affiliate programs, I earn from qualifying purchases.
Nutrition Information:
Yield:

8
Amount Per Serving:
Calories:

211
Saturated Fat:

1g
Cholesterol:

46mg
Sodium:

82mg
Carbohydrates:

21g
Fiber:

2g
Sugar:

10g
Protein:

4g
Note: Nutrition information does not include frosting