Rhubarb coffee cake combines the dense, slightly sweet, breakfast cake with summer's most underrated vegetable (yes, vegetable!). This rhubarb coffee cake comes together with a couple of bowls and spoons, and bakes up into a streusel-topped, naturally-sweetened treat you won't be able to get enough of.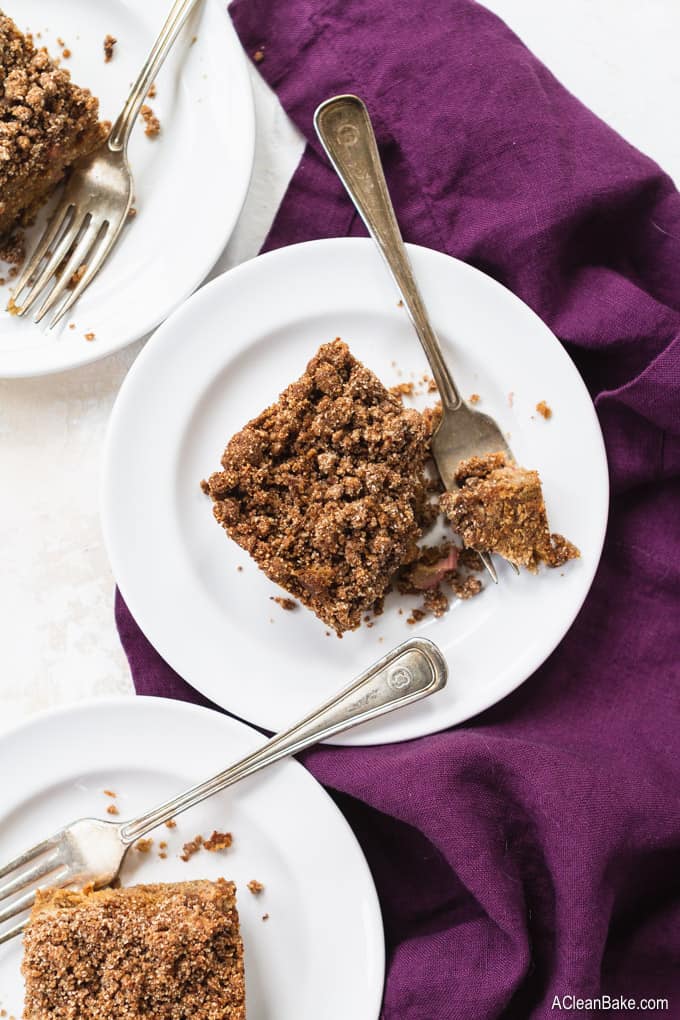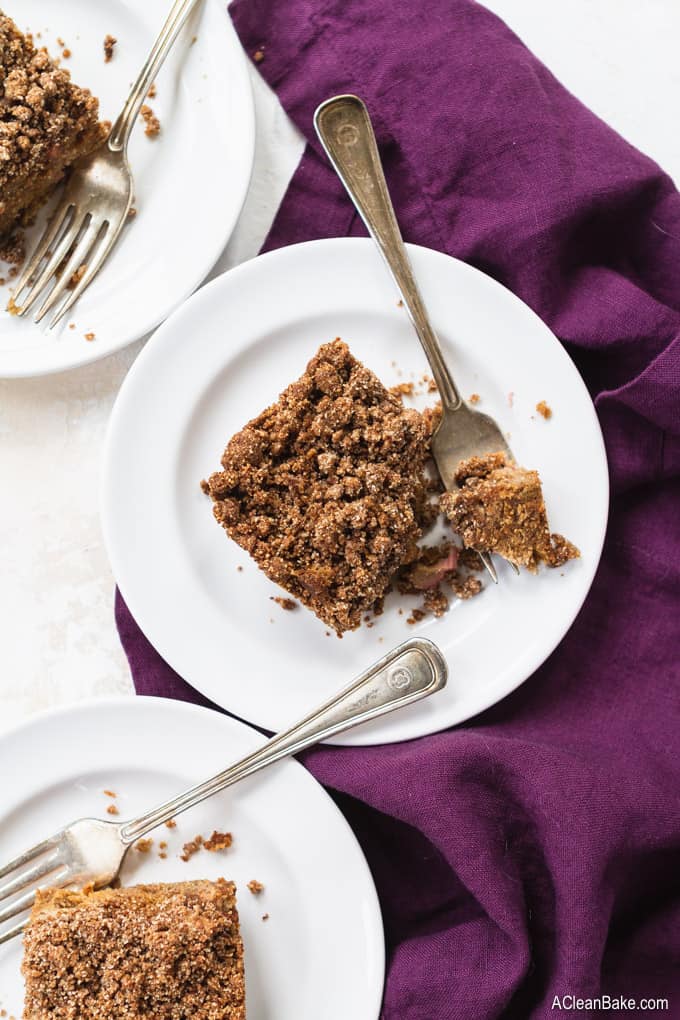 If you think about it, rhubarb is the strangest ingredient: it tastes terrible when it's raw – bitter, tough, and terribly fibrous – and any recipe that calls for cooking with it goes to great lengths to remove or cover up nearly any semblance of rhubarb-ness that the fruit (technically, vegetable, actually) might have to offer.
So why do we keep using it? Well, to be honest, I don't use it very much. That there are four recipes (1, 2, 3, and this one) on this site that incorporate rhubarb is a completely false representation of my everyday use of rhubarb, but not of my love of rhubarb.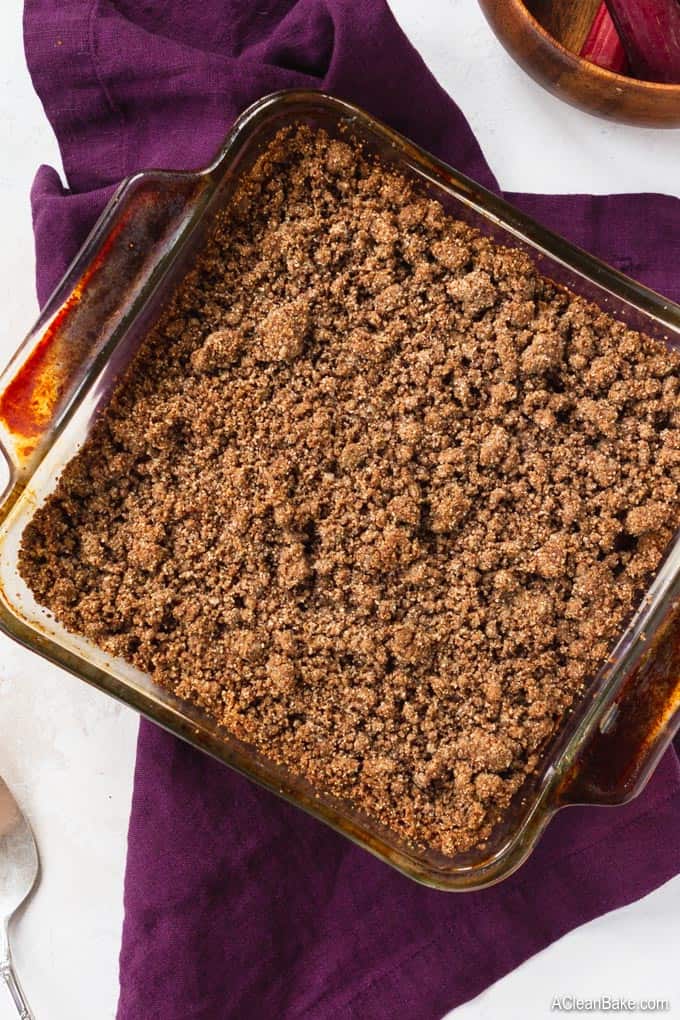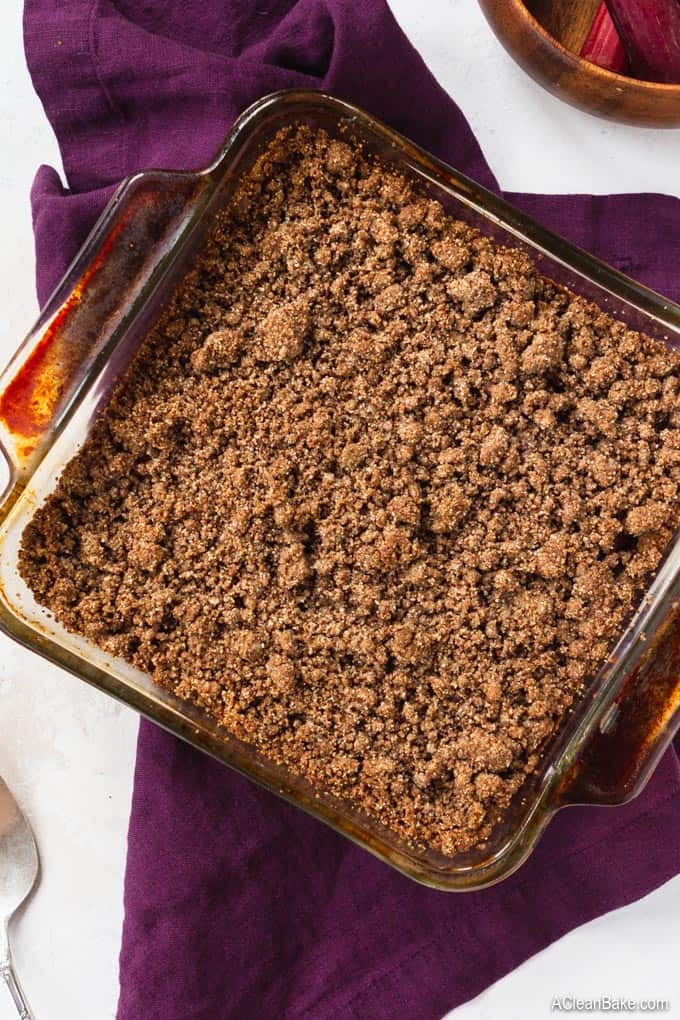 There is something magical about taking a weedy, curmudgeonly vegetable that grows next to the garage, adding ground cinnamon and a bit of sugar (coconut sugar in my case, but most conventional recipes will call for brown sugar and I defy you to tell the difference) and some other basic pantry ingredients, dumping it, unceremoniously into a baking pan and, once covered in crumb topping (of course), realizing you've produced a rhubarb coffee cake more luxurious than you could have ever dreamed.
But before we sing the praises of the resulting cake, let me give you a few tips for making it.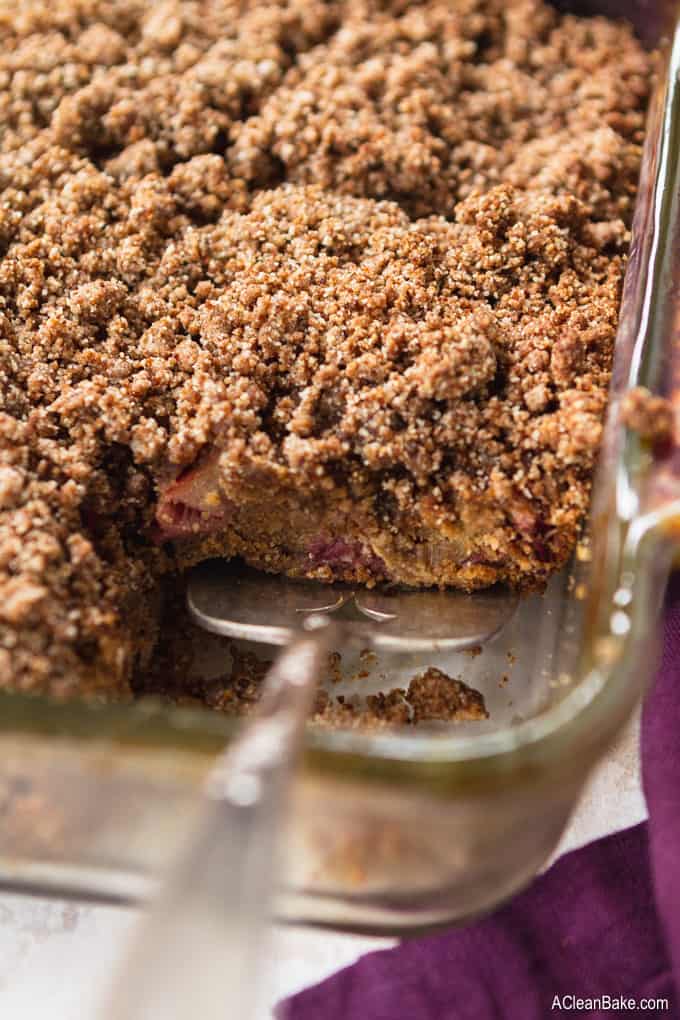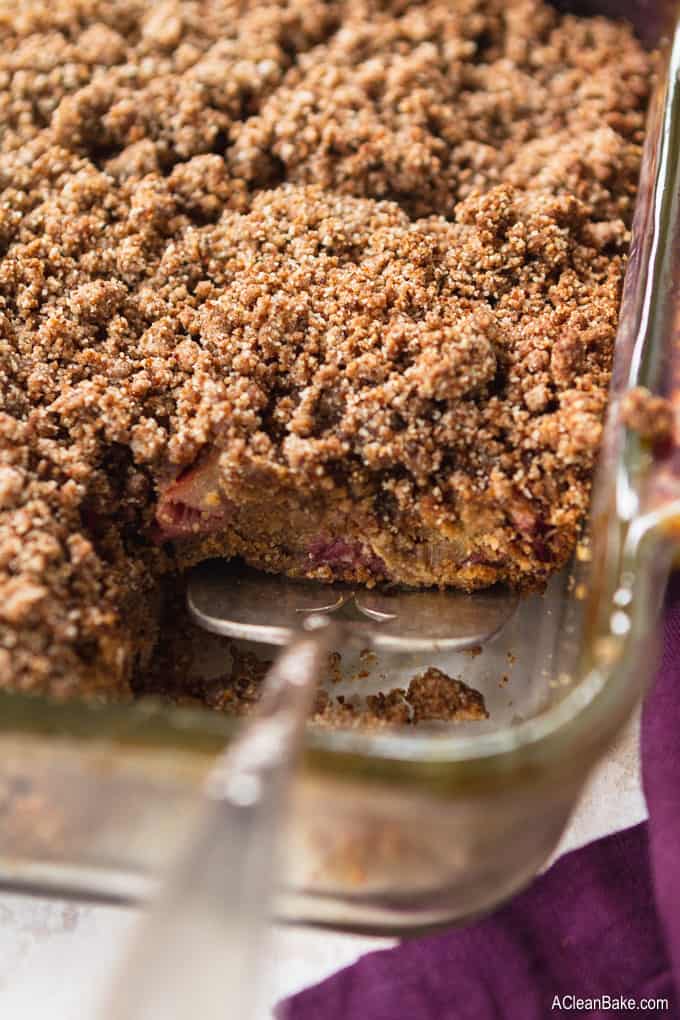 What To Expect, Plus Tips for Success
If you scroll down and take a look at the recipe, you might be alarmed by the (seemingly) long list of ingredients. But, look a little more closely and you'll see that there is a lot of overlap; in fact, the only ingredient that is in the streusel that is not in the cake batter is 3 tablespoons of maple syrup.
Look even more closely you'll see that the length of the ingredients and instructions betrays the easy of making this coffee cake recipe:
Preheat the oven.
Mix the wet ingredients together, then mix the dry ingredients together in separate bowl.
Combine the wet and dry mixes. Fold in rhubarb.
Pour into a baking pan, then make the streusel and cover the batter with it.
Bake. Slice. Enjoy!
It truly is that simple. Like most of my recipes, you do not need a stand mixer. You'll mix this all by hand in two separate bowls.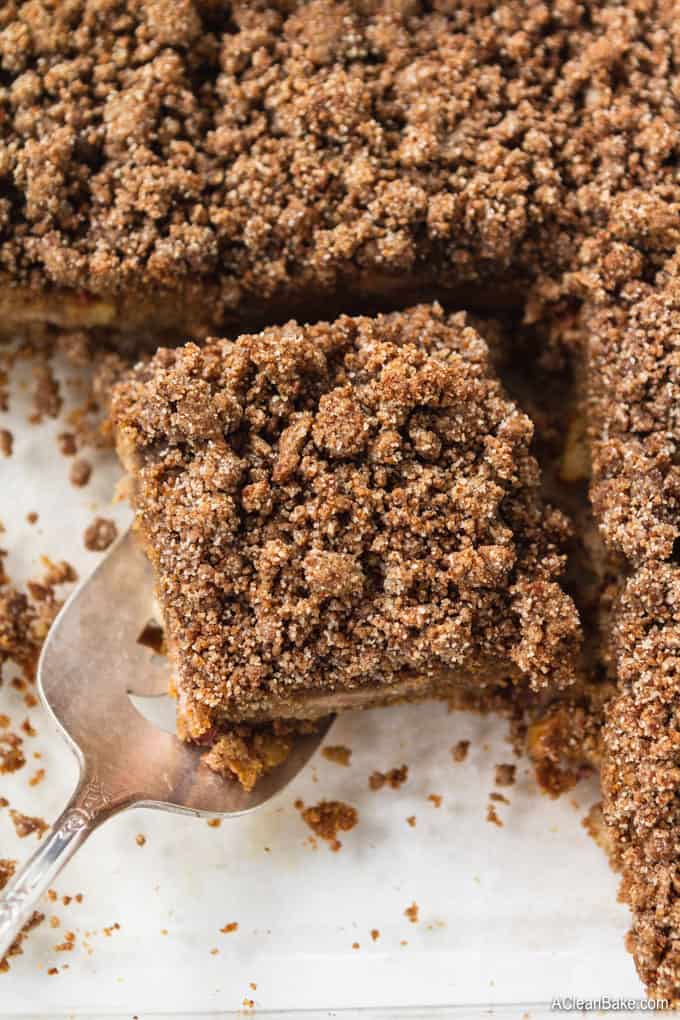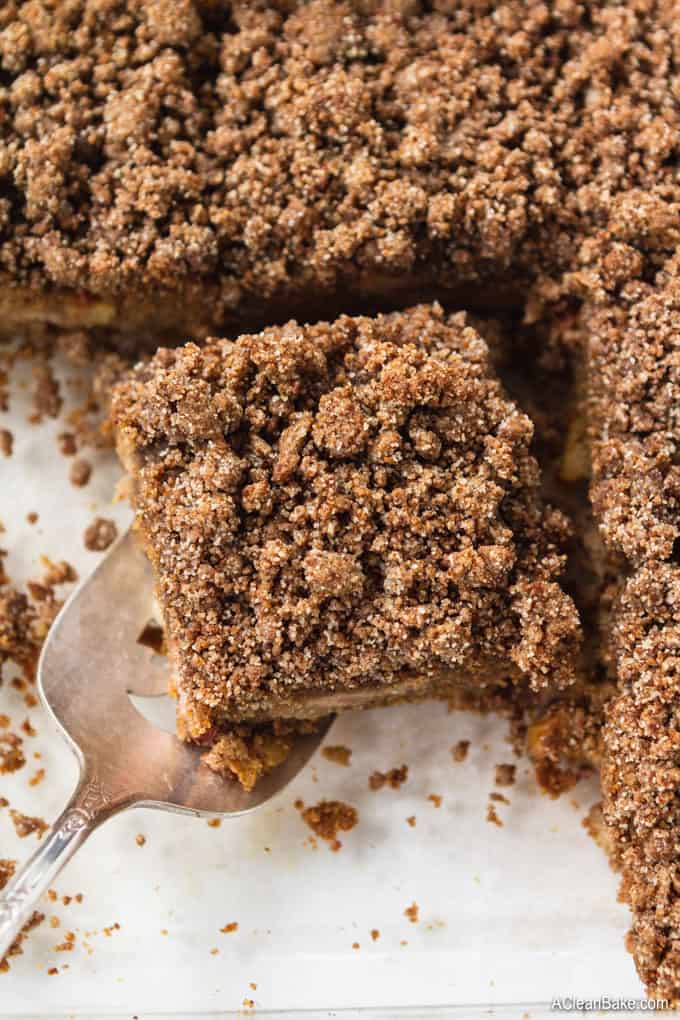 To ensure success, make sure each bowl of ingredients is mixed well before combining them. Then, when you add the wet to the dry, mix until everything is very thoroughly incorporated, and stop mixing there. Over-mixing incorporates too much air in to the batter, which will cause the cake to rise too much, then fall, leaving a dent in the center, as it cools.
It's also crucial to use room temperature, or warm (but not hot) ingredients. Cold eggs don't distribute evenly throughout the batter, and cold eggs will cool the oil into a semi-solid state. Coconut oil that is too hot will cook the eggs, but if it is too cold, it will clump up and cause greasy spots throughout the cake. Trust me, it's just as unpleasant as it sounds!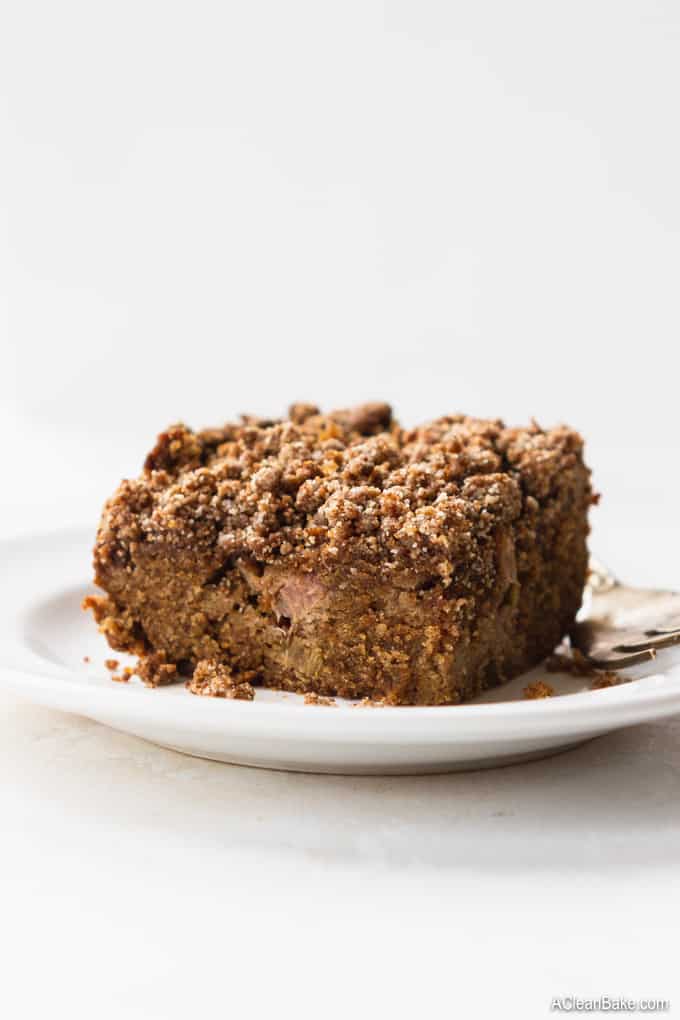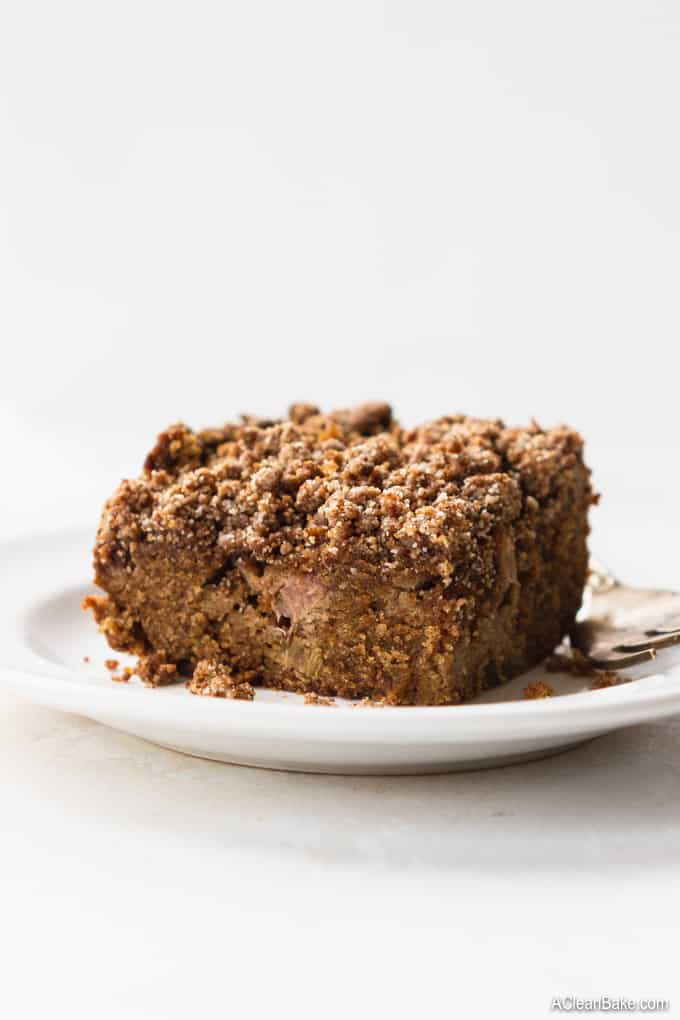 Adapting this Cake to Your Taste
I wouldn't suggest a lot of adjustments, but you can very easily make it sugar free. There are complete instructions in the recipe notes to guide you in making the recipe sugar free, but it's fairly simple, don't worry.
On the other hand, if you don't like the slight bitterness of rhubarb (even though it is barely noticeable in the final cake), you can replace up to half of the rhubarb with hulled and chopped strawberries that are cut to approximately the same size as the rhubarb.
Now let's talk about what not to replace or adjust in this recipe.
First, do not reduce the sugar, unless you are completely replacing it with granulated monk fruit or stevia, per the instructions in the recipe notes.
Next, I have not tested this with any egg replacements, so replace the eggs at your own risk (I would not recommend it!).
And finally, I've been getting more and more questions lately about replacing flours, from those of you with almond, coconut, or tree nut allergies. Unfortunately, there is no replacement for the coconut flour. I'm sorry. If you'd like to replace the almond flour, the only suitable alternative might be cashew flour, which you can find online (this is a reliable brand). However, I have not tested this recipe with any flours, other than those specified in the recipe. So it may not turn out perfectly if you do try any replacements.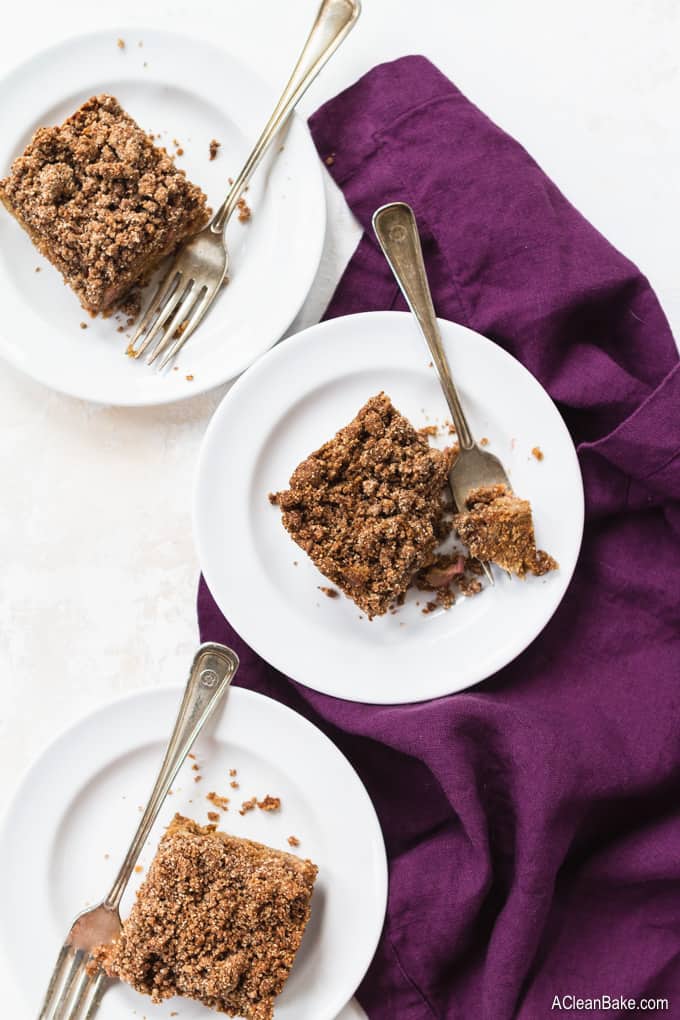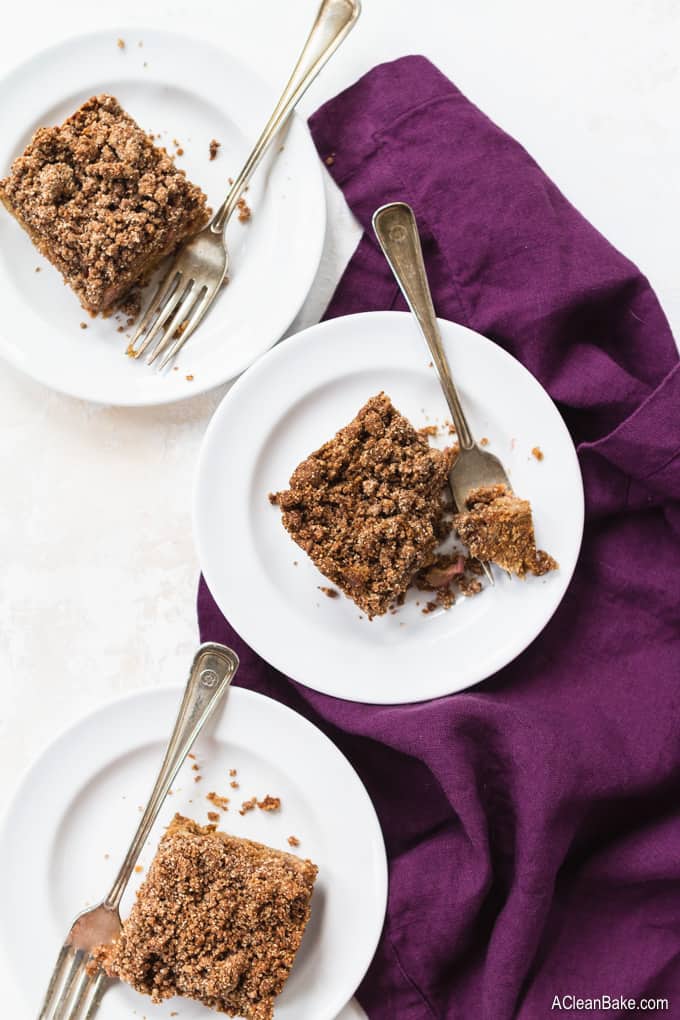 Rhubarb Coffee Cake is a Perfect Weekend Recipe
Besides the idea of turning weeds into an elegant and (as the great Deb Perelman would say) unfussy cake heaped with satisfying streusel, it's the subtle flavor that is, to me, the best part of this cake.
This is not a centerpiece cake, meant to be the anchor of a party (if you're looking for a party cake, try this one or this one). It is a comfort cake: quieter, and meant to be enjoyed slowly with friends and warm coffee, around the table on a summer weekend.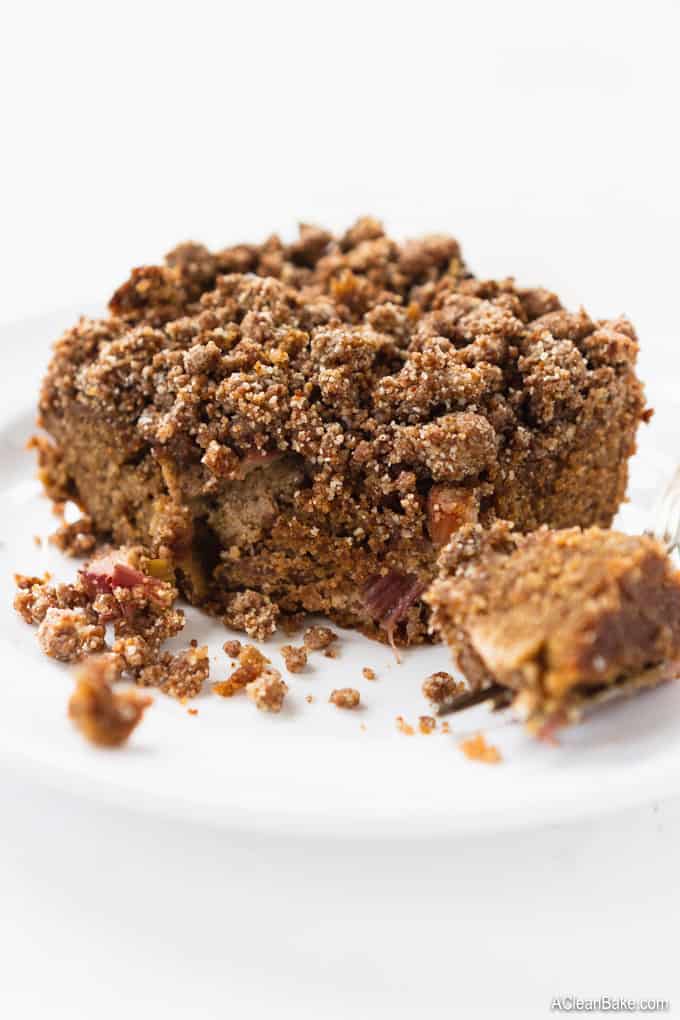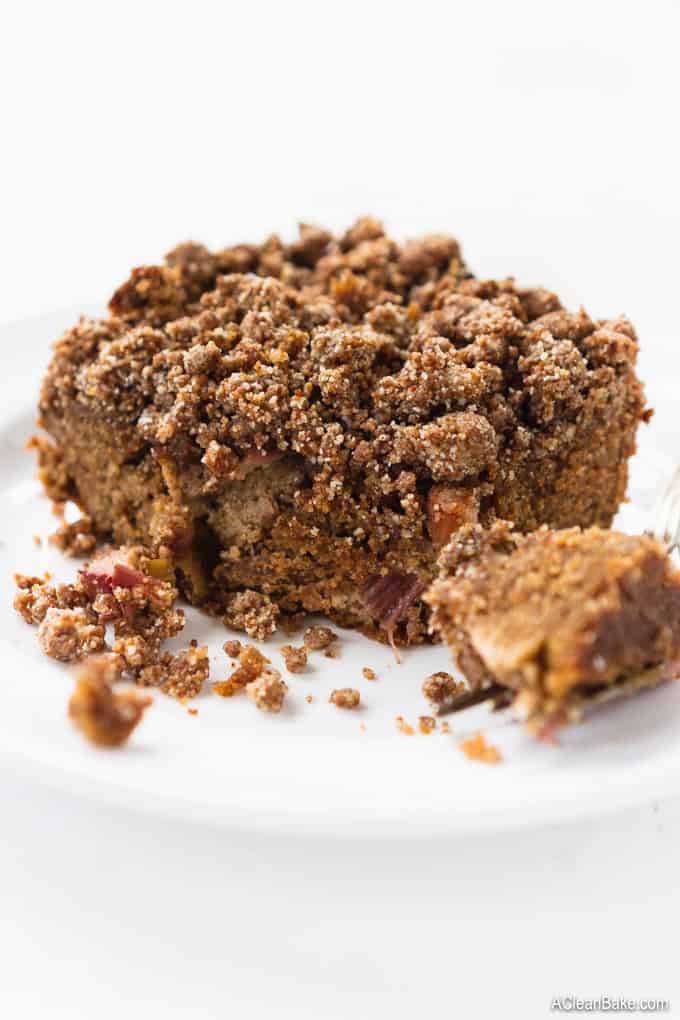 This cake is neither frosted, nor terribly sweet. Some might say that a cake that is meant to be paired with coffee should be extra sweet to balance the bitterness of the coffee. There's a certain logic to that, sure, but I like to sweeten my coffee with stevia, so I wouldn't want to pair a cup with anything teeth-achingly sweet. Not that I want that, really, anytime. Nor, I'd assume, would you.
Instead, this recipe is gently, seductively sweet, with rich undertones of caramel and molasses from the coconut sugar. It's the perfect accompaniment to coffee for a palate that is no longer accustomed to being blasted with granulated white sugar. You're going to love it.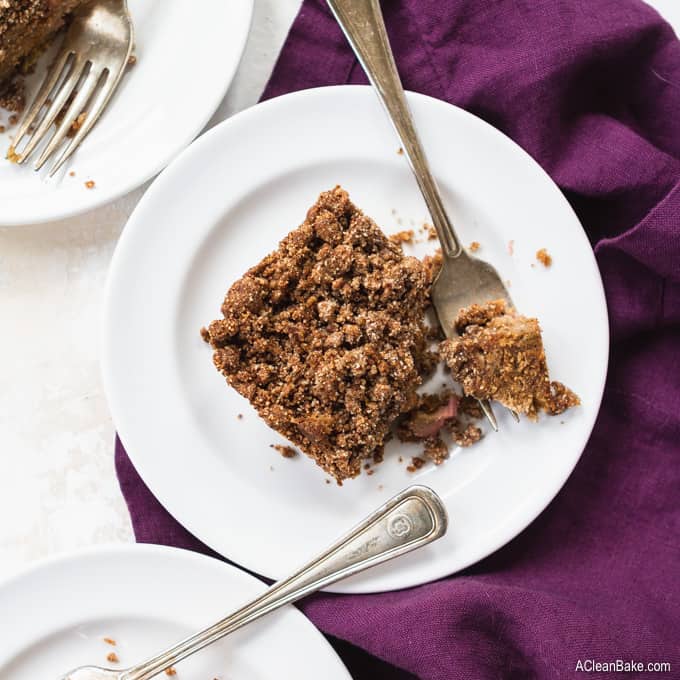 Rhubarb Coffee Cake
Yield:
1 8" square coffee cake (about 16 slices)
Total Time:
1 hour
10 minutes
Rhubarb coffee cake combines the dense, slightly sweet, breakfast cake with summer's most underrated vegetable (yes, vegetable!). This rhubarb coffee cake comes together with a couple of bowls and spoons, and bakes up into a streusel-topped treat you won't be able to get enough of. 
Ingredients
Ingredients for the cake
1 1/2 cups blanched almond flour
1/2 cup coconut flour
1/2 cup coconut sugar
2 tablespoons tapioca flour
2 teaspoons cinnamon
1 teaspoon baking soda
1/2 teaspoon cardamom
1/2 teaspoon fine sea salt
3 large eggs, (room temperature)
1/3 cup coconut oil, or butter, melted and slightly cooled
1 teaspoon vanilla extract
1 1/2 cups chopped rhubarb
Ingredients for the streusel topping
1 cup blanched almond flour
3 Tablespoons coconut sugar
1 Tablespoon cinnamon
1 Tablespoon tapioca flour
1/4 teaspoon fine sea salt
1 1/2 Tablespoons coconut oil, , melted and slightly cooled
3 Tablespoons maple syrup
Instructions
Preheat the oven to 350F. Lightly grease an 8"x8" square baking pan and set aside.
Make the cake: in a large mixing bowl, whisk together the almond flour, coconut flour, coconut sugar, tapioca flour, cinnamon, baking soda, cardamom, and salt. Set aside.
In a medium mixing bowl, whisk the eggs, then whisk in the oil and vanilla.
Mix the wet (eggs, etc.) mixture into the dry (flours, etc.) mixture.
Fold in the rhubarb.
Pour the batter into the prepared pan. It will be very thick and crumbly - that's ok. Use a spatula to spread it into an even layer, and press gently into an even, consistent layer. Set aside.
Make the streusel: in a small mixing bowl, whisk together the almond flour, coconut sugar, cinnamon, tapioca flour, and salt.
In a small bowl, whisk together the oil and maple syrup.
Stir the maple/oil mixture in to the almond flour mixture and stir until well combined. The mixture will be crumbly.
Spread the streusel in an even layer over the cake batter layer.
Bake for 40-50 minutes, or until a tester comes out clean.
Cool slightly before slicing and serving.
Notes
1 1/2 cups chopped rhubarb is about 4 medium stalks. If your rhubarb is very large, slice it in half lengthwise before you chop it, to create smaller pieces. 
You can use frozen, chopped rhubarb if that's all you have. Fresh is better, but if you do use frozen, do not thaw it before adding to the batter. 
Make this sugar free:
Replace the 1/2 cup coconut sugar in the cake with 6 Tablespoons granulated monk fruit sweetener or stevia. 
Replace the 2 Tablespoons coconut sugar in the streusel with the 3 Tablespoons of granulated monk fruit sweetener or stevia.
Omit the maple syrup in the streusel and add an additional tablespoon of oil.
Nutrition Information:
Yield:

1
Amount Per Serving:
Calories:

222
Saturated Fat:

6g
Cholesterol:

34mg
Sodium:

213mg
Carbohydrates:

17g
Fiber:

3g
Sugar:

8g
Protein:

5g
[wprm-nutrition-label align="center"]
Pin it for later: