If you learn my simple trick for how to roast beets, you'll never look at those funny root vegetables the same way again. Properly roasted beets are a far cry from those soggy tasteless pink slabs that come in a can. Roasted beets are sweet, rich, tender, and an incredible addition to salads – or great on their own!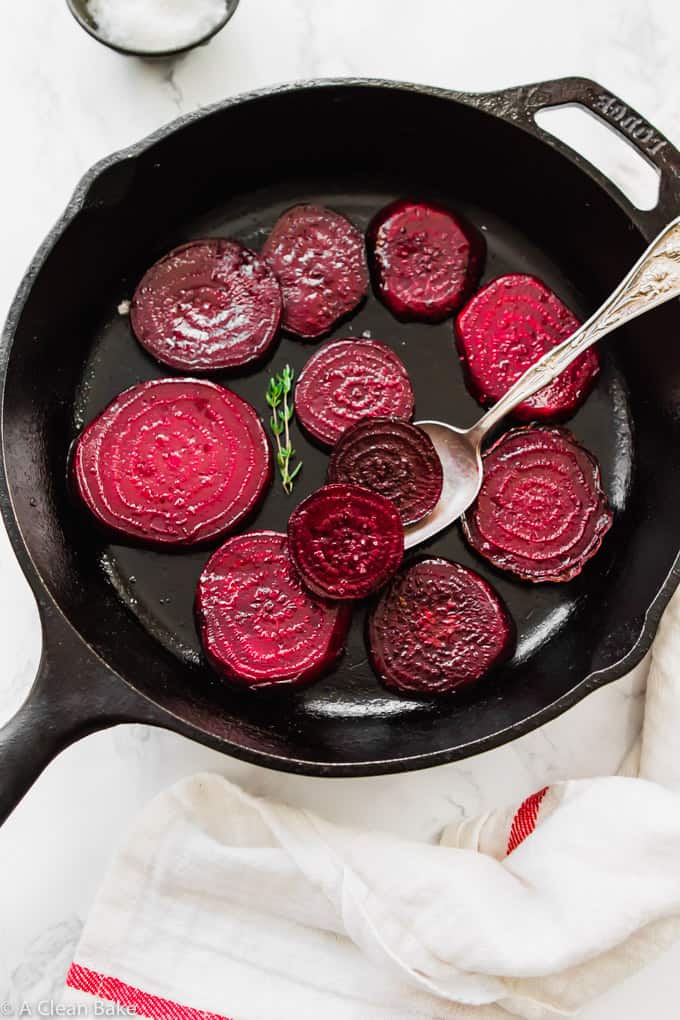 I'm updating some of my old content, and in doing so, was reminded of this old recipe with, well, let's just say the photos didn't do it justice. If you think you're a beet hater, or you've only had beets from a (*gag*) can, or maybe you've never bothered to try a beet, I'm here to change your mind.
Give Beets A Chance!
Like many ugly root vegetables (I see you there, turnips), beets get a bad name. It's a tragedy because, inside their rough, root-y, wire-y, knotty exterior, beets hide a tender meet whose sugars caramelize into something wonderful in the oven. Nature's candy, you might say. Then again, you might not. Because everyone knows raisins are nature's candy.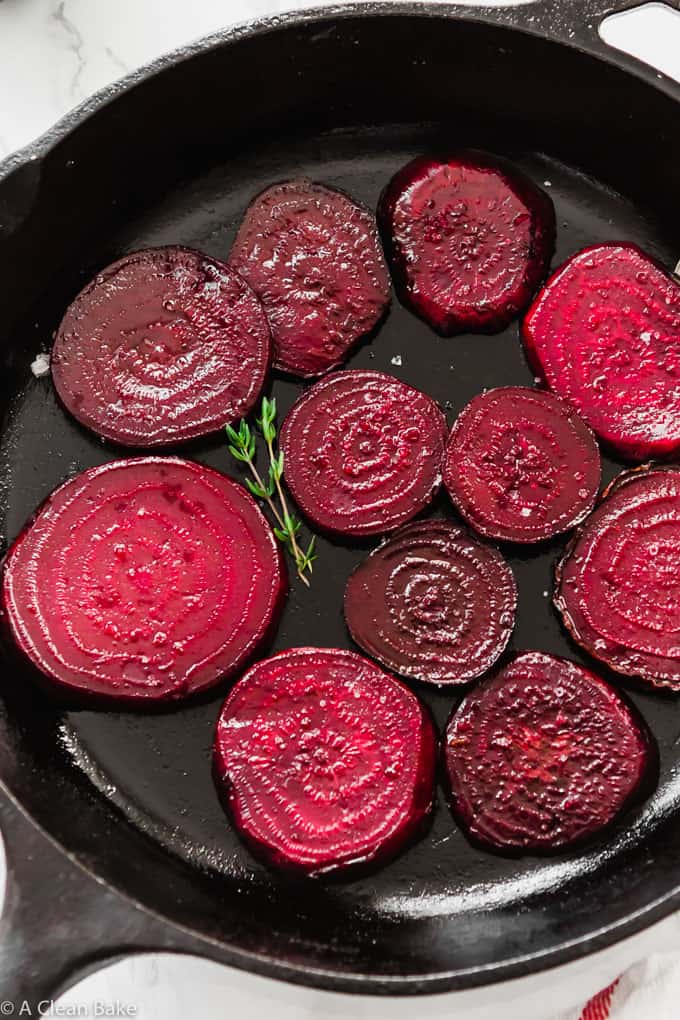 Roasted Beets Are Not The Same Species As Any Other Cooked Beets
The trick to not detesting beets is to avoid eating them in any form that fails to do them justice. So basically, skip them raw, steamed, and especially – ESPECIALLY. I really can't stress this enough – not canned.
Really, all that leaves is roasting, which is, luckily, the best way to eat a beet.
How to make roast beets – the right way
The secret to perfect roasted beets is this: 350°.
Everyone who I mention this to looks at me funny. Doesn't roasting mean 400° or higher? Possibly, depending on who you ask, but it primarily means dry heat cooking of something that already has a shape – as opposed ot baking in which the cooking process gives the food shape. Thing roasting beets, or a whole chicken (solid –> solid) vs. baking a cake (liquid –> solid).
In the case of beets, and other root veggies and high-starch produce like squash, lowish, slow cooking effectively removes enough of the moisture to allow the flavors to deepen, the sugars to condense and caramelize, and the flesh to become tender. If the temperature were higher, the beets would burn before they reached peak shrivel-y sweet-and-tenderness.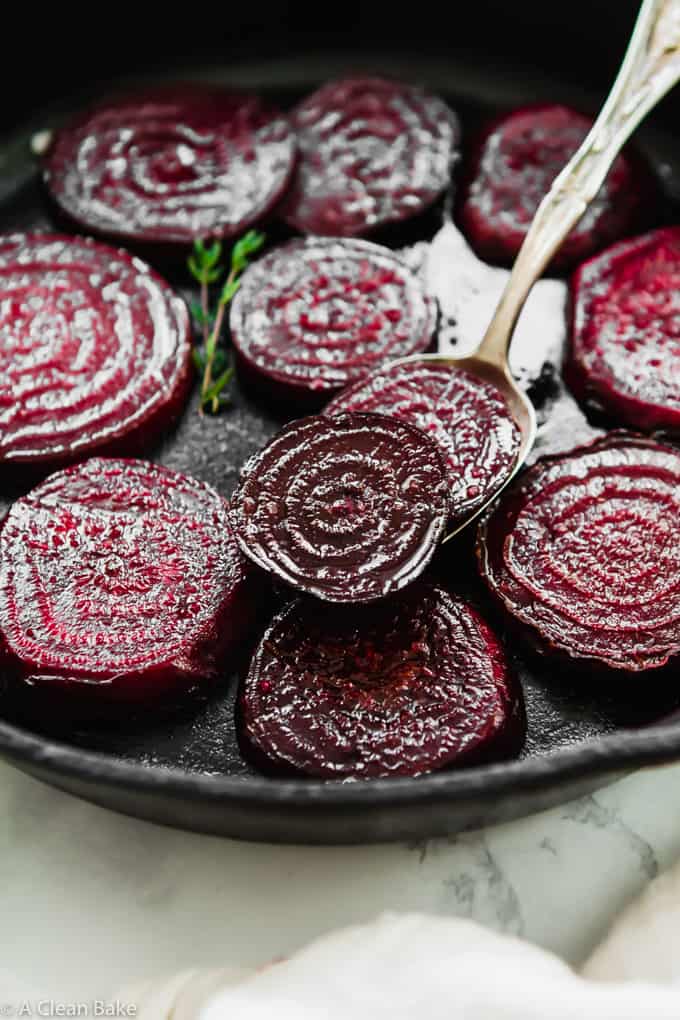 What to do with your roasted beets
The flavor of these is outstanding on their own, so you don't have to "do" anything with them so much as sprinkle them with a generous pinch of good salt, and serve them as a side. They're equally appropriate on Thanksgiving or a Tuesday.
You can also put them on a salad. They're hearty and toothsome, providing a semi-meaty element to make a lunch salad that much more satisfying. If you're doing a Whole30, these sweet little medallions do a great job standing in for dried fruit in salads.
You can slice them into a longer thinner shape and make them into fries. (Make sure you reduce your cooking time accordingly so they don't burn!)
Once roasted, beets keep really well in the fridge for a week or more, and can even be frozen. So if you don't have a use for these yet, don't stress. They'll be ready and waiting!
One last thing
The original post contained the following picture which was too cute not to keep. So, please enjoy this glamour shot of my cat, Henry.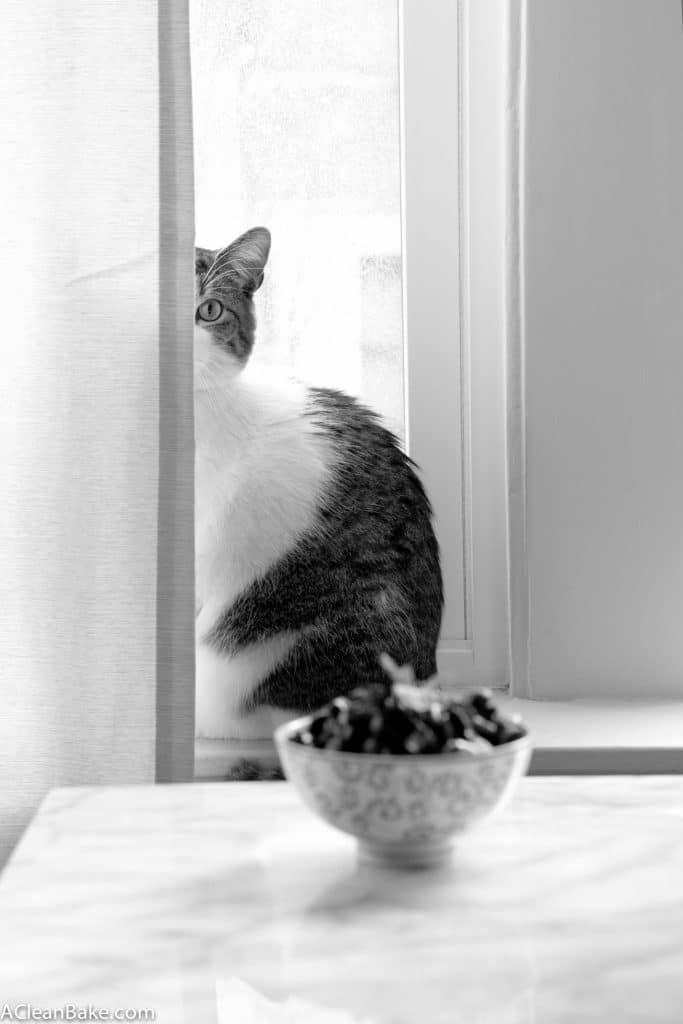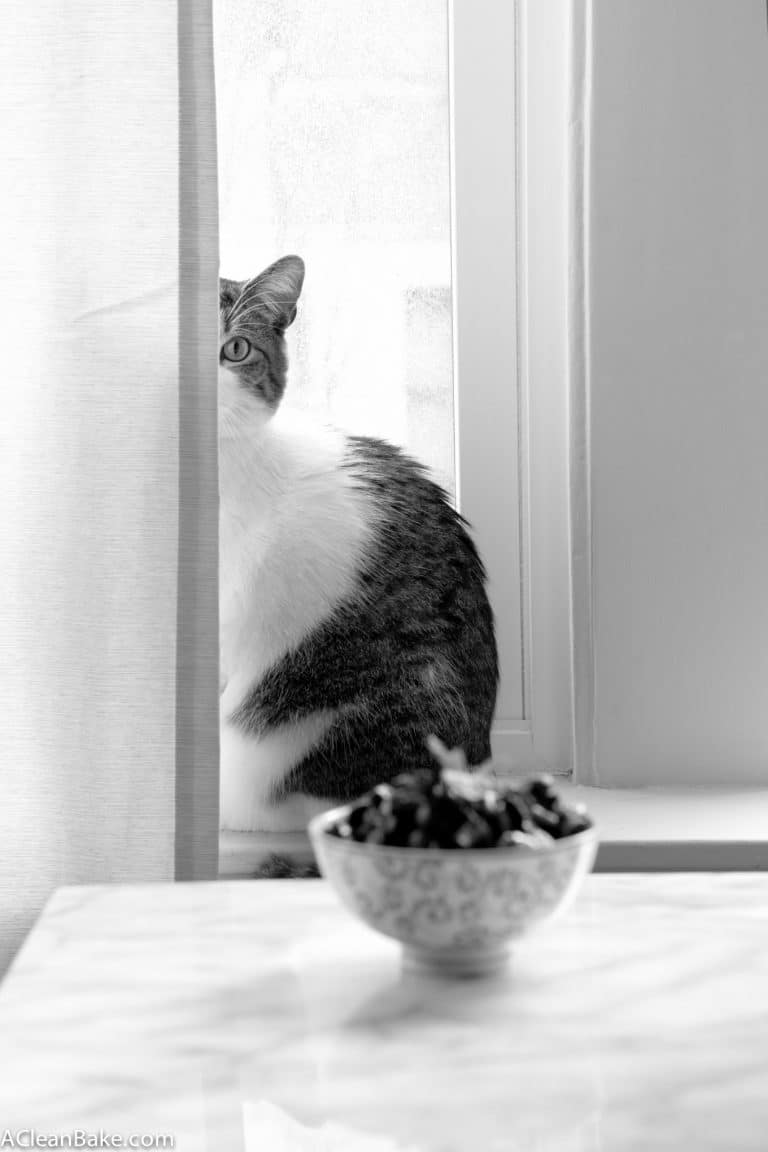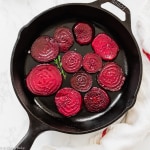 Simple Roasted Beets
Instructions
Preheat the oven to 350F. Line a large baking sheet with a

nonstick pad

or tinfoil lightly coated in nonstick spray. Set aside.

Peel the thin skin off of each beet, then use a sharp knife to cut off the stem and root ends. Slice the beet into about 1/2" slices.

Transfer slices to a large mixing bowl and toss with oil, then salt.

Spread the beet slices in an evenly-spaced layer on the prepared baking sheet.

Bake for 20-30 minutes until softened, then flip and cook another 15-30 minutes until tender.
Recipe Notes
Store completely cooled beets in an airtight container in the refrigerator.
Nutrition Facts
Simple Roasted Beets
Amount Per Serving
Calories 62
Calories from Fat 63
% Daily Value*
Total Fat 7g 11%
Sodium 291mg 12%
* Percent Daily Values are based on a 2000 calorie diet.
Pin it for later👇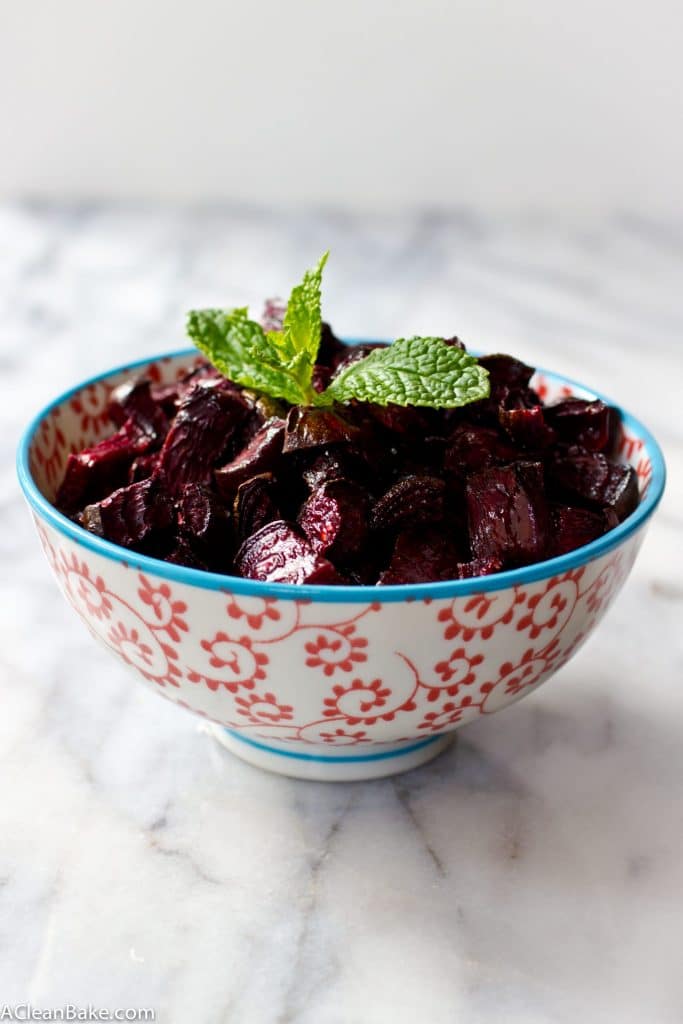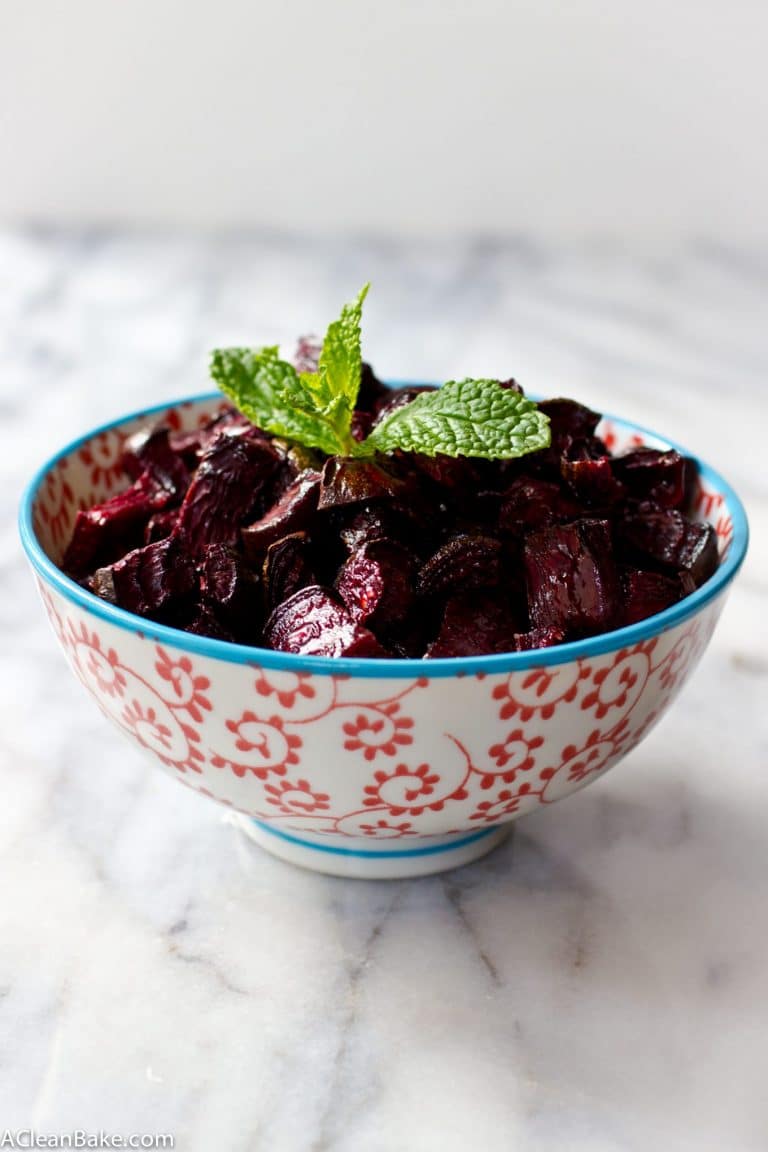 This post contains affiliate links, which means that if you click through and purchase a product, A Clean Bake receives a small commission. All proceeds go toward continuing to bring you delicious, healthy recipes every week, and this does not affect the price you pay. Thanks for supporting A Clean Bake!