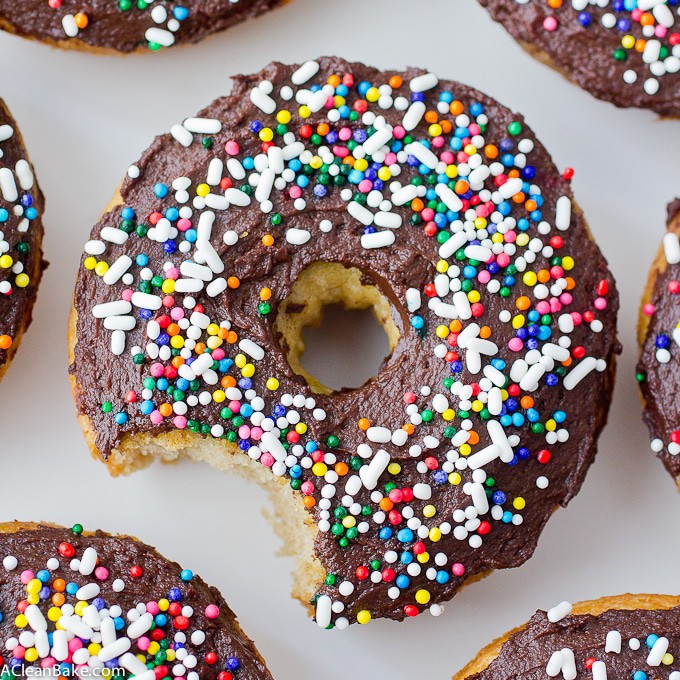 Welcome to A Clean Bake! If this is your first time visiting the site, I'm so glad you're here. A Clean Bake is more than a recipe site: it's a place where anyone with any dietary restrictions can find something that they can enjoy with friends. I started this site when I was battling a long list of health problems and food intolerances. At first, and sometimes still, the list of foods I could eat was pretty restrictive, so it was hard to eat the same meals as my friends and family. I started creating recipes that fit my dietary guidelines (gluten free, mostly grain free, low-sugar/refined sugar-free, low carb/glycemic, often-but-not-always dairy free, and free of certain random foods that I just don't tolerate like most legumes and cruciferous vegetables) but were still delicious and satisfying for everyone else, too.
I know there are so many others with dietary restrictions who are tired of eating different food or missing out on wonderful meals with friends and family, so I started sharing my recipes here. If you're looking for recipes that fit a particular diet, you can sort by diet here.
All of the food you see here has been shared with (and signed off on by) people who have no dietary restrictions, so you can be confident it is food that everyone in your life will truly enjoy. And best of all, it's easy. Most of the recipes use a handful of familiar (or soon-to-be familiar) ingredients, and often require only a bowl and spoon to prepare.
The trick to making great food that is safe for those with intolerances, but enjoyable for everyone, is having the right tools and ingredients on hand. Before you start making any recipe, it's always best to double check to make sure you have everything you need, but if you keep certain staples on hand, you'll have a good head start.
Essential Ingredients For Clean Baking
Blanched Almond Flour: I prefer Honeyville brand. Note: "Blanched" indicates that the almonds have been stripped of their skins before being ground into flour, usually resulting in a finer flour that produces a softer and tighter-crumbed baked good. It may not always be labeled blanched, but you can disinguish it from unblanched almond flour (sometimes called raw almond flour or almond meal) because the latter will be coarser and will be a mixture of brown and cream elements, whereas blanched is cream-colored.
Coconut Flour: I use Now Foods brand
Tapioca Starch: I get mine from Asian grocery stores (though it is not certified gluten free) or Now Foods
Cocoa Powder: I keep Hershey's Special Dark cocoa powder and Now Foods Organic natural cocoa powder on hand, but if you have to pick one, go with natural
Coconut Oil: I use Now Foods brand, but Spectrum Organics is also very good
Grapeseed Oil: This is a flavorless oil that is liquid at room temperature, so works a little differently than coconut oil. La Tourangelle is a reliable brand. You can also use organic canola oil, if you prefer.
Eggs: My recipes always call for large eggs, ideally at room temperature. Using extra large eggs might not seem like a big deal, but that small amount of extra egg really does make a difference in the chemical reactions that occur (baking is chemisty, after all!), so please make sure you are using large eggs for best results. To quickly bring your eggs to room temperature, immerse them in a bowl of warm water for about 10 minutes before mixing them into the batter.
Norbu and Natvia: these are the brand names for my favorite monk fruit and stevia-based sweeteners. Both have zero glycemic impact, which is why I use them (I react to sugars, so have to limit them and avoid them where possible). You can feel free to use other low glycemic granulated sweeteners like coconut palm sugar in their place, but please be aware that stevia and monk fruit tend to be much sweeter than sugar, so you will probably need to either use 1.5-2x the amount of sweetener that my recipes call for, or expect a less sweet dish.
Salt: Don't underestimate the power of good salt! Different quality salts have different flavors, levels of "saltiness" and nutrients. My favorite salt is grey sea salt, though many swear by Himalayan pink salt or kosher salt. Grey sea salt contains minerals (magnesium, calcium and potassium) and I prefer the milder flavor of it. However, its grain is huge and I typically measure for fine sea salt or table salt. I don't like using table salt, though, because it is so highly processed that it has no nutrients left, and more importantly, the flavor is too bitter and eye-waveringly salty for me. All of this is to say: there are lots of different salts; use what's best for you; and if you're using a larger-grain salt, increase the amount that is called for in the recipes.
Baking Soda: Most of the time, my baked recipes call for baking soda. It's such a basic ingredient that it's hard to go wrong, but I usually buy Arm & Hammer brand.
Baking Powder (Optional): I tend to avoid using this, since many commercial baking powders use cornstarch, which many people have trouble tolerating. If you do keep it on hand, it's worth paying a small premium to get the aluminum-free kind. Rumford brand is aluminum free and gluten free.
Pure Vanilla Extract: I usually write "vanilla" or "vanilla extract" in the ingredient lists, but I always mean pure vanilla extract. Get something that is of reasonably good quality – I recommend Kirkland or Ellyndale brands- and never, ever use the imitation vanilla.
Cinnamon: I always use cinnamon as a shorthand for ground cinnamon, not cinnamon sticks.
Nonstick spray: Typically vegetable or canola oil, but you can also find coconut oil spray if you're more comfortable.
Essential Tools for Clean Baking
Mixing bowl
Whisk
Hand Mixer
Measuring Cups
Measuring Spoons
Liquid Measuring Cup
Sheet Pan
Parchment Paper or Nonstick pads
Loaf Pan
8×8 pan
Cupcake pan & Papers
Everyday cereal-size bowls, spoons, forks, and knives
Bonus: 6″ or 8.5." round cake pans (I have two of each)
Bonus: Springform pan
Bonus: mini cupcake pan
Bonus: Cooling rack
Bonus: Fish spatula
That's it! Now you can start cooking 🙂 If you have any questions along the way, please email me! You can reach me at acleanbake@gmail.com.
Happy Clean Baking!
-Nora
This post contains affiliate links, which means that if you click through and purchase a product, A Clean Bake receives a small commission, which goes toward continuing to bring you delicious, healthy recipes every week. This does not affect the price you pay. Thanks for supporting A Clean Bake!