Skip the packaged cookies because grain free, naturally sweetened and paleo fig newtons are so easy to make at home!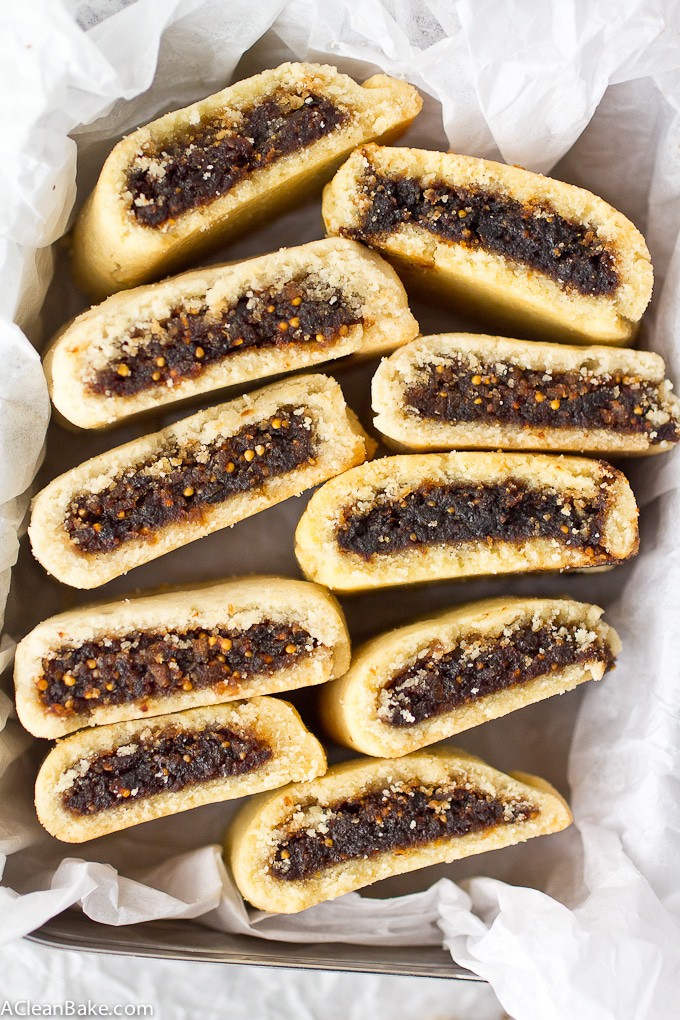 I made the mistake of opening my pantry last weekend, from where the leftover figs languishing there from this recipe began screaming at me to put them out of their misery and do something with them already, and wouldn't stop screaming until I complied. For some people, the voices in their head are multiple personalities. For me, they're leftover figs.
There are some recipes that are painstakingly planned and then there are others that jump out of the woodwork, burrow into your brain, and won't let you think about anything else (least of all the recipe you'd actually planned to make) until you've successfully conquered it.
On a completely unrelated note, please don't ask me how many homemade fig newtons are in my fridge right now.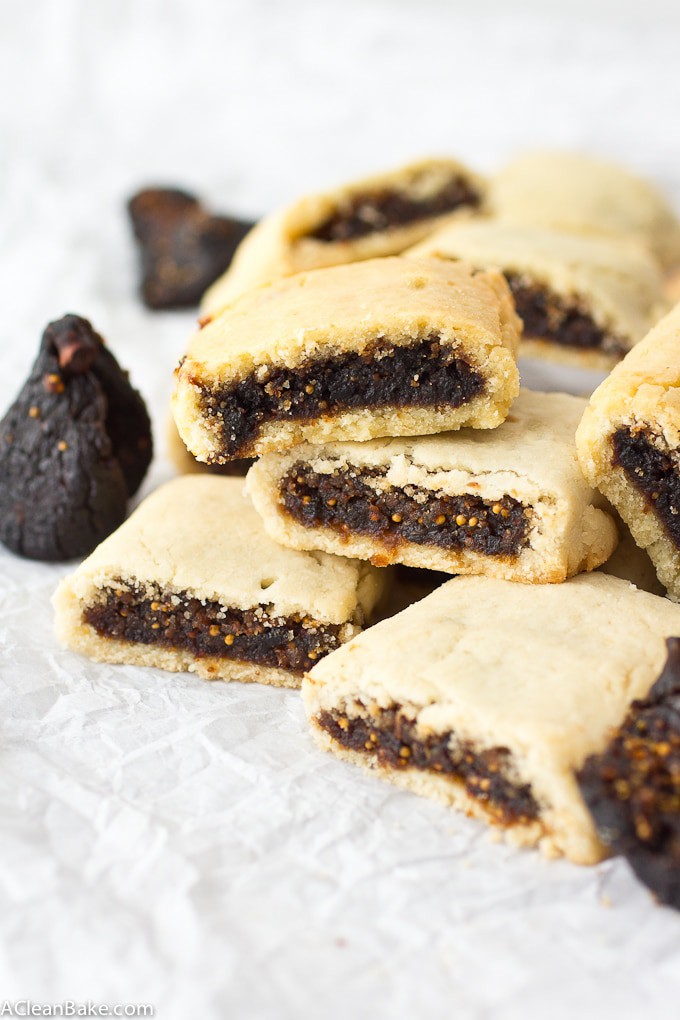 Luckily, there is no such thing as too many homemade fig newtons. They're delicate and flaky – but only when they're fresh from the oven; after a night in a tupperware they soften up into a more fig-newtony-cakey texture, so you get the best of both worlds.
And the filling! Oy. Don't even start with me. It's SO. GOOD.
Somehow, only four basic grocery store ingredients transform into something transcendent with nothing more than a tap of your magic wand. Actually a whirl in the food processor, but those are pretty much the same thing, in my book.
Since everyone in the known universe has at least some vague familiarity with fig newtons, I assume they need no introduction. So just imagine the newtons you know, but with a more delicate crust, a less aggressively-sweet filling and a hint of fruitiness and spice.
Plus, of course, not a hint of gluten, grain or refined sugar in sight, but I dare you to try to convince anyone of that. 😉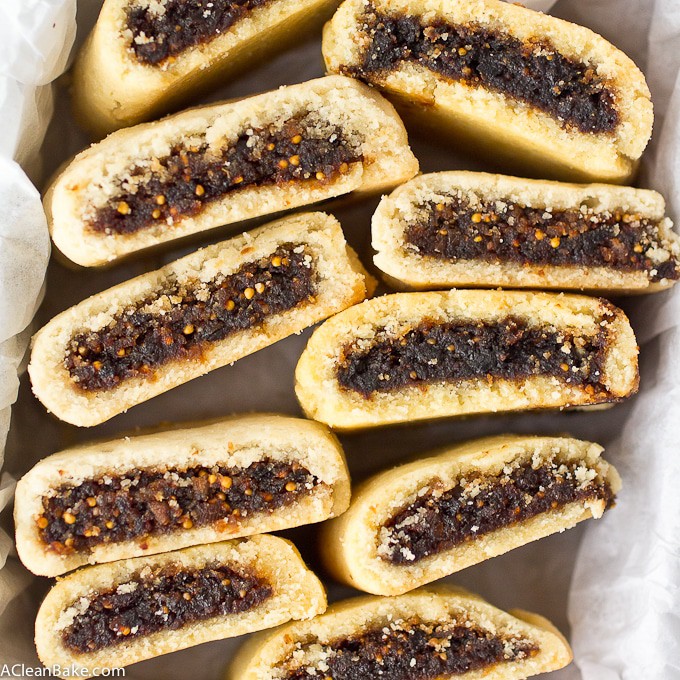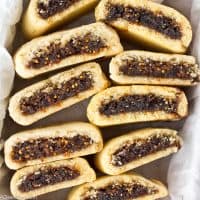 Homemade Fig Newtons
Skip the packaged cookies because grain free, naturally sweetened and paleo fig newtons are so easy to make at home!
Ingredients
Ingredients for the filling
1 cup dried black mission figs,, quartered, stems removed
2 Tablespoons orange zest, (do not pack; optional)
1 Tablespoon fresh orange juice
1/4 cup pure maple syrup
1/8 teaspoon pumpkin pie spice
Pinch fine sea salt
Ingredients for the crust
1 cup blanched almond flour
1/4 cup coconut flour
1/4 cup tapioca starch/flour
Pinch of salt
1 large egg
2 Tablespoons pure maple syrup
1/4 cup butter, cut into small cubes (see note for dairy-free alternative)
Instructions
Preheat the oven to 350F. Cover a standard baking pan with parchment paper or a nonstick pad and set aside.
Place the figs in a small bowl and cover with hot water. Soak for 3-5 minutes until softened, then drain and discard the soaking liquid. If your figs are very soft to start with, skip this step. 
Make the filling: Pulse the figs a few times in the food processor to roughly chop, then add the remaining filling ingredients and puree into a chunky paste. Stop and scrape down the bottom and sides of the bowl to make sure everything is evenly incorporated.
Transfer the filling to a small bowl and set side. Wash and dry the food processor.
Make the crust: Pulse the almond, coconut and tapioca flours, and the salt together several times to combine. Add the egg and maple syrup, and process for a few seconds to combine.
Add the butter and process until the dough comes together into a ball. You shouldn't be able to see any large clumps of butter left in the dough.
Divide the dough in half and gather each half into a ball. Place one ball of dough on a piece of wax paper, cover with another piece of wax paper, and roll out into a rectangle (dough should be about 1/2 cm thick).
Slice the rectangle in half lengthwise to form two long strips.
Divide the filling into four equal portions and spread one portion along the length of each of the two strips of dough (set aside the other two portions of filling for the moment), leaving about a 1/2" border of dough.
Pick up the wax paper and use it to gently fold each strip of dough over onto itself, forming two filled logs. Gently press the edges together to seal each log and then carefully transfer it to the prepared baking sheet. Flatten each slightly with the heel of your hand.
Repeat the process with the remaining dough and filling. You should have a total of four logs.
Bake for 20-25 minutes until the logs are slightly golden around the edges.
Let cool until they are comfortable enough to handle, then cut into 1 1/2" - 2" slices and transfer to a wire rack to cool completely before serving.
Notes
To make this dairy free, replace the butter with 1/4 cup coconut oil, melted and slightly cooled. 
If you don't have pumpkin pie spice handy, replace it with cinnamon.
The orange zest gives these a distinct orange (accent) flavor, which is obviously different than the flavor of the packaged cookies. If you're going for the authentic fig newton experience, omit the orange zest.
Note that the texture when they're right out of the oven will be slightly flaky, but as soon as you store them, the moisture redistributes slightly and they become more cakey, like packaged fig newtons. Either way, they're still good!
Store in an airtight container at room temperature for up to five days, or in the freezer for up to three months.
Nutrition Information:
Yield:

24
Serving Size:

1 cookie
Amount Per Serving:
Calories:

85
Saturated Fat:

1g
Cholesterol:

11mg
Sodium:

23mg
Carbohydrates:

10g
Fiber:

1g
Sugar:

6g
Protein:

1g
[amazon_link asins='B01N2BIEYE,B005P0LW66,B01FAOX2GO,B009NT3JD4,B00HS01I1A,B00PD2B68K,B00D8L3B5E,B00MUECG38′ template='ProductCarousel' store='butterfanati' marketplace='US' link_id='cd1e3fd8-38bf-11e7-b2d4-874d6aea9d1a']
[wprm-nutrition-label align="center"]
Pin it for later 👇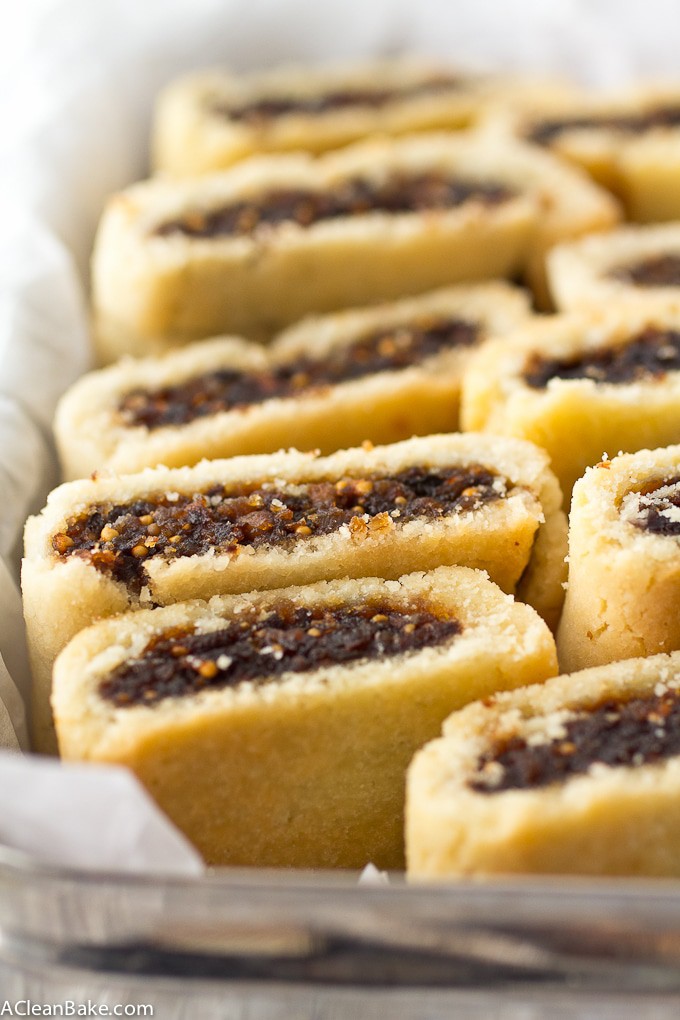 This post contains affiliate links, which means that if you click through and purchase a product, A Clean Bake receives a small commission, which goes toward continuing to bring you delicious, healthy recipes every week. This does not affect the price you pay. Thanks for supporting A Clean Bake!