Skip the packaged cookies because grain free, naturally sweetened and paleo fig newtons are so easy to make at home!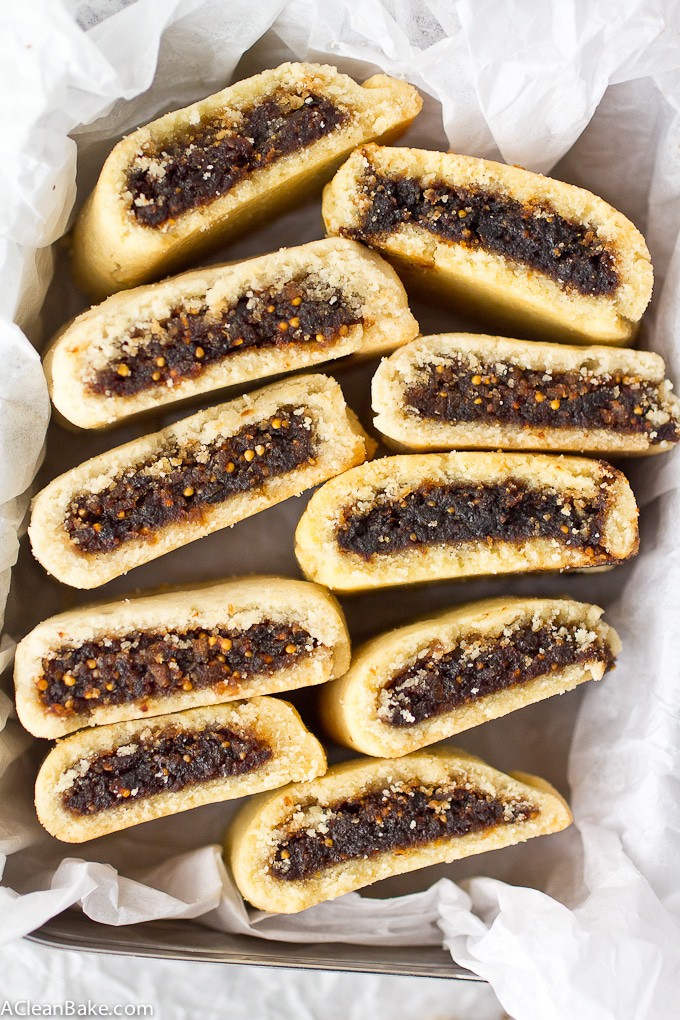 I made the mistake of opening my pantry last weekend, from where the leftover figs languishing there from this recipe began screaming at me to put them out of their misery. They asked me not once, not twice, but three times to do something with them already, and wouldn't stop screaming until I complied. For some people, the voices in their head are multiple personalities. For me, they're leftover figs.
There are some recipes that are painstakingly planned and then there are others that jump out of the woodwork, burrow into your brain, and won't let you think about anything else (least of all the recipe you'd actually planned to make) until you've successfully conquered it.
On a completely unrelated note, please don't ask me how many homemade fig newtons are in my fridge right now.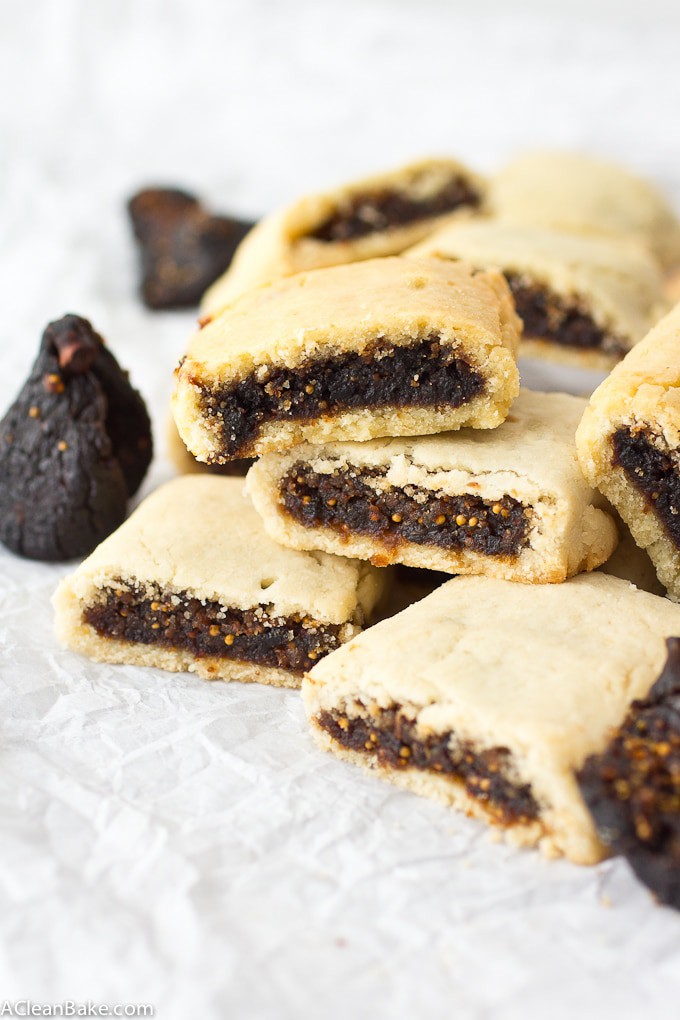 How to Make Homemade Fig Newtons
Luckily, there is no such thing as too many homemade fig newtons. They're delicate and flaky — but only when they're fresh from the oven; after a night in a tupperware they soften up into a more fig-newtony-cakey texture, so you get the best of both worlds.
How to Make the Fig Newton Filling
Oh, the filling! Oy. Don't even start with me. It's SO. GOOD.
Somehow, only four basic grocery store ingredients (plus salt) transform into something transcendent with nothing more than a tap of your magic wand. Actually a whirl in the food processor, but those are pretty much the same thing, in my book.
While I stand by my equating a food processor with a magician, you'll need to do a little work before tossing your figs into my favorite kitchen appliance. And by a little work, all I suggest is that you soak your figs in a large bowl with one cup water for 3–5 minutes so they puree more smoothly (that wasn't so hard, now was it?).
Combine your figs with orange zest, orange juice, maple syrup, cinnamon or pumpkin pie spice (optional) and sea salt in your food processor. Pulse a few times, until your fig filling forms a chunky paste, and you're done.
How to Make the Grain-Free Crust
These fig newtons use a blend of almond flour, coconut flour, and tapioca starch to create a flour mix that will produce the cake-like texture you're looking for in a good fig newton crust.
If you're new to gluten-free baking, the process is incredibly similar to "regular" baking — with a few exceptions, of course. You'll start with the dry ingredients, pulsing your three flours and salt in a food processor until well combined. If you don't have a food processor, use a hand mixer.
From there, pour in your wet ingredients, adding the egg (egg yolk and all) and maple syrup. Finally, add cubed, unsalted butter to your flour mixture. Continue to pulse the mixture until a dough-like ball forms. It should have the same consistency of cookie dough, minus the chocolate chips.
Once the dough is formed, you will divide it into two equal balls. Place one ball in between two pieces of plastic wrap or parchment paper and roll out with a rolling pin. Roll your dough into two rectangles, then divide each rectangle in half to form four strips.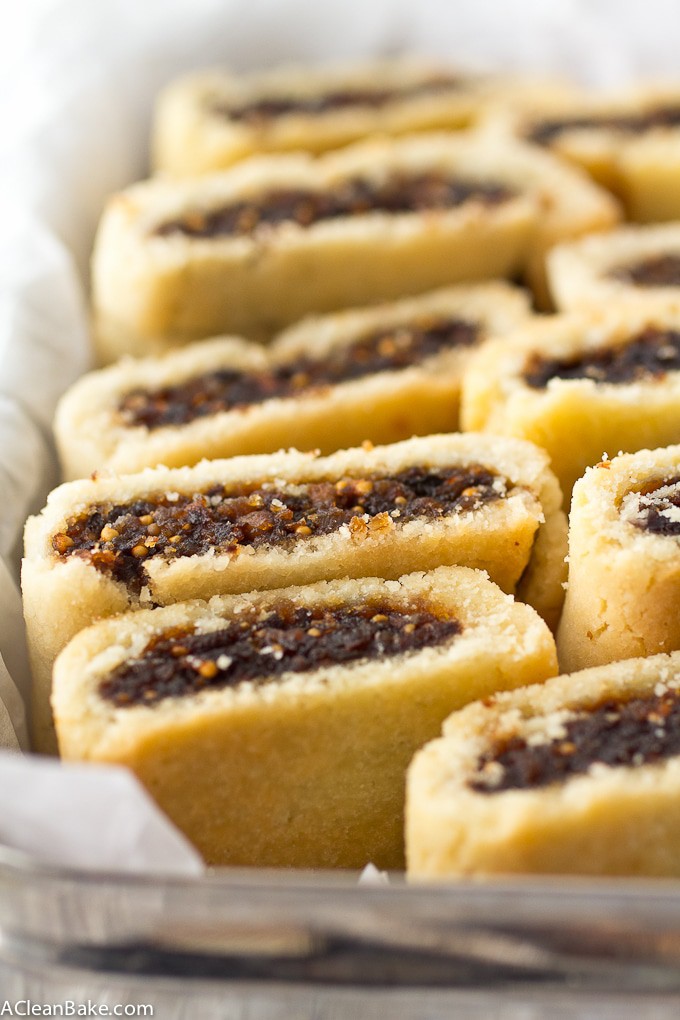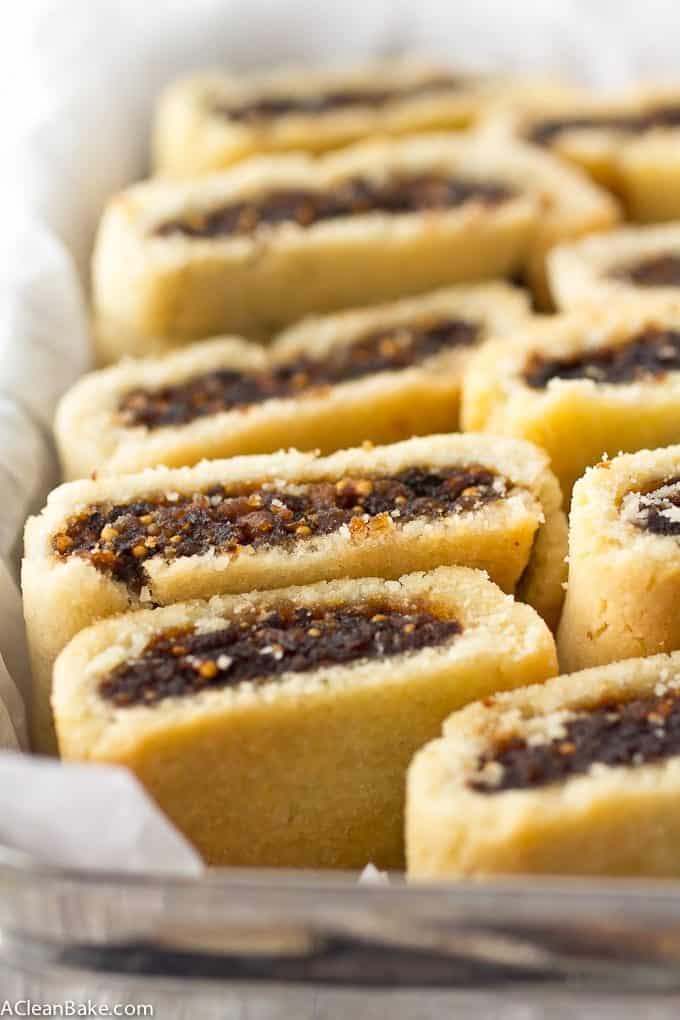 Tips for Gluten Free Fig Newton Success
These fig newton require you to be one part baker and one part artist, and if you're reading this thinking, "I am neither," then allow me to put your mind at ease. I will not answer every question you have regarding this recipe*:
*Give or take. Leave me a comment below the post if you have any questions I didn't answer!
"Can I Substitute A Different Gluten-Free Flour?"
Ah, if I had a quarter for every time someone asked me this question.
Unfortunately, no; you cannot substitute one gluten-free or grain-free flour for another. Baking is chemistry, and to use another flour will completely change the consistency of your end product.
Unlike all-purpose flour and whole wheat flour, which can be substituted at a 1:1 ratio, gluten-free flours behave completely differently from each other, producing drastically different flavors, textures, and consistencies in the end product if you try to sub one for another. Therefore, they cannot be substituted for one another. Luckily I have tested (and re-tested…and re-tested) the perfect blend for your fig newtons.
"I'm Lactose Intolerant. Can I Make These Dairy-free?"
Absolutely! As you'll see in the recipe notes, you can lose the butter altogether and use ¼ cup of coconut oil in its place. The coconut oil should be melted, yet slightly cooled. My rule of thumb is that it should be pure liquid, but cool enough to hold your fingertip in, comfortably, for 5 seconds. That's how you know it is the right temperature.
"Can I Make This Recipe Sugar-Free?"
Oh, if only that were possible (cue whimpering sound).
Figs, like other dried fruits, have quite a bit of natural sugar. Therefore, it would be nearly impossible to create a sugar-free fig newton.
You can take comfort in the fact that maple syrup is certainly a lower-glycemic alternative to white sugar or light brown sugar, and you can always substitute honey one-to-one for the maple syrup, or add several drops of liquid monk fruit or stevia, to taste. If you use monk fruit, however, you may need to add a tablespoon or so of water to the filling, and 1-2 tablespoons of additional fat (butter or coconut oil) to the crust, to account for the liquid that is missing when you omit the maple syrup. Just about a teaspoon at a time until the filling forms a very thick, spreadable paste. You do not need to do this is you are using honey instead of maple syrup, only if you're using liquid monk fruit or stevia.
"Can I Use Fresh Figs?"
While fresh figs from a fig tree sound completely dreamy, they're not what you want in this particular recipe. If you love fig newtons — the classic version, that is — you'll need dried figs.
A fresh fig will throw off the consistency of the filling, and won't give it that dense, chunky consistency you're looking for, and will add far too much liquid to the filling. Nobody likes a soggy fig newton!
"I'm Struggling Adding The Fig Mixture To The Dough…Any Suggestions?"
You will roll these fig newtons the same way you would cinnamon rolls — which can be a tricky process. To spare you a few headaches, allow me to offer the following suggestions:
1) have a clear work surface, so you can easily roll your fig newtons into logs; and
2) use a pastry bag to "pipe" the fig filling onto your crust. No need to use a fancy pastry bag; I just put the filling in a large zip-top bag and snip the corner off. Then you can use that to neatly squeeze the filling in a zig zag pattern across the crust, to evenly distribute it and minimize too much aggressive spreading on the delicate crust.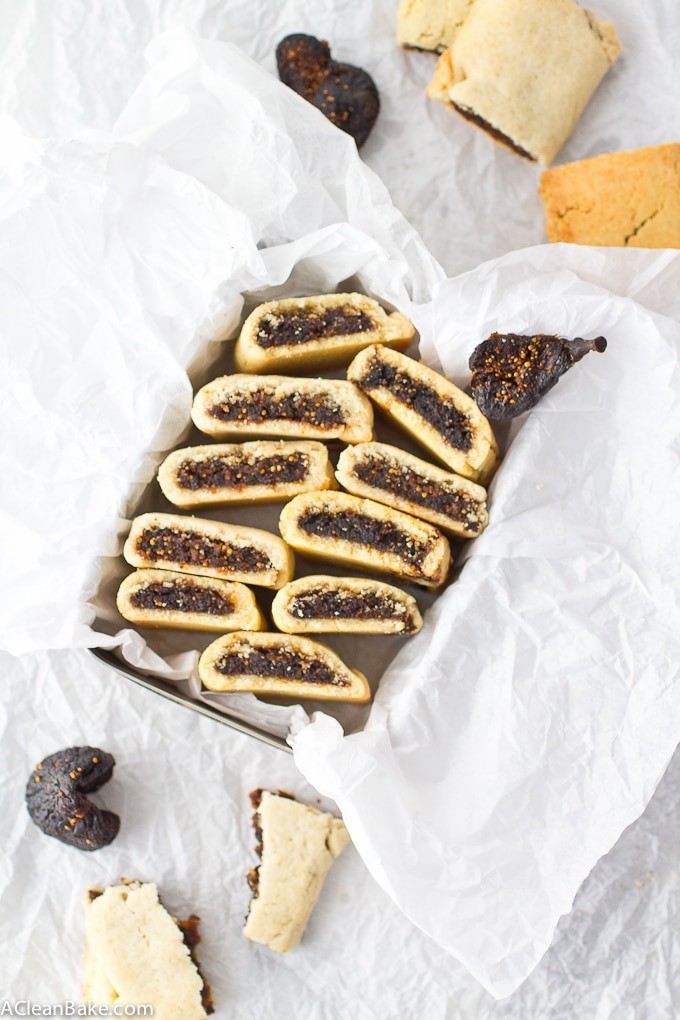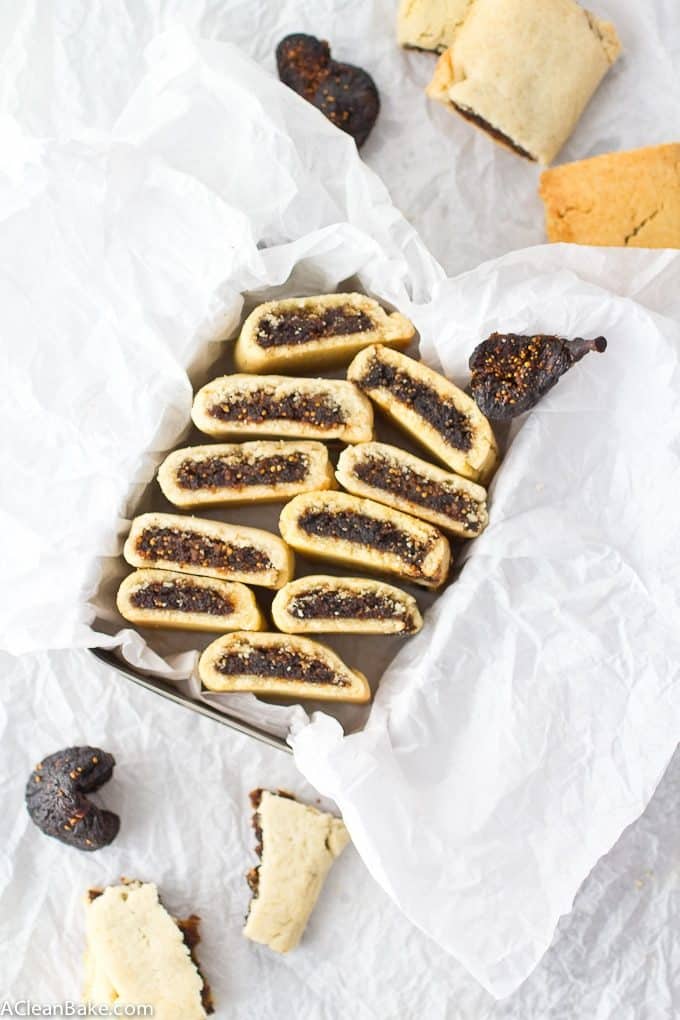 Recipe Variations & Substitutions For Fig Newtons
I put my own spin on these fig newton cookies, adding a hint of orange zest and making them grain-free. If you're looking to put your own unique take on this recipe, or if you simply have a question regarding recipe substitutions, I answer them below. If you have another question I didn't address, let me know in the comments!
Drop the orange zest: I used orange as an accent ingredient in this recipe, but you can omit it entirely if you're looking for a more classic fig newton taste.

Make fig bars or fig cookies instead: To make fig bars, press half of the dough into a greased 8"x8" pan and pre-bake at 350F for about 10-15 minutes. Then spread the filling on top, add the remaining dough on top and press into an even layer with your fingertips. Bake until the dough is cooked through, 30-40 minutes or so. To make fig cookies, you can roll the dough into small balls, and use your thumb or the back of a measuring spoon to create a well in the center. Fill the well with filling and bake 15-20 minutes, or until the cookies are firm. Watch carefully to prevent the filling from burning.

Orange juice: You can use lemon juice or apple juice instead




Tapioca flour: You can substitute 1:1 for arrowroot flour.

Maple syrup: Feel free to use honey instead.

Butter: You can use 1/4 cup of melted coconut flour as a dairy-free alternative.

Pumpkin spice: If you don't have pumpkin spice on hand, you can use cinnamon.
Voila: A Fig Newton Recipe With A Grain-free Crust
Since everyone in the known universe has at least some vague familiarity with fig newtons, I assume they need no introduction. So just imagine the newtons you know, but with a more delicate crust, a less aggressively-sweet filling and a hint of fruitiness and spice.
Plus, of course, not a hint of gluten, grain or refined sugar in sight, but I dare you to try to convince anyone of that.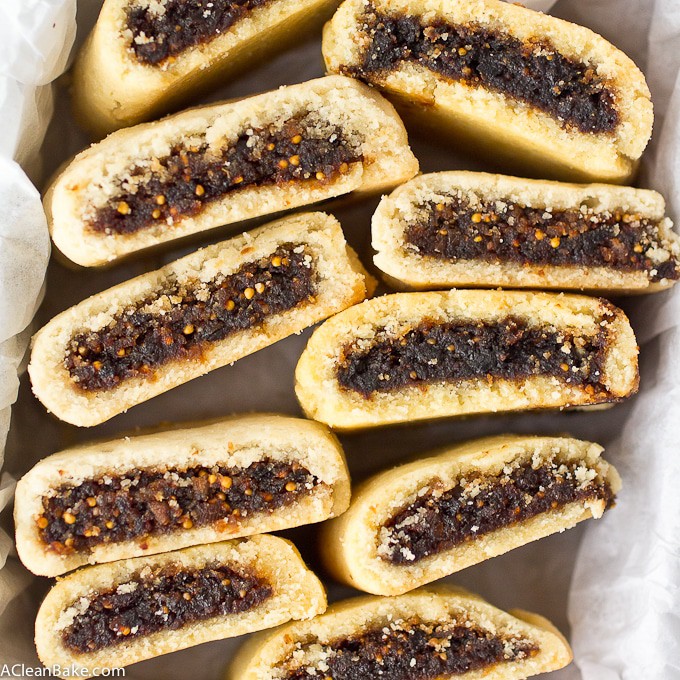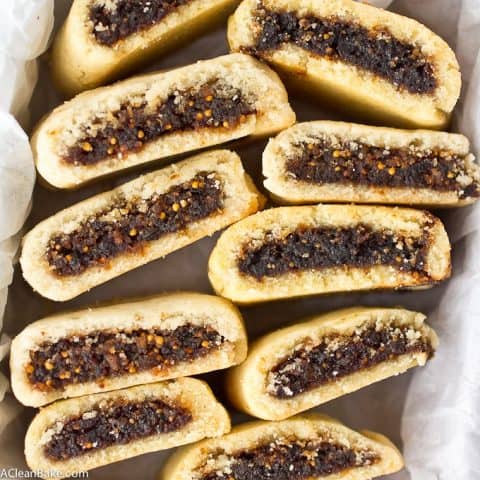 Homemade Fig Newtons
Skip the packaged cookies because grain free, naturally sweetened and paleo fig newtons are so easy to make at home!
Ingredients
Ingredients for the filling
1 cup dried black mission figs, quartered, stems removed
1 Tablespoon orange zest, (**do not pack**; optional or to taste - feel free to omit!)
1 Tablespoon fresh orange juice
1/4 cup pure maple syrup
1/8 teaspoon pumpkin pie spice
Pinch fine sea salt
Ingredients for the crust
1 cup blanched almond flour
1/4 cup coconut flour
1/4 cup tapioca starch/flour
Pinch of salt
1 large egg
2 Tablespoons pure maple syrup
1/4 cup cold butter, cut into small cubes (see note for dairy-free alternative)
Instructions
Preheat the oven to 350F. Cover a standard baking pan with parchment paper or a nonstick pad and set aside.
Place the figs in a small bowl and cover with hot water. Soak for 3-5 minutes until softened, then drain and discard the soaking liquid. If your figs are very soft to start with, skip this step.
Make the filling: Pulse the figs a few times in the food processor to roughly chop, then add the remaining filling ingredients and puree into a chunky paste. Stop and scrape down the bottom and sides of the bowl to make sure everything is evenly incorporated.
Transfer the filling to a small bowl and set side. Wash and dry the food processor.
Make the crust: Pulse the almond, coconut and tapioca flours, and the salt together several times to combine. Add the egg and maple syrup, and process for a few seconds to combine.
Add the butter and process until the dough comes together into a ball. You shouldn't be able to see any large clumps of butter left in the dough.
Divide the dough in half and gather each half into a ball. Place one ball of dough on a piece of wax paper, cover with another piece of wax paper, and roll out into a rectangle (dough should be about 1/2 cm thick).
Slice the rectangle in half lengthwise to form two long strips.
Divide the filling into four equal portions and spread one portion along the length of each of the two strips of dough (set aside the other two portions of filling for the moment), leaving about a 1/2" border of dough.
Pick up the wax paper and use it to gently fold each strip of dough over onto itself, forming two filled logs. Gently press the edges together to seal each log and then carefully transfer it to the prepared baking sheet. Flatten each slightly with the heel of your hand.
Repeat the process with the remaining dough and filling. You should have a total of four logs.
Bake for 20-25 minutes until the logs are slightly golden around the edges.
Let cool until they are comfortable enough to handle, then cut into 1 1/2" - 2" slices and transfer to a wire rack to cool completely before serving.
Notes
To make this dairy free, replace the butter with 1/4 cup coconut oil, melted and slightly cooled. Your dough will be very sticky, so wrap it tightly in plastic and refrigerate for at least an hour until firm before you roll it out.
If you don't have pumpkin pie spice handy, replace it with cinnamon.
The orange zest gives these a distinct orange (accent) flavor, which is obviously different than the flavor of the packaged cookies. If you're going for the authentic fig newton experience, omit the orange zest.
Note that the texture when they're right out of the oven will be slightly flaky, but as soon as you store them, the moisture redistributes slightly and they become more cakey, like packaged fig newtons. Either way, they're still good!
Store in an airtight container at room temperature for up to five days, or in the freezer for up to three months.
Nutrition Information:
Yield:

24
Serving Size:

1 cookie
Amount Per Serving:
Calories:

85
Saturated Fat:

1g
Cholesterol:

11mg
Sodium:

23mg
Carbohydrates:

10g
Fiber:

1g
Sugar:

6g
Protein:

1g