Finally: an easy low Carb yellow cake! It's gluten free, refined sugar free, paleo and only requires one bowl!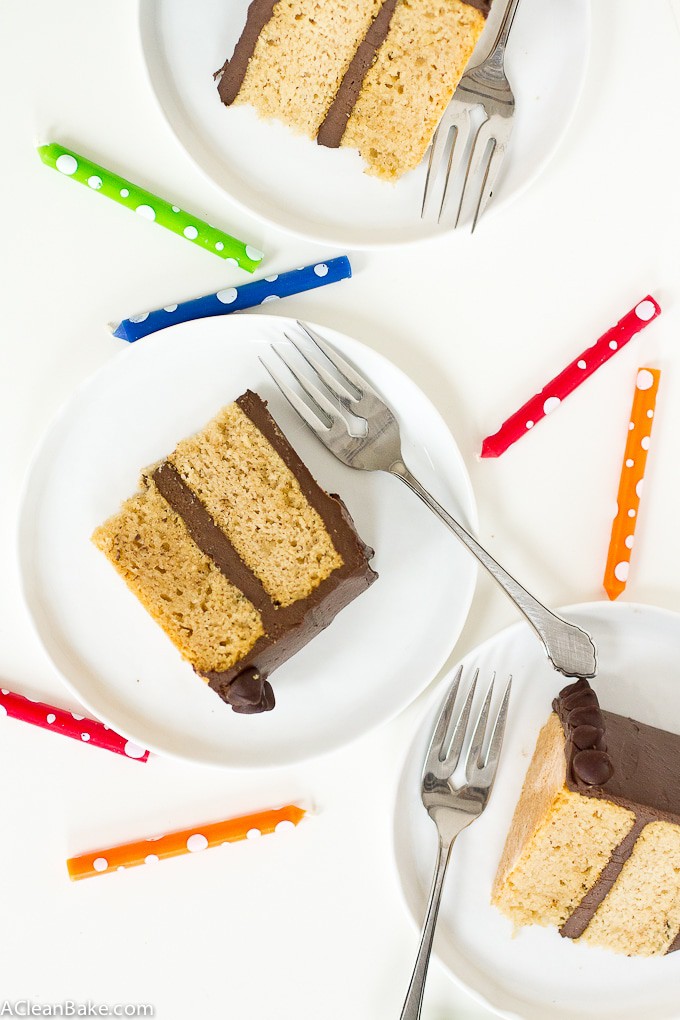 Happy second birthday, A Clean Bake!
I feel like Oprah today. No, I didn't put a car underneath your seat, but I do have a pretty awesome giveaway for you today in honor of A Clean Bake's second birthday. Last year, I wrote a post about the things I had learned in my first year of writing ACB, and I sat down this year to do the same. What came out was a little too personal and, frankly, babble-y, so I'm going to spare you. (That's not to say that this isn't a long post nonetheless, so if you just want the cake recipe, scroll straight to the bottom of the post.)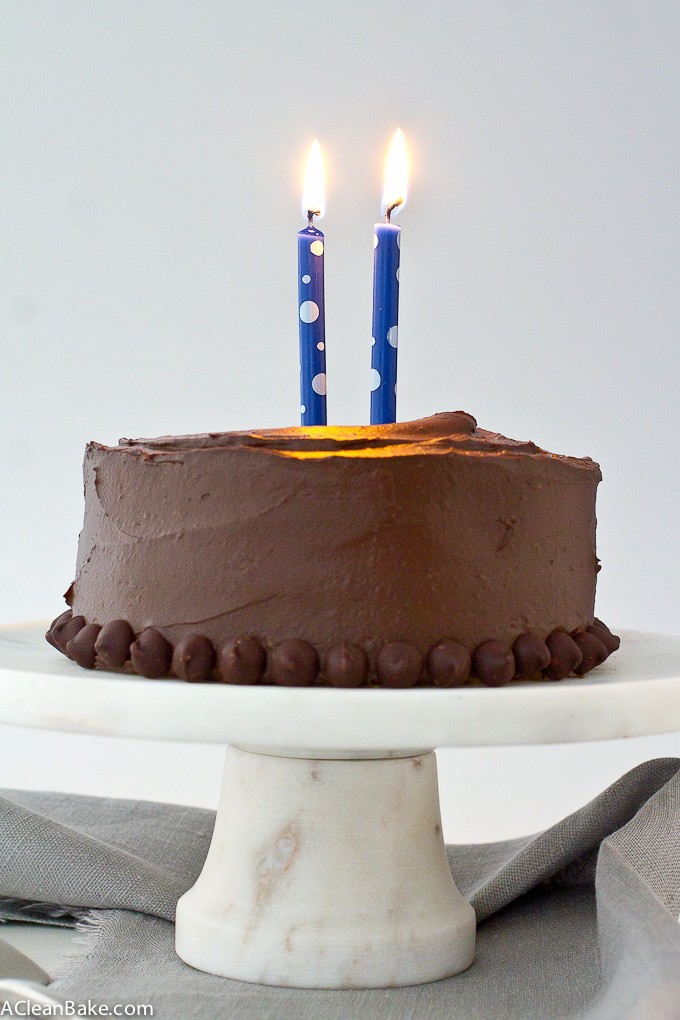 What I will say is this: this year was full of blogging ups and downs. I'm slowly learning what you guys really want (and your answers to this survey are invaluable, and you can always email me, too), and how to balance it with what I like to cook and eat – the last thing I want to do is try to pass something off on you that I am not excited about. Sometimes I think I have it nailed and then you guys are all meh, but other times I post a recipe as an afterthought and you guys devour it. So, it's a work in progress.
I think about this website from the minute I wake up in the morning until the minute I go to bed. It's probably not healthy, but if ever there was anything worth obsessing about, it's great food, right? I love to cook and I love to eat, and this site is for anyone who does too. I mean anyone – not just those with dietary restrictions. As my health improves day by day, I have started to really resent not being able to eat freely, without weighing the risks of each ingredient. Not being able to share food, having to eat odds and ends while everyone else has a full meal, or even bringing your own meal can feel isolating. The most amazing feeling in the world is when I can sit at a table and eat the exact same thing as everyone else – and many of you have commented or emailed me to express a similar sentiment.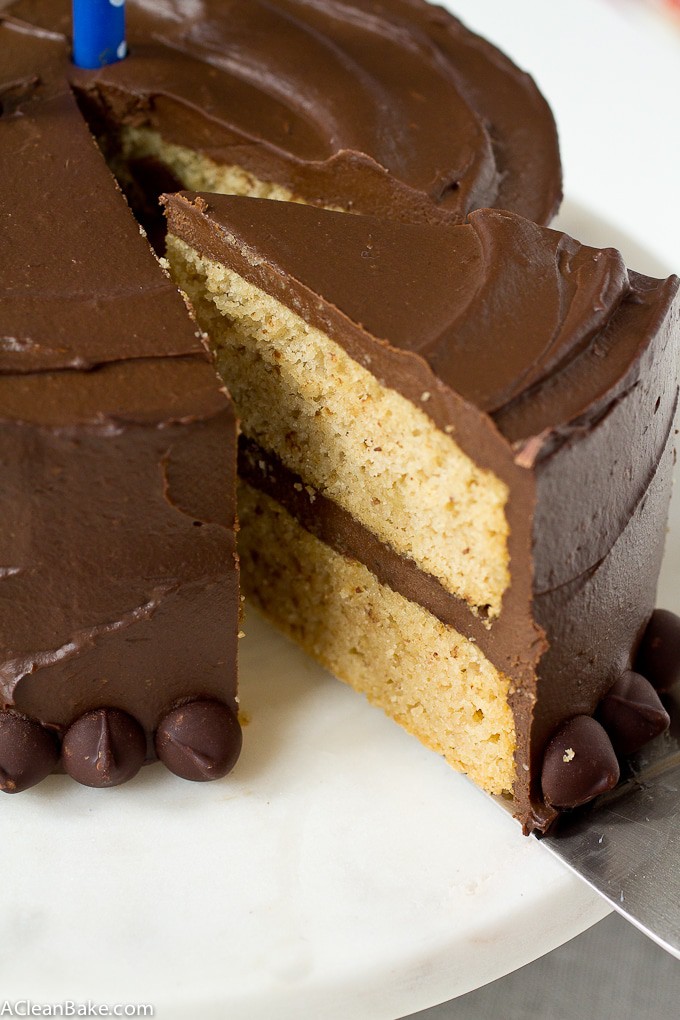 So, in the coming year, my plan is to continue to share accessible, gluten free, sugar free and (mostly) low carb/grain free recipes with you that don't require any crazy ingredients or excessive time, and – most importantly – are naturally allergy-friendly in a way that won't make the rest of the diners at the table feel deprived. This yellow cake, for example, is made exclusively from wholesome ingredients that you can find at any grocery store, comes together in one bowl, and produces a moist and light vanilla-rich crumb that everyone will enjoy, regardless of whether they are used to eating grain-free cakes or not.
I'll try to make your life easier, by keeping recipes straight forward and making sure the tips – like meal planning, getting the most out of your freezer, etc – keep coming, so you can continue to make delicious dinners that are naturally allergy friendly AND don't require a ton of planning and prep time. All this will, of course, be in addition to the sweet treats you expect to see here. Sound good?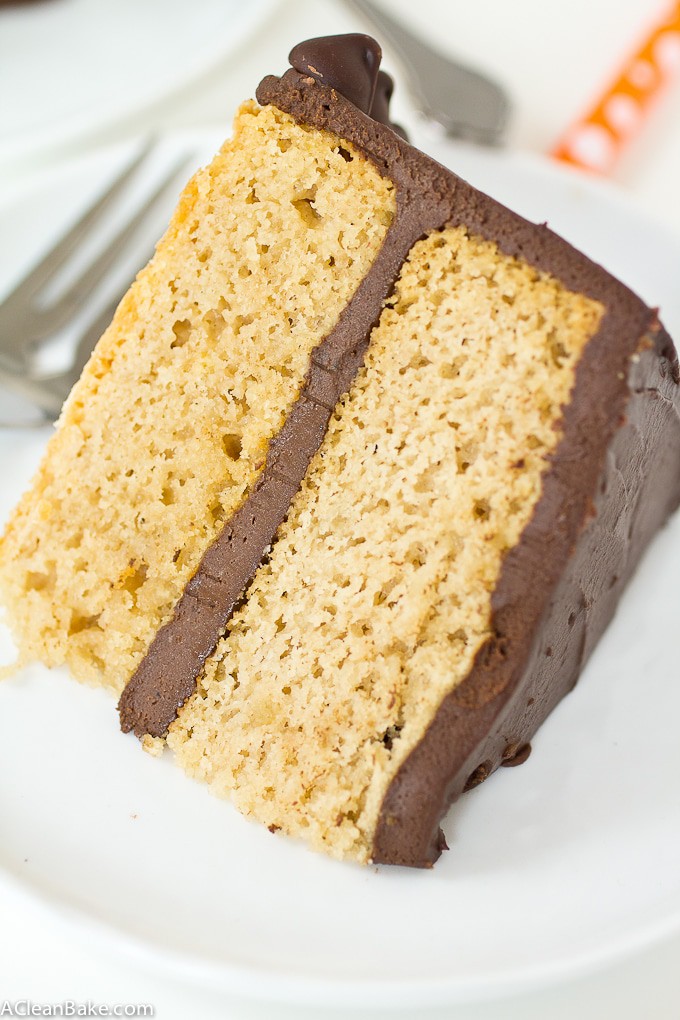 So that's me. Now it's your turn. It may be ACB's birthday, but you're getting the cake AND the presents. I am giving away the most outrageous prize pack, full of some of some of the most indispensable ingredients and cookbooks in my kitchen. One lucky winner will have to empty out a cabinet for all the new swag coming their way. Shouldn't it be you?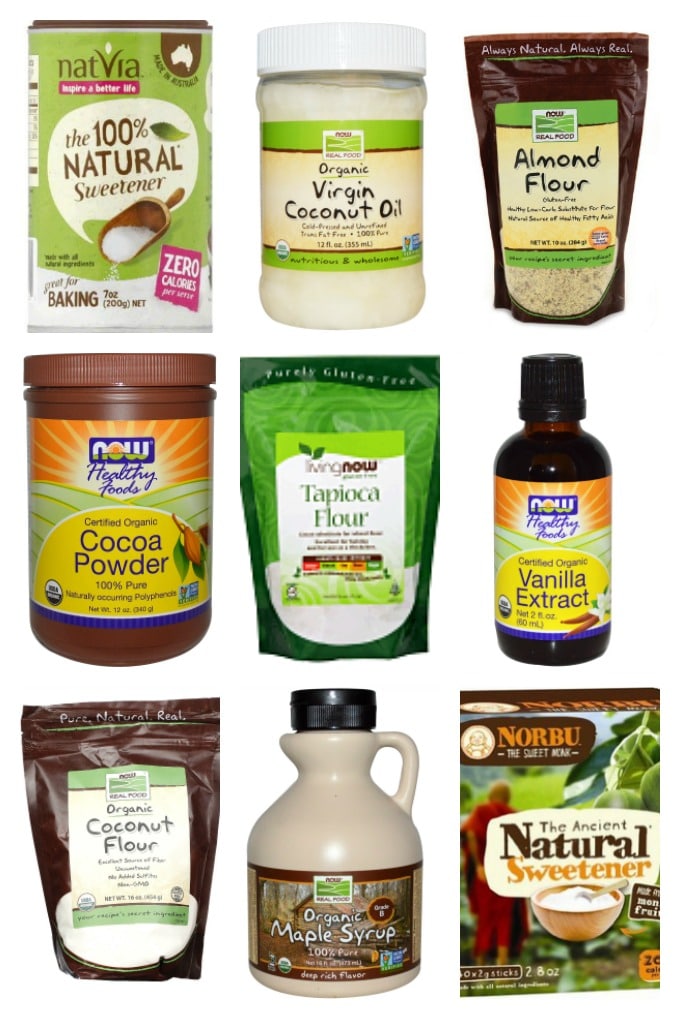 If you win, you'll be stocked with all of the absolute must-have ingredients for baking up a storm: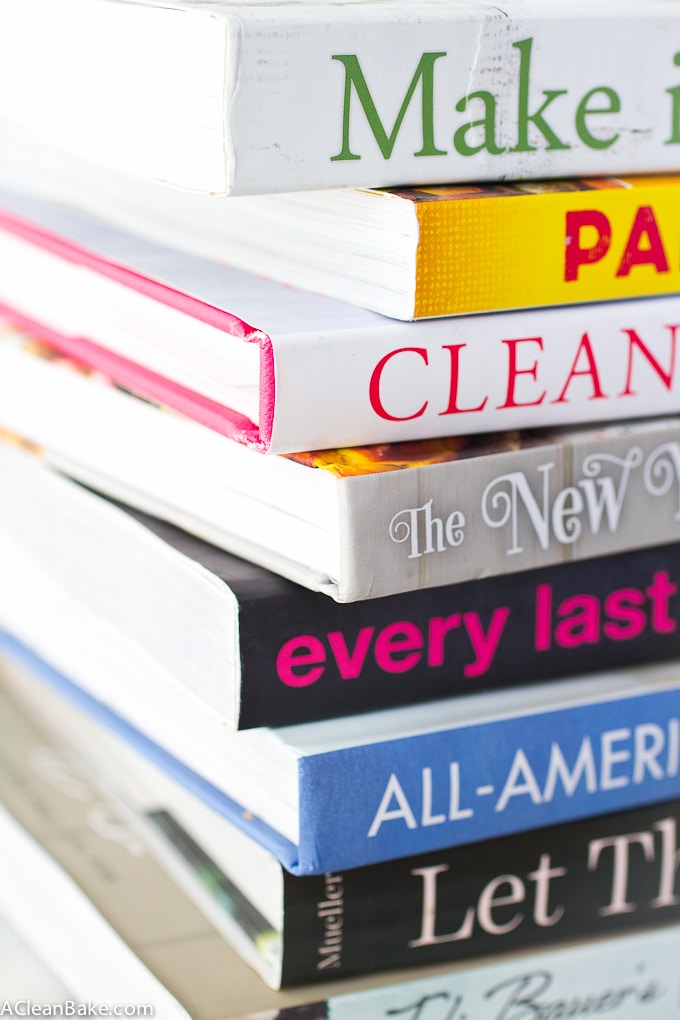 And (But wait, there's more!), you'll also get a HUGE collection of amazing gluten free, paleo, and healthy eating -oriented cookbooks (half of which are signed!):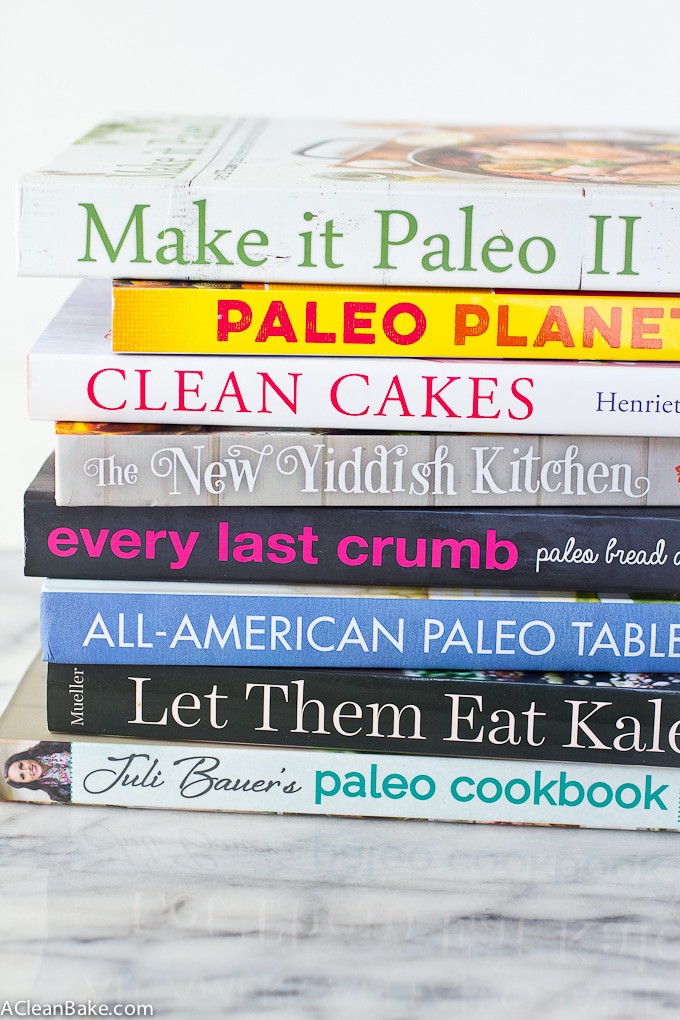 (GIVEAWAY CLOSED)
Quick bureaucratic tangent: Contest begins immediately and lasts until 11:59pm on March 18, 2016. Winners will be chosen at random. Contest is open to US residents only (sorry!!). 
A few more words about this yellow cake: It only requires one bowl, is moist, dense and strong enough to layer, and somehow, rises nearly evenly every time, requiring little to no trimming for flat, stackable layers. And did I mention it only requires one bowl? It's easy, healthy, real food ingredients, sweet and satisfying – a perfect recipe to symbolize the last two years of A Clean Bake, and hopefully many more to come.
Thank you – yes, YOU! – so very much for following, reading and baking along with me. 🙂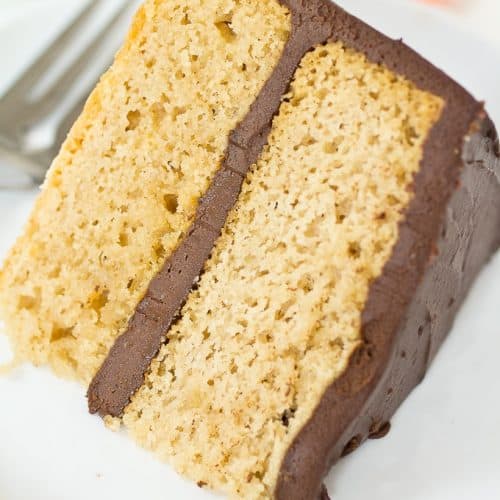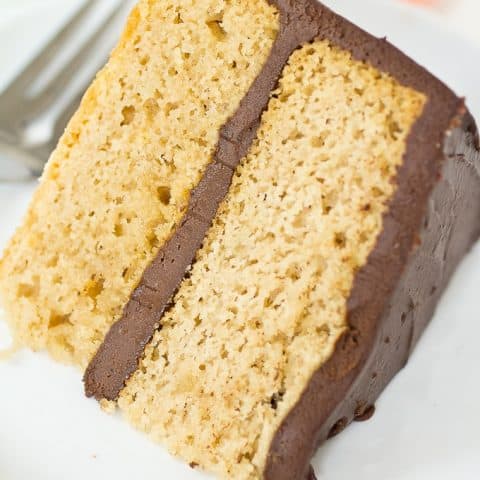 One Bowl Classic Yellow Cake
Finally: an easy low Carb yellow cake! It's gluten free, refined sugar free, paleo and only requires one bowl! 
Ingredients
4 large eggs
1/4 cup mild flavored oil,, such as grapeseed or canola
1 Tablespoon vanilla extract
1 teaspoon white or apple cider vinegar
1/4 cup milk of choice
1/4 teaspoon fine sea salt
1 teaspoon baking soda
2 Tablespoons tapioca flour
1/2 cup granulated monk fruit sweetener, or granulated stevia
1 1/2 cups blanched almond flour
Chocolate frosting and dark chocolate chips for finishing, optional
Instructions
Preheat the oven to 350F. Liberally grease or spray two 6" round cake pans and set them aside.
In a large mixing bowl, use a hand mixer fitted with the beater attachments to beat the eggs until frothy. Beat in the oil, then add the vanilla, vinegar and milk and mix until combined.
Add the salt, baking soda and tapioca flour and mix until combined.
Mix in the granulated sweetener, then add the almond flour and beat until the batter is smooth and no lumps remain.
Divide the batter between the two prepared baking pans.
Bake for 20-25 minutes, until the tops of the cakes are lightly golden and firm to the touch.
Remove from the oven and allow to cool in the pans for 10-15 minutes or until the cake begins to pull away from the sides of the pan. Turn onto a wire rack to cool completely.
Finish using this homemade dairy free chocolate frosting or your frosting of choice. You'll need about 2 cups of frosting, give or take. You can also garnish with dark chocolate chips, if desired.
Notes
Store leftovers in an airtight container at room temperature for up to 3 days.
Layers may be made in advance and kept frozen, wrapped very tightly in plastic, until ready to use. Bring to room temperature and frost immediately before serving.
Yield: Two 6" layers.
To make a single layer cake, use the recipe in a (well greased) 9" round cake pan. You will have to increase the baking time slightly. For a double-layer 9" cake, double the recipe and split the batter between two (well greased) 9" round cake pans.
Nutrition Information:
Yield:

2
Amount Per Serving:
Calories:

908
Saturated Fat:

8g
Cholesterol:

372mg
Sodium:

1021mg
Carbohydrates:

26g
Fiber:

8g
Sugar:

4g
Protein:

30g
[wprm-nutrition-label align="center"]
(nutritional information does not include frosting)
Thank you so much to the following generous partners who are helping me with this blow-out giveaway: Natvia, Now Foods, Bill Staley and Hayley Mason, Julia Mueller, Becky Winkler, Caroline Potter,  Juli Bauer; Jennifer Robins, Simone Miller, Victory Belt Publishing, Skyhorse Publishing, Harvard Common Press, and Page Street Publishing.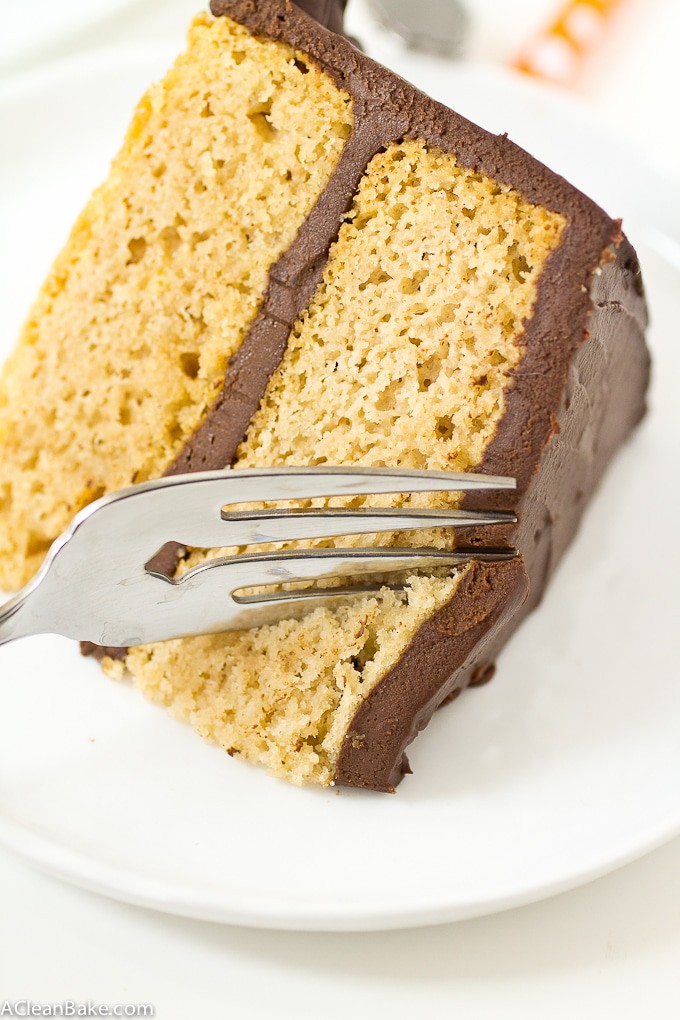 This post contains affiliate links, which means that if you click through and purchase a product, A Clean Bake receives a small commission, which goes toward continuing to bring you delicious, healthy recipes every week. This does not affect the price you pay. Thanks for supporting A Clean Bake!