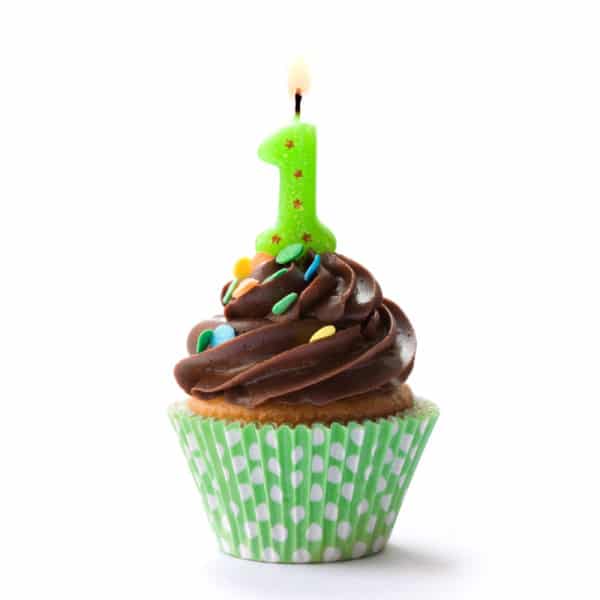 A year ago today, I
started
this blog.
It would be a lie to say I have only been blogging for a year, because I have really been blogging, on and off, for the last 8 years. But this blog is different. Not only do I post 99% my own original recipes, but I also feel that this blog has more of a mission than just "recording my baking adventures" (not that there is anything wrong with that).
I have always felt that food blogs fall into roughly one of three camps: the first is the "taste" blog that is focused on indulgence or enjoyment or just good food. The second is the "photography" blog where the recipes are probably very good but it's really about the creative and aesthetic experience of visiting (or, for the blogger, posting). And the third is the diet-oriented camp, which focuses on demonstrating the breadth of options available to those whose eating is restricted for any reason from weight-loss to moral objections (vegans, vegetarians, etc) to elimination diets. I think this space fits into the last category.
And that's really a different purpose and experience than any blogging I have done before. It's so much less about sweetness or sprinkles (though I do really highly prioritize great sweet treats, and still love sprinkles), but about opening up a lot of gustatory doors that are seemingly closed for people like me. Doors that have cupcakes and cookies and doughnuts on them, I mean.
Hearing from my doctor that I had to cut out so many staple foods in my diet (wheat, butter, milk, and high-glycemic foods like refined sugar) felt like a giant door between me and The Thing That Made Me Most Happy, baking and eating, was slammed shut. After a second of mourning (whining), I decided to make the best of the situation because I knew that there were other people out there with the same restrictions and worse. I've never quite known exactly what I wanted to do with my life, but I have always know that I wanted to do something that helped people, and something that involved food. This project provides a way to do both.
But, it has also been an important step in empowering myself to take control of my own health and my healing. Even in one short year, I have learned so much, but these seven things are the most important, and worth recording…
1. Respect food. I have always enjoyed it, and the social experiences it facilitates, but the last year has taught me to be respect food as nourishment, and as medicine. I've been forced to learn how to carefully listen to my body needs, and am trying hard to respond effectively. You always hear about respecting your body (not a bad message, of course), but it is also important, I've found, to respect the substances that heal it from the inside out.
2. Take pleasure in other people's enjoyment of food. I've always loved giving dinner parties, but it wasn't until I started this blog, and started developing my own recipes, that I had such a comical excess of food in my house and was forced to start giving it away to everyone I knew. My neighbors, family, friends and coworkers have been fed really well this year, and so many readers have contacted me to let know how much they enjoyed my recipes. In the process, I have realized that I love feeding people good food more than I enjoy eating it myself.
3. If you know you want to try something but don't know how to do it, just… start. (You'll figure it out.) I have always been a planner. I needed to know exactly what I was working toward, and why, and how I was going to achieve it. This blog is the least planned, most impulsively- and intuitively-run business I've ever been part of, and it feels great to know that I am figuring it out. I constantly feel like I have no idea what I am doing and there are 920982093809 people who do what I do, only better.
I'm not the best and I never will be but that's a learning opportunity, and the best part about a blog is that it is a record of your progress. You can look back and see in black and white (chocolate and vanilla?) how far you have come. That's especially important on days when you are ready to throw in the towel. And there have been a lot of those days. But as long as I feel like I am doing something that helps others – and helps me – regain their physical health and, in turn, be better able to live a fulfilling life, it's worth blocking out all the doubts in your head.
4. Set boundaries. I am the Master of Imbalance. You know all that "find your zen", "achieve your balance", "lean in", "you can have it all" bull? Disregard. You can't have it all – no one can, at least not all the time. That's ok. Focusing on one thing at a time is something I have always had a hard time with, but I am weaning myself off of my multitasking addiction and finding that less better content is far, far superior to more half-assed content. It's just as important to de-prioritize your priorities in favor of fun and (godihatethisphrase) "me time" sometimes, as it turns out.
5. Relationships are more important that numbers. I was so scared people would think I was insane or lame for doing this, but friends and family and even strangers have been so enthusiastic and supportive. Putting myself out there had the opposite effect than I expected. Until I started Buttercream Fanatic, I had never told anyone besides my parents and maybe a few friends about previous blogs. Boy, was I missing out. Not only was the support I received immediately overwhelming, I love having a new way to relate to friends and family over our shared love of baking.
Mine is hardly the most-visited blog on the internet, but it is so much more satisfying to get an email from a friend or a reader saying they want to make one of my recipes for their child's birthday party, or that a recipe helped them to bridge the gap between their restricted diet and family members who don't understand why they don't just suck it up and eat [insert allergic trigger food here]. True stories. All the page views in the world mean nothing if this blog doesn't help people enjoy their food and their lives.
6. The Important Things in Life Never Go To Plan. Blogging was never in my life plan, but neither was getting sick, or having to cut out my beloved carbs from my diet, or finding out that, at a low-normal BMI, I was at risk of developing metabolic syndrome because of my damaged gut (yeah, I didn't know that was possible either – go figure).
If you have to take the bad with the good, you may as well think about it the opposite way: you get to have the good with the bad. If I hadn't gotten sick, I never would have created this blog. If I hadn't gotten sick, I never would have changed my lifestyle in ways that I believe will stave off future, and much more destructive, illness. If I hadn't gotten sick, I never would have learned to slow down, enjoy my life and get off of the track of stress and anxiety that probably would've landed me, well, nowhere good. And if I hadn't gotten sick, I'm not sure I would have realized that perfection is a myth, that I can't control everything, and that sometimes you just have to live in the moment and enjoy your life. Sometimes the best things aren't in "the plan".
7. The kindness (and support and encouragement) of strangers goes a long way. A little over a year ago, I was sick. Much sicker than most people realized because I got really good at hiding it. I used to get through the worst moments by promising myself there was a light at the end of the tunnel and I would, someday, eat cake with abandon again. But now, I feel differently. I don't know if I'll ever go back to the bread 3x/day habit I used to have, and while, a year ago, that might have seemed like the worst punishment I could receive, now it is by choice.
I've learned so much throughout the past year about myself, about my body, about nutrition and about the importance of community. I'm talking about you of course. I'm going to put this in italics because this is really important:
Thank you for reading.
Thank you for commenting, for trying my recipes, for liking on Facebook, pinning on Pinterest, emailing me for help accommodating friends and family for special occasion cakes, and coming back week after week.
I'm not going to get all sappy on you but let's just say say that your support and encouragement and comments and eyeballs are truly some of the most important medicines for me.
I hope I have given you as much as you have given me over the last year, and I am looking forward to another year (and hopefully many more) of cooking and baking together!
photo via google