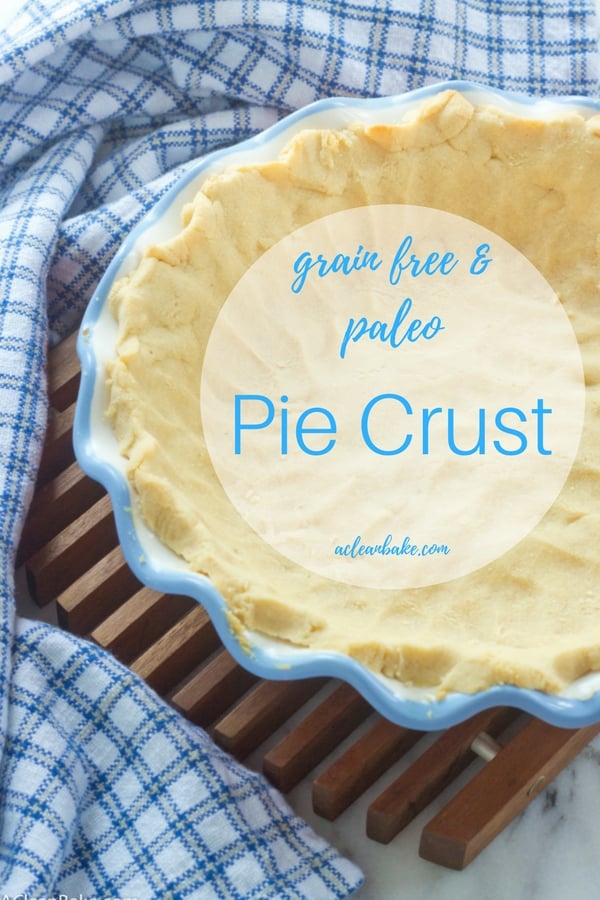 In every recipe developer's life, there is one recipe that leaves you thinking, "This is what I want to be known for." The flavor is so spot-on, so the texture so perfect, you know all the trials and (if you're a baker, like me) expensive ingredients tearfully tossed in the trash were worth it.
Ok, maybe that was a little melodramatic, but you get what I'm saying.
I've had this feeling several times. I felt it when I baked these chocolate chip cookies, then again when I whipped up this chocolate cake. I am, without question, the hardest person I try to please, but these recipes had me doing a very dusty, almond flour-high five.
That "nailed it" feeling came back when I made this pie crust. Flaky, buttery, everything that you want in a pie crust. And as so often happens with near perfection, you can't help but try to one-up yourself, continuously refining and tweaking. I made a gluten-free crust my husband can't turn down with this recipe, and now, for the third time (or really, one million and third) I made it low-carb.
Gluten-free, grain-free, low in carbohydrates, and easily made vegan, this crust checks every box. So, at long last, here is the crust you've been patiently waiting for (according to your DMs, of course).
Recipe Inspiration for a Grain-Free Pie Crust
For the longest time, a number of you asked me for a grain-free, keto, low-carb pie crust recipe. I'm happy to announce that not only am I finally delivering on your request, but I'll do you one better: This recipe, in addition to being paleo and keto-friendly, can also be made vegan.
This recipe is as versatile as they come. Use it to make all of your favorite sweet and savory pies, such as:
Just remember, that if you're following a low-carb or keto diet, you'll need to adjust the sweeteners in each of these pie recipes. For example, most of these recipes call for maple syrup, honey, or molasses — none of which are low-carb friendly. Instead, you'll want to sweeten your pie filling with a zero-sugar sweetener, such as monk fruit, stevia, erythritol, or Swerve.
Recipe Notes: Tips for Low-Carb Pie Crust Success
While this keto pie crust readily fits into a number of diets, the unique combination of ingredients means the dough requires special care. The below tips will prevent your crust from breaking, make it extra flakey, and even show you how to transform it into a lattice pie.
Prevent Your Crust From Cracking
Because of the lack of gluten and low starch content of the flours you're using (i.e., no white or wheat flour in sight), this dough is very "short," which means it breaks easily. Luckily, it also adheres back to itself easily, so if you aren't gentle enough and it falls apart when you are transferring it to the pan, don't worry. Just carefully press it back together and smooth over the creases to adhere. No one will ever know (promise).
Bring the Dairy Back
If you prefer to use dairy-based butter, you can swap it in instead of the vegan butter/shortening that the recipe calls for.
Make it Extra Flaky
Chilling is a mandatory step for lighter, flakier crust. You can make the crust ahead and refrigerate it (in the pan or pie plate is recommended, so you don't have to risk bringing it back to room temp to roll it out) overnight if you want to, but make sure you give it at least 30 minutes of chill time in the fridge.
Switch Things Up
Depending on whether you're making a chicken pot pie, an apple lattice pie, or other paleo recipe, you might want to follow these tips:
Ignore the pre-bake step:

Pre-baking instructions are included in the recipe, but if you are making a recipe that doesn't include pre-baking, like

this pot pie

, obviously skip this.

Make a top crust:

This recipe only produces one crust, so if you are making a double crust pie, you're going to have to — you guessed it — make two recipes. I would suggest making two separate batches, as opposed to doubling the recipe.

Make a lattice crust

: It is difficult but possible to lattice this crust. Just be very, very, very gentle.

Make it extra crispy

: This crust will brown a little bit, but like a regular pie crust, if you want a deeper, crispier,

golden brown

crust, you should finish your pie with an egg wash.
Enjoy This Easy Low-Carb Pie Crust For Your Favorite Low-Carb Recipes
You know, it's only a matter of time before I make the fourth version of this crust. Any requests?
Until then, enjoy it with whatever pie you're craving: apple pie with a crumbly topping, no-bake cheesecake, blueberry pie, or even low-carb pumpkin pie. This almond flour pie crust is sugar-free (and sweetener-free), keeping the overall carb count low. Plus, with just 24 grams of net carbs in the entire pie (that's just 4 net carbs per slice!) it fits perfectly into a low-carb meal plan.
Enjoy this keto recipe with your favorite pie filling. Just be sure to adjust the ingredients to make it low-carb friendly. Now the only question is, what recipe do you want me to make next?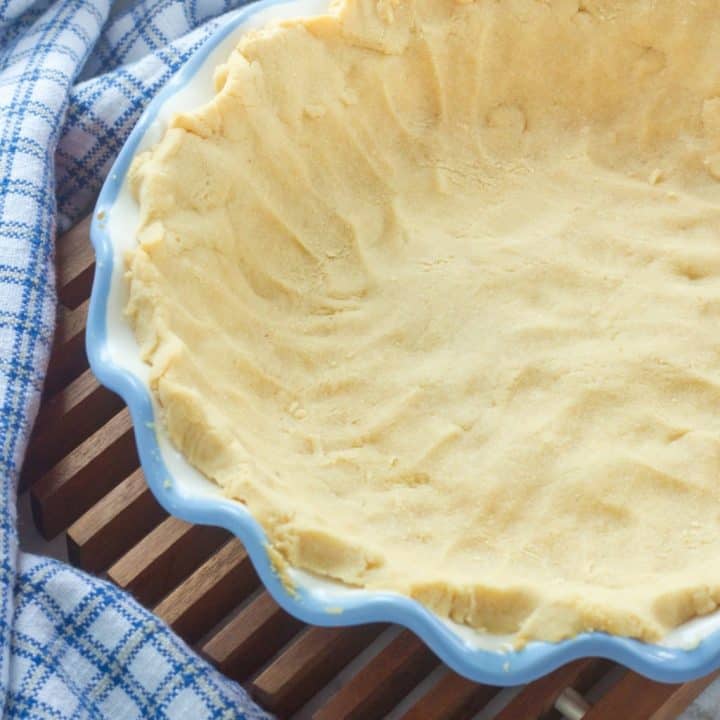 Paleo Pie Crust (Vegan Adaptable)
Grain Free Pie Crust, which is also easily adaptable to be vegan!
Ingredients
1 1/2 cups blanched almond flour
1/4 cup + 2 Tablespoons coconut flour
Pinch salt
1 egg white or 2 Tablespoons egg replacement of choice
2 Tablespoons cold almond milk or water
1/4 cup cold butter , (or sub coconut oil)
Instructions
In the bowl of a food processor, pulse the almond flour, coconut flour and salt a few times to break up all of the clumps.
In a small bowl, whisk together the egg white and almond milk or water.
Add the butter and pulse 5-7 times until it is broken into clumps slightly smaller than a pea.
With the processor running, add the egg/water mixture in a thin stream until the dough forms a ball of dough.
Turn off the machine and let it sit for 15 seconds before proceeding (this allows the flour to absorb the moisture from the buttermilk)
Turn the dough out on to a piece of wax or parchment paper, gather into a ball and press into a thick disc. Cover with another piece of wax or parchment paper and roll into a flat disc about 10"-11" in diameter.
Loosen the parchment from both sides of the dough and then carefully slide the dough into a lightly greased 9" pie or tart pan. Alternately, you can simply turn the dough directly into a greased pie pan and use the heel of your hand to gently spread the dough.
Refrigerate for at least 30 minutes (and up to overnight) before using.
Notes
To pre-bake: Preheat the oven to 350F. Once preheated, transfer the pan from the fridge to the oven without letting it warm to room temperature and bake for 10 minutes until the edges begin to turn slightly golden. Remove from oven and cool slightly before filling and finishing the baking process. (Note: If the recipe does not call for pre-baking the pie shell, skip this step).
Nutrition Information:
Yield:

1
Amount Per Serving:
Calories:

1502
Saturated Fat:

39g
Cholesterol:

122mg
Sodium:

557mg
Carbohydrates:

52g
Fiber:

28g
Sugar:

8g
Protein:

43g