It's Pie Season! Do yourself a favor and bookmark this perfectly flaky grain- and gluten free pie crust recipe and you'll be set for the holidays and beyond!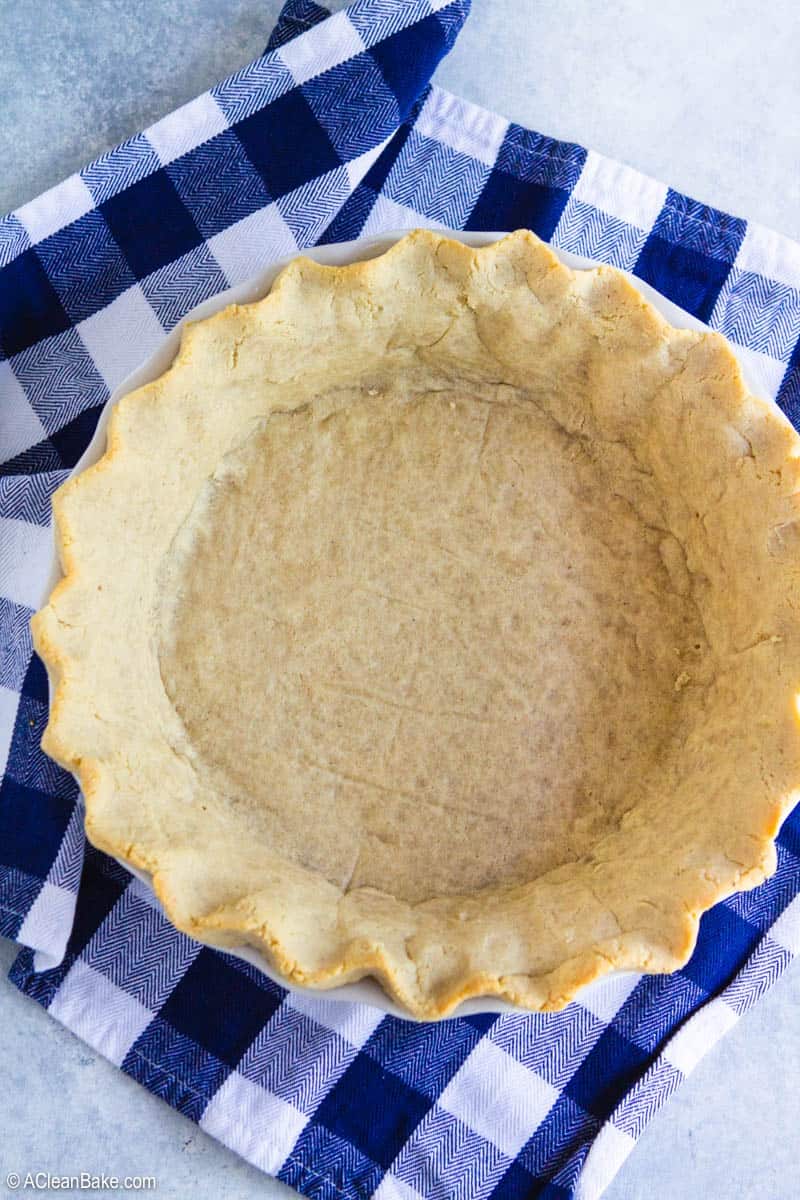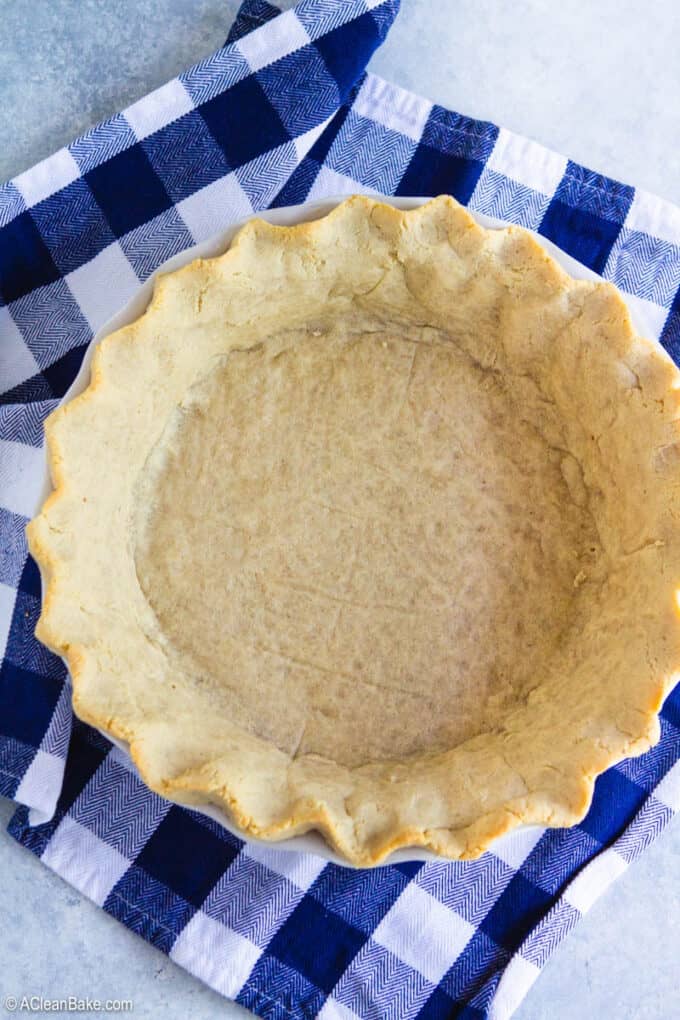 I'm hooked on the basics.
That is to say, I've recently become (more) obsessed with perfecting gluten- and grain-free dessert staples so that you can always find what you need to make the end of your meal everything you wanted and more.
One major blind spot on this site (and in my life) has always been pie. A long, long time ago, I created a paleo and gluten free pie crust recipe – and despite much tweaking over the subsequent years, it never quiiiiite satisfied me.
Don't get me wrong: it wasn't bad, and plenty of people have messaged me saying they love it. But it is decidedly low carb – made from almond flour, coconut flour, and stevia, with none of the starch or sugar that makes a pie crust the crisp-outside, soft-and-flaky-inside masterpiece you want to nestle your apples or banana pudding or brunchy eggs in. My husband has tried it several times, but keeps exclaiming "this is grain free?? Reeeeally????" every time he takes a bite!
That one isn't going anywhere. It's still on the site, more accurately named as a low carb pie crust, for you to enjoy if you want to.
But if you are open to a new, nearly-flawless gluten free and paleo pie crust recipe to go back to again and again (particularly as we are entering pie season!), sit down and stay awhile. We have a lot to talk about.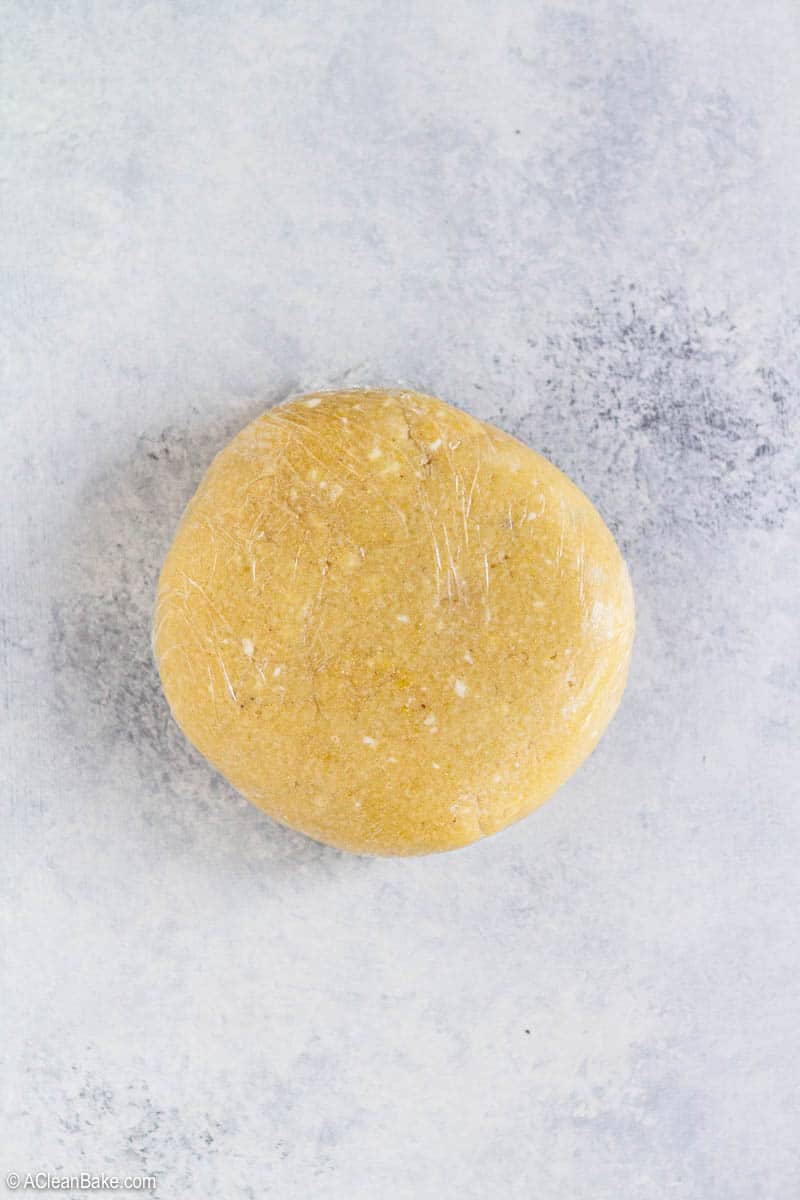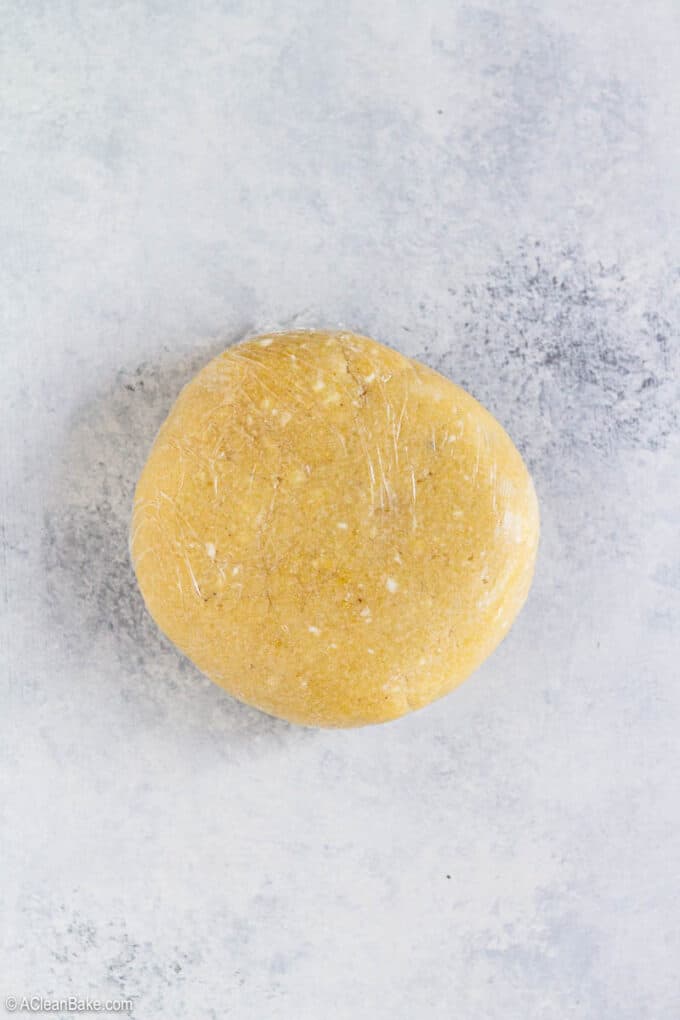 What does it take to make the best paleo and gf pie crust out there?
Luckily, not much. Gluten-based pie crust would make the same claim, but we all know that's not true: you have to work quickly, touch it gently, not overwork the gluten (which makes for tough, rather than delicate, crust), keep ingredients, surfaces, your pie plate, and your hands cold, then chill it for a couple of hours before baking.
Pfffft.
Ain't nobody got time for that.
I've tested this one million times and no you don't need cold hands, a cool marble board, time in the fridge, or any of that fussiness.
All you need is:
a gluten free flour mix of almond flour and cassava flour
a pinch of salt
an egg (this helps bind the crust together; otherwise, without gluten, it is prone to crumbling)
cold butter (just straight from the fridge or freezer, no extra planning necessary)
cold water (from your fridge, or tap water with some ice in it)(but don't add the ice to the crust!)
That's right: just 6 ingredients.
Ok, fine, but what about equipment?
Yes, that's a good question. But, considering how simple and straightforward the ingredients are, do you think I would stand for a fussy, difficult process full of strange equipment?
Nahhh. You literally make this crust by throwing all of the dry ingredients into a food processor, pulsing a few times, adding the wet ingredients, and pressing it into a pie pan. That's it. You don't even have to break out your rolling pin (more on that in a minute).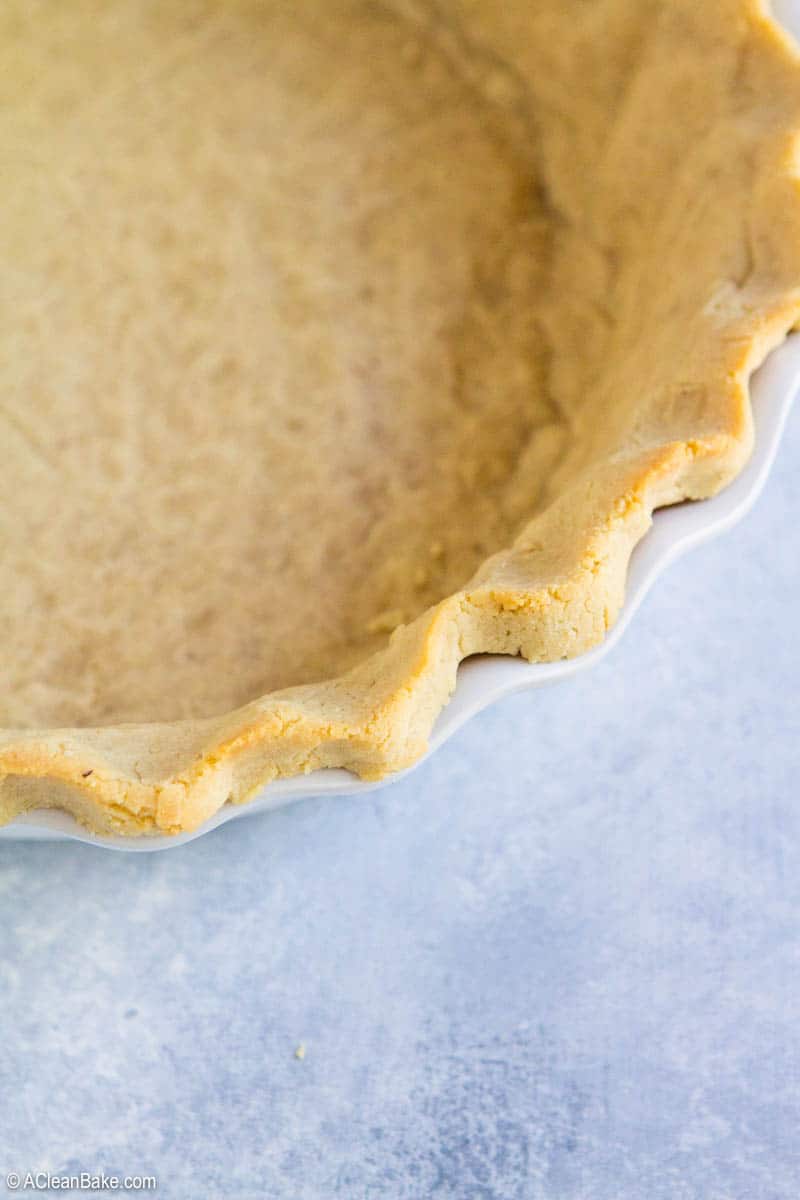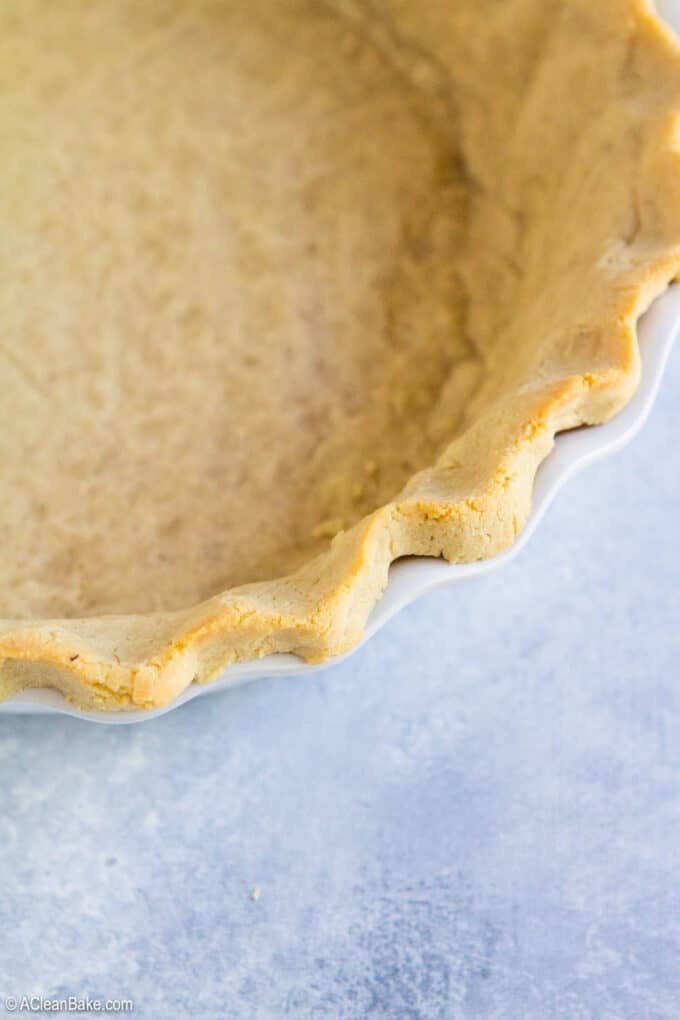 Getting the Crust into the Pan
Since this recipe doesn't contain gluten or an ingredient like xanthan gum that is often used in gluten free baking to mimic the gluten's structural role, the dough will not be as pliable as conventional pie dough.
So, a conventional pie crust recipe would call for you to turn the mixed dough out onto a board and roll it out, then transfer it to the pan. You can do this, but be prepared for the dough to crack and break during the transfer from your board to your pie plate.
Instead, I recommend turning your dough straight from the food processor into a lightly-greased pie plate, and using the heel of your hand to work it into the pan and up the sides.
To do this successfully, you'll need to cover your hands, which prevents sticking and allows you to work quickly (remember, the heat of your hand will start to melt the butter in the dough, so you want to minimize contact as much as possible).
My strategy is to cut a piece of plastic wrap about the size of my hand and place that between the crust and my hand, so my skin never actually touches the crust. You could also dust your hand with arrowroot or tapioca flour. To be clear, this doesn't reduce the effect of the heat of your hands, but it does prevent stickiness and mess, so you can work faster – i.e. you're touching the crust less.
Double Crust Pies
I'll bet I know your next question: if this crust doesn't roll and transfer well, what about a double-crust pie? Well it does roll out really well, actually. It's just the transferring of the top crust onto the pie that is potentially problematic. I tend to stick to single-crust pies with a crumble topping (like this show-stopping apple pie!) or do a lattice or cutout crust.
But if you want to do a full top crust you'll need to work carefully, and perhaps enlist a family member or a pizza peel to help support the crust during the transfer. You'll probably still encounter a few cracks or breaks; those are easy to fix with your fingertips. If you're having trouble, use a few drops of cold water to help glue the crust back together.
Either way, the last step is going to be crimping the edges. Any dough that has fallen off during transfer and you don't need for patching can be adhered to the edges and crimped in. To crimp the crust, place your index finger behind the edge, and use the thumb and index finger of your other hand to slice the edge back so it curls around your index finger. Repeat all the way around your crust.
Let's Talk about Blind Baking
There are two important steps that will ensure that this pie crust recipe is a success. The first is blind baking.
Blind baking – or, pre-baking the crust for a short amount of time before it is filled – is really critical to a successful pie recipe. Do not skip this step, as fussy as it may seem, or you'll risk raw or soggy bottomed pie crust!
Everyone knows a soggy bottom crust is a high baking crime.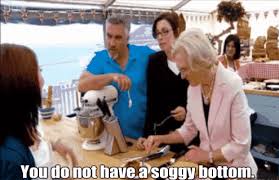 Don't panic; blind baking is easy to do. Once you've pressed your crust into the prepared pie plate, you will cover it completely with a large piece of parchment paper, and then fill the pie, on top of the parchment, with pie weights.
Pie weights are nothing more than small, heavy-for-their-size, oven-safe balls, roughly the size of marbles, that counterweight any air bubbles that would otherwise expand in the oven and cause the pie crust to become uneven. Basically, they make sure the crust bakes flat.
You can buy pie weights at kitchen supply stores, but dry beans work just as well for a fraction of the cost. I have used a $1 bag of dry pinto beans as pie weights over and over for years! Once you use a bag of beans as pie weights, you can't eat them. Just cool them and store in an airtight container until your next pie.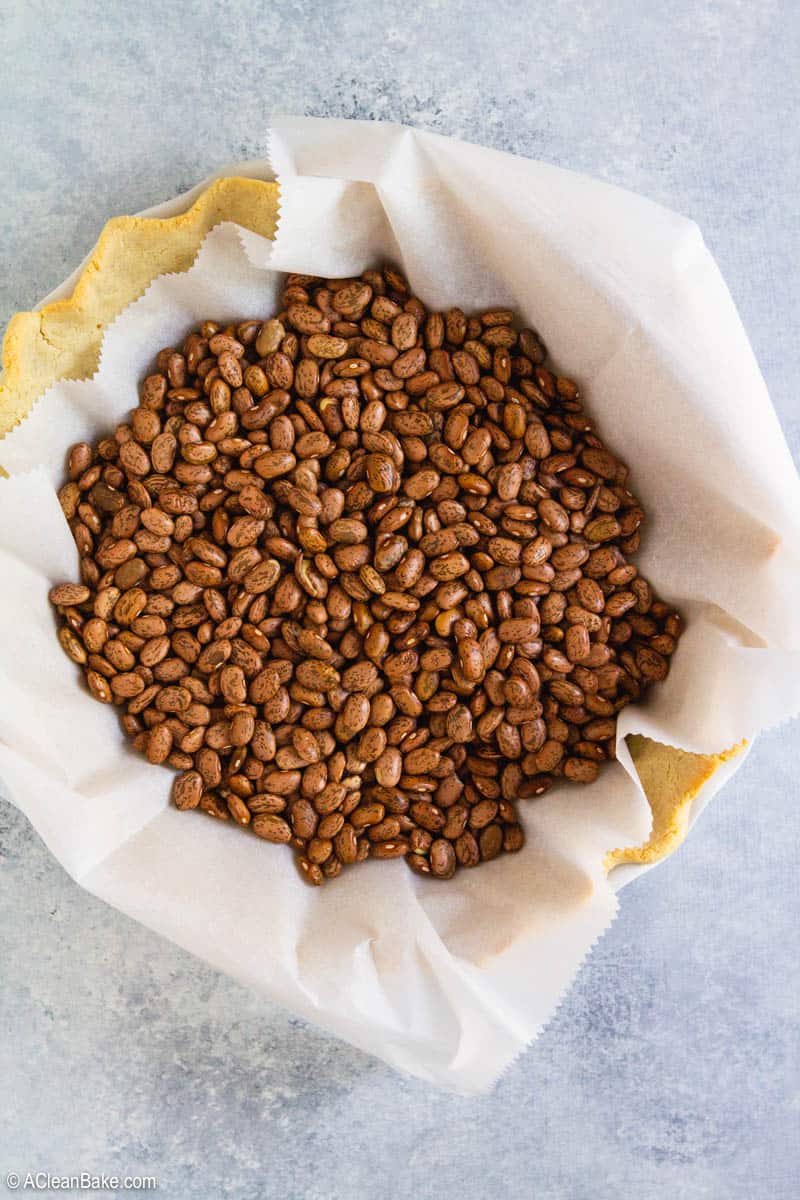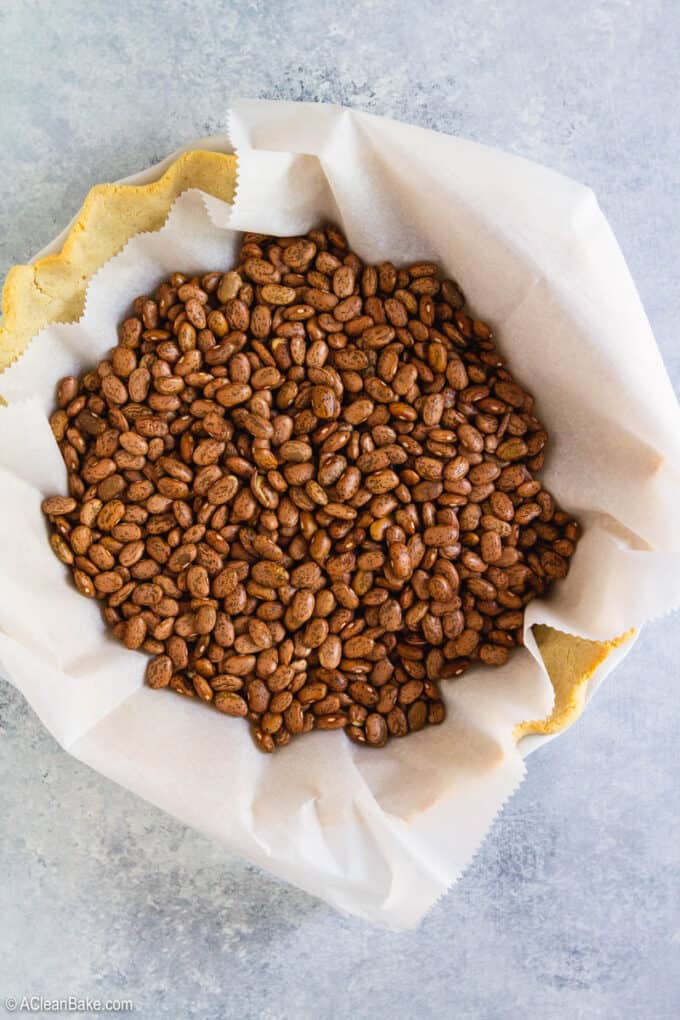 Tips for Gluten Free Pie Crust Success
Please read through this section before you make any substitutions in the recipe! I will address most of the common questions I get on recipes.
Flour
I often get questions about replacing the flour or dry ingredients. Do not replace the gluten free flour blend called for in the recipe with a gluten free all purpose flour. That will dramatically change the way the crust comes out, probably not in a way you'll be happy with.
You can use your preferred brands of flour, but make sure you're using an ultra-fine-milled product. I recommend Honeyville or Bob's Red Mill brand almond flour, and Otto's Naturals Cassava Flour.
Butter (or, How to Make This Dairy Free and Vegan)
The good news is that it is easy to make this recipe dairy free. You can replace the butter (unsalted butter, please, if you're new to me preaching about butter in baking!) with coconut oil. If you're using coconut oil, you can use room temperature (soft) oil, since it's so much more difficult to work with when it's chilled. However, you will end up with a sliiiiiightly less flaky crust.
You can also try replacing the butter with cold palm shortening, if that's something you use. I have not tried it, but as long as you keep it very cold, it should yield a pleasant crust.
The question of how to make this crust vegan is a little bit trickier, because, in the absence of gluten (and, as I said earlier, gluten subs like xanthan gum), the eggs play a vital role in binding the crust together and preventing it from crumbling when you cut the finished pie. I have not tested this recipe without eggs or with egg substitutes, so I would recommend using this recipe instead if you're looking for a vegan pie crust.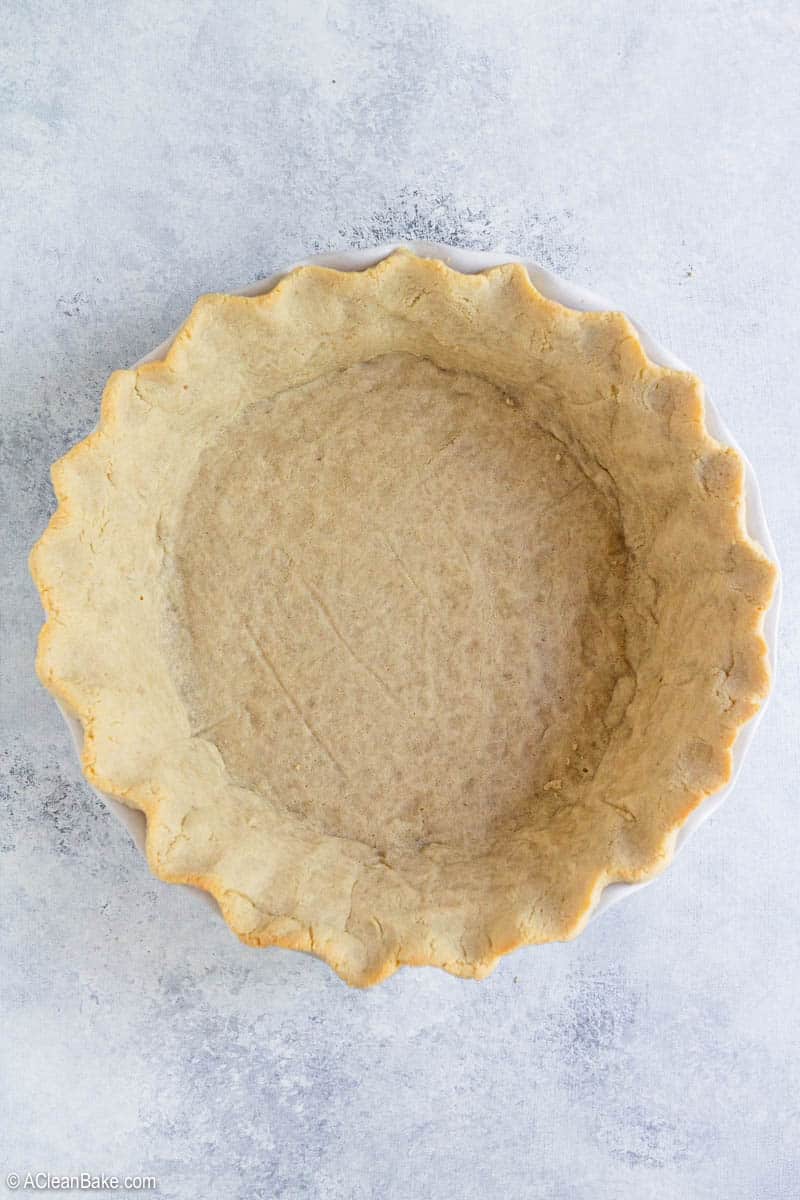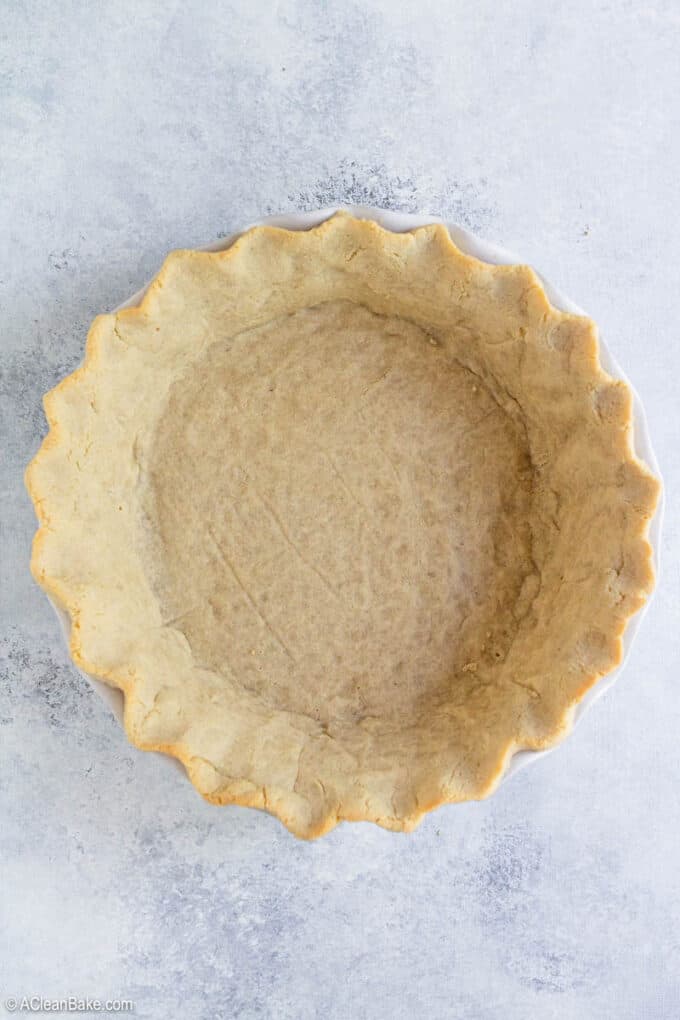 Double Crust Pies
If you'd like to make a double-crust pie, simple double this recipe and see all of my advice and discussion above.
Sweet vs Savory Gluten Free Crust
I use this crust recipe for everything from apple pie, pecan pie, and pumpkin pie (I told you it was pie season!) to quiche and pot pie for easy comfort meals.
However, you may be accustomed to a sweeter crust. So, you can add 6 tablespoons maple sugar or 1/4 cup granulated stevia or monk fruit (or to taste) along with the rest of the dry ingredients. And, for sweet, do not remove the 1/4 teaspoon salt – rather than make it salty, it enhances the sweetness.
But, as I said, this version as written will work for sweet or savory applications.
Over-Browning
Like wheat-based crusts, this one has a tendency to over-cook around the delicate edges before the filling is completely cooked or set. To avoid this, check about halfway through cooking to confirm that the exposed crust is a light golden brown. If it is, loosely cover the exposed crust with an oven-safe crust shield, or strips of aluminum foil to slow the rate of cooking.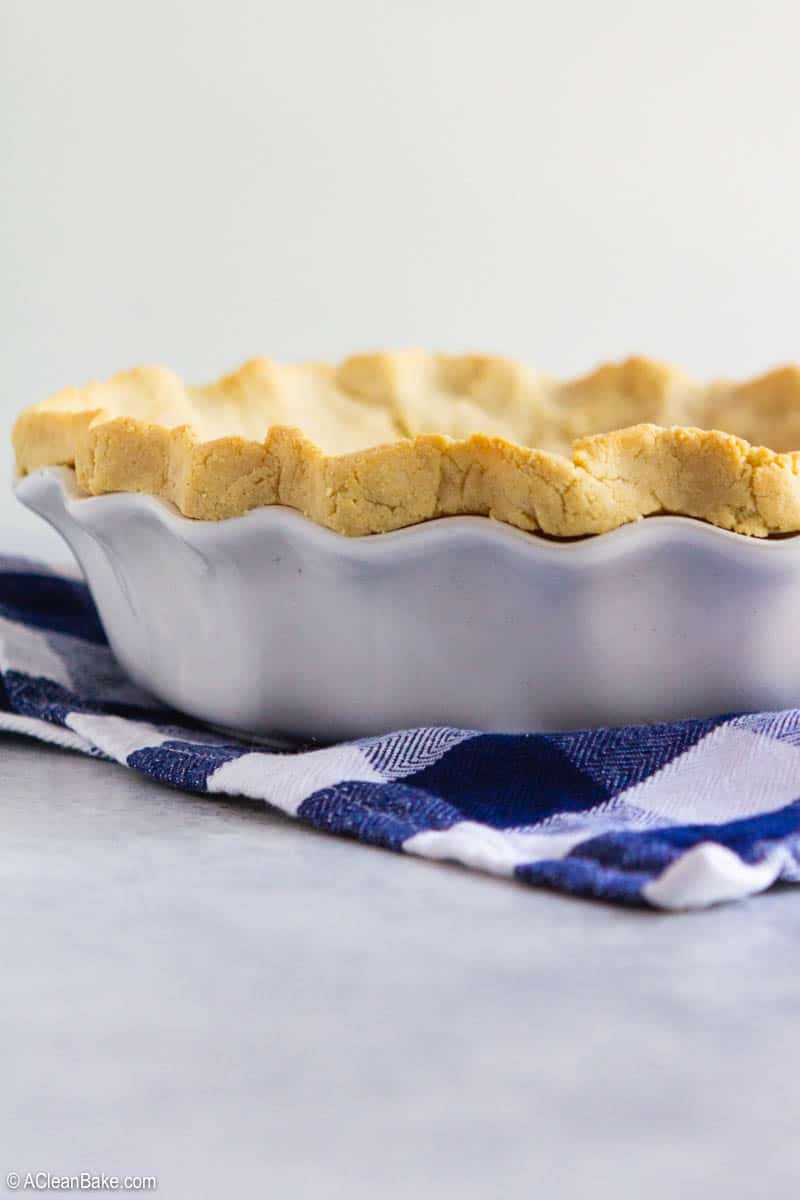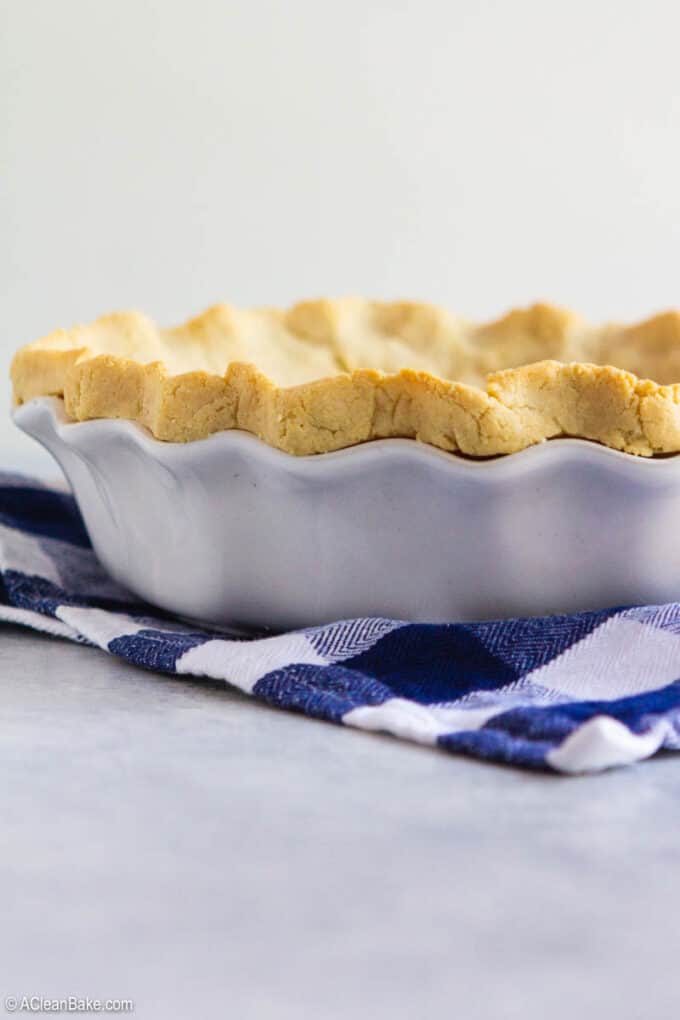 The Best Gluten Free Pie Crust You'll Eat!
Golden brown and buttery, this flaky gluten free pie crust is just as good as the the wheat flour version!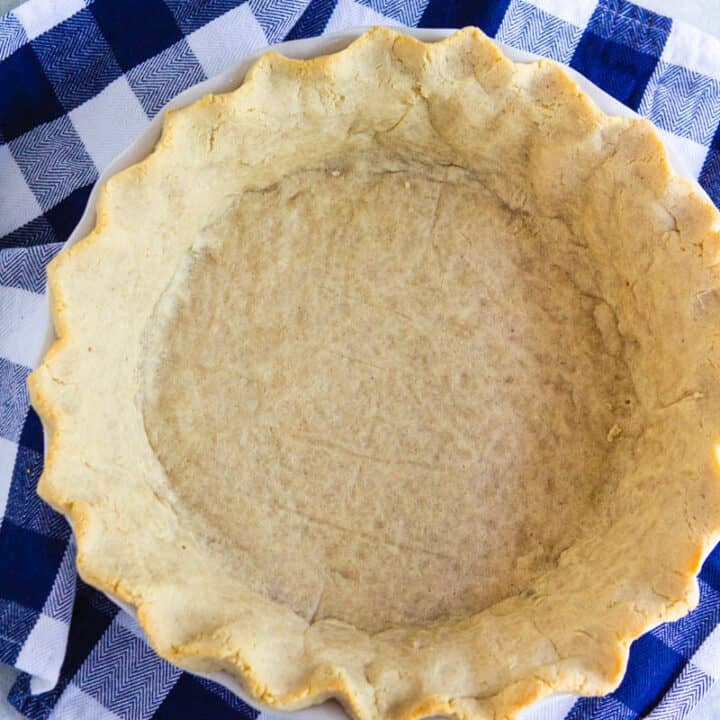 Grain Free and Gluten Free Pie Crust
Do yourself a favor and bookmark this perfectly flaky grain- and gluten free pie crust recipe and you'll be set for the holidays and beyond!
Ingredients
2 cups blanched almond flour
1/2 cup cassava flour
Heaping 1/4 teaspoon fine sea salt
1 large egg
1/4 cup cold butter or shortening, cut into small cubes
3-5 Tablespoons ice cold water
Instructions
Preheat the oven to 350 degrees. Lightly grease a pie plate and set aside.
In the bowl of a food processor, pulse together the almond flour, cassava flour, sweetener (if using), and salt.
Add the egg and mix until combined.
Add the butter and pulse until it's roughly the size of peas.
Add the water, one tablespoon at a time, until the dough comes together. You may not need all of it (see note).
Gather the dough into a ball and place between two pieces of parchment paper.
Roll out into a thick disc, then transfer to the prepared pie plate and use the heel of your hand to press the dough up the sides of the pan. Crimp the edges between your thumb and first two fingers.
Place one piece of parchment over the crust, and fill will pie weights or dry beans.
Bake for 10 minutes, then remove the pie weights and parchment, and bake an additional 5 minutes.
Notes
Use just enough water to bring the dough together in the food processor, but not more. The dough should be pliable, but not wet or excessively sticky.
The dough is much more delicate than gluten-based dough, so transfer it to the pan very carefully and don't be concerned if it breaks. Thankfully, it can be fixed just as easily. Just press the dough back together to seal it, and dampen your fingers if you need some help getting rid of the seams.
If you plan to store the dough in the fridge or freezer for more than an hour, add as many tablespoons of water as it takes to bring the dough together, and then add one additional tablespoon.
For a sweet crust, you can add 6 tablespoons maple sugar or 1/4 cup granulated stevia or monk fruit along with the rest of the dry ingredients. However, I use the unsweetened version of the crust for both sweet and savory pies, so it's up to you!
Nutrition Information:
Yield:

8
Serving Size:

1
Amount Per Serving:
Calories:

250
Total Fat:

20g
Saturated Fat:

5g
Trans Fat:

0g
Unsaturated Fat:

14g
Cholesterol:

39mg
Sodium:

125mg
Carbohydrates:

13g
Fiber:

4g
Sugar:

2g
Protein:

7g