Grab a glass of milk because the classic oatmeal cookie has gotten a makeover! This gluten free oatmeal cookie is simple to make, contains gluten free whole grain flour, and is naturally sweetened. Plus, it's full of chocolate. What's not to love?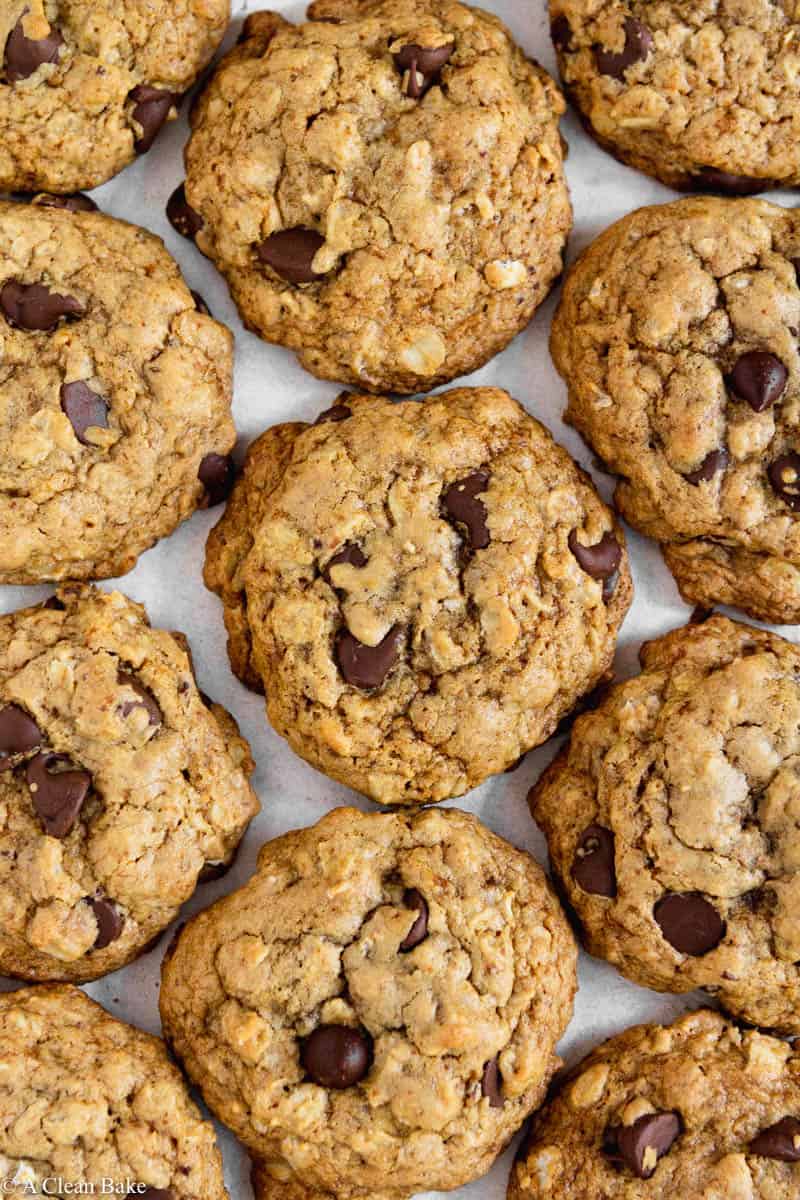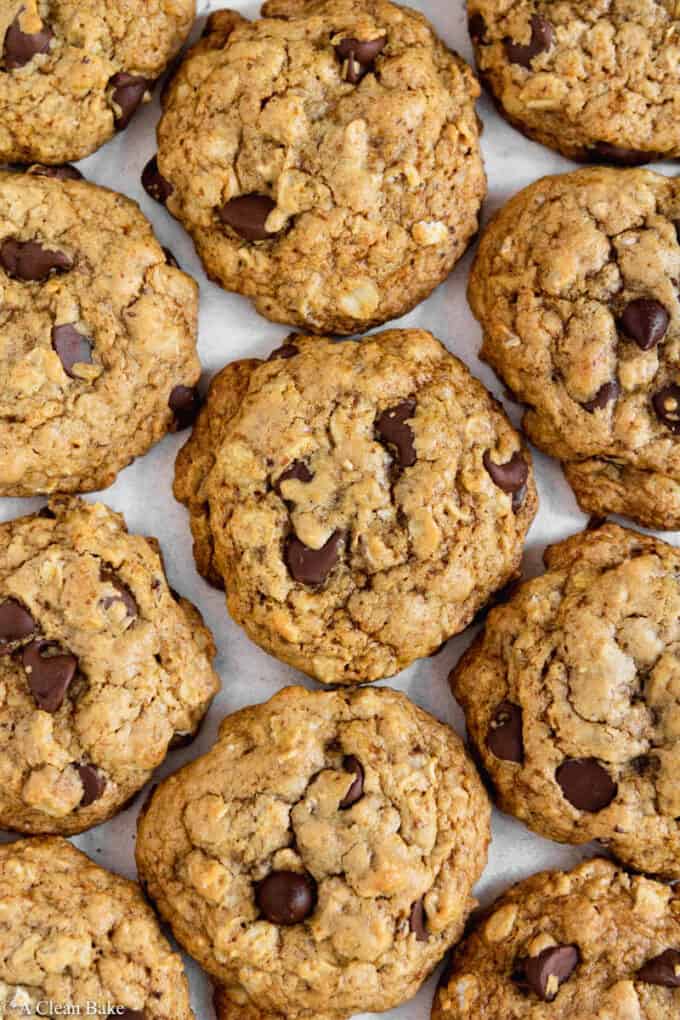 You can keep your fluffy, cakey pumpkin cookies because, if you ask me, no cookie says fall better than an oatmeal cookie. Especially if you add chocolate.
Is that crazy? Is an oatmeal chocolate chip cookie a year-round delicacy? Yeah, totally, I can get on board with that. But you can't deny that the hearty chewy-ness of rolled oats and the warming flavor of cinnamon combine to produce one fall-friendly cookie.
Gather Your Ingredients for Gluten-Free Oatmeal Chocolate Chip Cookies
You know I try to keep all of my recipes as simple and straightforward as possible, but these cookies put even my normal ingredient list to shame.
There is NO almond flour or other nut flours, no gluten free all purpose flour, and no xanthan gum or other additives in these chocolate chip oatmeal cookies.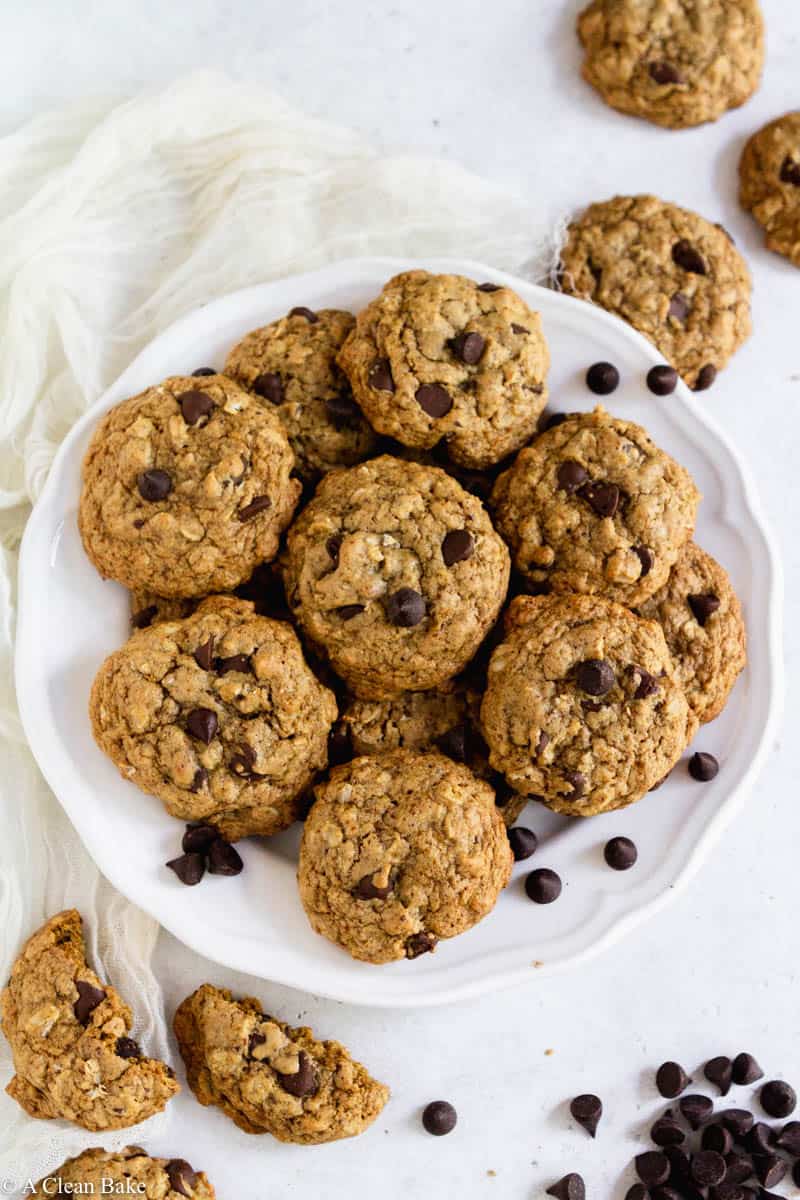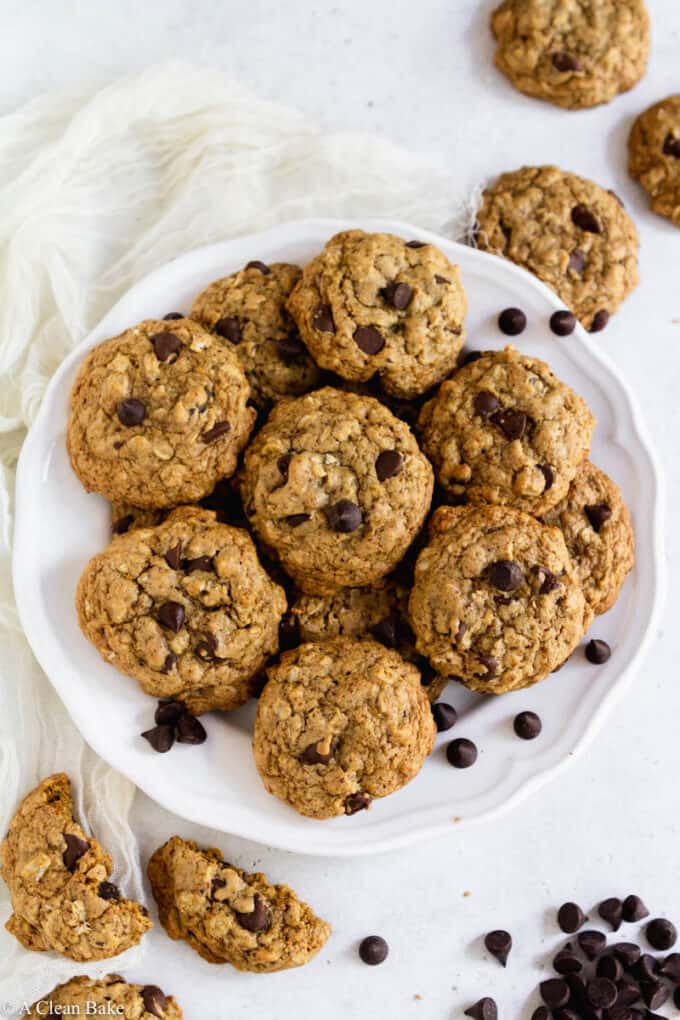 They're the easiest, better-for-you gluten free cookies you'll try, and completely free of gluten, dairy, and nuts.
All you need is:
Gluten freeoat flour and gluten freerolled oats for chewiness and texture. If you don't want to buy both ingredients, you can get extra oats, and make your own oat flour.
Coconut sugar and maple syrup, for a delicate, caramel-y sweetness
Tapioca flour, for those crispy edges
Baking soda, for lightness
Cinnamon, for a touch of spicy warmth
Fine sea salt. This may seen counterintuitive in a dessert, but a small amount of salt (this recipe only calls for 1/4 teaspoon salt) greatly enhances and balances the sweetness. Without salt, sweet flavors taste flat and cloying.
An egg, for texture and binding
Coconut oil, for moisture and richness
Vanilla extract, which acts like salt, to round out the flavor and enhance the sweetness of the cookie
Dark chocolate chips (or chocolate chunks), for…obvious reasons ?
So, overall, a pretty straightforward ingredient list, wouldn't you say?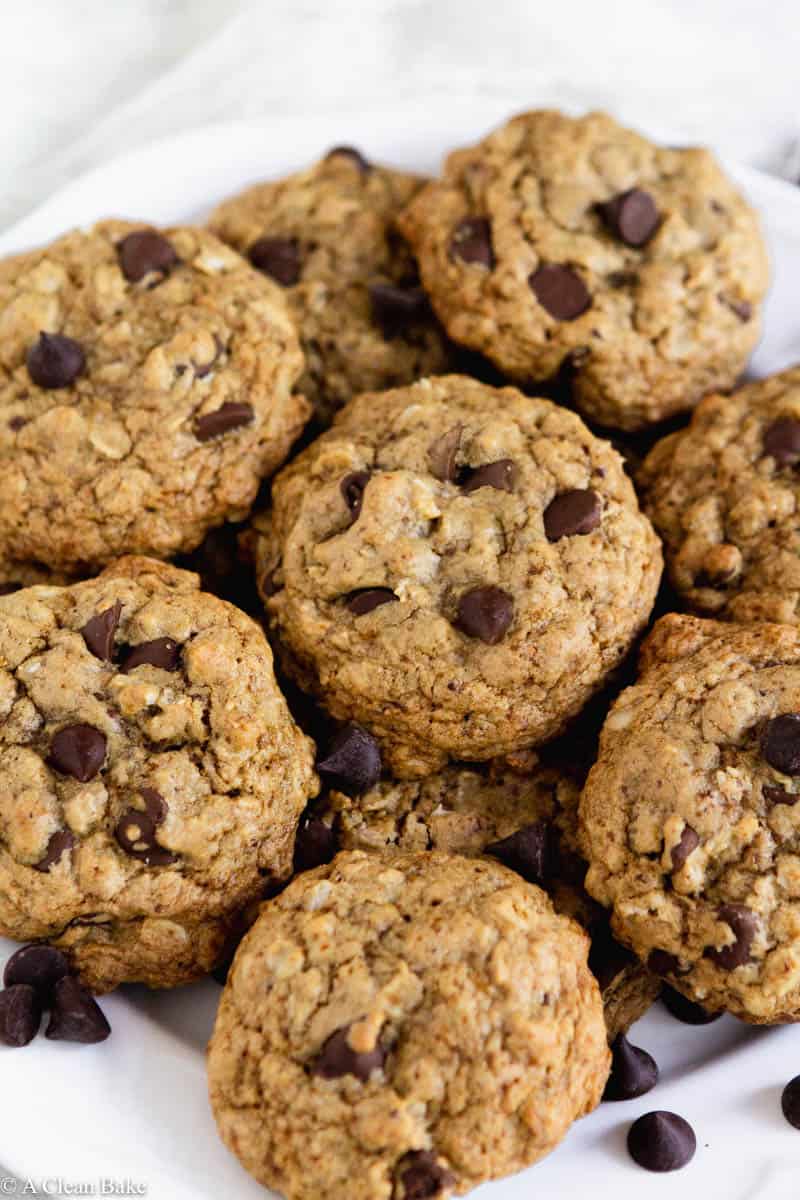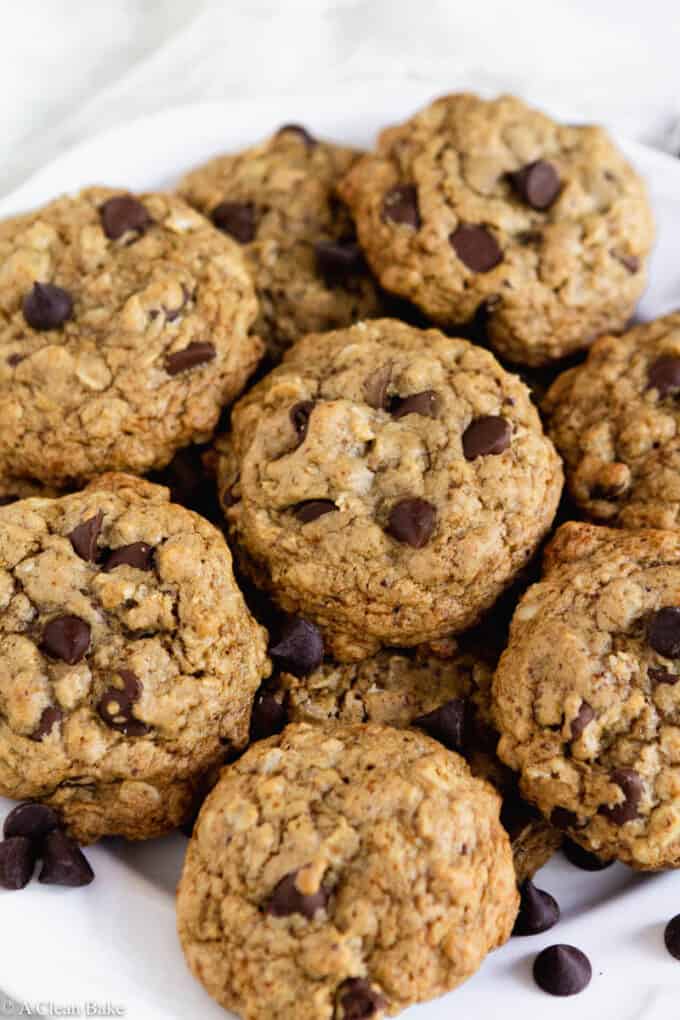 This Recipe is Perfect for Beginning Bakers
The method for putting the cookies together is just as simple as the ingredient list. It's straightforward, forgiving, and perfect for bakers who are still developing GBBO-level confidence, or for baking with kids.
Basically, you'll combine the dry ingredients, then the wet ingredients, then mix the two together. Scoop the batter onto a cookie sheet (I use a cookie scoop, which makes uniform cookies with much less mess than the two-teaspoons method), bake, and you're done!
Actually, I skipped one critical step. You'll need to allow your cookies to cool for about 10 minutes, which is not only to minimize the damage of molten chocolate on your tongue (although that is important, too). When the cookies come out of the oven, then will not seem done. The'll be slightly golden brown, but soft, and – for lack of a better term – floppy. As they sit and cool, they will set up, and become firmer and studier.
It's important that you let them set up on the cooling rack, not in the oven. If you wait until they are completely firm before taking them out of the oven, they will be overcooked and very dry. In case you accidentally overcook them, storing them in an airtight container with a few slices of gluten free bread will soften them up, as they absorb the moisture from the bread. Just make sure your bread is gluten free, so you don't risk cross-contaminating your gluten free cookies!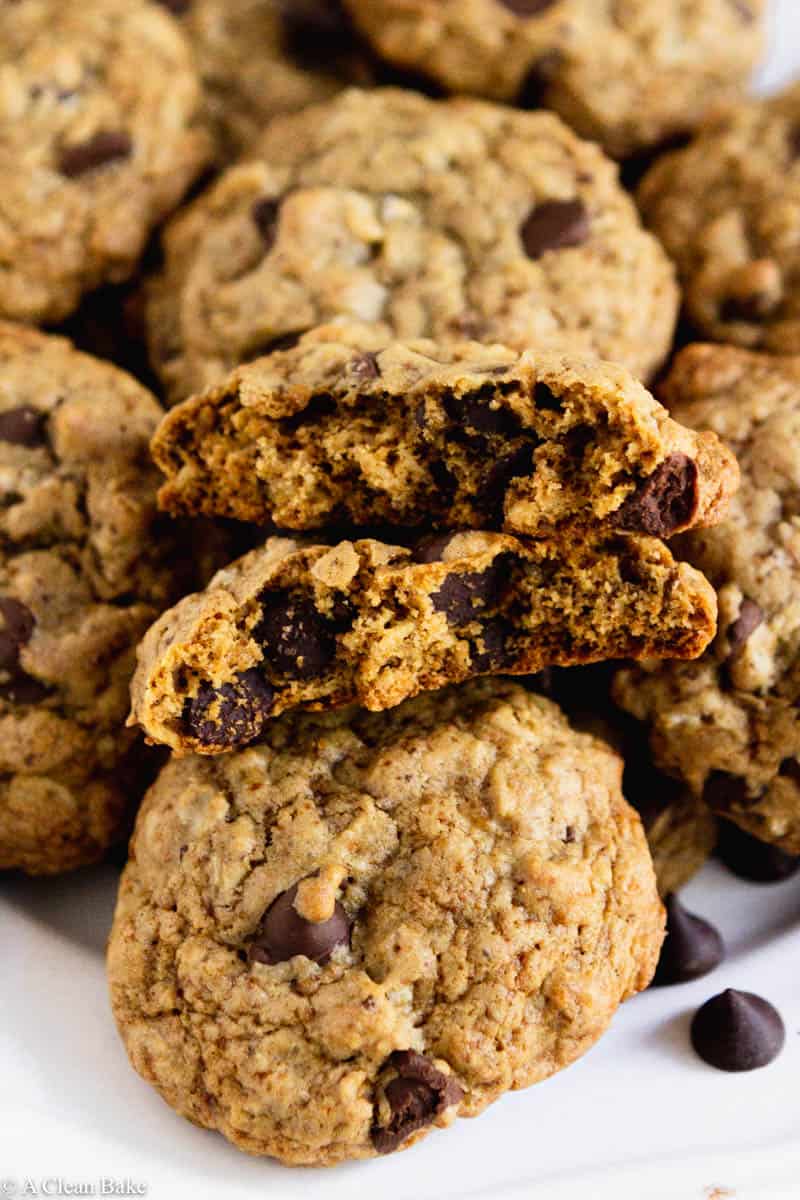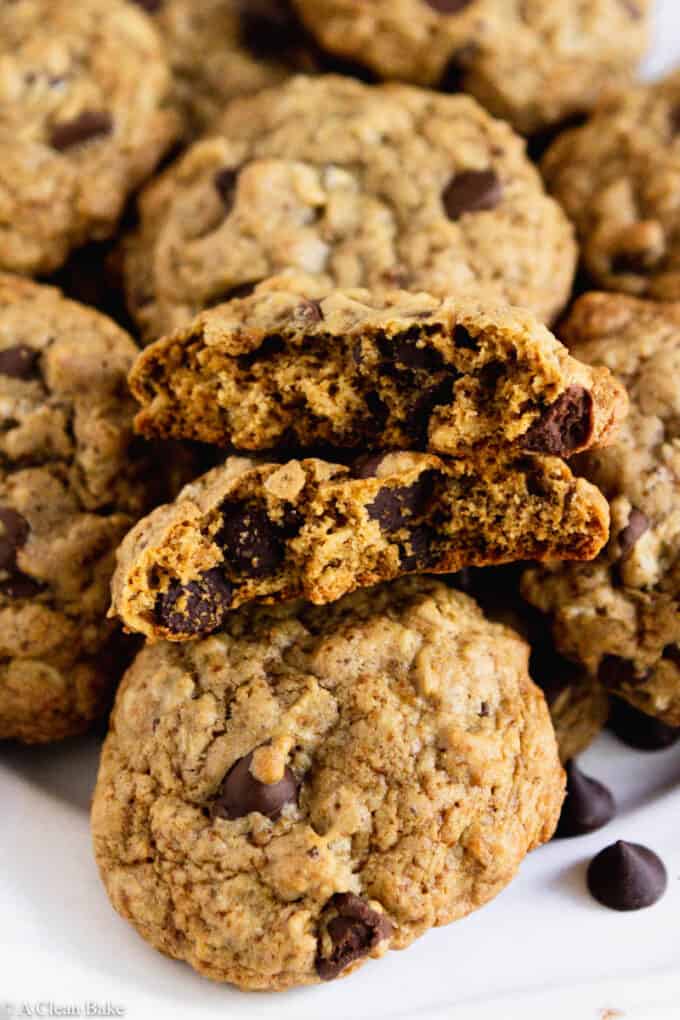 Keeping Your Oatmeal Cookies 100% Gluten Free
Speaking of potential cross contamination, let's talk about oats. That might seem like a strange transition if you're not especially sensitive to gluten, but those who are know exactly what I am talking about.
Oats are a naturally-gluten-free grain, but they are often processed on or near equipment that also processes wheat. There is a very, very high risk of gluten cross-contamination for regular oats, whether they are quick-cook, old fashioned oats, or steel cut.
So, in order to make sure that you're making the best cookies for your gluten free family and friends (and yourself!), you must read labels carefully. Make sure your gluten free rolled oats and oat flour are labeled as such, rather than assuming that any oats you pick up are gluten free. Look for the "certified gluten free" stamp on the package and/or the "purity protocol" label.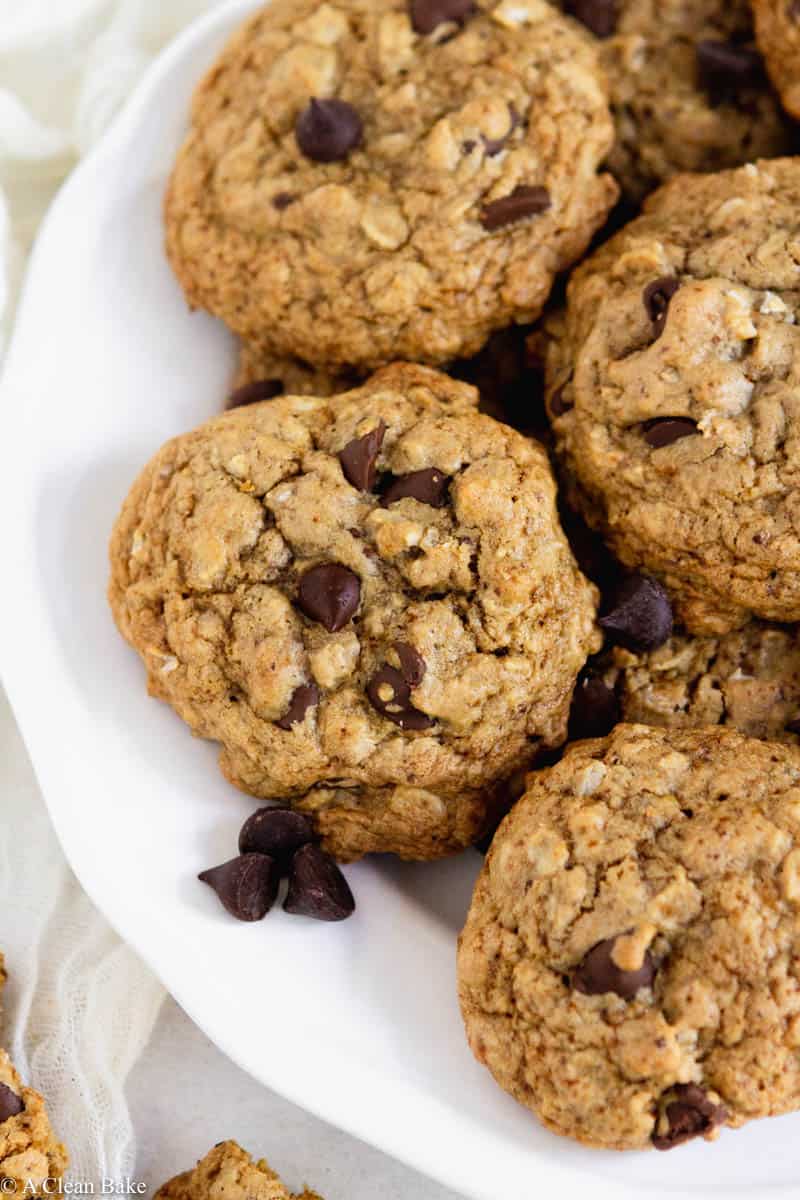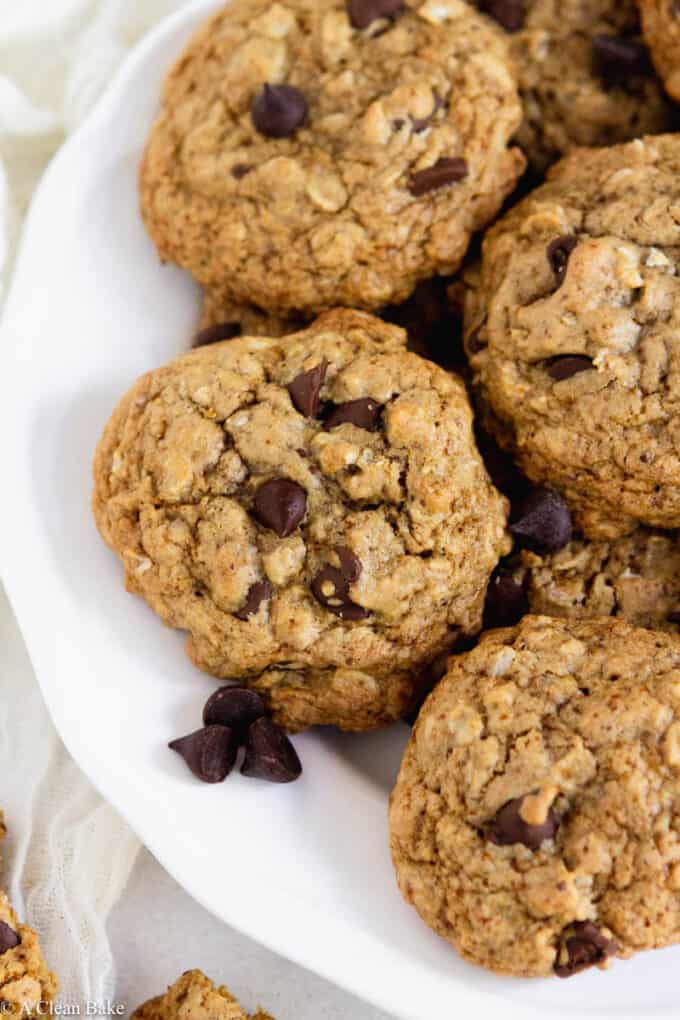 FAQs for Gluten Free Oatmeal Chocolate Chip Cookie Success
What can I sub for coconut sugar? If you don't have coconut sugar on hand, maple sugar or brown sugar (not white sugar) is the best replacement.
Can I use butter instead of coconut oil? Yes, if you aren't concerned about these cookies being dairy free, feel free to use unsalted butter instead of the coconut oil. Do not use another oil in place of the coconut oil, though. You need a fat that is solid at room temperature, so butter and coconut oil are your best bets.
Can I make these vegan? As written, this cookie recipe is dairy free, but contains one large egg – so it is not completely vegan. I have not tried these using an egg substitute, so I can't guarantee that it will work. (Try this vegan gluten free chocolate chip cookie recipe instead!)
Are these cookies chewy or crispy? They're the best of both worlds: chewy inside with crispy edges
Can I use a gluten-free flour blend? No, you cannot sub anything for the oat flour. Well, you can, but I can't guarantee that the recipe will turn out. As I mentioned above, if you can't find oat flour, you can make your own very quickly and easily from whatever oats you tolerate best.
Can I substitude baking powder for baking soda? No, please don't. Although they sound like similar compounds, they're actually chemically very different. Baking soda is a pH-basic compound that reacts with acid in the batter to create rise. Baking powder is a mix of a base and an acid so, when activated, it creates a much more powerful rise. This recipe is designed to use baking soda.
Can I add more stuff to the batter? By that, I assume, you mean add-ins. Yes, of course. Pecans, walnuts, dried cranberries, dried cherries, raisins, and peanut butter chips would each make excellent additions to this cookie, in addition to, or instead of, the chocolate. Just make sure you don't exceed about 1 1/4 cups of add ins, total.
One for the Gluten Free Recipe Box
Sometimes, an easy, delicious cookie recipe is all you need on a crisp fall day or a rainy afternoon. I hope you enjoy these as much as we have in my house!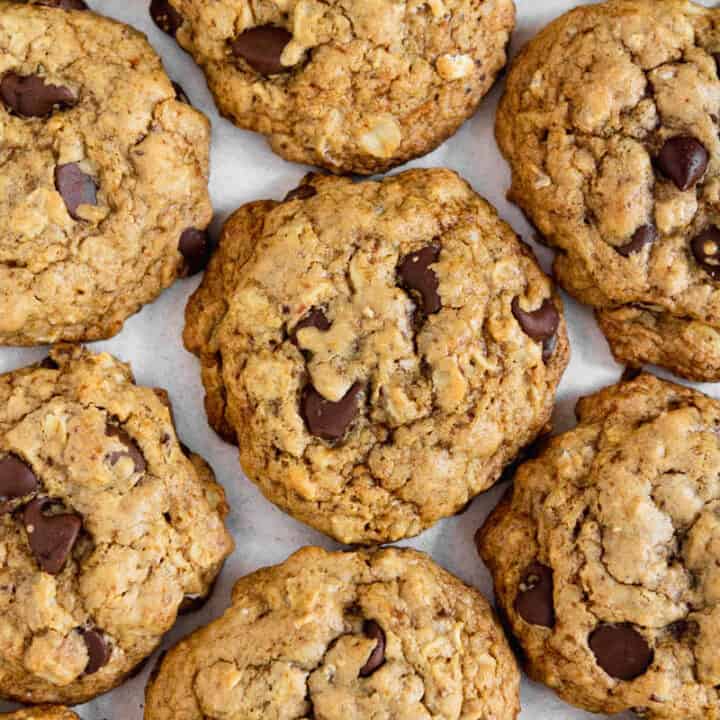 Gluten Free Oatmeal Chocolate Chip Cookies
Grab a glass of milk because the classic oatmeal cookie has gotten a makeover! This gluten free oatmeal cookie is simple to make, contains gluten free whole grain flour, and is naturally sweetened. Plus, it's full of chocolate. What's not to love?
Ingredients
1 cup gluten free oat flour (or make your own - see note)
1/2 cup coconut sugar
6 tablespoons tapioca flour
1/2 teaspoon baking soda
1/2 teaspoon cinnamon
1/4 teaspoon fine sea salt
3/4 cup gluten free rolled oats
1 large egg
6 tablespoons coconut oil, melted and slightly cooled
2 tablespoons maple syrup
3/4 teaspoon vanilla extract
1 cup chocolate chips or chunks
Instructions
Preheat the oven to 350F. Line 2 large baking sheets with parchment paper or a nonstick pad, and set aside.
In the bowl of a stand mixer, or in a large mixing bowl, combine the oat flour, coconut sugar, tapioca flour, baking soda, cinnamon, and salt.
Stir the oats into the dry mix until everything is well combined.
In a small bowl, whisk the egg, then whisk in the oil, maple syrup, and vanilla extract.
Add the wet (eggs, etc.) mixture into the dry mixture until thoroughly combined.
Fold in the chocolate chips or chunks.
Scoop the dough, in approximately 1 tablespoon portions, onto the prepared baking sheets, leaving 2" between each cookie.
Bake for 7-8 minutes, until just barely brown around the edges.
Remove from the oven but leave the cookies on the baking sheet to set for about 10 minutes before moving to a rack to cool completely.
Notes
You can make your own oat flour using this method.
If you're using butter instead of coconut oil, you may want to chill the cookies for 2-4 hours before baking. Readers have reported that the cookies spread too much when they go straight from mixing to baking (without chilling).
You can add whatever dried fruit or nuts you want in addition to, or instead of, the chocolate chips. But don't exceed 1 cup of add-ins, total.
When you remove the cookies from the oven, they will not seem done. But don't cook them until they look done. Oat flour dries out very easily so overcooking these could mean a dry, unpleasant cookie! For best results, take them out of the oven when they're just barely cooked and let them firm up on the cookie sheet.
Nutrition Information:
Yield:

24
Serving Size:

1
Amount Per Serving:
Calories:

122
Total Fat:

6g
Saturated Fat:

4g
Trans Fat:

0g
Unsaturated Fat:

2g
Cholesterol:

8mg
Sodium:

53mg
Carbohydrates:

16g
Fiber:

1g
Sugar:

9g
Protein:

2g
More Gluten Free Cookie Recipes