It's probably hard to grasp the importance of a cookie that is better than a Scout cookie if you've never had, let alone heard of, a Scout cookie. So, let me take a step back.
One of my best friends lives in Denver, and in addition to the pleasure of getting to spend time with her, my second-favorite reason to visit Denver is Watercourse, an unassuming restaurant that serves, by far, the best vegan food you've ever had in your life. It's not crunchy-granola vegan; it's more like amazingly delicious and creative food that just so happens to be vegan too. They also have an extensive menu of gluten-free options. Bottom line: it's a spectacular restaurant that I have been known to eat at twice in 24 hours. With all of the wonderful food in Denver, a place that merits two meals almost in a row is really saying something.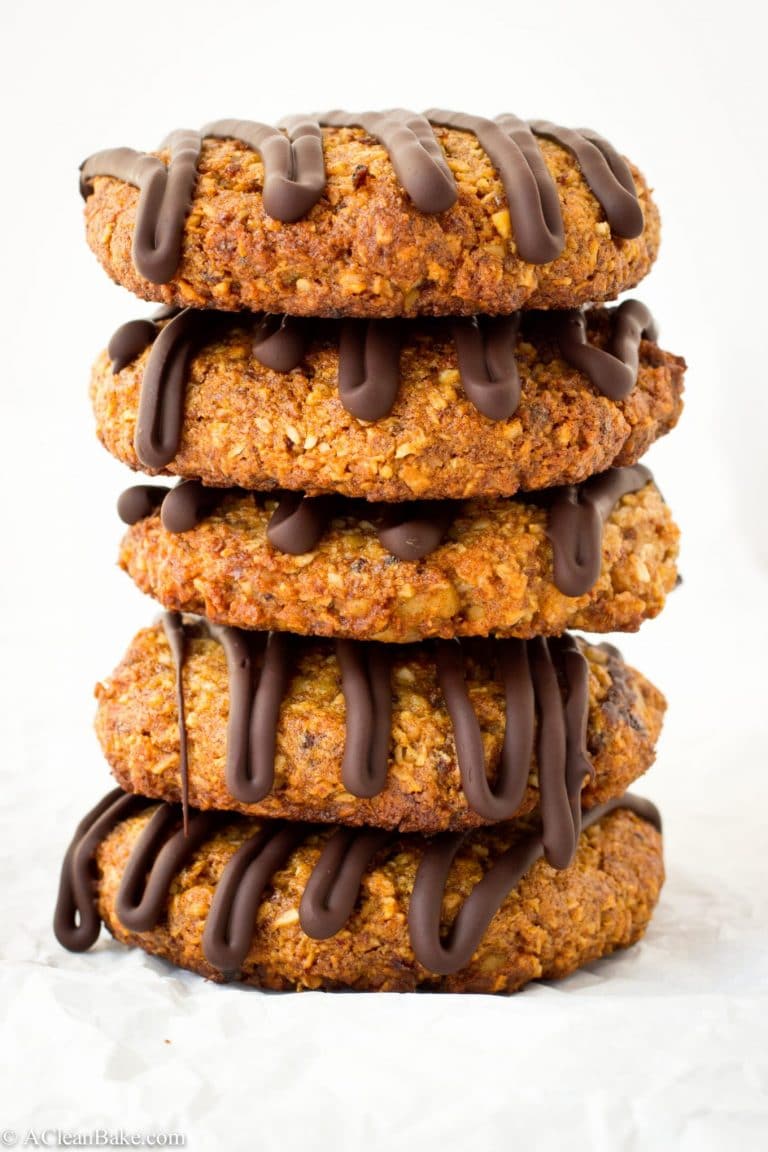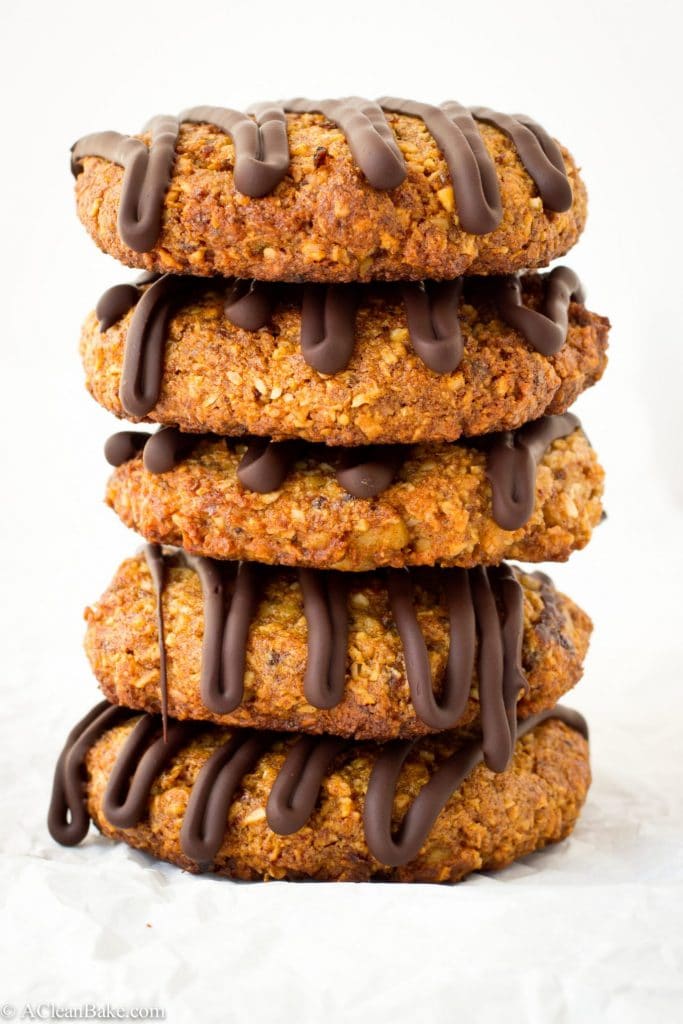 But, while you can't go wrong with anything you eat at Watercourse, the best thing that comes out of their kitchen is the Scout Cookie. It's basically a grown up version of the beloved Girl Scout samoa cookie: dense and chewy, flavored with coconut and caramel and topped with a generous drizzle of chocolate. Theirs is dunked in chocolate too for, you know, authenticity. And chocolate. It will blow your mind.
The thing about these cookies is that they are hidden in the pastry case at the front of the restaurant, which you walk past to get to the hostess station. And with your eye on the prize  (the prize = a table/dinner), you're likely to miss these beautiful cookies altogether, or worse, bypass them in favor of something else. They may not look like much – flat, brown, and vaguely healthy-looking amongst the sea of fluffy cinnamon rolls and golden-edged chocolate chip cookies  – but once you try one, you can never go back.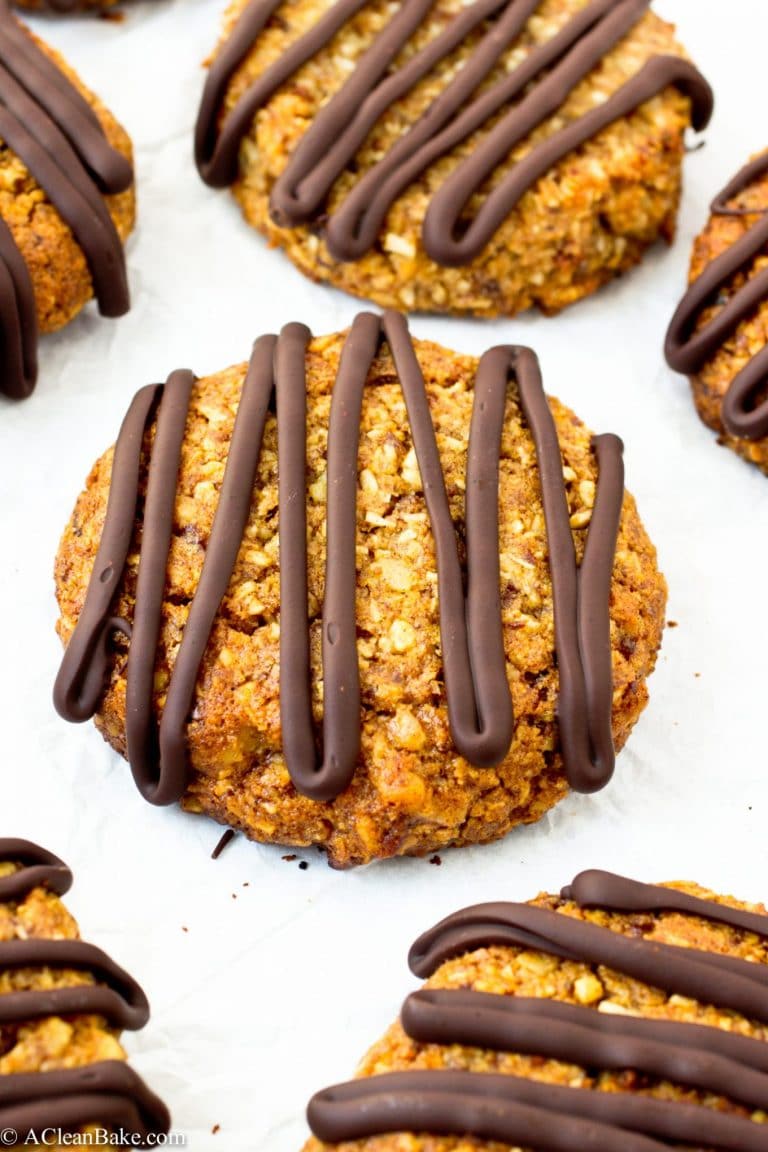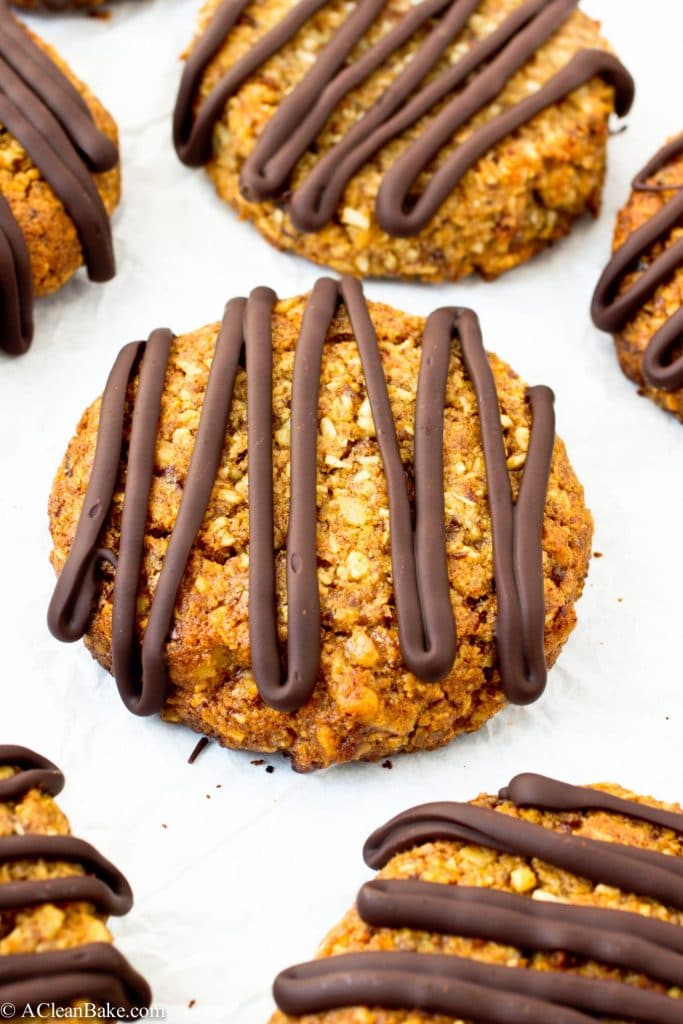 The recipe for these beloved cookies, apparently, is a closely guarded secret because it is impossible to find online. It simply doesn't exist. There are a few copycat recipes, but they use sweet potato and, well, no thanks. Nothing was quite right so I had to start from scratch. First things first: a generous helping of coconut which, per the original Scout, but not the original Samoa, is inside the cookie, but not atop it. Then there's the question of caramel, a flavor which is achieved by the medjool dates. They have the same deep, dark sweetness as caramel without all the refined sugar. The cookies have a little crunch from finely chopped walnuts, a depth of flavor from some added cinnamon and – of course – a fat drizzle on chocolate to finish. Since my only complaint about the original cookies is their excessive sweetness, I dialed it back by reducing the overall amount of sweetener in the recipe and skipping the chocolate layer on the bottom. Feel free to add it back if you want to!
Either way, you can't go wrong. From your first bite, you'll be a Scout-cookie convert, and you may or may not dream about them.
PS: While your BTSs (Better-Than-Scouts) are baking, head over to PaleOMG where I am sharing this recipe today!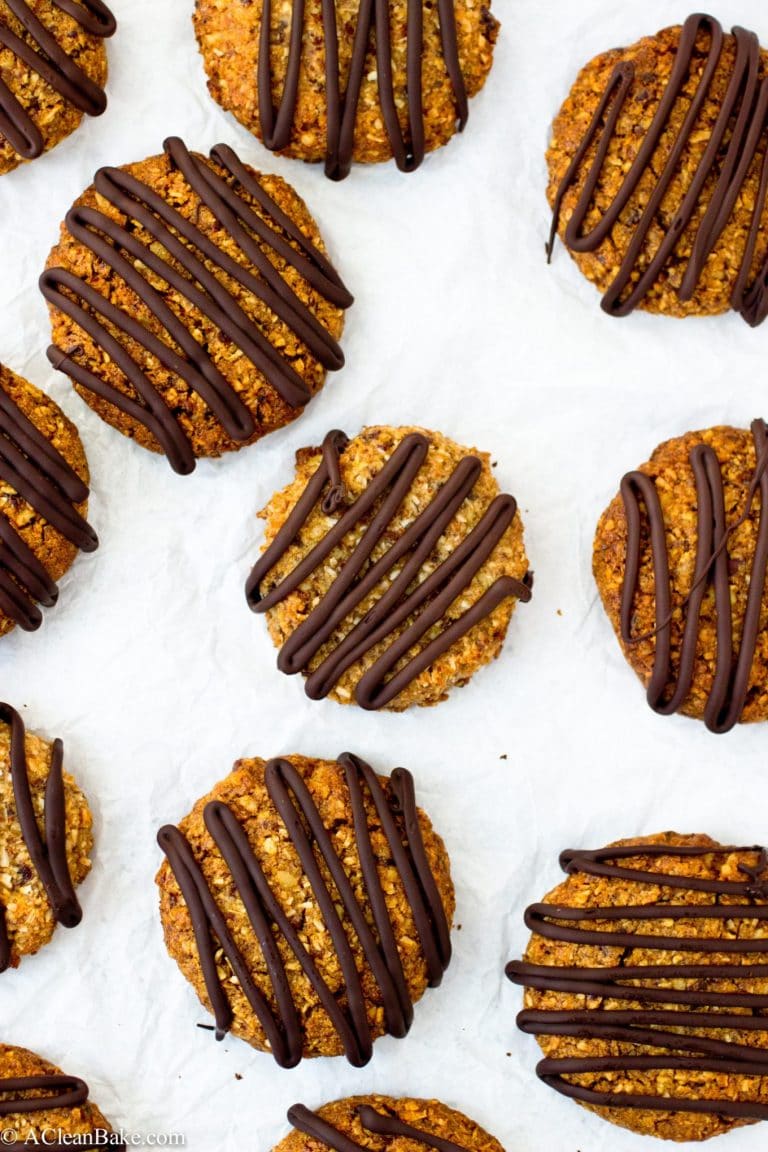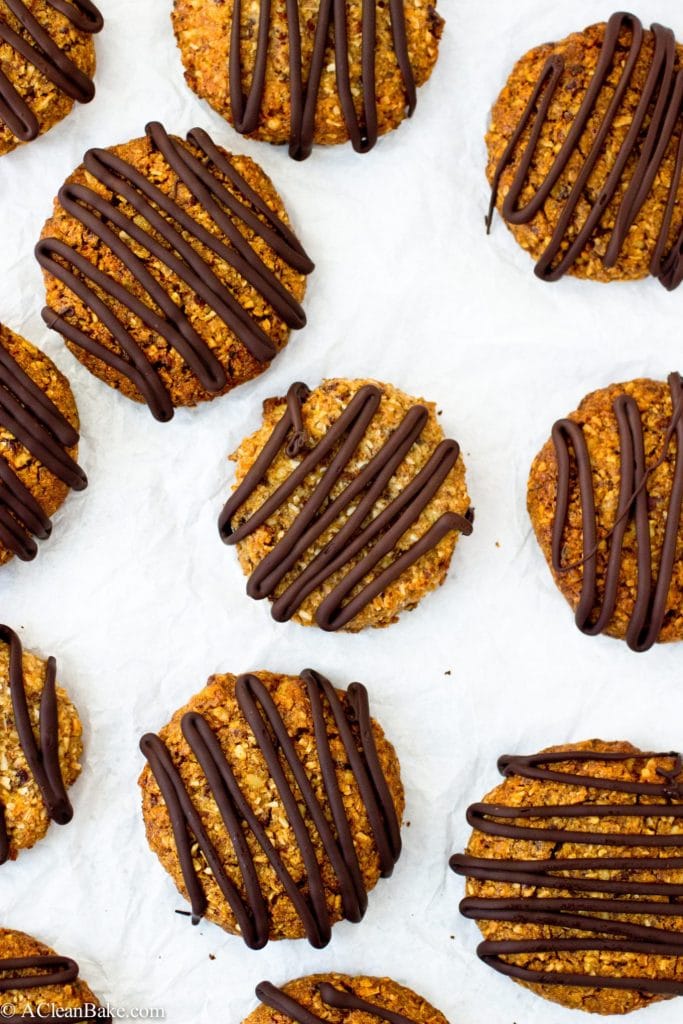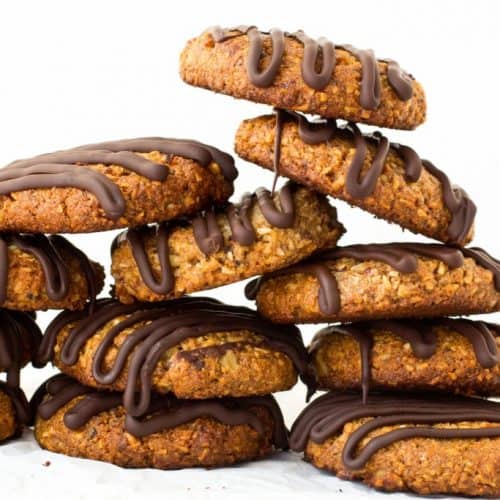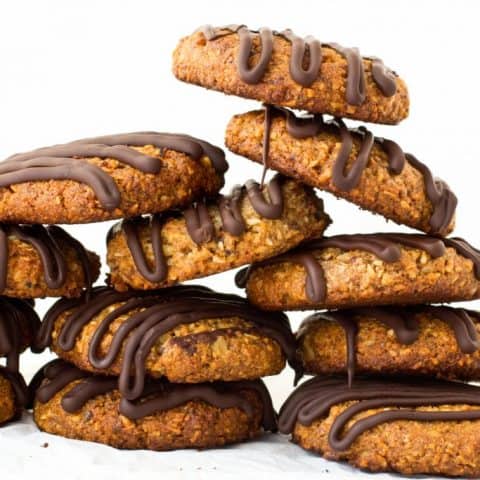 Better-Than-Scout Cookies
Ingredients
1 cup walnuts
1 cup almond flour
1 cup unsweetened shredded coconut
2 Tablespoons ground flax seeds
½ teaspoon cinnamon
½ teaspoon baking soda
¼ teaspoon coarse salt
8 large pitted medjool dates, and drained, soaked to soften if needed
1 large egg
¼ cup honey
½ teaspoon vanilla
¼ cup butter or coconut oil, melted and slightly cooled
½ cup chocolate chips, melted, for decoration
Instructions
Preheat the oven to 350F. Line a cookie sheet with a nonstick pad or parchment paper.
In the bowl of a food processor fitted with the S blade, pulse the walnuts 7-10 times until they are finely chopped.
Transfer the chopped walnuts to a large mixing bowl and stir together with almond flour, coconut, flax, cinnamon, baking soda, and salt. Set aside.
In the bowl of the food processor, combine the dates, egg, honey, vanilla and butter or oil. Process until smooth. If you still see flecks of date, that's ok, but make sure there are no large chunks left.
Pour the wet (food processor) mixture into the dry mixture that you set aside and stir to thoroughly combine.
Use an ice cream scoop to portion the dough into 4-tablespoon mounds. Use your palm to gently flatten the top into a thick disc. Place the cookies 2" apart on the prepared baking sheet.
Bake for 16-20 minutes (mine took exactly 18) until golden brown. Cool on the sheet for 5 minutes before transferring to a wire rack to cool completely.
Once the cookies are cooled, drizzle the melted chocolate over the cookies. The easiest way to do this is to pour the melted chocolate into a small zip top bag, seal it, and snip the corner off of the bag so that you can use it as a piping bag. Allow the chocolate to set before serving.
Notes
Vegan adaptation: Replace the egg with a flax egg or other vegan egg replacement and the honey with agave. You could also replace it with maple syrup but the batter might be a little runny.
Store in an airtight container at room temperature for up to a week or in the freezer for up to 3 months.
Yield: 1 dozen cookies