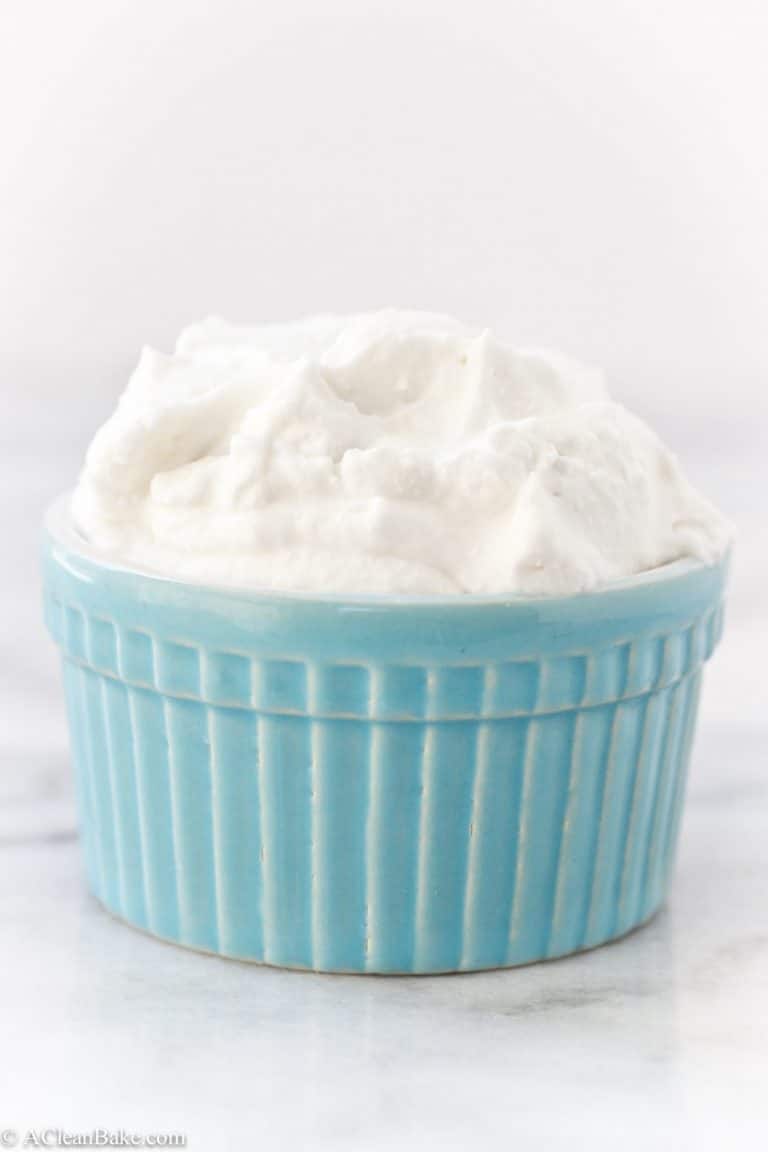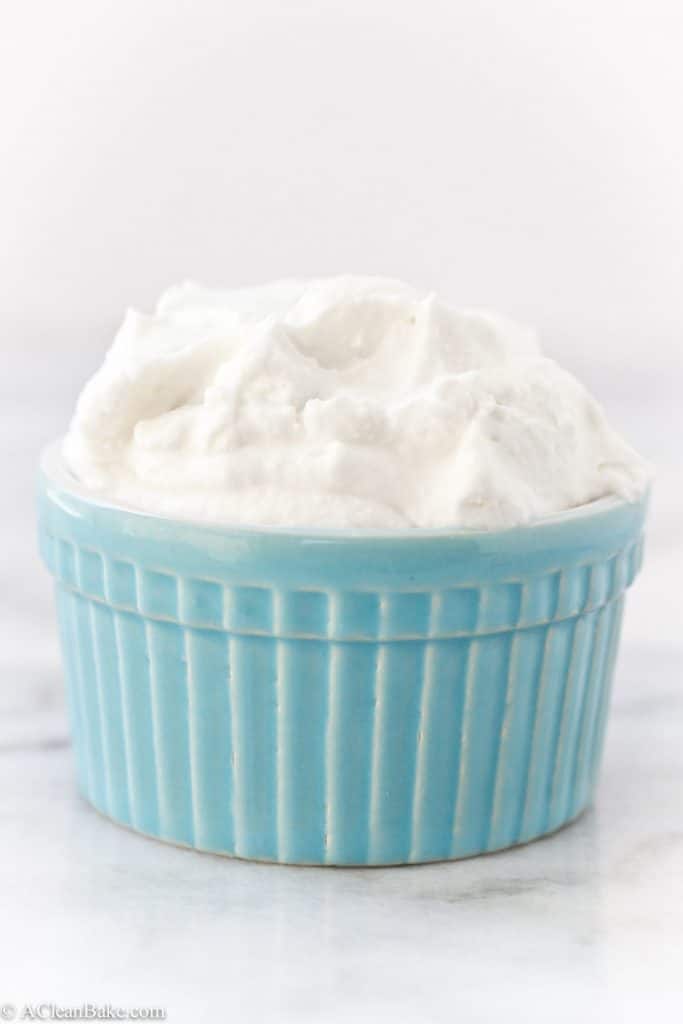 Few desserts cannot be improved by a dollop of whipped cream. Though your definition of dollop might change once you taste this whipped cream. It's kind of perfect – it's dairy-free, vegan, paleo, sugar-free (depending how you sweeten it) and gluten-free – and definitely hard to stop eating once you've started.
The base of this whipped cream is coconut cream, which is that thick, luxurious layer that floats to the top of a can of coconut milk. Luckily you can buy an entire can of it instead, so you don't have to waste a ton of coconut milk to get enough cream. Whip this amazing stuff together with sweetener of choice, vanilla extract and a tiny pinch of salt and you're good to go.
Dairy-free whipped cream is wonderful on everything. Here are a few suggestions:
Your turn: what would you eat this whipped cream on or with??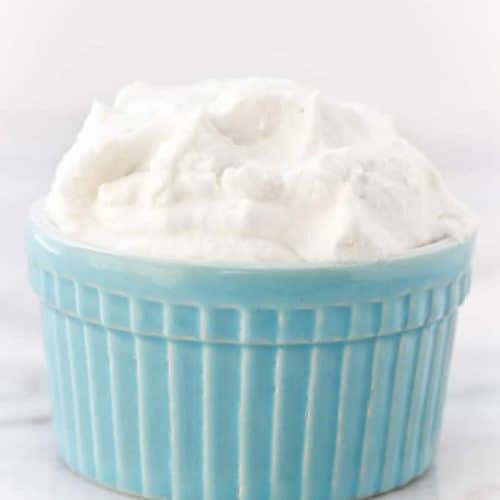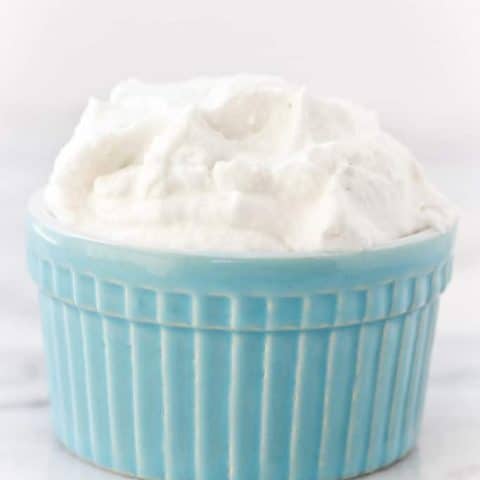 Vegan and Paleo Whipped Cream
Vegan whipped cream is allergy-friendly and paleo. It takes 5 minutes to make and is so versatile that you can put it on just about anything!
Ingredients
1/2 cup granulated monk fruit sweetener, or coconut sugar (see note)
1 teaspoon tapioca flour
1 can coconut cream, not coconut milk!, chilled in the fridge for at least 12 hours
1/4 teaspoon vanilla
1-2 Tablespoons coconut milk, see note, almond milk or water as needed
pinch salt
Instructions
Make your powdered sugar: add the sweetener and tapioca to a food processor or high speed blender and pulse 10-20 times until powdered fine. Run it through a fine mesh sifter to remove clumps. Set aside.
In the bowl of a stand mixer fitted with the whisk attachment, whip the coconut cream, vanilla and liquid as needed until smooth.
Add the powdered sugar and salt and beat until light and fluffy. This could take anywhere from 2-5 minutes and you may need to stop a couple times to scrape down the sides and bottom of the bowl to make sure everything is completely incorporated.
Serve immediately or refrigerate in an airtight container for up to 5 days.
Notes
Ingredient notes:
Coconut sugar works very well for making powdered sugar. I imagine you could use raw sugar or granulated honey successfully too. Stevia or monk fruit sweetener also work but they are already pretty finely ground so you will need a high speed blender to ground them finely.
There are also powdered monk fruit and coconut sugar products on the market, which - if you can find them - are the best option to use here. If you are using an already-powdered sweetener, skip the tapioca starch.
If you prefer things on the less-sweet side, start with 1/4 cup of the granulated sweetener and add additional sweetener 1 tablespoon at a time until it reaches your desired sweetness.
This cream is really versatile! Feel free to add flavorings as desired, such as cinnamon or peppermint extract. Simply add in 1/4 teaspoon increments until you reach your desired flavor.
Troubleshooting
Once the coconut cream chills in the can it also becomes a little chunky. If, once you start to whip it, it doesn't smooth out, add a bit of liquid until it reaches a creamy consistency. I used about 1 1/2 tablespoons.
Make sure your coconut cream is thoroughly chilled, at least overnight, and you can feel free to chill it for several days (I typically just keep a can of cream in the back of the fridge to make it easier. This is key for thickness and texture. If your cream starts to thin out as you're working, it may be because it's warming up too quickly. Try chilling it for a couple hours and then picking up where you left off.
Another reason you may end up with thinner whipped cream is because different brands may vary their moisture content. I had very good luck with Savoy brand coconut cream, which is 70% cream/30% water. That brand was so thick when chilled that I have had to add liquid to thin it out! But I would imagine that different brands might differ in water content, hopefully only slightly, but it's worth checking. If you have a can that is much more than 30% water, you can either drain the excess liquid (if it has separated) before whipping or, if that's not possible, add a bit more tapioca to absorb the liquid.
I only whipped my cream (plus vanilla) for a minute or two before adding the sugar (see: super thick cream!), but if it hasn't begun to thicken after just a couple minutes, continue whipping it for 3-5 minutes until stiff peaks form, then folding in the sugar. Also remember: the finer you can get your sugar granules, the better for incorporating them without deflating the cream.
If all else fails, and your cream turns out too thin for your intended purpose, put in a tupperware, freeze it, and you'll have dairy-free ice cream!
Nutrition Information:
Yield:

2
Amount Per Serving:
Calories:

21
Saturated Fat:

1g
Sodium:

1mg
Carbohydrates:

1g
[wprm-nutrition-label align="center"]
This post contains affiliate links, which means that if you click through and purchase a product, A Clean Bake receives a small commission. All proceeds go toward continuing to bring you delicious, healthy recipes every week, and this does not affect the price you pay. Thanks for supporting A Clean Bake!