Have you ever had a surprise party thrown for you? I haven't. Well, actually, once in college, I had a "surprise" party for my 21st birthday – only I knew about it all along and somehow managed to get food poisoning (actual food poisoning, not euphemism-for-hangover food poisoning) so was late to the party and had to keep stepping out for some fresh air so I wouldn't hurl. Um, surprise?
The surprise party I went to last weekend was about 5 million times more successful than that one. My good friend and upstairs neighbor threw the most epic weekend of surprise partying for her husband who just earned his masters degree and is about to celebrate a big birthday. There were decoy plans and special guests and so much Chipotle, I almost turned into an avocado (no complaints). I knew she had her hands full, so I volunteered to make some dessert. And because I am a crazy person, "some dessert" turned into 3 trays of 7 different types of treats, plus Nutella cookie dip (see below, right above the third picture, for instructions). And a cake. Of course, a cake.
The story behind this cake is long and hilarious, but only if you're me, so the short version is this: after I posted these black bean brownies, two friends emailed me the recipe for the best and worst black bean dessert they had ever had. The funny part is that it turned out to be the same recipe. Obviously, I just had to try it! I played around with it a little bit, and it was so delicious that I had to bring it for this party. Not a single person realized it was gluten free, let alone guessed what the secret ingredient is. You won't either!
But, for those of you who might have been burned by black bean recipes before, here's the scoop to make sure this one is a success:
Thoroughly puree the beans. Like, into teeny tiny specks. There is no better way to ruin a bite of cake than with a chunk of beans.
Make sure you are using natural cocoa powder, not dutch-processed. Special Dark is usually my cocoa powder of choice, because I like the super dark chocolate flavor, but I would recommend using natural here because it facilitates rising better. And I love a tall fluffy cake, don't you?
Use salt. The original recipe didn't call for it, but it enhances the chocolate flavor.
Don't leave the cake out longer than you have to. It dries out faster than a regular chocolate cake, so if you are going to bake it in advance, make sure you store it in an airtight container as soon as it's thoroughly cooled, and don't take it out until you're ready to frost/serve it. Once you've cut it, if you're not serving it immediately, a little piece of plastic wrap over the exposed part of the cake would help a lot. I know this sounds excessive and Martha-Stewart-y, but in this case, I think it makes a difference.
If at all possible, add sprinkles.
You can use any frosting recipe you want for this cake. Because the guest of honor (and everyone else in the known universe) loves Nutella, I threw together a Nutella cream cheese frosting which consisted of 1 cup of whipped cream cheese, 1 cup of Nutella, 1/2 cup + 2 Tablespoons of powdered sugar and a pinch of salt creamed together until smooth. That's not so much an "official" recipe as much as a guideline if you want to recreate what you see here in the pictures. These proportions make a tonnnn of frosting, and the excess, for the record, makes a spectacular sweet dip for Biscoff cookies, as I mentioned above.
While Nutella is always the right answer, this cake truly doesn't need it. Full disclosure, I don't think this cake needs anything but a fork and a tall glass of your favorite milk.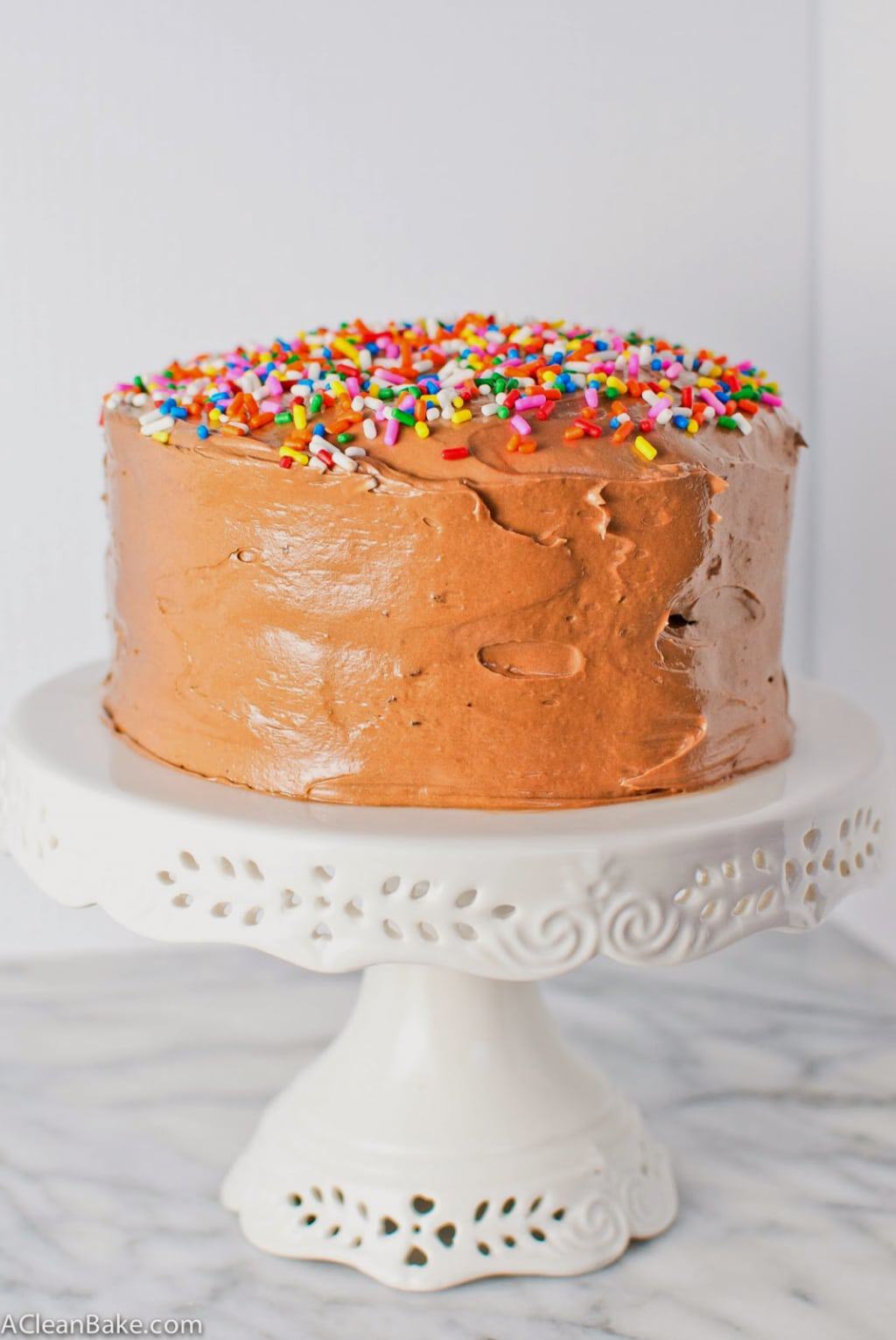 Thank you to Natvia for providing the ingredients that inspired this delicious recipe. This post contains affiliate links, which means that if you click through and purchase a product, A Clean Bake receives a small commission, which goes toward continuing to bring you delicious, healthy recipes every week. This does not affect the price you pay. Thanks for supporting A Clean Bake!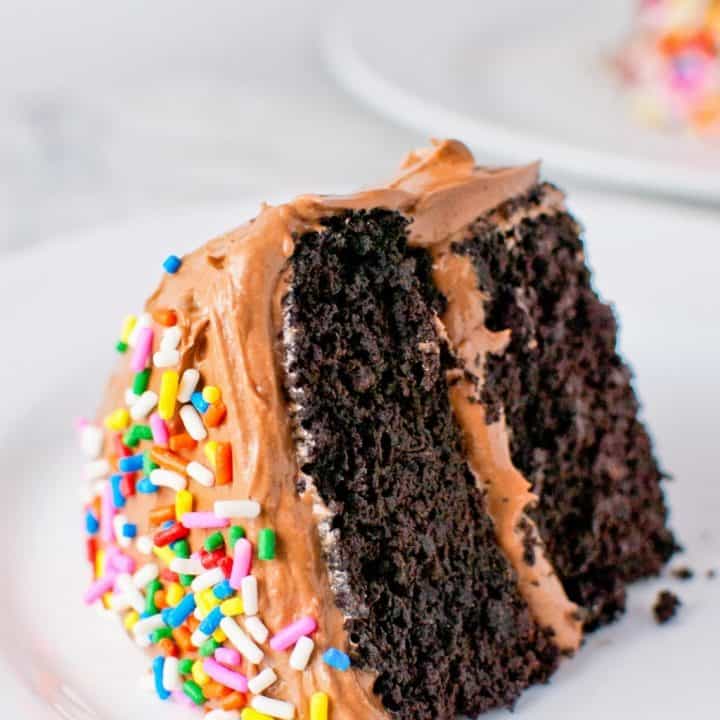 Gluten Free Chocolate Layer Cake
Yield:
1 6-Inch layer cake
Ingredients
1 can black beans (15.5 ounces),, rinsed and drained
4 large eggs
2 teaspoons vanilla extract
5 Tablespoons butter, melted and slightly cooled, (dairy or vegan butter is ok, or sub coconut oil)
1/2 cup granulated stevia
1/2 cup natural cocoa powder, (do not use Dutch processed)
1 teaspoon baking powder
1 teaspoon baking soda
1 pinch salt
Your favorite chocolate frosting, for finishing (see notes)
Instructions
Preheat the oven to 350F. Coat 2 x 6" round baking pans with a layer of butter, oil, or cooking spray, then a layer of cocoa powder. Set aside
In a food processor, puree the beans, eggs and vanilla until smooth. Add butter/oil, then sweetener, cocoa powder, baking soda, baking powder and salt. Puree until smooth, ensuring all of the ingredients are incorporated (i.e. stop a few times and scrape down the bowl.)
Split the batter evenly between the two prepared pans and bake for 30-35 minutes (mine took exactly 33 minutes) until a tester comes out clean.
Cool for 5-10 minutes in the pan, before turning out onto a wire rack to cool completely.
To assemble cake, put a dollop of frosting on your cake plate or stand, and center one of the cakes on it. This holds it in place. Put a large portion (1/2 cup, more if you prefer) of frosting on top and spread into an even layer. Add the second layer of cake. Put the rest of the frosting on top of the cake layer and spread it across the top, then wiggle the excess down the sides to cover.
Serve immediately, or refrigerate for up to 8 hours before serving.