Raspberry nectarine crisp is a perfect grain free way to celebrate peak summer fruit! It's a simple gluten free, paleo, and vegan dessert that is simple enough for a weeknight, and elegantly rustic enough for an outdoor dinner party. Plus, you can make it ahead of time! Top with a scoop of your favorite ice cream and dig into the dessert of the summer.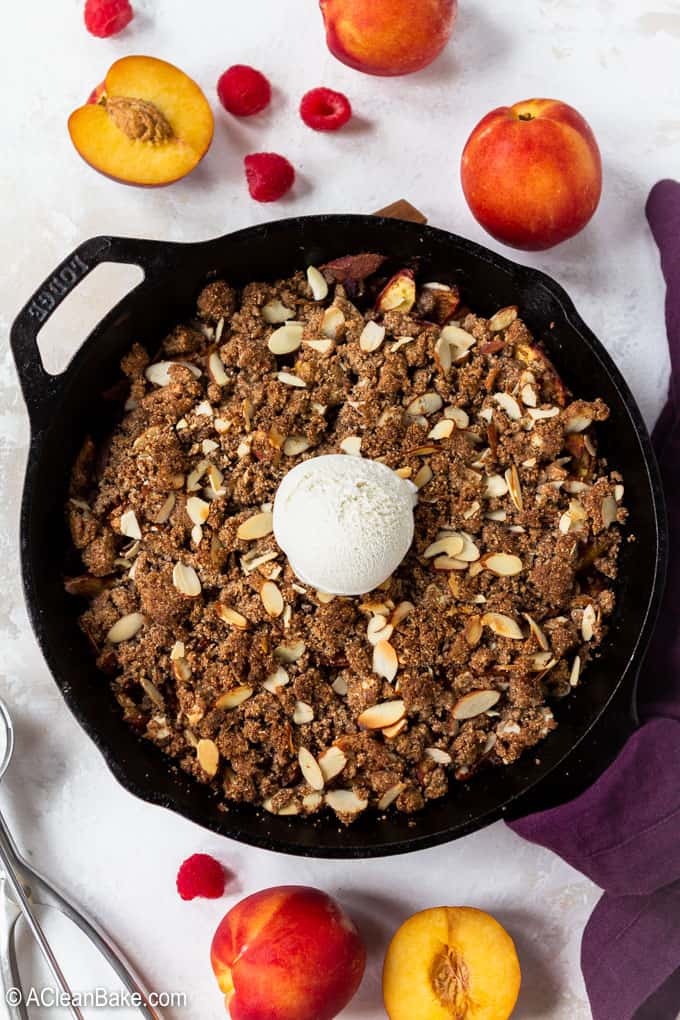 If you've ever met a more under-appreciated summer fruit than the nectarine, particularly in dessert, then I feel for that fruit. Nectarines – the less-fuzzy, usually more expensive, and generally less enticing neighbor of the peach family – tend not to be picked up when someone is thinking about making a pie or a cake or even luscious grilled fruit, and that is a darn shame.
They're almost as sweet, just as juicy, and when combined with other fruit, their slight bite complements sweeter fruit so perfectly. Berries, for example, are a perfect match for nectarines.
I wish I could say that all of that rational thought and planning led me to this recipe, but it came about as most of my recipes to: to use stuff up. Plus, a crisp was really a no-brainer when I had a huge basket of slightly over-ripe nectarines on my counter just begging to become a dessert. I just added the raspberries because I could!
Ok, enough about when I made this. Let's get down to business and talk about how you're going to make it….