These grain- and gluten-free chocolate crinkle cookies are made from almond flour, coconut sugar, and cocoa powder. They're the perfect chocolatey, chewy-on-the-inside, crispy-on-the-outside holiday cookie.
December is here, which means the holiday cookie baking extravaganza has officially begun.
Do we know how the holidays of 2020 will go? No. We don't even know how tomorrow will go. Nothing about this year has been predictable — particularly celebrations, holidays, and family gatherings. In fact, the one thing we can predict for Christmas and Hanukkah this year is that they will — in true 2020 fashion — be unpredictable.
That's why, in my opinion, it is more important than ever to honor the rituals and traditions that are safe, like baking beloved favorite holiday cookies recipes. And maybe doubling the recipe (I mean, look at these beauties!).

If you're thinking of pumping the brakes on holiday baking because you don't want a couple dozen cookies lying around your house, don't. This is the part where I remind you that that's what freezers were made for!
Trust me; it took more test batches than I care to admit to in order to get these just right, so I have tested the freeze-ability of this recipe over and over. In general, Christmas cookies, like many treats, freeze incredibly well — and you'll almost always find storage and freezing instructions in the "recipe notes" of my posts.
Please don't let quarantine rob you of the joy of baking and eating gluten free chocolate crinkle cookies, after you have been deprived of your childhood favorite for so many years! (just me?)

Plus, holiday baking is a wonderful, indoor activity involving the whole family. I can always count on not-so-Baby-Bake (who just turned four!!) to lend a hand in the kitchen, which offers a nice distraction for both of us. (Pro tip: If you're bringing in a baking assistant for this cookie recipe, allow them to dunk the dough balls in the maple or confectioners sugar and set on the tray — they'll love it.)
OK have I convinced you?
Great! Let the holiday cookie baking to commence — and be sure to check out this Christmas cookie round-up and the rest of the site for holiday treats. You're sure to find gluten-free versions of your favorite cookies, including chocolate chip cookies, peanut butter thumbprint cookies, fudgy 3-ingredient cookies, gluten free sugar cookies, and peppermint brownies.
But first: let's talk about the cookie we're all here for.

How To Make The Best Chocolate Crinkle Cookies
To make gluten free and paleo chocolate crinkle cookies, preheat your oven to 350 degrees. Line two cookie sheets with parchment paper, or grease with coconut oil or cooking spray.
In a large bowl, mix together your dry ingredients, including the almond flour, coconut sugar, unsweetened cocoa powder, cream of tartar, baking soda, and a fourth teaspoon salt. In a medium bowl, combine your wet ingredients, including the melted unsalted butter, eggs, and pure vanilla extract. Pour your wet ingredients and flour mixture into a stand mixer, mixing until well combined.

Allow the cookie dough to rest for 60-75 minutes, allowing the batter to thicken. Do not skip this step!! This allows the dry ingredients to absorb the moisture properly; if you go straight from mixing to baking, your cookies will spread very thin in the oven. Look, we're (mostly) all home all the time. Just… let that batter rest. However, if you are in a rush or prefer thinner cookies, simply add on an extra minute to the bake time (bringing it to a total time of 11 minutes).
Anyway! Once the batter is rested, use a cookie scoop to portion the dough. Then roll the dough into one inch balls, and dip each dough ball into the powdered sugar twice, giving it a thick, white sugar coating (you only need to coat one side with sugar). Place each dough ball on your prepared baking sheets, sugar side up.
Bake your cookies for 8-10 minutes, until the cookies have flattened and have a crackled top. Allow your cookies to cool completely on the sheet (do not transfer to a wire rack) before digging in!

Recipes FAQs: Tips for Paleo Gluten-Free Chocolate Crinkle Cookie Recipe Success
If this is your first time experimenting with gluten-free baking, you may have a few questions. Hopefully, these tips, tricks, and substitutions help set you up for success.
Can you substitute the almond flour for another gluten-free flour?

Unfortunately, no. Gluten- and grain-free flours (such as coconut,

tapioca

, almond, and gluten-free all-purpose flour) behave differently when it comes to structure and how they absorb moisture, and cannot be substituted for one another.

Can you substitute the coconut sugar?

Yes. Use another

granulated sugar

, such as

brown sugar

, maple sugar, or granulated monk fruit or stevia (which will make the recipe lower in

carbohydrates, but also result in a dryer cookie

).

Can you substitute baking powder for baking soda?

No.

Baking powder

and baking soda have different chemical makeups, and cannot be substituted for one another.

Can you substitute the cocoa powder for melted chocolate?

No. Do not use

dark chocolate

,

Hershey's

baking chocolate,

semi-sweet chocolate

, or bittersweet

chocolate chips

.

Do you have a preferred brand of almond flour? Yes. Both Bob's Red Mill and King Arthur create quality

gluten

-free flour blends, and can be purchased at health stores and on Amazon. I also like Honeyville brand, which you can find on Amazon. Whatever brand you use, make sure it is very finely-ground.
Can these cookies be made dairy-free?

Yes — but read the recipe notes closely. To make

dairy-free

cookies, replace the ghee with

coconut oil

, and skip the rest period (i.e. bake them immediately, skipping step 5 in the recipe instructions).

How long will these cookies keep?

Your gluten-free cookies will keep up to 3-5 days (in a non-

airtight container

) on the counter or in the freezer for three months (in an

airtight container

). If you store the cookies in an

airtight container

on the counter, the texture will soften and you'll lose the crispy outer shell. If you don't mind a thoroughly chewy cookie, you'll love them

.

It Just Isn't The Holidays Without Gluten Free Chocolate Crinkle Cookies
These chocolate crinkle cookies are perfect for the holiday season. With a fudge-y center and a crispy outer texture (smothered in powdered sugar, no less), it's a cookie all can enjoy. There are several important recipe notes listed below, so I encourage you to review them before diving into the instructions.
This is going to be my last recipe for 2020! I hope you enjoy it. Have a wonderful holiday, happy New Year, and I'll see you in 2021!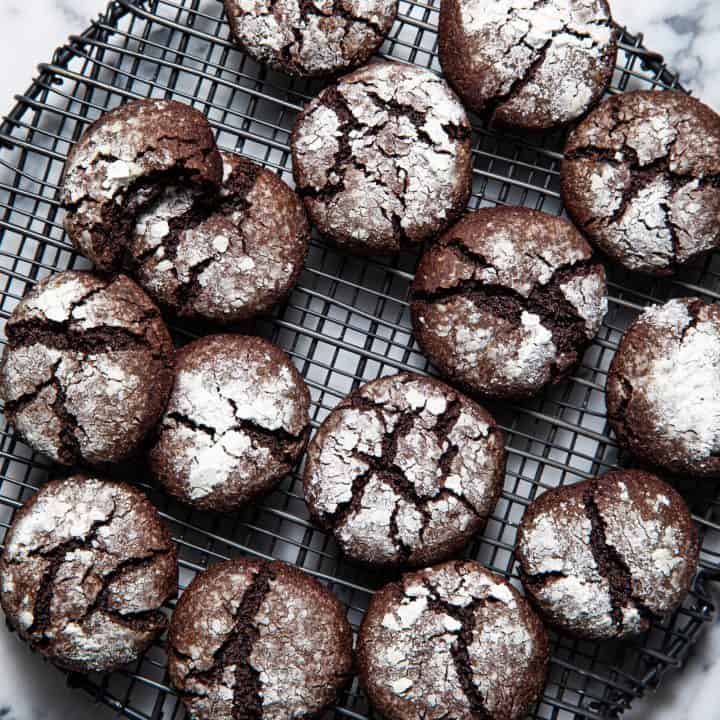 Paleo Gluten Free Chocolate Crinkle Cookies
Total Time:
1 hour
25 minutes
These grain- and gluten-free chocolate crinkle cookies are made from almond flour, coconut sugar, and cocoa powder. They're the perfect chocolatey, chewy-on-the-inside, crispy-on-the-outside holiday cookie to kick-off the season. (Please see recipe notes for dairy-free adaptation).
Ingredients
Ingredients for the cookies
1 1/2 cups blanched almond flour (see note for measuring instructions)
3/4 cup coconut sugar
1/2 cup natural cocoa powder (do not use dutch processed!)
1/2 teaspoon cream of tartar
1/2 teaspoon baking soda 
1/4 teaspoon fine sea salt
1 large egg
1/4 cup + 1 tablespoon melted unsalted butter or ghee (see notes for dairy-free variation), slightly cooled
3/4 teaspoon pure vanilla extract
Ingredients for finishing
2 Tablespoons powdered cane sugar, or 
2 Tablespoons maple sugar + 2 teaspoons arrowroot flour, blitzed in a blender until fine
Instructions
Preheat the oven to 350F. Line two large baking sheets with parchment paper or silicone pads, and set aside.
In a large mixing bowl, whisk together the almond flour, coconut sugar, cocoa powder, cream of tartar, baking soda, and salt. until well-combined. Set aside.
Test the melted butter or ghee with your finger to make sure it is warm, not hot. In a small bowl, whisk the egg, then mix in the butter/ghee and vanilla extract.
Pour the wet (eggs, etc.) mixture into the dry (flours, etc.) mixture and stir to combine, scraping the sides and bottom of the bowl as needed.
Allow the batter to rest 60-75 minutes at room temperature. Then scoop heaping tablespoon portions and roll between your palms into balls.
Place your powdered maple or cane sugar in a small bowl and roll the bottom half of the dough ball in the sugar. (You do not need to cover the top of the cookie.) Then roll again. You want a very thick double layer of sugar on each cookie.
Place the cookie, sugar side up, on the prepared cookie sheet.
Repeat with remaining dough.
Bake 8-10 minutes, until cookies have spread and crackled.
Remove the baking sheets from the oven, but allow the cookies to cool completely on the pans. Do not transfer them to a baking rack.
Once cooled, enjoy immediately!
Notes
How to measure grain free flours: First, fluff the flour with a fork to aerate it. You don't want to measure packed flours. Once it is loosened, either spoon it into the measuring cup, or gently scoop the flour with the measuring cup, then level it off with the back of a butter knife.
Rest time: The 60-75 minute rest allows the batter to thicken up for a slightly better final consistency. If you are in a rush, you can bake the cookies immediately. Add 1 minute to the bake time and allow the cooked cookies to cool completely on the sheet before eating.
Dairy-free variation: Replace the butter or ghee with the same amount of coconut oil. Scoop and roll the cookies, and press them down slightly with the palm of your hand to form a thick disc before dunking them in your sugar of choice. Bake immediately (without letting them sit first) for 9-11 minutes. Allow to cool completely on the baking sheet before eating.
Storage: These cookies keep well on the counter for 3-5 days or in the freezer for up to three months. If freezing, make sure they are in an airtight container. If on the counter, store in a non-airtight container for up to 24 hours to preserve the crispy outer shell of the cookie. Once covered, the cookies start to soften; the longer they are at room temp in an airtight container, the softer they will get.
Recommended Products
As an Amazon Associate and member of other affiliate programs, I earn from qualifying purchases.
Nutrition Information:
Yield:

19
Serving Size:

1
Amount Per Serving:
Calories:

114
Total Fat:

6g
Saturated Fat:

1g
Trans Fat:

0g
Unsaturated Fat:

4g
Cholesterol:

13mg
Sodium:

65mg
Carbohydrates:

13g
Fiber:

2g
Sugar:

10g
Protein:

3g