This list of gluten free Christmas cookies (plus a few holiday-friendly cookie-alternatives) will please everyone on your list! From classics to surprise new favorites, they are all quick and easy to whip up and pure joy to devour!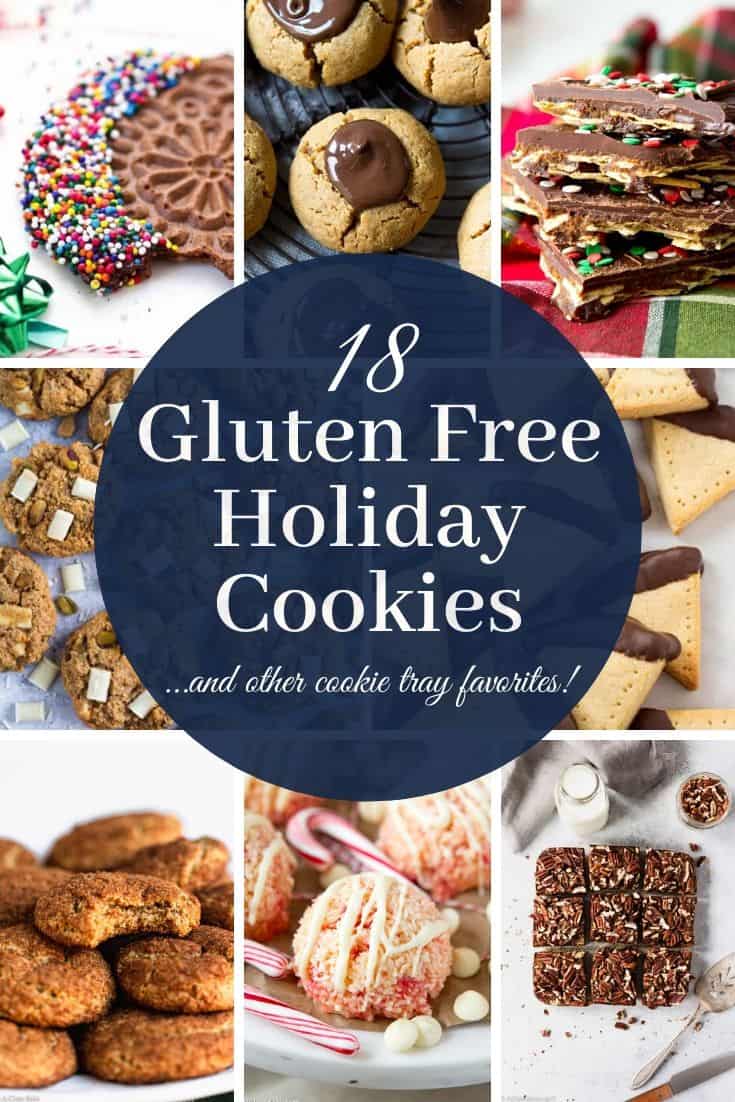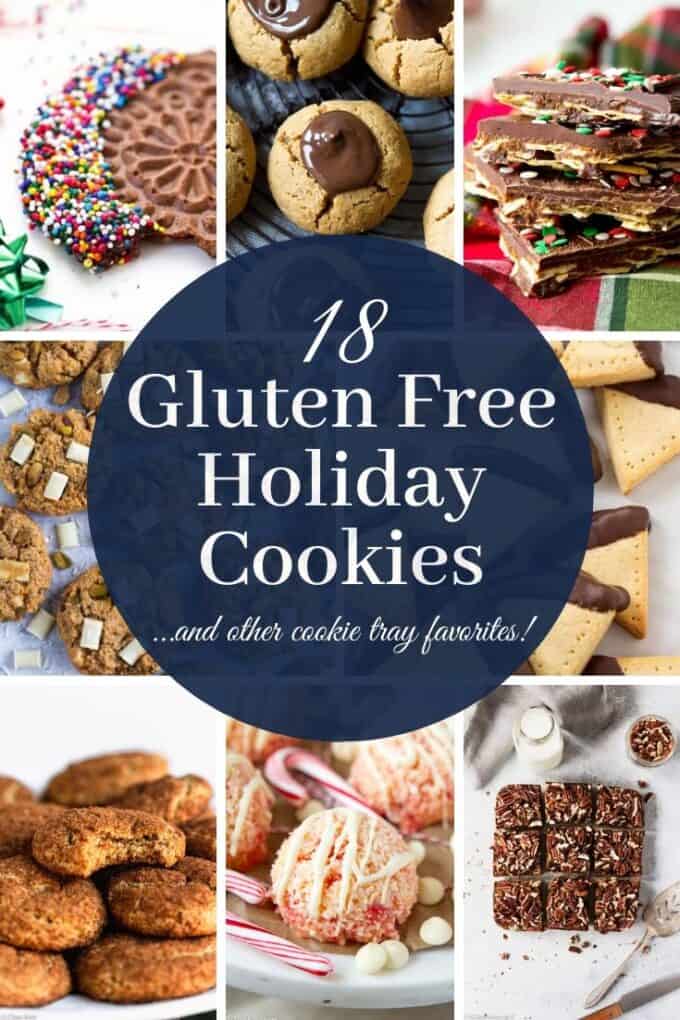 If your first thought upon seeing this post was that it is too late for holiday cookies, then you have it much (much!) more together than I do. Between the normal holiday rush and the unusually short turnaround time between Thanksgiving and Hanukkah/Christmas this year, I am struggling to get everything done on time. And I know I'm not alone.
That's exactly why I put together this list. It's not just any old holiday cookies. These are 18 of the most straightforward cookies you'll find. They're grain free and gluten free, many are dairy free, and some are even vegan.
They run the flavor, texture, and presentation gamut, so almost everyone is guaranteed to find at least a couple of options that work for themselves and their family/holiday guests/neighbors/mail carrier.
And I even included a few, let's call them, "honorary cookies" – which is to say treats that aren't cookies at all, but would do equally well on a holiday cookie platter. I mean, who is going to say no to a luscious homemade truffle, or a bite of rich, crunchy toffee? No one, that's who.
Tips for Gluten Free Christmas Cookie Recipe Success
While these cookies need no formal introduction, there are a few important notes to keep in mind as you bake.
Gluten free baking can be tricky, especially when you're rushed and distracted by five thousand other things that need to be done by Tuesday.
These gluten free cookie recipes are, as I mentioned, designed to be ultra-easy – but that doesn't mean there aren't a few things you should know to ensure that you don't end up wasting a ton of time and ingredients on a failed batch of cookies that you do not have time to remake. (Nothing like a little forced, panicked last minute holiday baking to take your stress level to 11!)
So let's dive in!
What kind of gluten free flour should I use?
All of these recipes call for a base of almond flour. I use, and recommend blanched almond flour. Do not use almond meal, which is more coarsely ground and contains specs of the brown almond skin (learn more here). You are looking for a very finely-ground, consistently cream-colored flour.
Beware though: almond flour is sometimes called almond meal on the package (confused yet?), so ignore the name and pay attention to color and consistency to make sure you're using the right product. I recommend Bob's Red Mill or Honeyville brands.
Since I almost always get questions about replacing one flour for another, please keep in mind:
You can sub cashew flour for almond flour. You cannot sub coconut flour for almond flour.
I don't recommend trying to sub anything for coconut flour.
You can sub tapioca flour and arrowroot flour for one another.
You can sub granulated stevia for granulated monk fruit, and vice versa, or coconut sugar for maple sugar (and vice versa). You cannot sub liquid sweeteners for granulated. I do not recommend subbing stevia/monk fruit for coconut sugar/maple sugar, as it will affect the moisture of the finished product.
Do I need to leave time to chill the cookie dough in any of these recipes?
Nope! All of these cookies are designed to go from bowl to oven to save you time. But, please read the recipes carefully before you start baking because some cookies require time for parts of the cookie (usually something chocolatey!) to cool or set.
How do I prevent these cookies from burning or sticking to the pan?
I always strongly recommend investing in silicone pads to line your baking sheets. They are inexpensive, reusable, and fail-proof. I use these Amazon Basics silicone pads. Just make sure you get the correct size to fit your baking sheet.
If you don't bake cookies often, and don't want to invest in these silicone pads, make sure to line your baking sheets with a piece of parchment paper. Do not use wax paper (the wax will melt into your cookies!).
Where is the recipe for [insert your favorite cookies here]?
At 18 cookies, this list can hardly be expected to be exhaustive. However, there are several adaptations that you can make to these recipes to create even more cookie options!
For example:
To make sugar cookies, use this pie crust recipe, but add granulated stevia, monk fruit, or maple sugar to taste. Wrap the dough and refrigerate 15-30 minutes, then roll and cut out cookies in your favorite shapes. Bake at 350 until the undersides are golden. The edges will be slightly golden brown.
To make thumbprint cookies, use this recipe, but replace the peanut butter with almond butter. Fill the cookies with your favorite jam before baking.
See? I'll bet you can think of even more as you scroll through the list of recipes!
Happy Holidays!
I know you're being inundated with cookie recipes from across the internet, so why bother reviewing these seventeen? Well, because they're tried and true, no-fail, and totally delicious. It's worth making room on your grain- and gluten-free cookie trays for these recipes.
Gluten Free Christmas Cookies
This list of gluten free Christmas cookies (plus a few holiday-friendly cookie-alternatives) will please everyone on your list! From classics to surprise new favorites, they are all quick and easy to whip up and pure joy to devour!