This simple and family-friendly holiday classic is back! Just like the childhood classic you remember, these paleo and gluten free snickerdoodles are sweet, chewy, and utterly irresistible! This post was updated 12/11/19.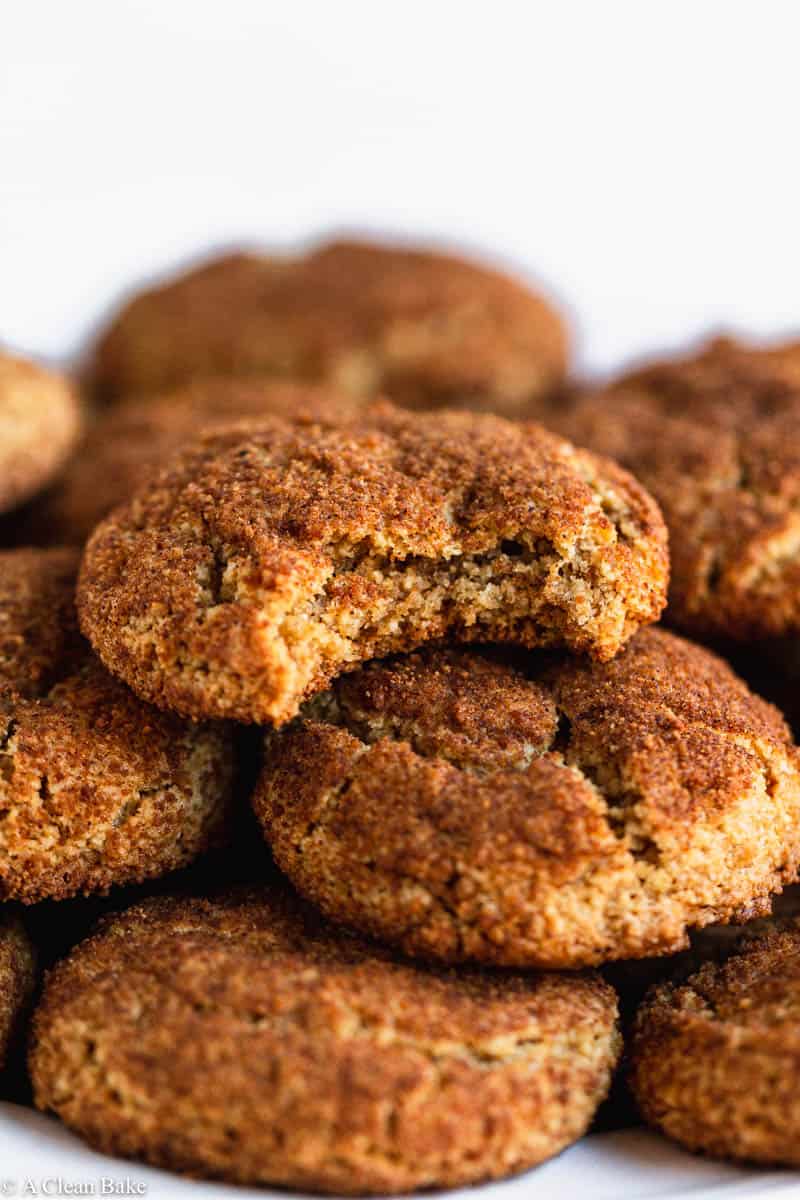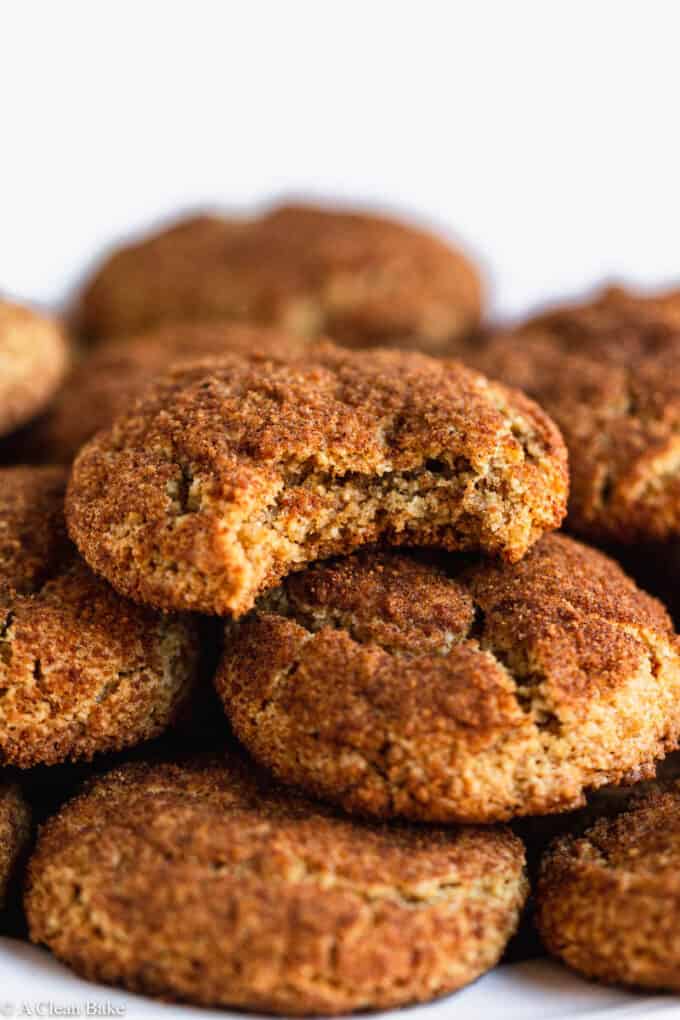 This is a new version of a recipe I posted decades ago, or at least what feels like it, but was actually only, strangely, just over five years ago. Five years, in and of itself, isn't the strange part. It's what has happened in such a relatively short amount of time.
A Little Throwback…
When I first wrote this post, I was putting the finishing touches on my wedding plans. Now, I've married, honeymooned in style, had a baby, celebrated five years of marriage, three years of parenting, and six years of blogging. A lot has changed.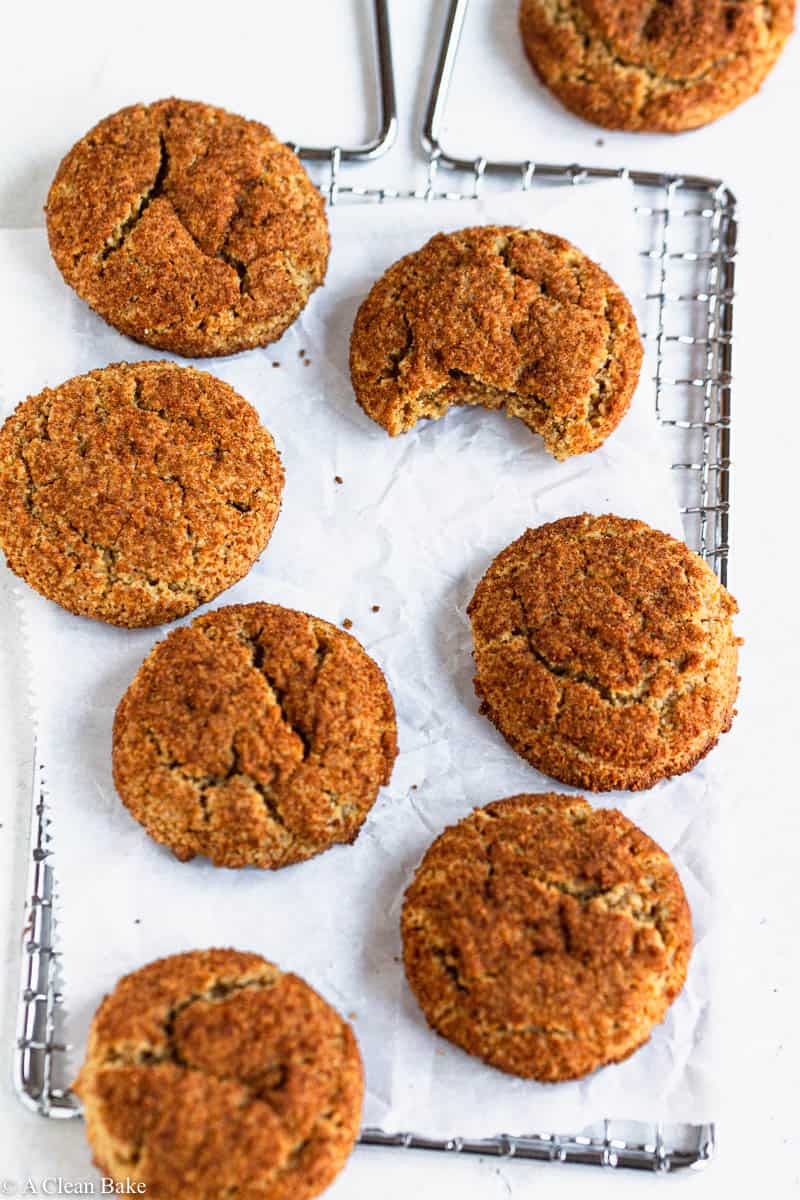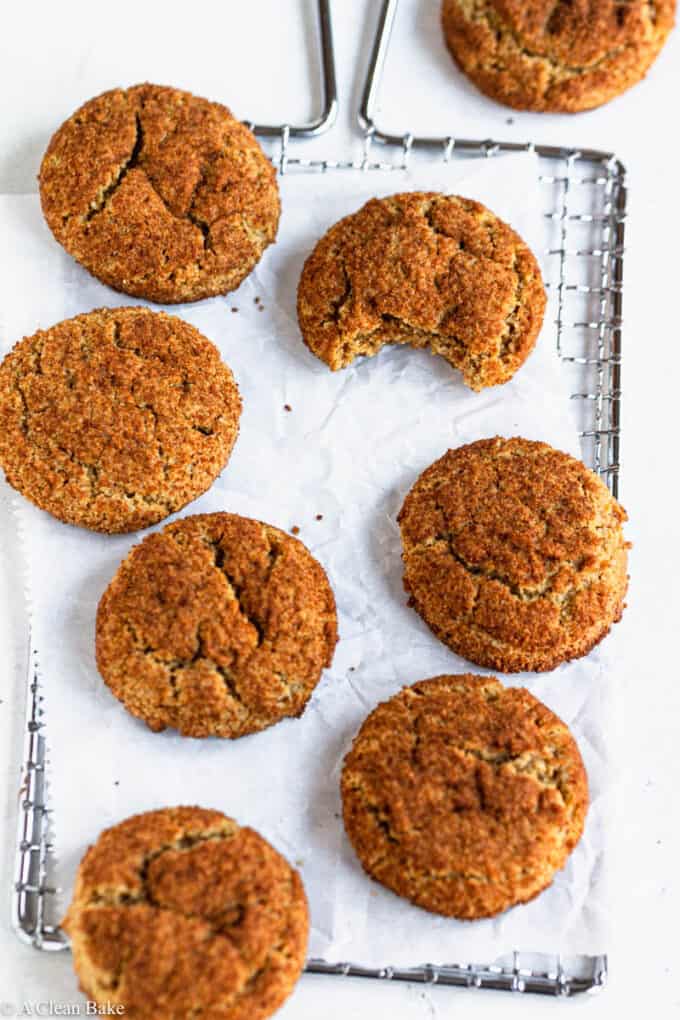 When I first wrote this post, I was binge-watching Scandal for the first time. Here's what I had to say about it (I swear this will lead back to snickerdoodles; personal stories like this are exactly why I added the Jump to Recipe button above. Use it!):
As a means of relaxing, I've been watching more episodes of Scandal than I would like to admit. It's like a train wreck: You just can't look away, no matter how tight the grimace on your face becomes. And, I have to say, with all due respect to her ability to "handle it" and rock a pantsuit, Olivia Pope did something completely and unforgivable wrong. And that thing is snacking.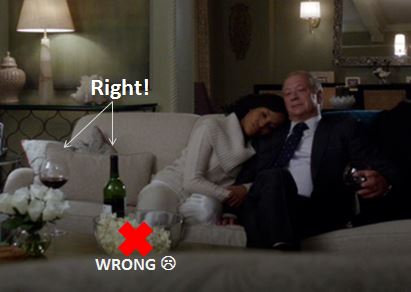 She definitely got the red wine part right, but it's the popcorn that I can't figure out. It's boring. It's stupid. It's…not a snickerdoodle.
See what I did there?
I was referring to a newly-developed snickerdoodle habit that was keeping me sane in what I called the " infamous last-30-days-before-the-wedding chaos". I still remember all the things you learn about your wedding the hard way, all the things I wish I had known going into this process.
Women in this culture are raised to think about their wedding day as Their Day, and the process of planning it as being all about carrying out the vision they have been constructing in their heads since their first viewing of Cinderella. But it's really not about you at all.
The truth is that the whole event is really about your friends and family who loved and supported you all of your life, who taught you to love, helped develop you into the person you are, and prepared you to start a life of your very own.
That's why you go through all of the headache of chasing down RSVPs and putting effort into the details that you might not care about, but other people do. [Beef entree? I could care less. But everyone loves beef but me, as it turns out, so we are serving a damn fine beef entree.] There are a lot of details that need to be addressed and there aren't enough hours in the day to deal with them with any leisure. So, you need something to counterbalance all the madness and try to enjoy this process.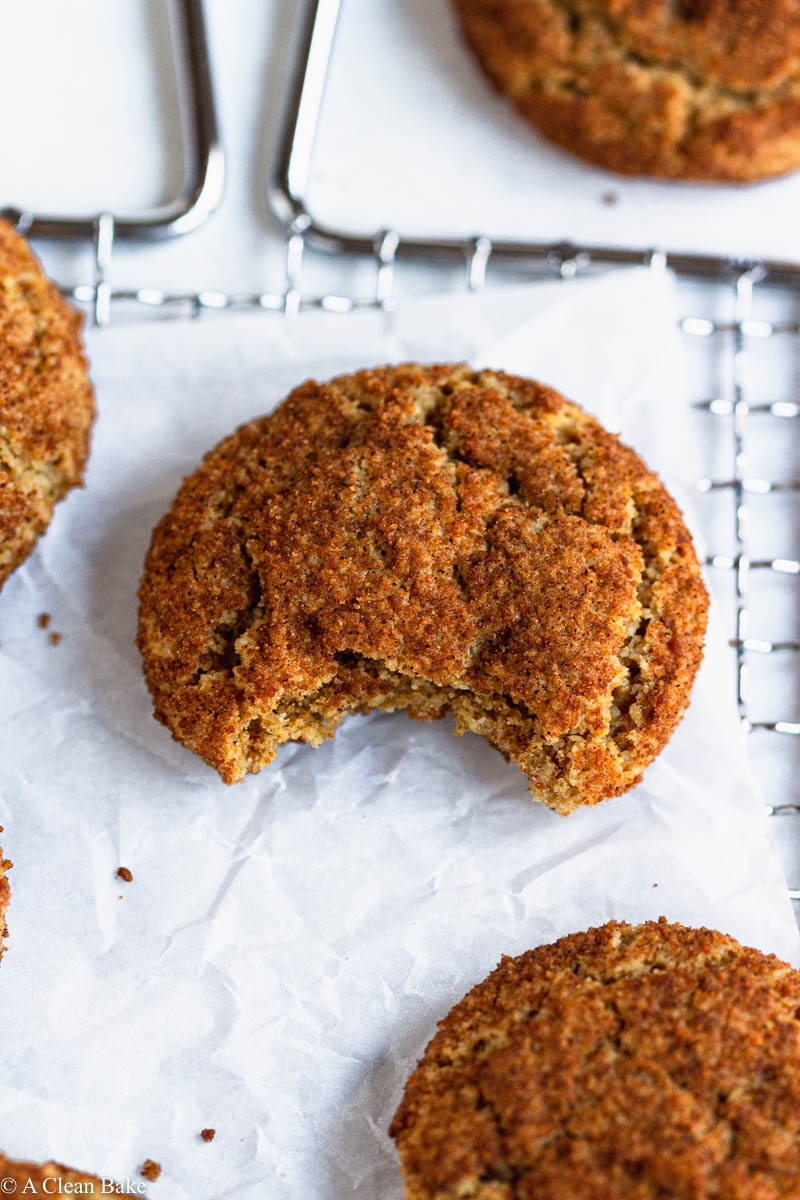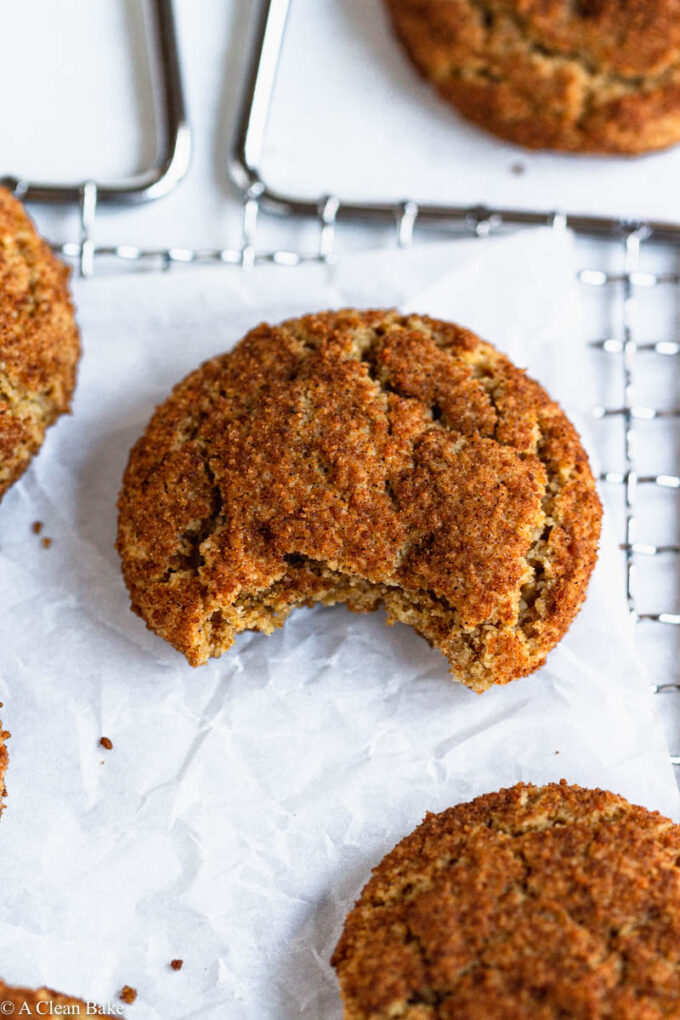 Which brings us back to Gluten Free Snickerdoodles.
I think if more brides stopped caring about counting every calorie, the wedding planning process would be much easier.
After a long Saturday, for example, of transportation details/headcount tracking/other trivial details you definitely don't care about, all you want is to relax with a couple of these thick, chewy, sweet snickerdoodles and, yes, maybe also a favorite glass of wine.
How To Make Gluten-Free Snickerdoodles
To make your gluten-free snickerdoodles, you'll need a baking sheet, two large bowls, and either a hand- or standmixer.
First, you'll start by preheating your oven to 350 degrees. Line your baking sheet with parchment paper or a silicone baking pad, or grease it using a nonstick spray or coconut oil.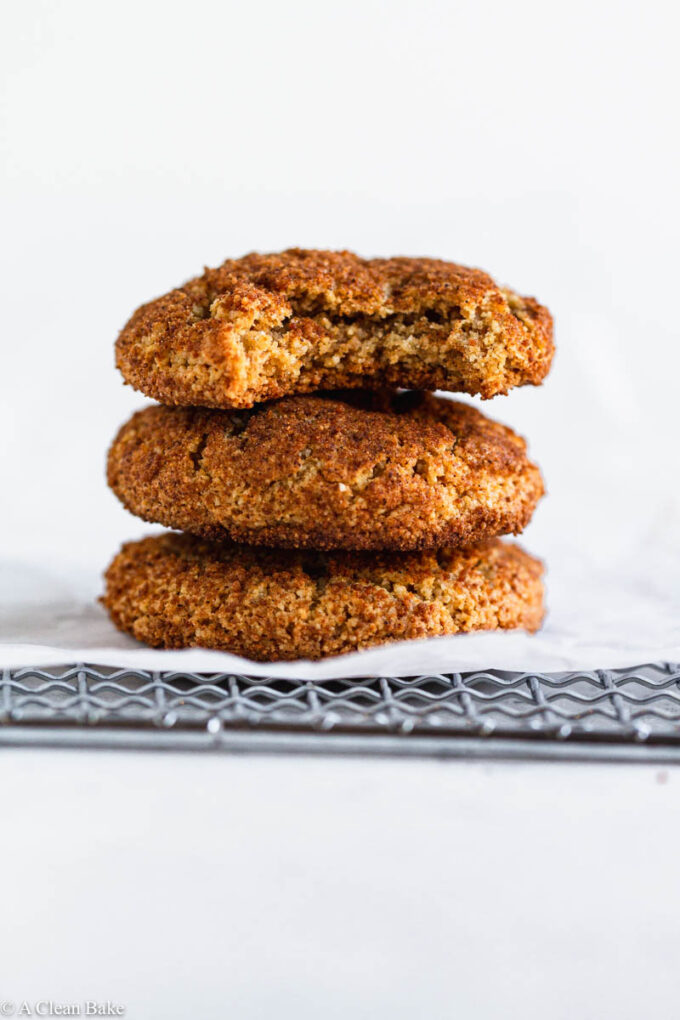 In two separate bowls, you'll combine your wet and dry ingredients. Start by mixing your almond flour, coconut sugar, coconut flour, cream of tartar, baking soda and salt, and whisk together. Set that mixture aside. Then, in a separate bowl, combine your melted butter or coconut oil, a beaten egg, and a splash of pure vanilla extract in your second bowl. Just a reminder to use real vanilla extract. If you use the temptingly-cheaper baking extract or imitation vanilla, your snickerdoodles will suffer.
Finally, combine your wet and dry ingredients together, then scoop your cookie dough into about 2- inch balls (each dough ball should contain roughly 1 tablespoon of dough). Gently roll each portion into a ball, and dip into a ground cinnamon sugar mixture (made with coconut sugar) before placing it on the cookie sheet. Then the cookies go straight into the oven! No need to chill the dough.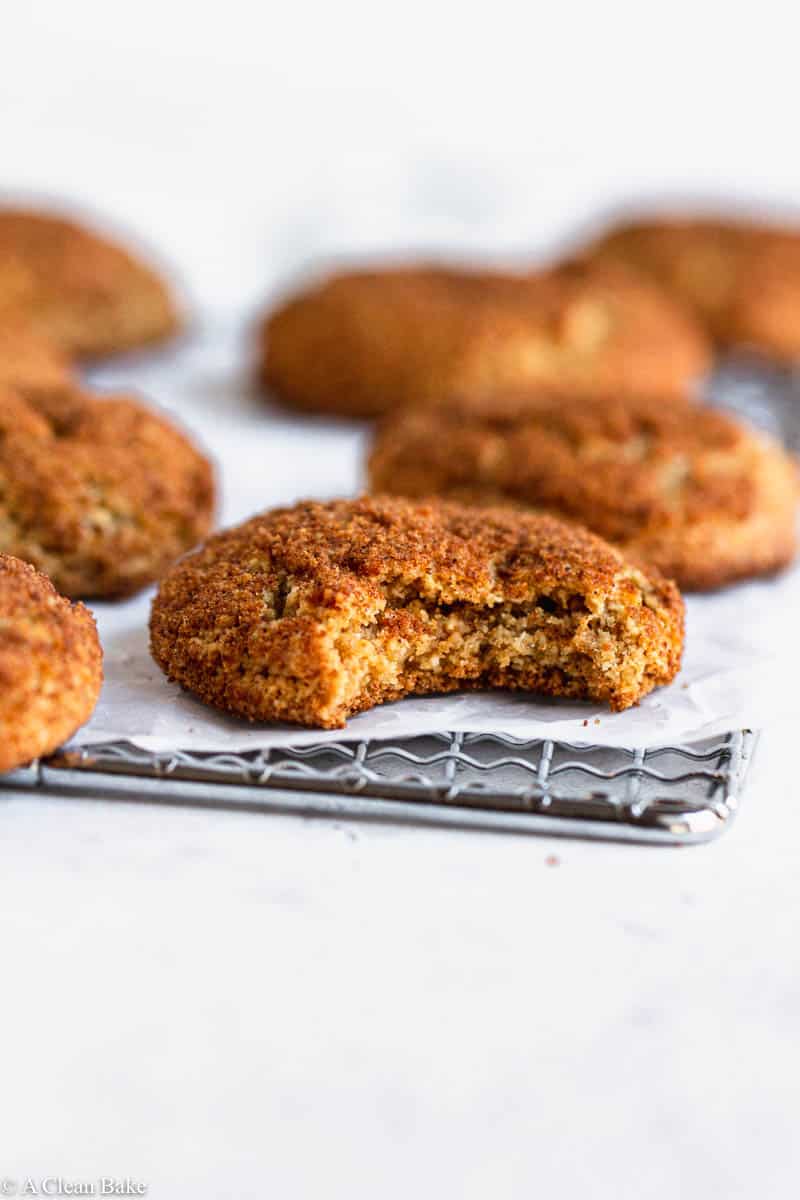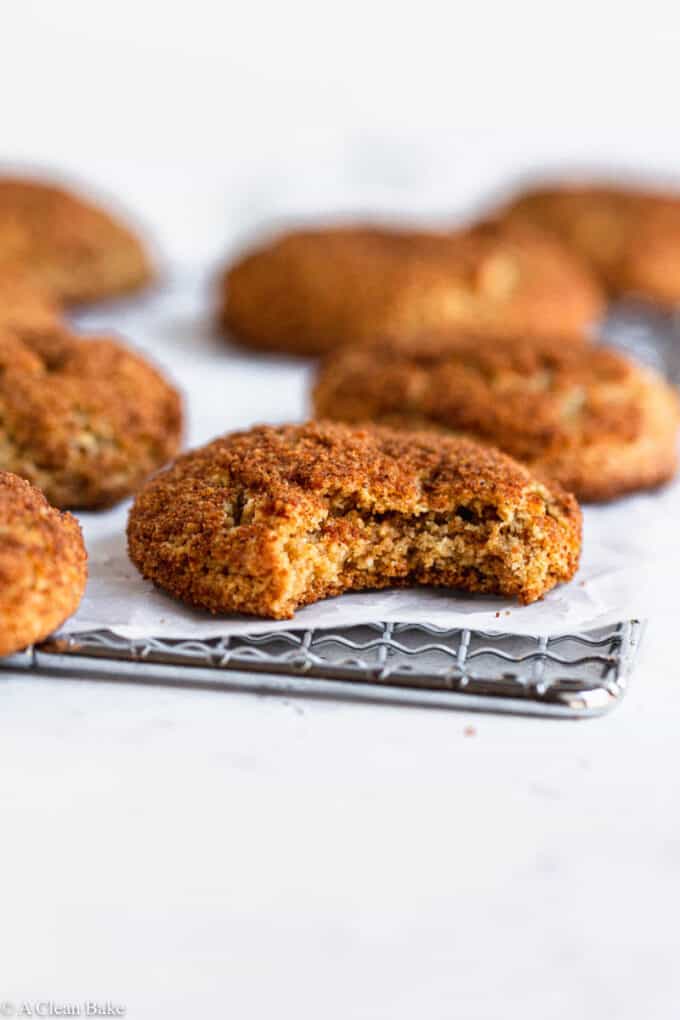 Your snickerdoodle cookies should take roughly 10 minutes in the oven, and you'll know when they're done when they're puffy, slightly cracked on top, and don't look shiny or wet anymore in the cracks. Don't wait for them to turn golden brown; since they start that color, it's hard to determine the doneness of this cookie by color. Allow to cool for roughly 15 minutes prior to serving.
FAQs: Tips for Gluten-Free Snickerdoodle Recipe Success
Hopefully, you find this recipe to be fairly straightforward. But, if it's your first time diving into the world of grain free and gluten-free baking, you may have a few questions. Hopefully these tips and tricks set you up for success:
What makes this cookie recipe gluten-free? Rather than using regular, all-purpose flour, this recipe uses a gluten-free flour blend made from coconut and almond flour.
Where do you buy gluten-free ingredients? You can easily purchase alternative flours and other gluten-free ingredients on Amazon (I recommend Bob's Red Mill for gluten-free flours).
Is this recipe vegan? This recipe is not vegan, since it contains eggs and butter. However, if you want to make this recipe dairy-free, simply use the coconut oil option instead of unsalted butter. Or, if you want a more buttery taste, use Earth Balancevegan butter.
How long will these snickerdoodles keep? You can store these gluten-free cookies in an airtight container for up to 3 days on the counter, or up to six months in the freezer.
A quick note on texture: If you prefer a crispy cookie, keep your cookies in the oven for 1-2 minutes longer (roughly 12 minutes). For a more chewy cookie, check the texture right after 9 minutes in the oven. If you'd like an extra-thick cookie, roll the cookies but place them in the fridge for 20-30 minutes before baking.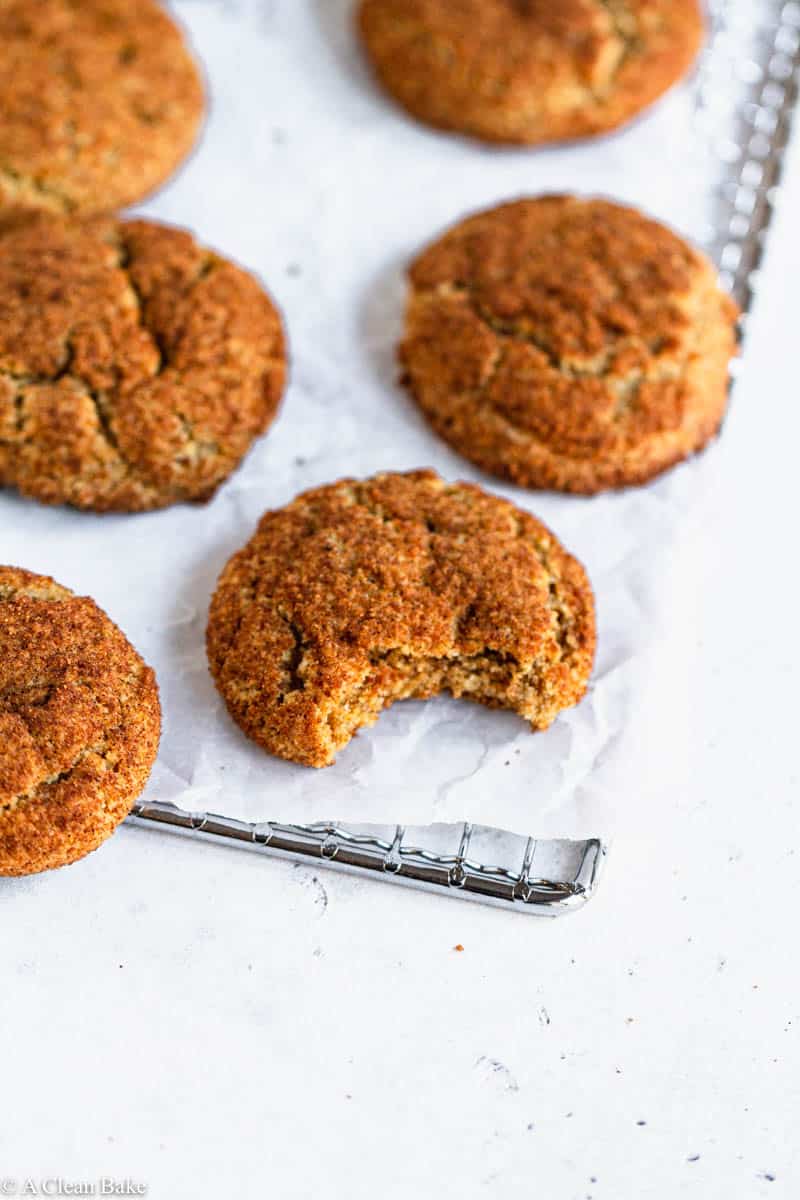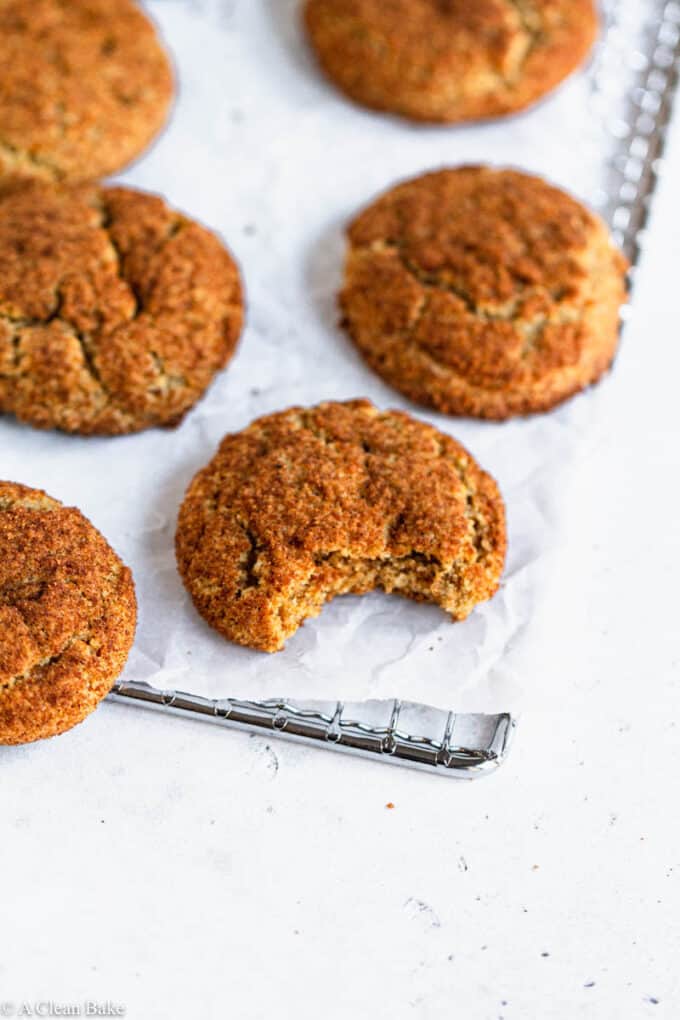 These Snickerdoodle Cookies Are Perfect for the Holidays
This gluten-free recipe is sure to become one of your favorite cookies. Pass a plate around the table during the holidays, pack them with your kids' lunchbox, or you know, snuggle up with one or two and enjoy your latest Netflix binge (Shonda would approve).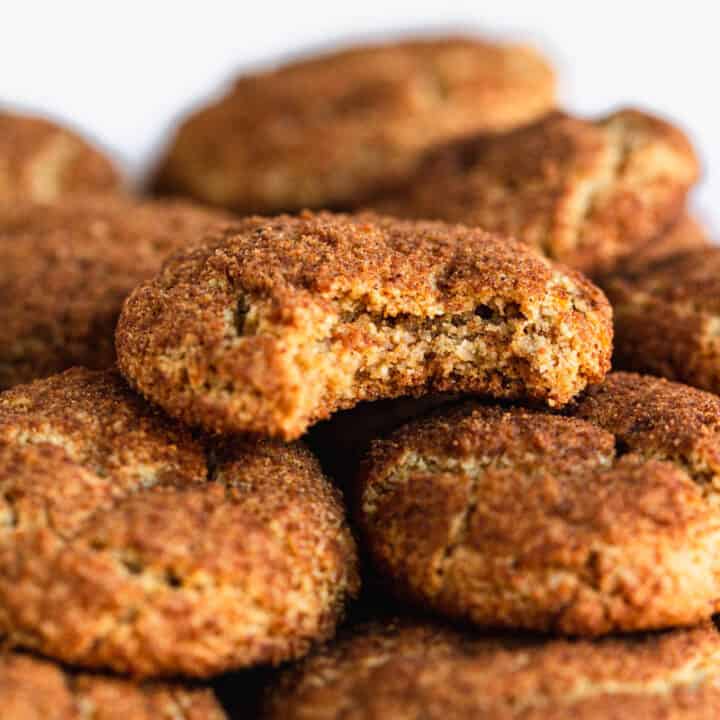 Grain Free & Gluten Free Snickerdoodles
This simple and family-friendly holiday classic is back! Just like the childhood classic you remember, these paleo and gluten free snickerdoodles are sweet, chewy, and utterly irresistible!
Ingredients
For the cookies:
1 1/2 cups blanched almond flour
1/2 cup coconut sugar
2 tablespoons coconut flour
3/4 teaspoon cream of tartar
1/2 teaspoon baking soda
1/4 teaspoon fine sea salt
1 large egg
5 tablespoons unsalted butter, ghee, or coconut oil, melted and slightly cooled
1/4 teaspoon pure vanilla extract
For the topping:
1 tablespoon coconut sugar
Scant 1 teaspoon ground cinnamon
Instructions
Preheat the oven to 350°F. Line two large baking sheets with parchment or silicone pads, and set aside.
In a large mixing bowl, whisk together the almond flour, coconut sugar, coconut flour, cream of tartar, baking soda, and salt. Set aside.
In a small bowl, whisk the egg, then whisk in the butter, ghee, or oil, and the vanilla.
Pour the wet mixture into the dry mixture and stir until the dough comes together.
Whisk the topping ingredients together until completely combined.
Scoop 1 tablespoon portions (I use the smallest scoop in this set) and roll each in cinnamon-sugar.
Place cookies 2-3 inches apart on the prepared baking sheets.
Bake for 9-11 minutes, until puffy and no longer shiny in the cracks.
Allow the cookies to cool and set on the pan for 5-10 minutes before transferring to a rack to cool completely.
Notes
If you'd like slightly thicker snickerdoodles, let the dough sit for 20 minutes before scooping and baking.
Store fully-cooled cookies in an airtight container at room temperate for up to 2 days, or in the freezer for up to 3 months.
Nutrition Information:
Yield:

19
Serving Size:

1
Amount Per Serving:
Calories:

121
Total Fat:

9g
Saturated Fat:

3g
Trans Fat:

0g
Unsaturated Fat:

5g
Cholesterol:

20mg
Sodium:

89mg
Carbohydrates:

8g
Fiber:

1g
Sugar:

6g
Protein:

2g