Whole 30 desserts are supposed to be off limits, but let's face it: we're human. When you need a little something sweeter and you're tempted to dive in to a bar of chocolate, don't! Instead, try one of these whole 30 dessert options, all of which are compliant and will satisfy your craving without derailing your Whole30.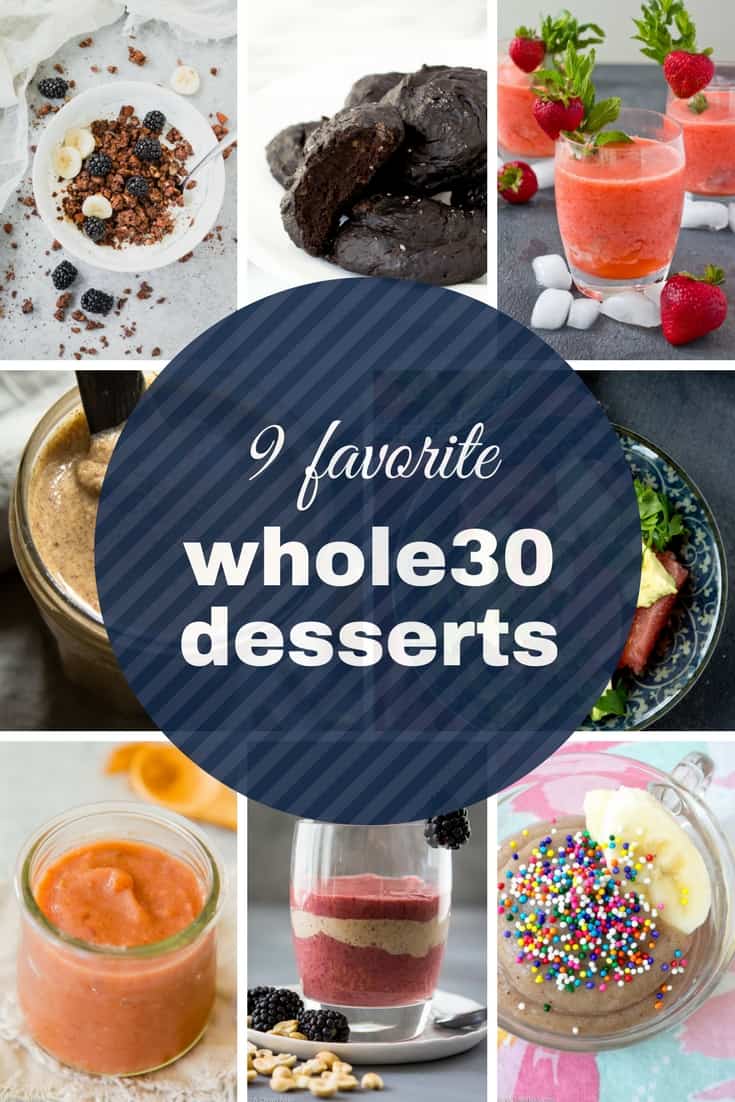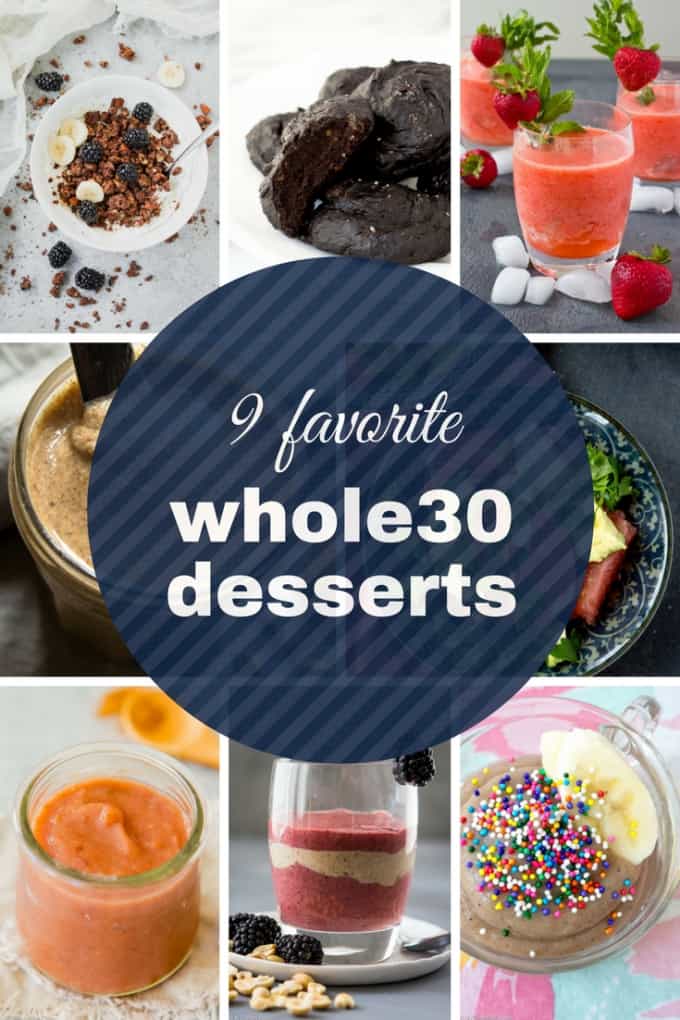 Yeah, I know. I'm currently standing on my front lawn holding my cross-crossed wrists in front of me and waiting for the Whole 30 police.
You're not even supposed to use the word dessert when you're on a Whole30 – or even talking about Whole30! Or THINKING about Whole 30! – let alone eat it.
What can I say? I'm not here to sabotage you. If anything, I'm here to help.
I promise.
Whole30, for those of you who have never had the pleasure, is a very strict 30-day diet designed to be free of all inflammatory foods (gluten, grains, added sugars, dairy, legumes, soy, alcohol, chemicals, additives, and anything artificial or processed). It's intended to be a reset for your body, and/or a way to identify any food reactions or intolerances you may be experiencing. It's not meant to be a lifestyle, by any means, and there's no way I'd even talk here about a diet that forbids you from sweet treats FOREVER.
But, ok, admittedly, you're not technically supposed to have anything even remotely dessert-y, even if its ingredients fall within the Whole 30 guidelines, but I'm here to tell you that you're human, Whole 30 is hard, and it's better to eat a technically-Whole 30-compliant-though-strongly-discouraged form of dessert than depriving yourself and ending up faceplanting into a whole cake or something. (But, for the record, I wouldn't judge you if you wanted to do the cake thing instead.)
But, assuming you're not going the faceplanting route I've included a few satisfying Whole 30 dessert recipes that even the Whole 30 police would consider acceptable last courses to a meal (don't say the "d" word.). Ultimately, there is something here for everyone and, of course, it is all gluten free, grain free, dairy free, and refined sugar free as usual!
Jump to:
3 Ingredient Detox Cookies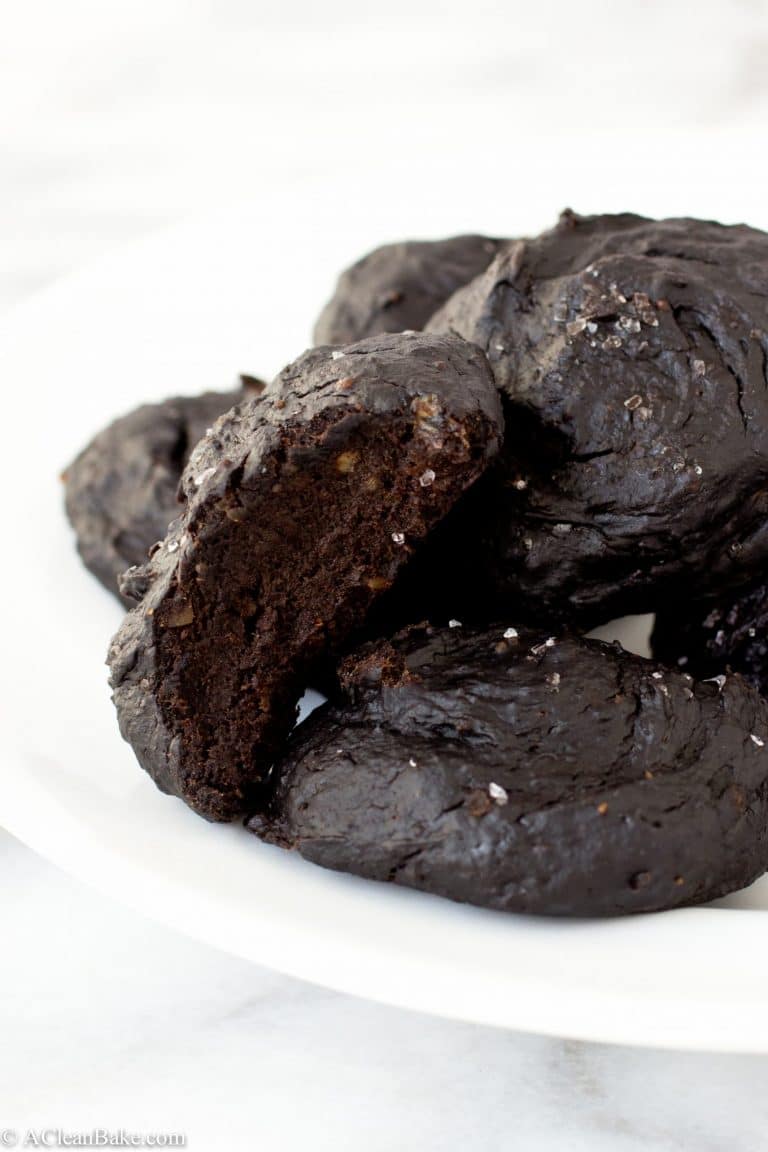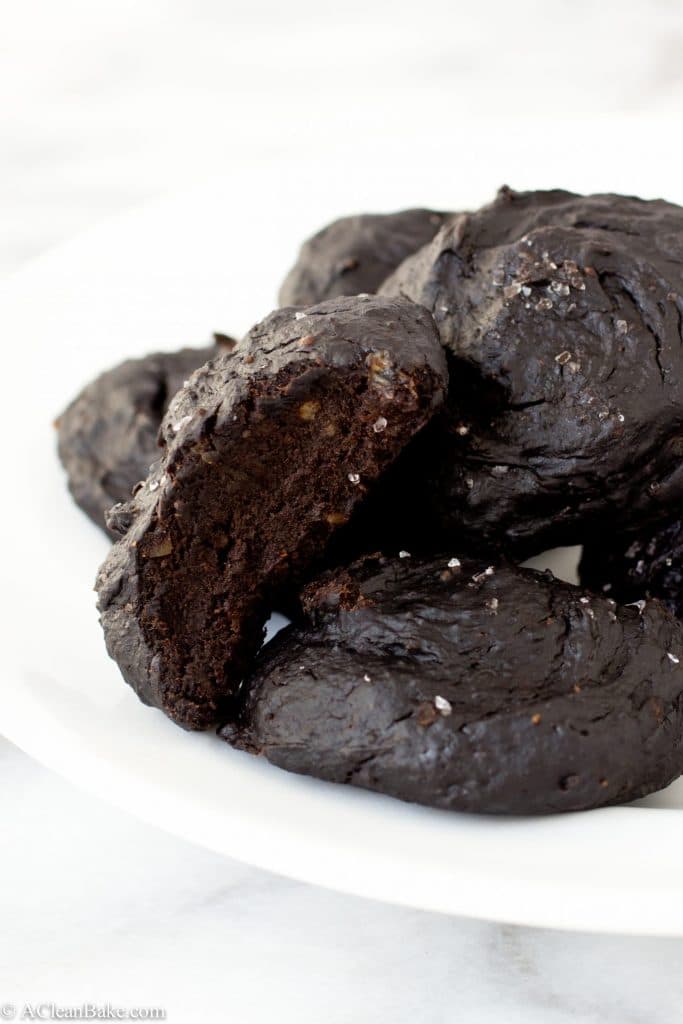 These are one of the most popular recipes on my site, and certainly the most controversial since – for me – they are/were (I'm not on Whole30) a whole30 compliant dessert. That's what works for me; if it doesn't for you, just keep scrolling. But they are made from bananas, cocoa powder, and nut butter, with a sprinkle of salt, and that's it. So it's not too much of a stretch.
Grapefruit and Avocado Salad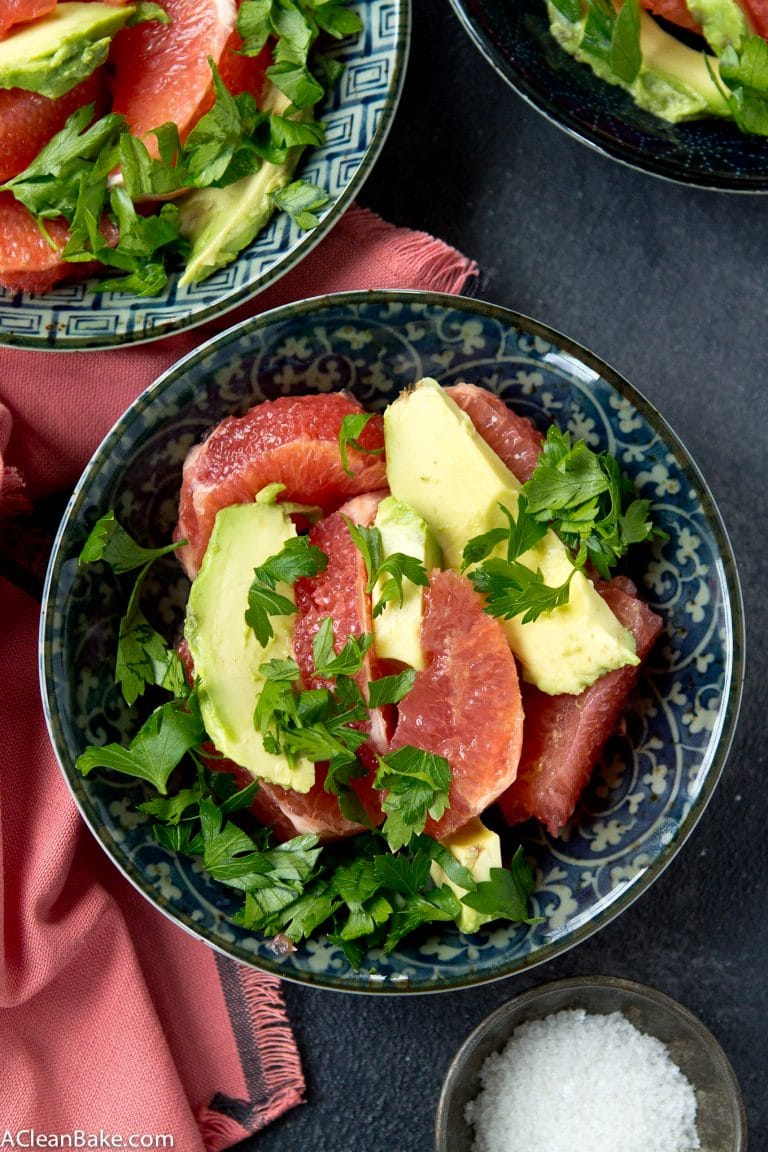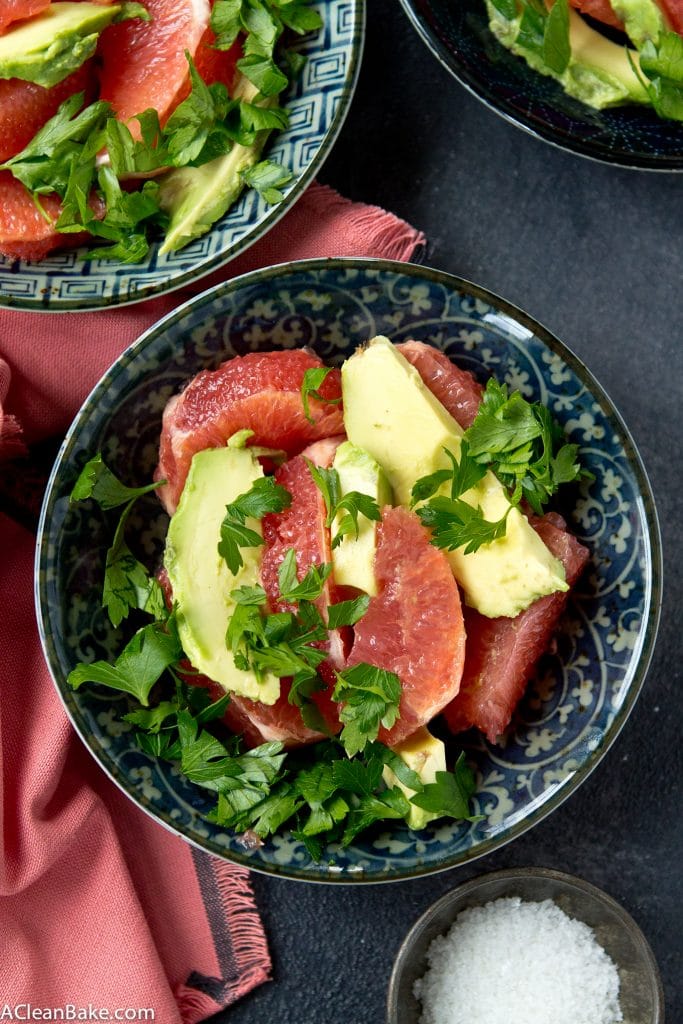 I can hear your skepticism from here. Believe it or not, grapefruit and avocado salad is a simple and refreshing end to your meal and super satisfying. It's fatty (satisfying) and tart, which resets your tastebuds when they may be leaning toward sweet. It is totally Whole 30 compliant, so this is the perfect "dessert", if you're being strict.
Toasted Coconut Almond Butter
When you're craving sweets and can't have them, fat always does a nice job replacing them. Coconut is naturally sort of sweet, and this coconut almond butter is genuinely addictive, Whole 30 or not. However, in the latter case, make sure you don't use any of the optional sweetener called for in the recipe. You won't miss it.
Cinnamon Banana Pudding
This banana pudding is flavored with cinnamon and sweetened entirely by the bananas – so make sure yours are as ripe as they can be. Since Whole 30 forbids alcohol, you can find alcohol-free vanilla extract at Trader Joe's (and online). Also, it goes without saying, but the sprinkles are not compliant.
"Peanut" Butter and Jelly Chia Parfait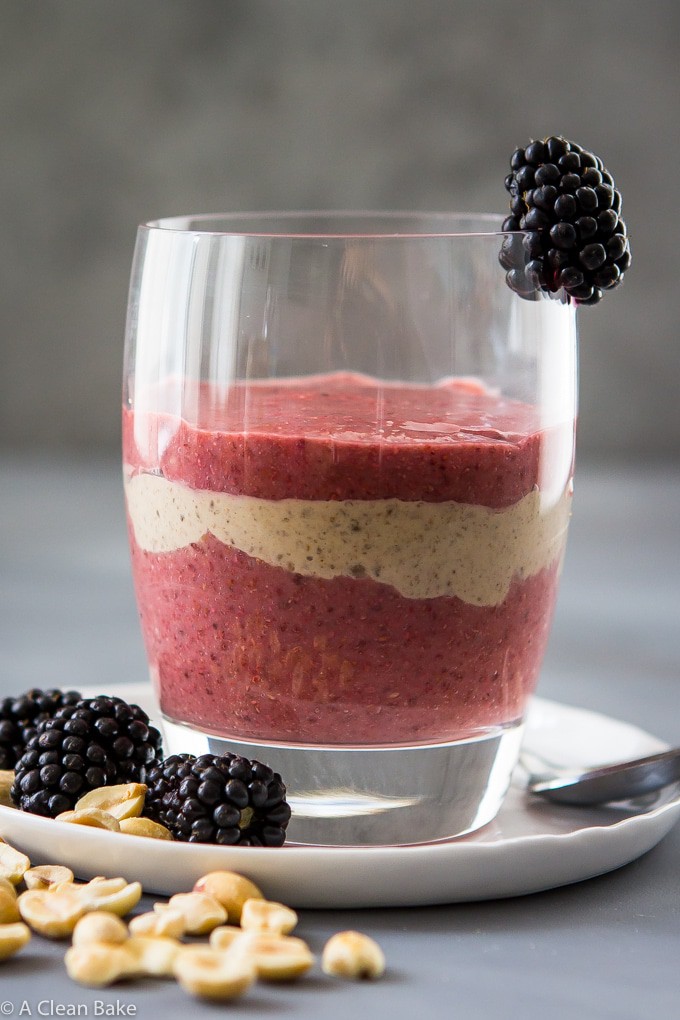 A couple of simple adjustments make this filling and good-for-you parfait Whole 30 compliant: first, omit the stevia. It's optional, anyway, and your sweetness-adjusted taste buds shouldn't miss it. Second, use almond, sunflower, or cashew butter in place of peanut butter, and make sure whatever you're using is unsweetened and contains no additives.
Frozen Strawberry Lemonade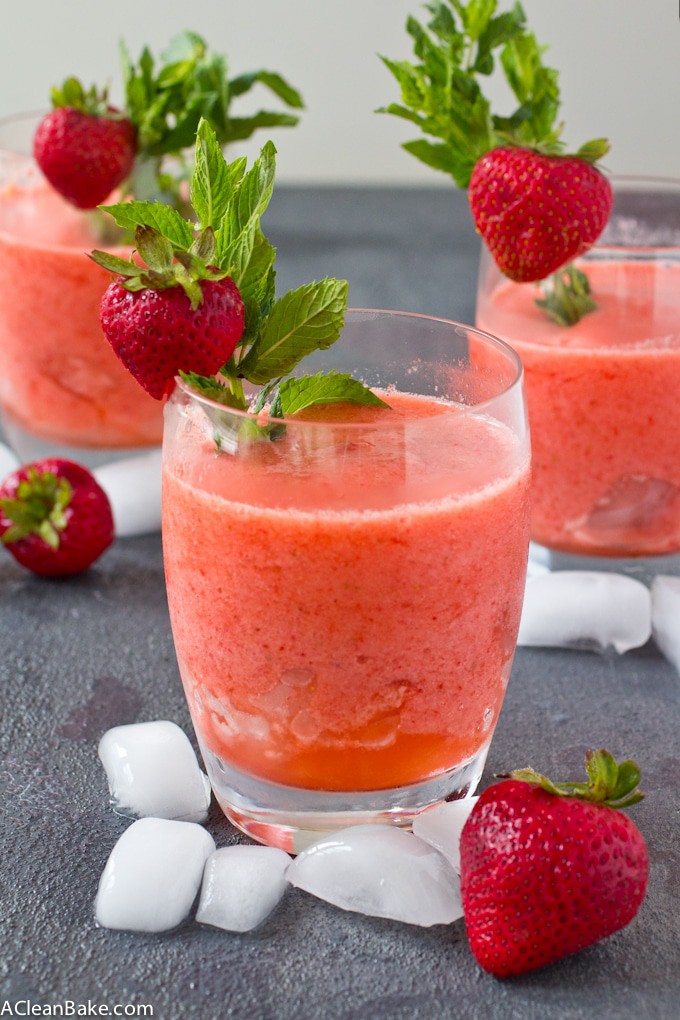 It may be drinkable, but it's refreshing and naturally sweetened. If you're doing a Whole30 in the spring or summer, this is the perfect option for you. Just make sure you omit the sweetener. If it's not sweet enough for you without the stevia, try adding some fruit juice – like fresh orange juice – to taste.
Chocolate Grain Free Granola (Paleola)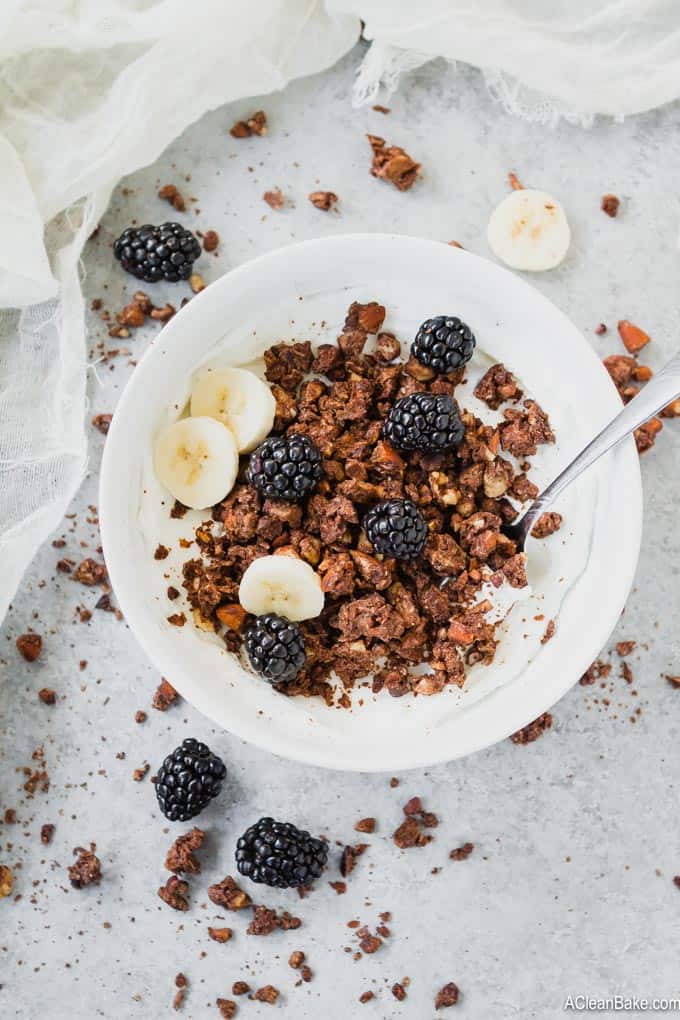 This is great with a little bit of homemade almond milk, or straight out of the jar. For snacking or dessert, I like to cook it in a thick layer, so that it produces larger, snackable clumps. Just make sure, when you're making it, to omit the maple syrup and replace it with an equal amount of nut butter. It won't stick together quite as well, but it will still work fine.
Slow Cooker Apple Sauce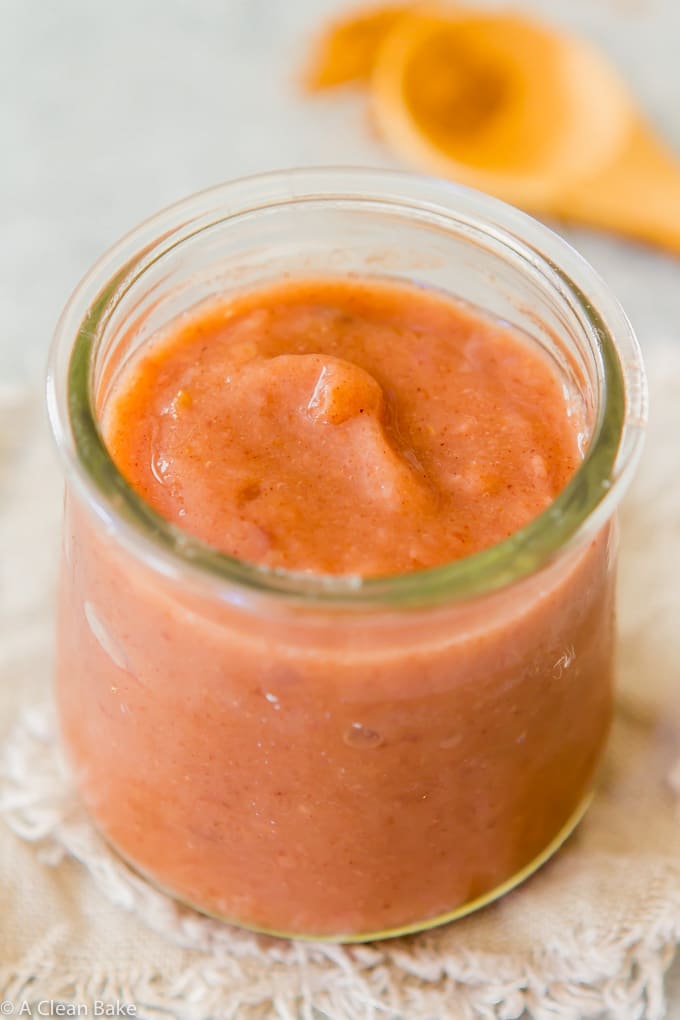 One ingredient, and practically no hands on time make this basically the best recipe ever. You don't have to peel the apples, if you don't want to, but a very quick shortcut when you're prepping the apples is to use your corer/peeler/slicer that you bought that one time for apple pie, and haven't used since.
I make this all the time in huge batches and freeze it. If you want, you can swap out up to half of the apples for pears, prepped the same way as the apples.
Chai Spiced Almond Butter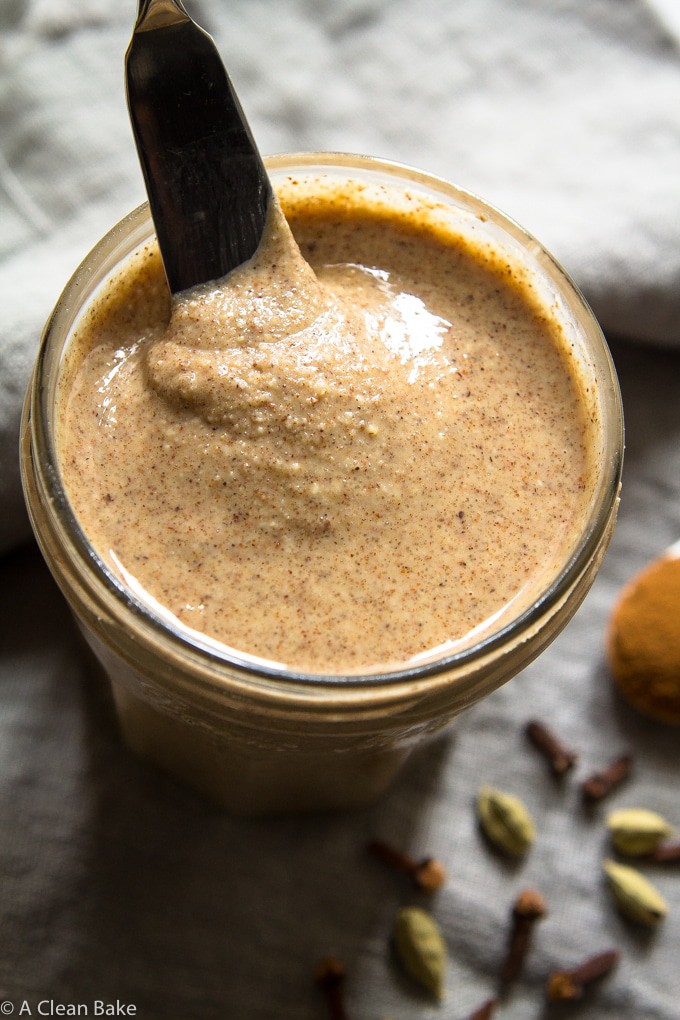 As always, you'll need to omit the sweetener, but the nice thing about almonds + spices is that the combination provides enough flavor and richness to make up for the lack of added sweetness. Keep a batch on hand to eat with apple slices, and you'll never miss "real" dessert.
So those are my favorite 9, but I have a few more bonus suggestions for you!
More Whole30 Dessert Ideas…
Stuff a pitted medjool date with unsweetened almond butter. Eat. Repeat.
Spiced butternut squash puree. You could use sweet potato instead, if you prefer. Just make sure your coconut milk contains no additives or preservatives.
Chop peeled ripe bananas into pieces and freeze. Puree frozen chunks in the blender or food processor to make banana ice cream. Mix it up by adding other frozen fruits, like mango or strawberries, too. Top with unsweetened shredded coconut, if you want.
Sautee sliced apples in coconut oil until tender, and toss with a sprinkle of cinnamon. Top sauteed apples with a dollop of whipped (unsweetened) coconut cream and a handful of crushed pecans.
Almond butter banana bites: top a slice of ripe banana with a dollop of almond butter. Sandwich together with another sliced of banana. Freeze if you want (like this recipe, but without the chocolate). You can use coconut butter instead of almond butter, for some variety.