Homemade almond milk is so easy to make with only a few household ingredients, and you wouldn't believe the difference in flavor compared to store bought!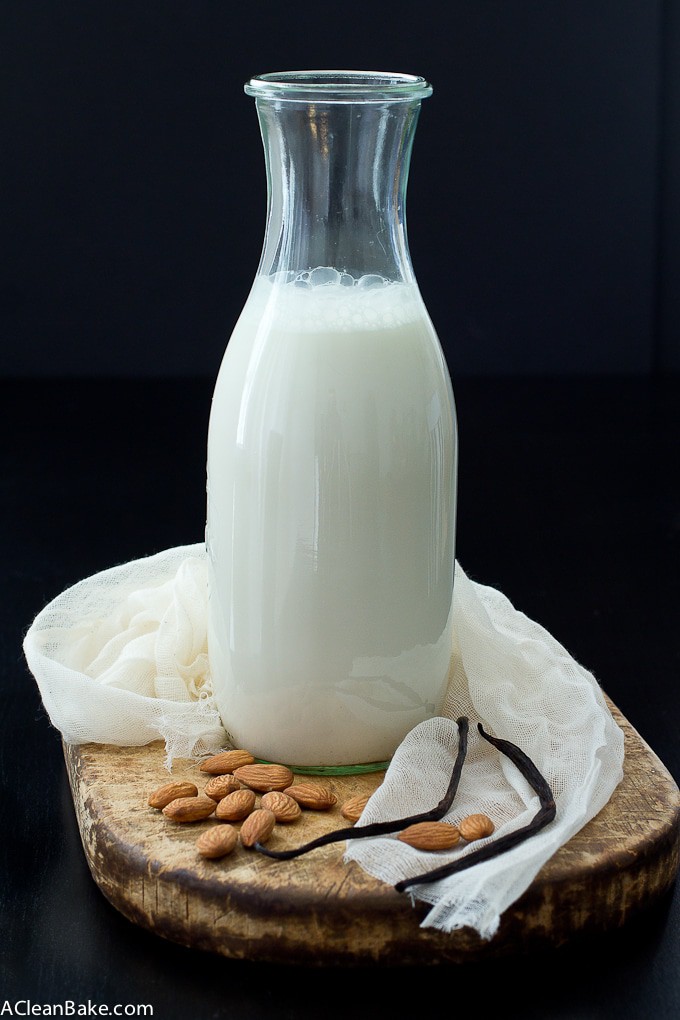 It's been eleven and a half lifetimes since I've made us a drink. This isn't a *fun drink* (wink wink) though. Sorry. Depending on your point of view, this drink can be many things,  but I'm guessing a shmancy change of pace ("Homemade almond milk! How decadent!") or a hippie wet dream ("break out your Birkenstocks and grab a mason jar of homemade almond milk!") are probably the front runners.
There is also, undoubtedly, a subset of you scoffing at my disappointing lack of originality, and to all of you in that camp, I say seriously, what hasn't the internet already covered. When nothing is original anymore, what's the harm in another homemade almond milk recipe? You know what? Don't answer that. Cause we're going there regardless!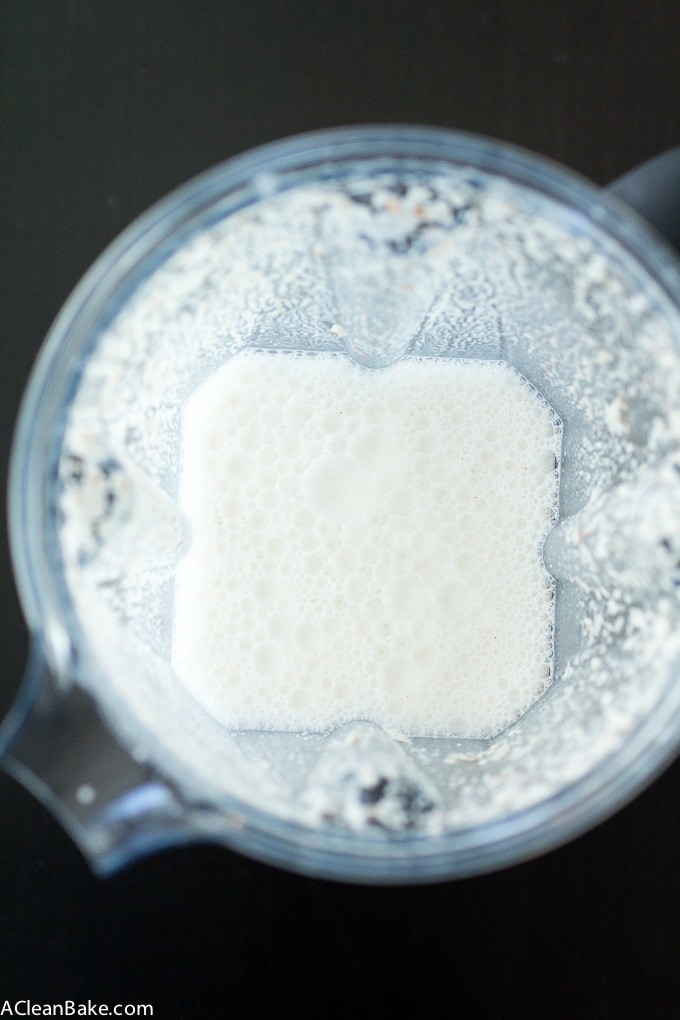 As you may have guessed, this is less a recipe than a guideline/method/information-sharing article thingie. But, despite the soul-suckingly boring narrative that accompanies it (my bad), the beverage itself is anything but. I've read – as I'm sure you have, too – over and over again about the difference between homemade and store bought almond milk and I hate to admit that I was awfully quick to dismiss the magnitude of difference that everyone to as, as best, hyperbole. Because the internet is a crowded place full of adorable cat videos and addictive listicles, so you have to say something to make a humble recipe for homemade almond milk compelling. That's all it is, right? Oh, so wrong.
Granted, whether in a carton on a grocery store shelf or fresh from your blender, it's still technically just an almond's discarded bathwater. But when you make it at home without all of the homogenization and shelf stability and additives for texture and whatnot, when you strip it down to its bare essentials (nuts, water, and maybe a little salt or vanilla), it becomes something… more.  Something rich  and silky and creamy, yet entirely fluid, that you just want to pour over everything or, better yet, just bathe in for the rest of your life (maybe those almonds are on to something).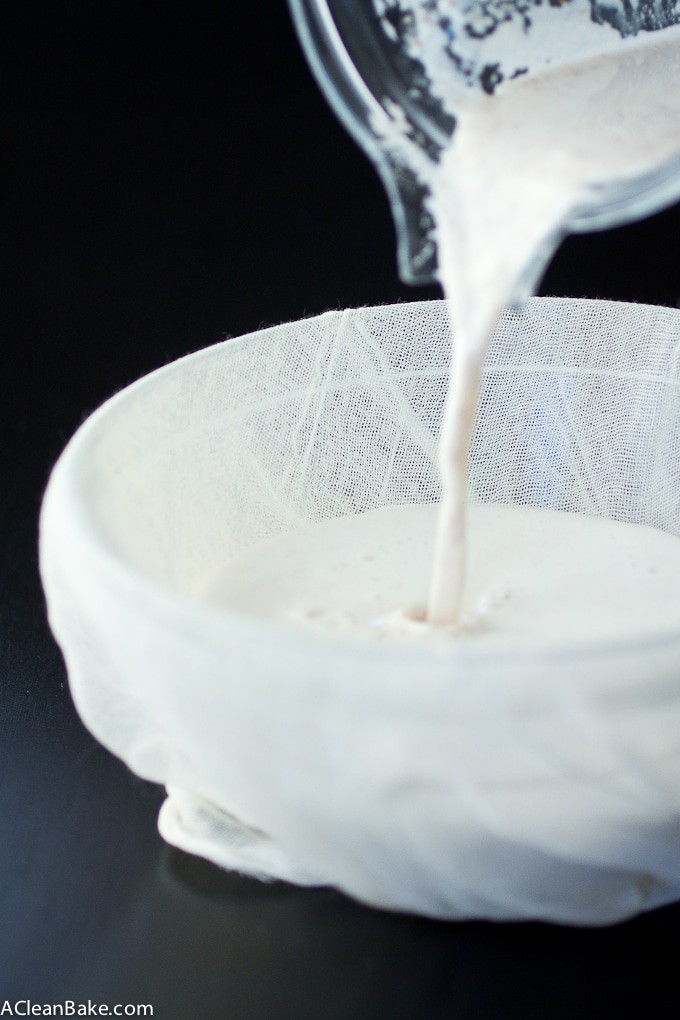 So, it's worth trying to make at home, at least once, just so you understand the difference when you're drinking your shelf stable carton-ed almond milk (as I, most of the time, do, so no judgement). In order to make it all that it can be,
I have three tricks that you can and should feel free to steal:
First, soak your almonds ahead of time
Second, use a really powderful blender
Third (and this is the one that, I hope, sets me apart ever so slightly from the overwhelming number of repetitions of this insultingly simple recipe), replace some of your almonds with cashews , whose creamy fattiness makes your milk taste richer and more like whole milk than the watered down skim that you might have come to expect from almond milks, at least of the commercial variety.
On a related note, I know I say this often, but like all few-ingredient recipes, make sure you're using top-quality nuts and vanilla for this recipe since eat of those ingredients has such a substantial impact on the end result of the milk. I recommend Ellyndale Foods vanilla extract (which I use in nearly everything) and Now Foods raw almonds and cashews (I almost always use this brand of nuts when I cook with nuts, so you've probably heard this name before!). Scroll down below the recipe for links to where to buy all of these products, plus the cheesecloth that you'll need for the homemade almond milk.
So, as usual, I've managed  to write a striking volume of words about a recipe that truly only needs two ingredients (if you could the water), and the rest is really gravy. I hope that, if nothing else, my embarrassing level of enthusiasm will convince you to give this recipe a try, at least out of curiosity, and barring that, it only takes a few minutes, so what do you have to lose? (sales person, I am not.)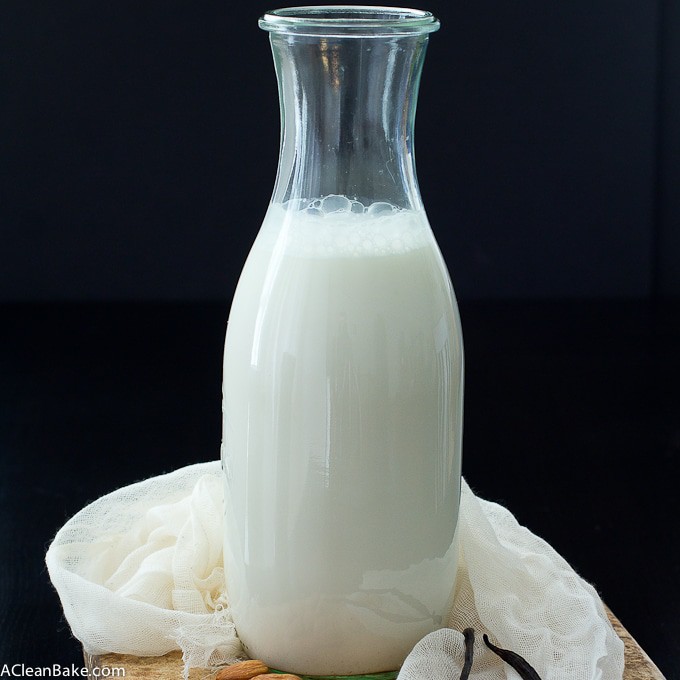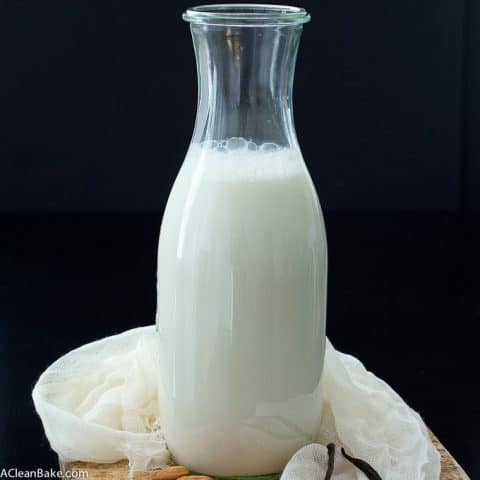 Homemade Almond Milk
Homemade almond milk is so easy to make with only a few household ingredients, and you wouldn't believe the difference in flavor compared to store bought!
Ingredients
1 1/2 cups raw almonds
1/2 cup cashews, optional, or an additional 1/2 cup of almonds
6-7 cups filtered water + more for soaking, divided
1 teaspoon vanilla extract
Honey or stevia to taste, optional
Pinch of salt, optional
Instructions
Place the almonds and cashews (if using) in a small bowl and cover with boiling water. Allow to soak for 30-45 minutes.
Drain the nuts and discard the soaking water.
Transfer the nuts to a high speed blender and add 4-5 cups filtered water, so that there is about twice as much water in the blender as nuts, and the vanilla.
Blend on high speed until the nuts are pureed into tiny bits - almost like almond flour.
Line a large mixing bowl with a large piece of clean cheesecloth. Wrap it around the sides of the bowl and secure it under the bowl or secure it to the sides of the bowl with a couple of binder clips. Either way, make sure it is not going anywhere.
Carefully pour the contents of the blender over the cheesecloth, then carefully gather the four corners of the cheesecloth, twist a couple of times and lift to drain.
Very carefully, squeeze the cheesecloth to drain all of the liquid into the bowl. Discard the cheesecloth and its contents (or a quick google search should provide some recipes that use up almond milk pulp).
Add 1-3 more cups of water to the bowl to thin out the milk to your desired consistency.
Taste the milk in the bowl and add sweetener to taste, if desired. If you add sweetener, I'd also suggest adding a small pinch of salt, but it is up to you.
Pour the milk into a pitcher and drink immediately or store in the refrigerator.
Notes
Store in an airtight container in the fridge for up to about a week, though the sooner this milk is consumed, the better. You may need to stir or shake gently before you drink it, if the milk starts to separate (remember - this version does not contain additives to help it maintain a uniform consistency!).
Yield: 6-7 cups almond milk
Nutrition Information:
Yield:

6
Serving Size:

g
Amount Per Serving:
Calories:

266
Saturated Fat:

2g
Sodium:

14mg
Carbohydrates:

11g
Fiber:

4g
Sugar:

2g
Protein:

9g
[wprm-nutrition-label align="center"]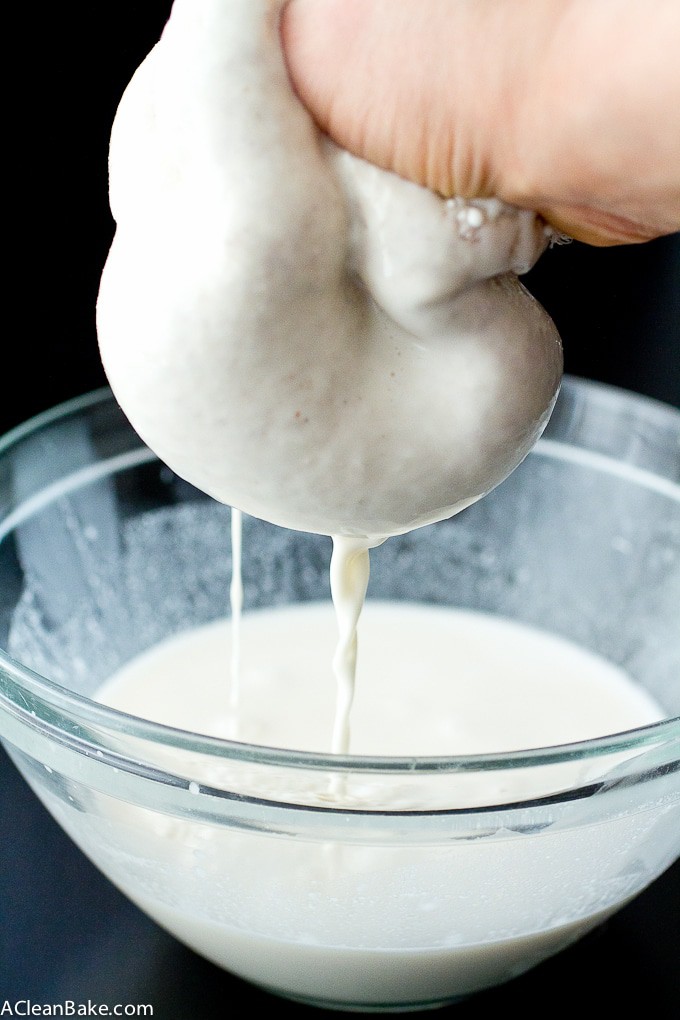 Thank you to Now Foods for providing the ingredients that inspired this delicious recipe. This post contains affiliate links, which means that if you click through and purchase a product, A Clean Bake receives a small commission, which goes toward continuing to bring you delicious, healthy recipes every week. This does not affect the price you pay. Thanks for supporting A Clean Bake!