No-Bake Chocolate Macaroons take a few minutes and a few stirs to transform a handful of pantry ingredients into a decadent chewy chocolate cookie!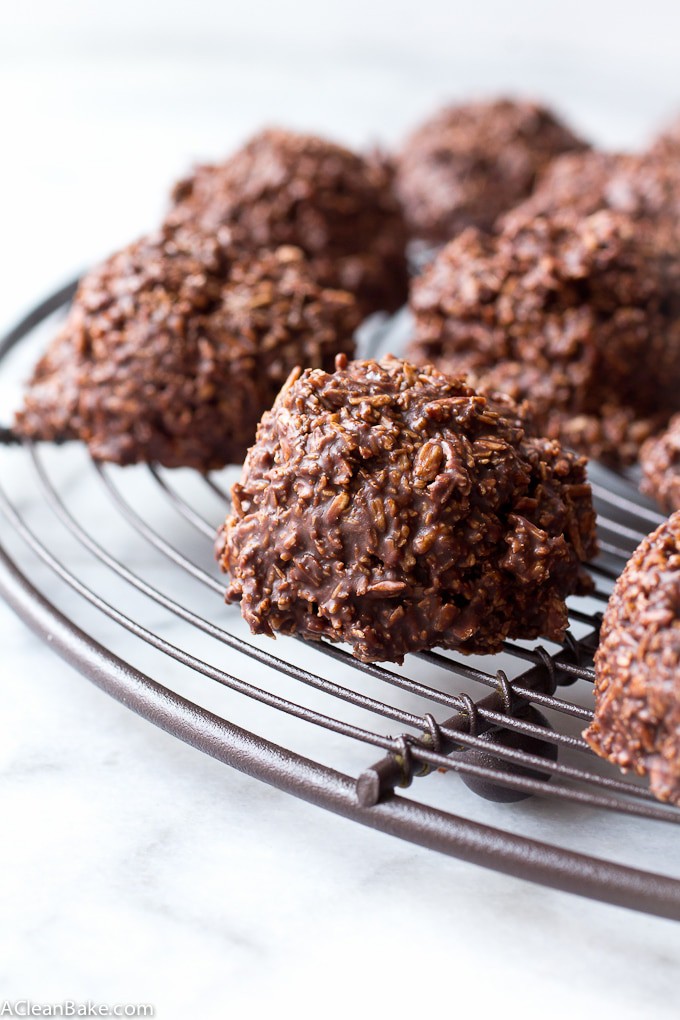 Hallelujah, praise your deity of choice, we have chocolate! It has been an alarmingly long time since we've shared a chocolate recipe together. I'm so glad we're fixing this, aren't you? And just in time for Passover.
What does chocolate have to do with Passover, you ask? Nothing at all, but chocolate macaroons do. To clarify, these are macaroons – unleavened coconut cluster cookies – not macarons – finicky, delicate French egg white pastries sandwiched together with a sweet filling. There is a very distinct difference, and if you're attending a sedar this week/end, it's an important one. Macaroons are a legal and, let's face it, beloved addition to the Passover table, and this version sets itself apart even further because neither eggs nor baking nor a long list of ingredients are required. In fact, all you need is chocolate, coconut oil, unsweetened shredded coconut (unsweetened can be harder to find; this is the brand I use), vanilla extract, and a pinch of salt, which barely even counts.
If you're a person who is intimidated by baking, or you simply need to make something fast, this slightly non-traditional cookie would be ideal for you to make for your sedar.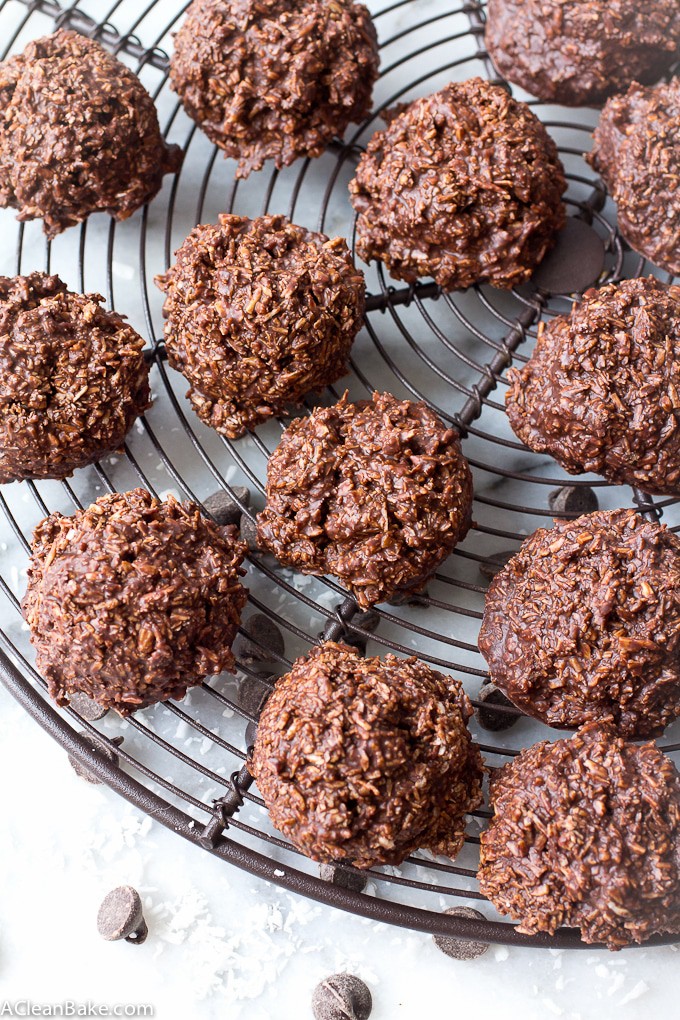 I don't want to overstate the Passover connection, though. I first made these cookies because I was just not in the mood to turn on the oven, and needed a little something sweet, and quick. They take about 5 minutes to throw together (not counting the chill time in the fridge – tease, I know) and all but demand that you lick melted chocolate off of the spoon and your fingers. What's not to love?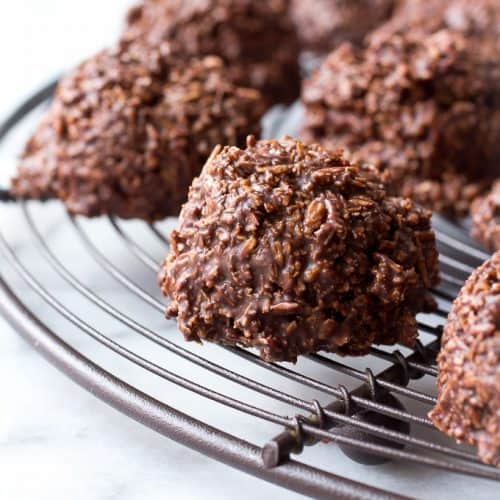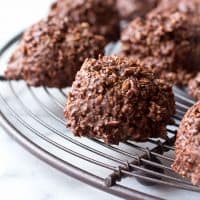 No-Bake Chocolate Macaroons
No-Bake Chocolate Macaroons take a few minutes and a few stirs to transform a handful of pantry ingredients into a decadent chewy chocolate cookie!

Print
Pin
Rate
Instructions
Line a cookie sheet with wax paper, parchment paper or a

nonstick pad

and set aside.

In a large, microwave-safe bowl, or using a double boiler, melt together the chocolate and coconut oil. Stir until smooth and well-combined.

Stir in the vanilla and salt.

Fold in the coconut until well combined.

Scoop 2-3 Tablespoon portions on to the prepared baking pan and transfer to the refrigerator to cool and solidify, about 1-2 hours.
Notes
Store leftovers in an airtight container at room temperature for up to 5 days, or in the freezer for up to 3 months.
Yield: 9 cookies.
Nutrition
Calories:
118
kcal
|
Carbohydrates:
7
g
|
Protein:
1
g
|
Fat:
9
g
|
Saturated Fat:
8
g
|
Sodium:
13
mg
|
Potassium:
105
mg
|
Fiber:
1
g
|
Sugar:
3
g
|
Vitamin C:
0.1
%
|
Calcium:
3.2
%
|
Iron:
2.1
%
Nutrition Facts
No-Bake Chocolate Macaroons
Amount Per Serving
Calories 118 Calories from Fat 81
% Daily Value*
Total Fat 9g 14%
Saturated Fat 8g 40%
Sodium 13mg 1%
Potassium 105mg 3%
Total Carbohydrates 7g 2%
Dietary Fiber 1g 4%
Sugars 3g
Protein 1g 2%
Vitamin C 0.1%
Calcium 3.2%
Iron 2.1%
* Percent Daily Values are based on a 2000 calorie diet.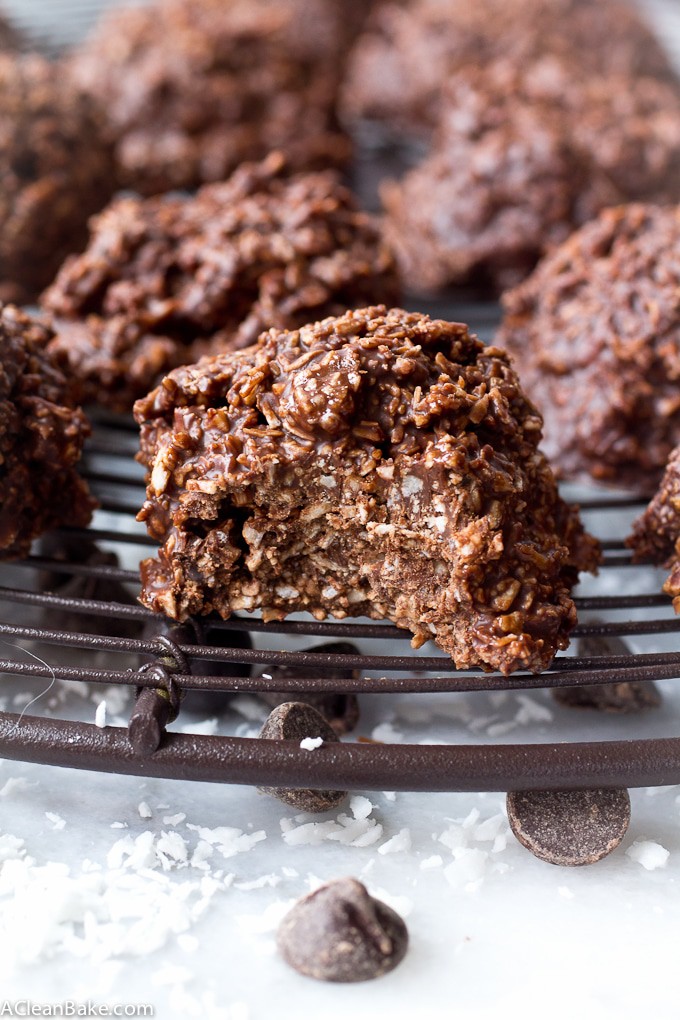 Thank you to Now Foods for providing the ingredients that inspired this delicious recipe. This post contains affiliate links, which means that if you click through and purchase a product, A Clean Bake receives a small commission, which goes toward continuing to bring you delicious, healthy recipes every week. This does not affect the price you pay. Thanks for supporting A Clean Bake!