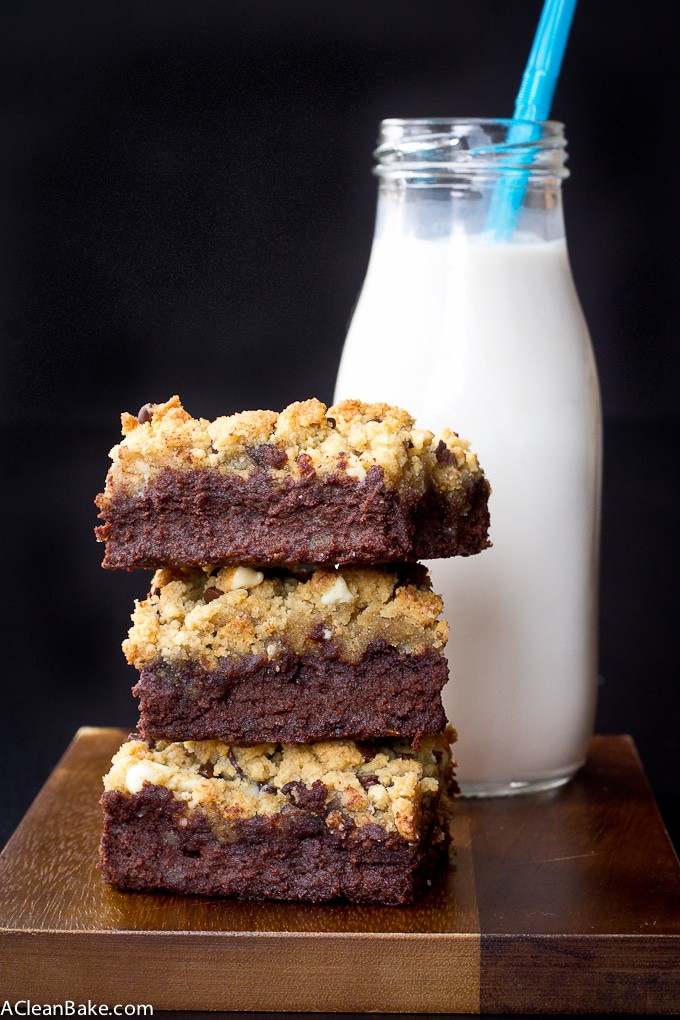 You wouldn't know it by looking at these, but they were a labor of love.  Not the recipe, per se; the recipe is actually very straightforward and requires two bowl, a spoon and a baking pan (you know how I love a simple recipe), but the concept. See, I made this recipe in honor of someone pretty darn special: my friend Meriem. When I was planning my wedding, Meriem was my one-woman cheerleading squad. When I was tired and overwhelmed with details, Meriem reminded me that even the tiniest details were important and were one step closer to marrying a pretty awesome guy. She even organized the stealthest of stealth virtual bridal showers (seriously, I had NO idea) and totally knocked my socks off. What can I say? The woman loves weddings.
And now,  she gets to plan her own!
Next month, Meriem is marrying an amazing man, and the minute I heard, I immediately started covertly planning the virtual bridal shower I had been dying to throw her ever since she surprised me with mine. The two of them (I'm withholding her fiance's name since I'm not sure where he stands on the whole put-your-life-on-the-internet thing…) are so happy together, so great together, so well-matched, that they are just like this dessert: take one beloved flavor – dense, rich, chocolatey-to-the-end brownies – and pair it with another awesome flavor – soft, sweet dough studded  with chewy chocolate chips – and you get something that is so much more than the sum of its parts.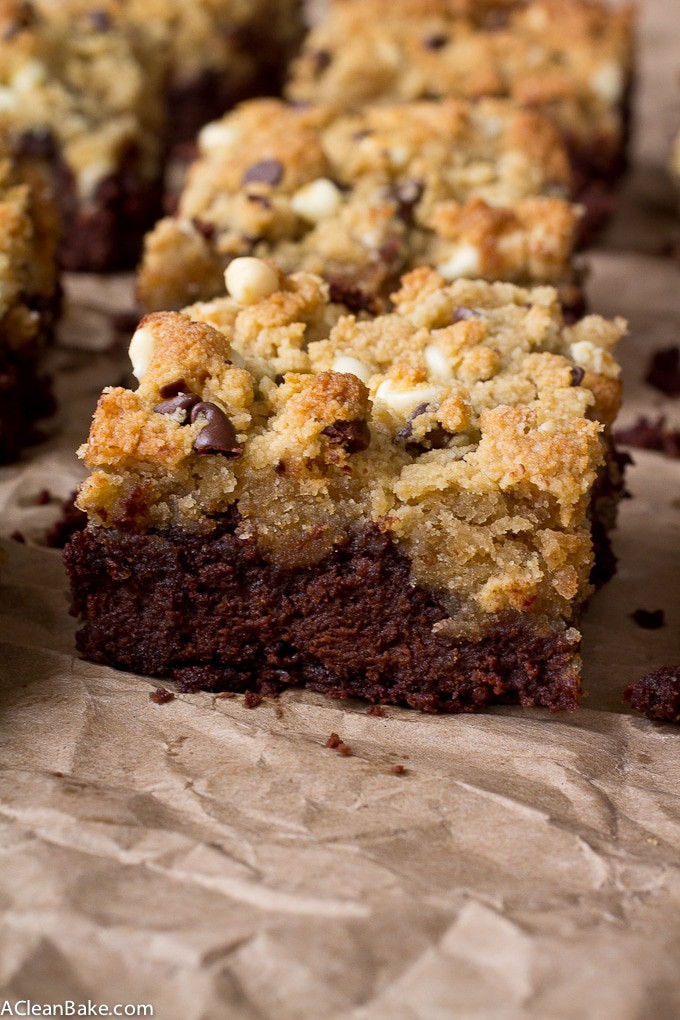 From my first bite – and this is no exaggeration – I said to myself "this is the best thing I have ever baked". And that's saying something, given how many baked goods come out of my kitchen on a weekly basis. Then I ate 2 more and had to quickly hide the pan from myself so that I didn't make myself sick (um, yeah. They're RICH). So, do  yourself a favor and make these when you have friends over or an especially strong wave of self control  comes over you.
Sometimes the best recipes are the hardest to write about because, quite frankly, they defy words. I could say these are decadent, rich, intensely chocolatey, and melt in your mouth. But how many times have you heard a dessert described in some variation of those terms? A million, I"m sure. No, words won't do here. It's nothing but the best, most description-defying treats for my friend Meriem, so I guess you'll just have to try these for yourself to see what all of this fuss is about.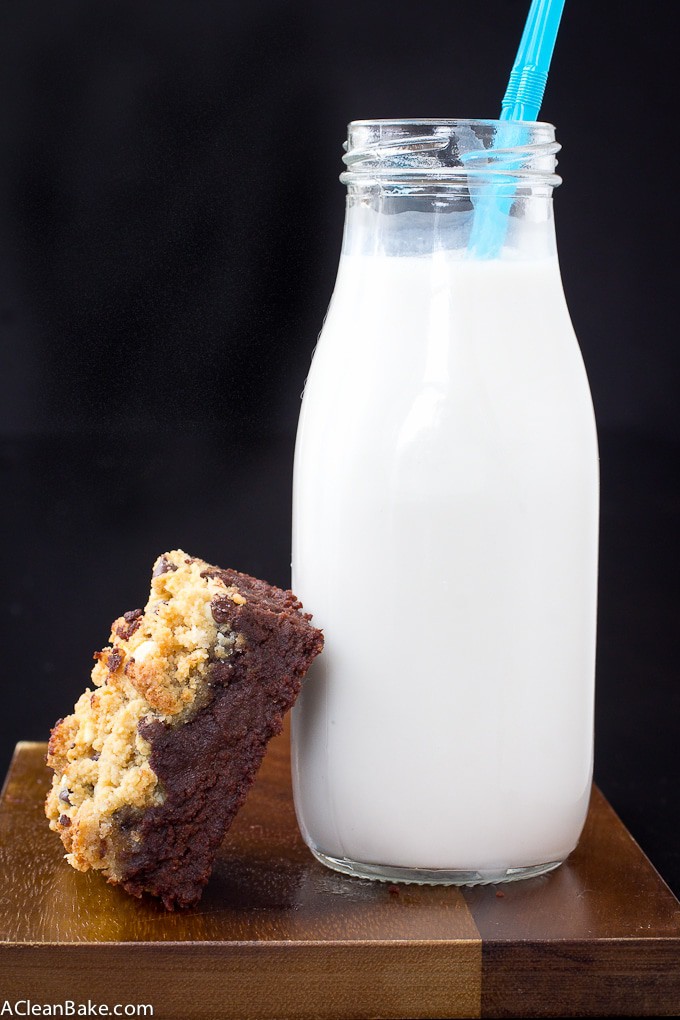 And while you're at it, make sure you scroll down to check out all of the other treats that pair "made for each other" flavors to celebrate Meriem and her husband-to-be!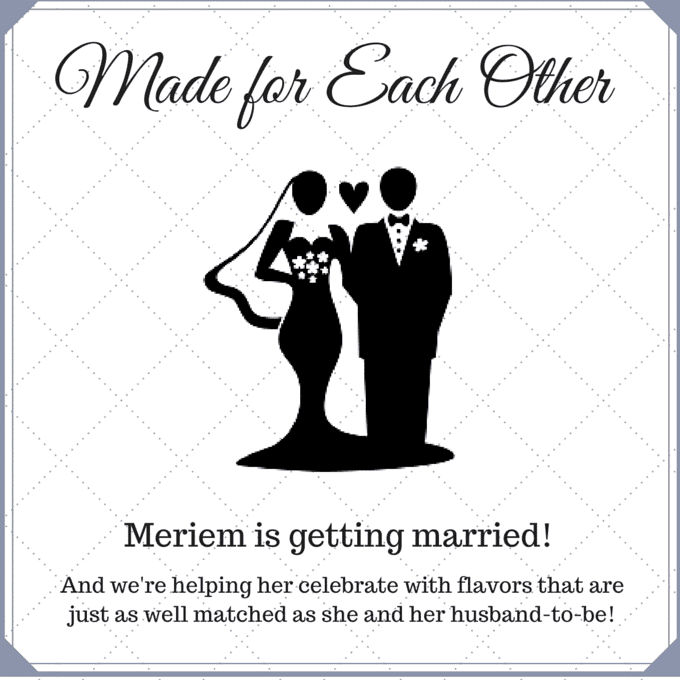 A Virtual Bridal Shower Menu:
Yellow Cake Cupcakes with Chocolate Buttercream for Two from An Edible Mosaic
Mocha Cupcakes  from  Baking a Moment
Peanut Butter and Chocolate Cupcakes from Blahnik Baker
Cheese and Charcuterie Board from Hall Nesting
Mini Lemon Cheesecakes from What Jessica Baked Next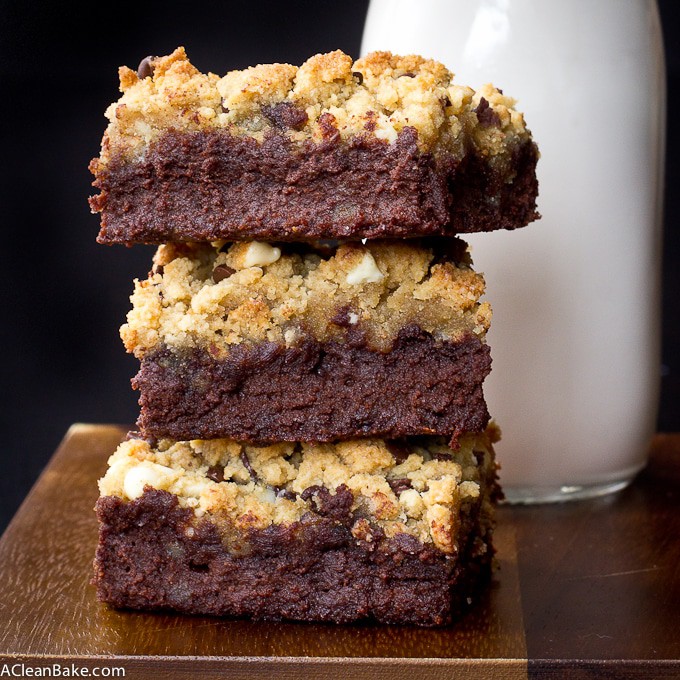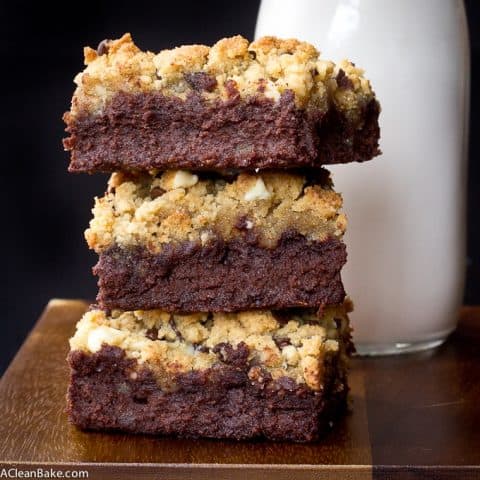 Brookies (Brownie-Cookie Hybrid Bars)
No need to decide between a brownie and a cookie. Try paleo brookies for the best of both worlds! (gluten free, grain free, paleo-friendly, dairy free)
Ingredients
Ingredients for the brownie layer
1/2 cup dark chocolate chips, (dairy-free, if necessary)
6 Tablespoons coconut oil or butter/dairy-free butter
1 large egg + 1 large yolk, beaten
1/2 tsp vanilla extract
1/2 cup no-sugar-added applesauce
3/4 cup blanched almond flour
1/2 cup cocoa powder
3 Tablespoons granulated monk fruit sweetener, or granulated stevia
1/4 teaspoon salt
Ingredients for the cookie layer
1 1/2 cups blanched almond flour
1/4 cup coconut flour
2 Tablespoons granulated monk fruit sweetener , or granulated stevia
1/2 teaspoon baking soda
1/4 teaspoon salt
1 large egg
1/4 cup honey or maple syrup
1/4 cup coconut oil or butter/dairy-free butter,, melted and slightly cooled
1/2 cup chocolate chips, (dairy free, if necessary)
Instructions
Preheat the oven to 350F. Spray or grease an 11"x7" oven safe pan and set aside.
Prepare the brownie layer: in a large, microwave-safe bowl, or in a double boiler, melt the chocolate chips and coconut oil or butter.
Stir to combine and cool slightly, so that you can hold your finger in the chocolate for 5 seconds comfortably.
Stir in the egg, yolk, vanilla, and applesauce.
In a separate bowl, whisk together the almond flour, cocoa powder, sweetener, and salt.
Pour the dry ingredients into the wet ingredients and stir to combine.
Transfer the brownie layer into the prepared pan and smooth into an even layer. Set aside.
Make the cookie layer: In a large bowl, whisk together the almond flour, coconut flour, sweetener, baking soda, and salt and set aside.
In a separate bowl, whisk the egg, then whisk in the honey or maple syrup and the coconut oil.
Pour the wet mixture into the dry mixture and stir to combine. Then, fold in the chocolate chips.
Use your (clean!) hands to sprinkle the chocolate chip cookie mixture, which will be crumbly, in an even layer over the brownie batter. Pat it down very gently.
If you want a more solid layer, you can flatten it more. Make sure you're covering the brownie batter evenly, and getting both batters into the corners of the pan so that it will bake evenly.
Bake for 25 minutes until the edges of the cookie dough start to become golden, then place a piece of tinfoil over the top of the pan and bake for an additional 15-20 minutes, or until a tester comes out mostly clean (there will be a bit of brownie residue on it, but that's ok).
Cool completely before slicing into bars. For easiest slicing, chill the entire pan in the fridge.
Notes
I used mini chocolate chips, but if regular size chocolate chips are all you have on hand, feel free to use them. I also used some white chocolate chips - because this is for a wedding shower! - but you certainly don't have to. Just use what you have on hand.
If you only have an 8"x8" pan, you can use that instead, but your bars are going to be thicker and need additional baking time.
Yield: 15-16 bars
Nutrition Information:
Yield:

16
Amount Per Serving:
Calories:

264
Saturated Fat:

11g
Cholesterol:

24mg
Sodium:

130mg
Carbohydrates:

18g
Fiber:

3g
Sugar:

11g
Protein:

5g
[wprm-nutrition-label align="center"]
Pin for later: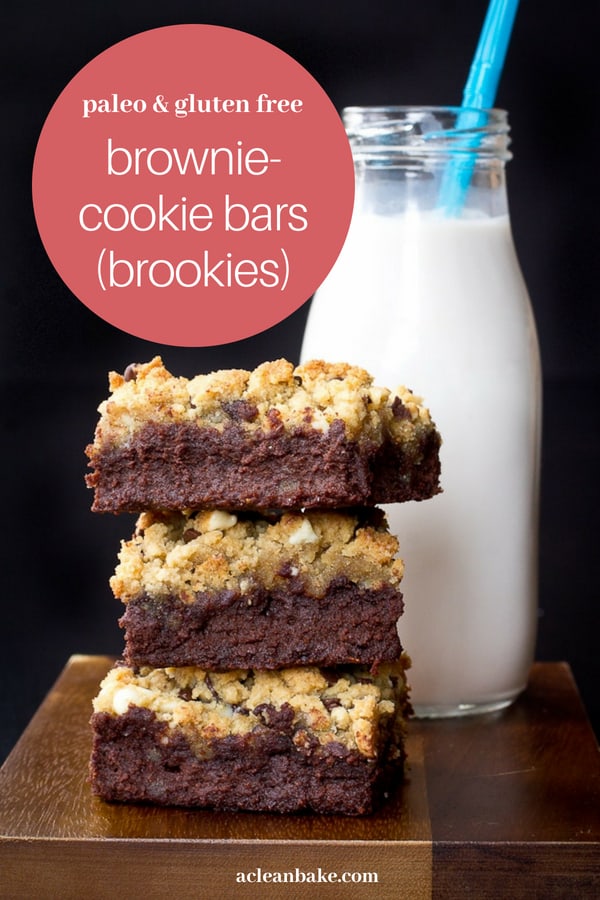 This post contains affiliate links, which means that if you click through and purchase a product, A Clean Bake receives a small commission, which goes toward continuing to bring you delicious, healthy recipes every week. This does not affect the price you pay. Thanks for supporting A Clean Bake!