Vegan and Paleo Homemade Sugar Free Dark Chocolate. You wouldn't believe how easy it is to make homemade chocolate with just a handful of clean ingredients!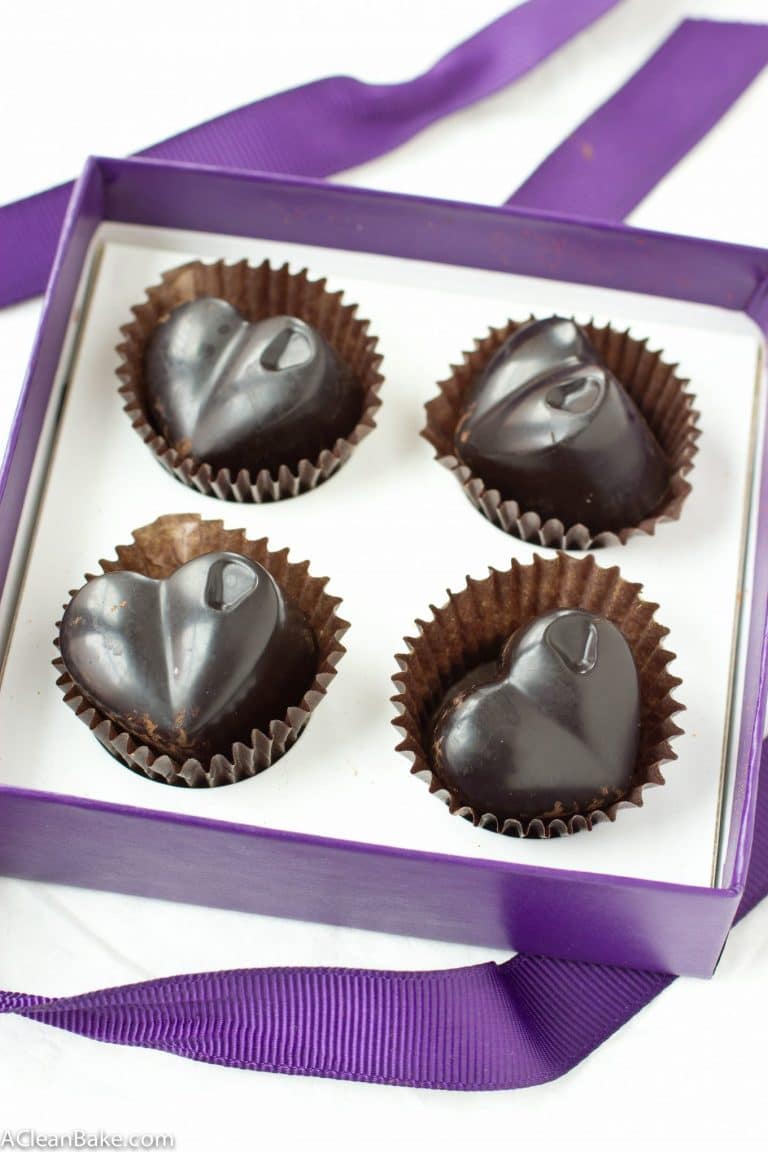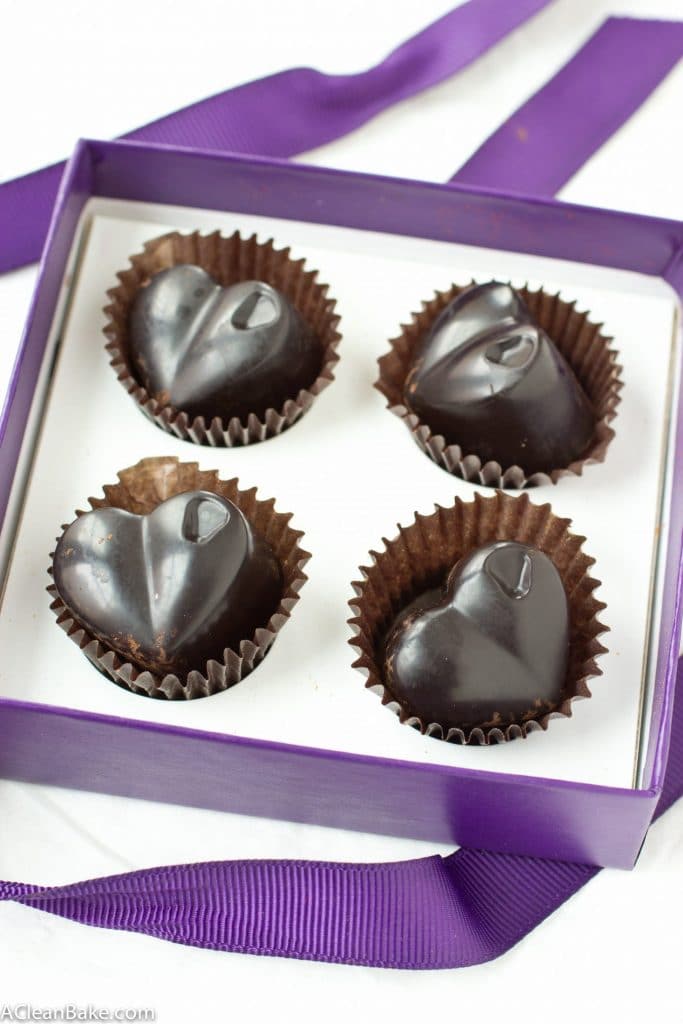 While I have nothing at all against someone buying me a lovely box of chocolate for Valentine's Day,
my finicky stomach
has forced me to resort to what I thought was extreme measures this year: making my own chocolate. It sounds bananas.
Sugar Free Dark Chocolate is Incredibly Easy To Make – At Least It Should Be
Did you even know you could make chocolate at home from scratch? What's more, did you know it takes 5 minutes???? Well, then there is a little more time required for it to set, but in terms of hands on time, it goes mix, stir, pour, [wait,] eat.
Chocolate is nothing more than cocoa, cocoa butter, sweetener, and flavorings, like salt and vanilla, which enhance the rich flavor of the chocolate. At least it should be. That's all you need to make truly outstanding dark chocolate. But most manufacturers tinker with that formula, for one reason or another.
When you buy chocolate chips, or even many chocolate bars, they contain additives like soy lecithin to make them shelf stable or hold a shape (like chips that stay chip-shaped when you heat them) or resist "bloom" – that light brown or white-ish powdery look that chocolate gets when it is old or freezer burned or heated and cooled too quickly. You'll see a teeny bit of it on these chocolates, but it doesn't affect the taste or enjoyment of the chocolate in the slightest. And it's a sign of the simple composition of these chocolates.
Milk Chocolate Lovers Need Not Apply
You're either a dark chocolate person or a milk chocolate person. If you're a milk chocolate person, you will NOT like this chocolate. I'm sorry, but it's the truth.
This is designed to be dark chocolate, meaning heavy on the cocoa and light on the sweetener. The high cocoa-to-sweetener ratio means you can taste the complex, almost-(pleasantly-)burned flavor of the bitter roasted cocoa. But if you're not a person who loves 72%-85% dark chocolate bars, this might not be the chocolate for you. If you are, you'll love the great taste of this pleasantly bitter homemade sugar free dark chocolate.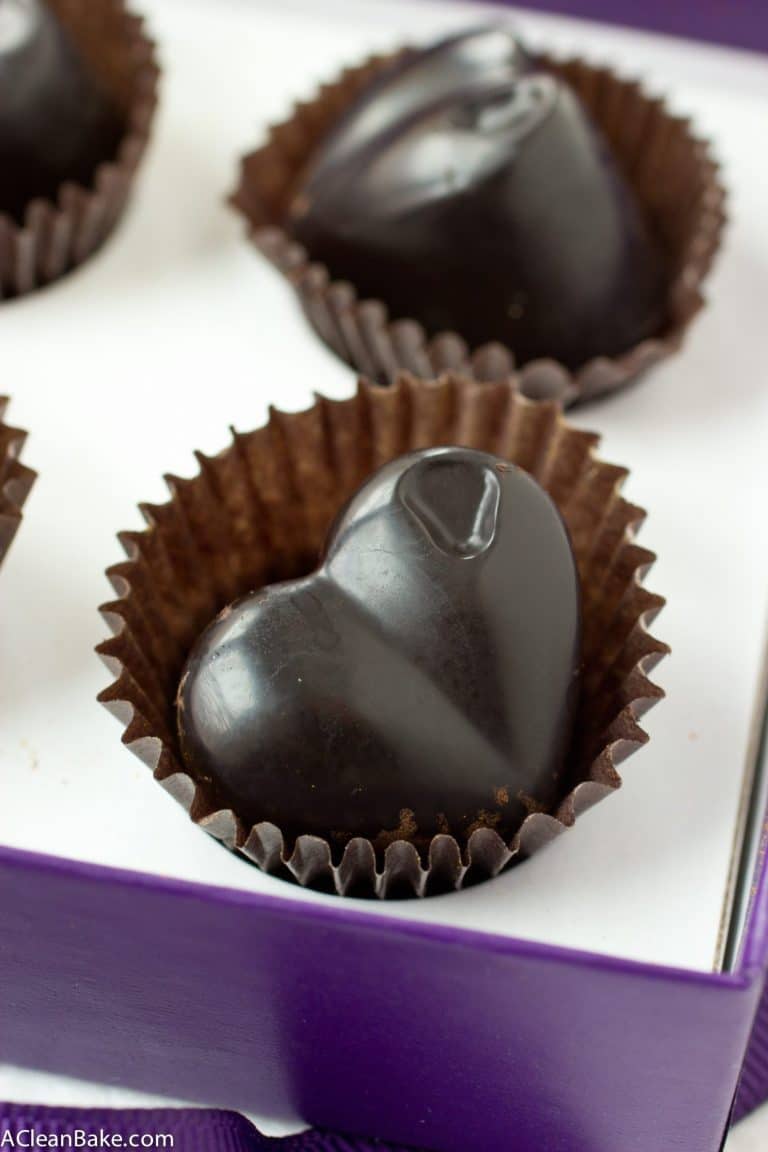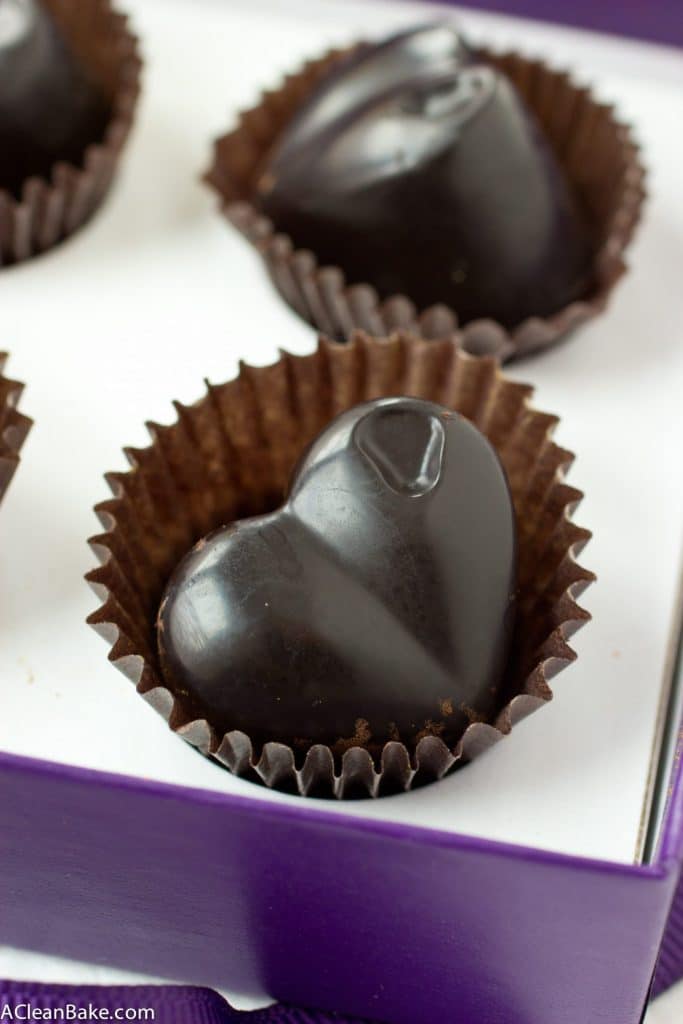 This is the Chocolate For Everyone Else
Commercially-made candy bars and dark chocolate truffles are made with far more ingredients than they need to be, which is not only unhealthy, but (in my experience) interferes with the chocolate taste that – call me crazy – I want. (Looking at you, Godiva) I may be a total chocolate snob, but I want my chocolate to taste like… well, mostly chocolate. When I bite into most grocery store chocolate, I can practically taste my blood sugar spiking. Ick.
Then there's the commercially-available sugar free candy and sugar free chocolate products that come with warnings about a laxative effect??? Even though it has no sugar, I am absolutely not putting that anywhere near my body, and I imagine you don't plan to either.
Even good quality chocolate products can be produced in a factory that may also process tree nuts, gluten, dairy, or other allergens – making it risky for anyone who need to stay nut-, dairy-, or gluten free to consume.
The safest and best sugar free dark chocolate out there is right in your own kitchen.
A Few Notes and Tricks For Your Sugar Free Chocolate
The base of this recipe is cacao butter (also known as cocoa butter), which is a creamy fat that is solid at room temperature. It may be available at a health food store, but I get mine on Amazon. If you can't find cacao butter, you can use coconut oil. However, if you do use oil, you must keep the chocolates chilled, even once they are set. Coconut oil will be too soft at room temperature.
This recipe works best when sweetened with liquid stevia. I provided a ballpark number of drops, but just keep adding drops until the mixture is sweetened to your taste.
If you do not have liquid stevia, you can use granulated monk fruit sweetener (I recommend Lakanto) or granulated stevia (I recommend Sugarless Sugar). If you can find powdered stevia or monk fruit (Lakanto makes it), use that instead. The larger the grain, the grittier your chocolate will be.
If you use stevia or monk fruit as the sweetener in this recipe, the chocolate will be low carb and keto, with only 1g net carbs.
If you don't need your chocolate to be sugar free, you can use coconut sugar or maple sugar, but I would strongly recommend that you pulse it in a coffee grinder or food processor so that it will be as fine as possible before you incorporate it into the recipe.
Make sure you're heating your cocoa butter slowly, microwaving in short increments and stirring in between, the cooling slowly as well. So let it come to room temp to solidify, then store in the fridge, rather then sticking the warm chocolate in the fridge or freezer to chill more quickly. This helps to prevent bloom, that dusty white layer than can develop on the outside of chocolate after condensation forms.
You will get more bloom on your chocolate if you use rubber molds. Try to stick to silicone or, if you prefer to make chocolate bars, use lightly greased ceramic mini loaf pans.
I think I am making this seem much more complicated than it is, when in fact, it is a simple recipe with lots of potential little tweaks to make it exactly as you want it to be. Or, exactly how your sweetheart wants it to be. Because nothing says I love you more than a homemade gift… except, of course, homemade chocolate!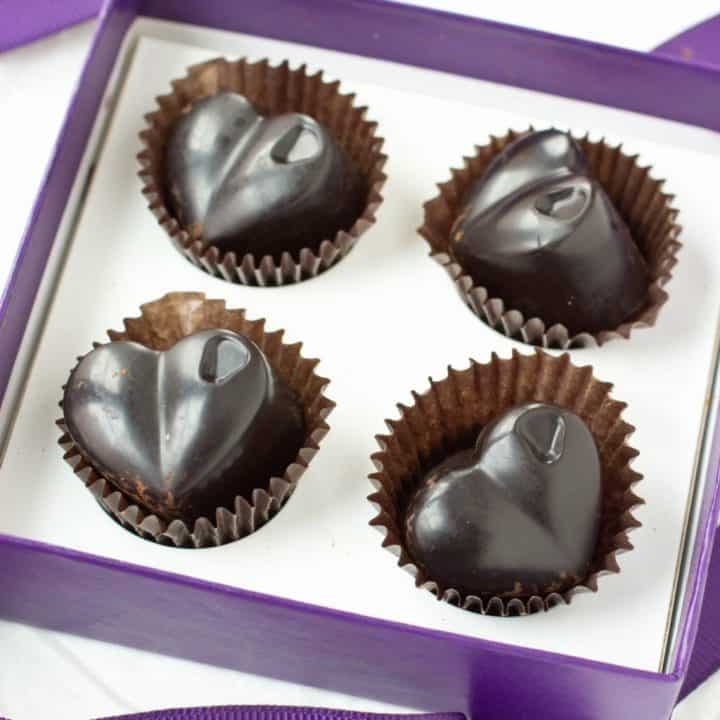 Homemade (Sugar-Free) Dark Chocolate
Yield:
2 x6" bars or about 9-10 mini chocolate bites
Vegan and Paleo Homemade Sugar Free Dark Chocolate. You wouldn't believe how easy it is to make homemade chocolate with just a handful of clean ingredients!
Instructions
Mix the coconut oil into the cocoa powder, 1 Tablespoon at a time. Scrape down the sides and bottom of the bowl periodically to make sure it all gets incorporated.
Stir in the vanilla, stevia, and salt.
Divide between two lightly greased mini loaf pans or a lightly greased chocolate mold (Here is the heart mold, but here is a more traditional bar mold).
Allow it to set at room temperature for 30 minutes, then transfer to the fridge to set completely.
Store in the fridge until you're ready to eat it. This gets a little mess if kept at room temperature.
Notes
If you prefer, you can use coconut oil instead of cocoa butter, but these will not stay solid at room temperature. So, make sure you keep them in the fridge.
Recommended Products
As an Amazon Associate and member of other affiliate programs, I earn from qualifying purchases.
Nutrition Information:
Yield:

10
Serving Size:

1 chocolate
Amount Per Serving:
Calories:

65
Total Fat:

6g
Saturated Fat:

3g
Trans Fat:

0g
Unsaturated Fat:

2g
Cholesterol:

0mg
Sodium:

14mg
Carbohydrates:

7g
Fiber:

1g
Sugar:

0g
Protein:

1g