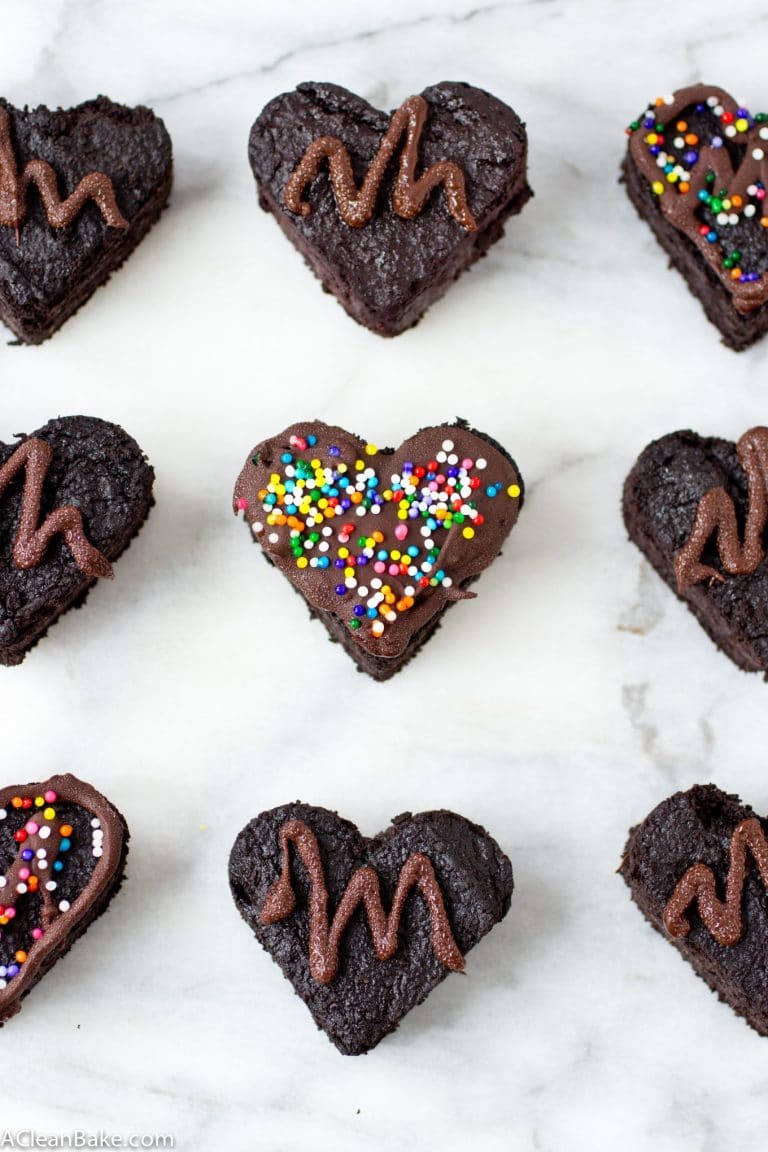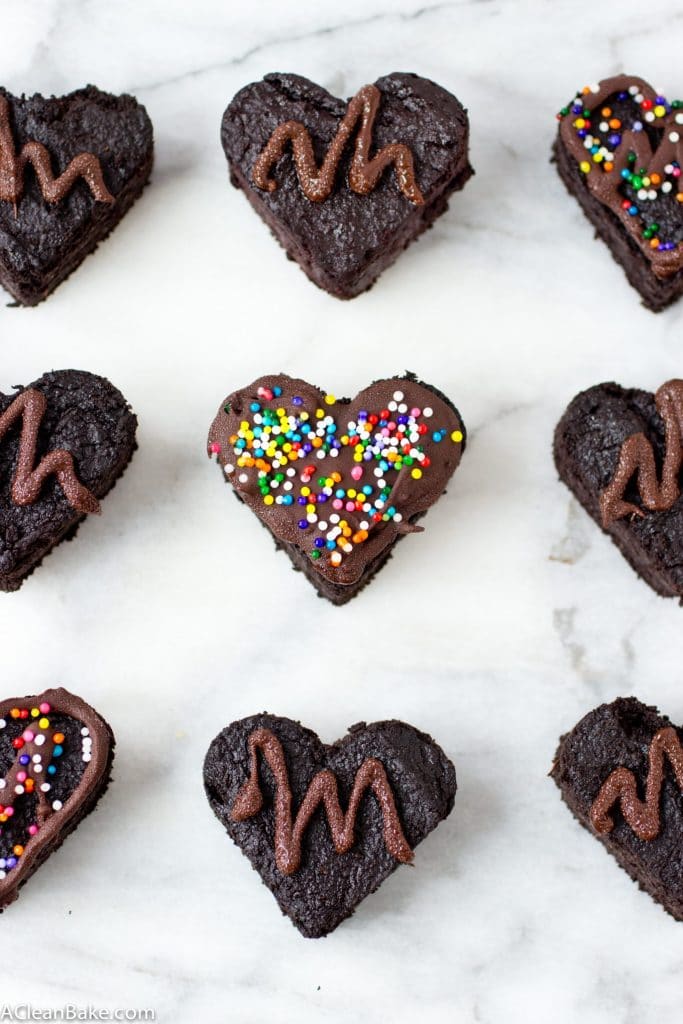 When it comes to Valentine's Day and other Hallmark holidays, the only thing that matters is the food. Valentine's Day is a worthy holiday because it's an excuse to eat lots of fancy chocolate, and I absolutely endorse any plan that involves a lot of chocolate (as you may have deduced from this, the
4th
chocolate
recipe
in a row), and therefore consider Valentine's Day to be a valid holiday. Other benefits of Valentine's Day include buying heart-shaped cookie cutters, and an excuse to eat adorably pink and red foods for no other reason than their adorableness.
Though these brownies should arguably be a blazing shade of red velvet, sometimes things just don't go as planned and you just have to roll with it. Like on Tuesday, when I was supposed to give a huge presentation at 8am, only to wake up to a text from my colleague informing me that I had to be downstairs at 7:10; the presentation has been moved up (!!!). To say I was frazzled was an understatement. Luckily, I pulled it together and the presentation went fine, and that morning is a metaphor for these kinda-sorta-if-you-squint red velvet brownies.
I love using natural food dyes, and Melissa's sent me a generous shipment of beautiful, soft and flavorful steamed baby beets, so these brownies were just crying out to be made red velvet. Using beets as an excellent source of natural, unprocessed sweetness and chemical-free food coloring, red velvet brownies seemed like a breeze. But the first, er, several tries yielded unappetizingly red lumps of faintly-chocolate-flavored mush. But red velvet typically contains just the faintest whisper of cocoa, and I wanted a darker chocolate flavor. So, I relented, ditched my plans for red velvet – much like my plans for a good breakfast and a sufficiently-caffeinated bloodstream on Tuesday morning, if we want to beat this metaphor thoroughly to death – and tweaked.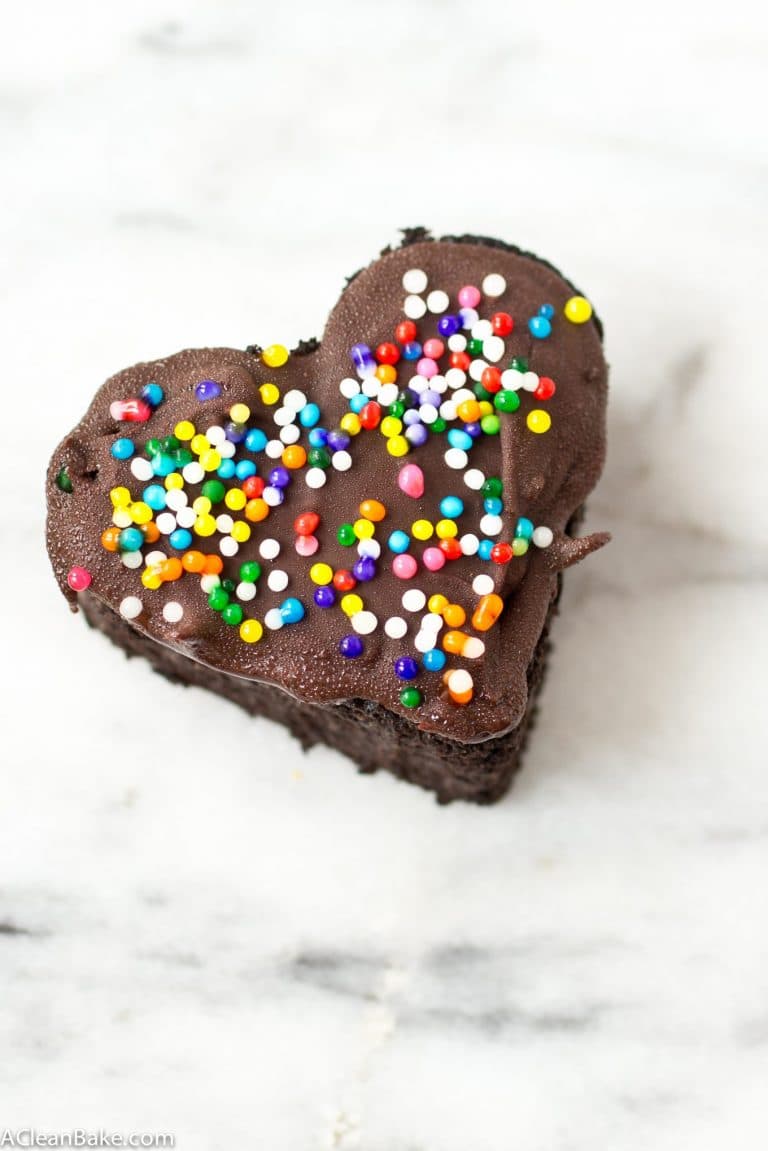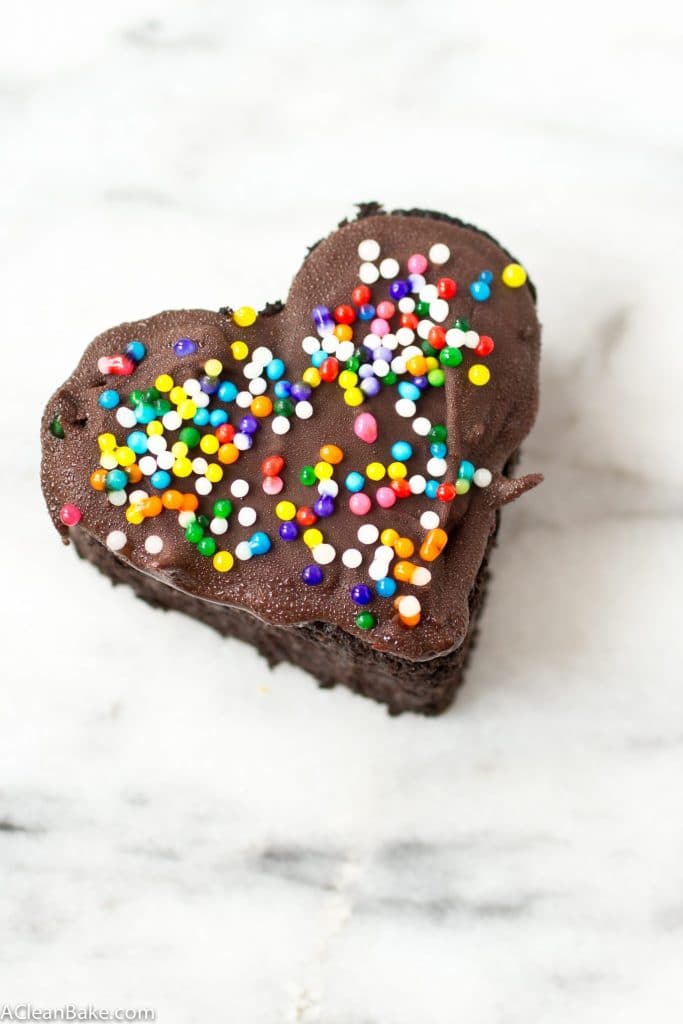 A more cocoa/fewer beets/slight addition of coconut flour (for structure and texture) combination did the trick nicely, and transformed the mushy lumps into dense and rich dark chocolate gems that take 5 minutes to make in the food processor, but are decadent enough for your valentine. Adding more cocoa accidentally drowned out the beet color with more chocolate color, so if you would like red-velvet-ier brownies, halve the cocoa, and be sure to use natural cocoa, not dutched or Hershey's Special Dark. Also, be sure you are using steamed and not
roasted beets
. It makes a huge difference! Covering them with decorative chocolate coating (or an EKG design if you're in my league of nerdiness) and festive sprinkles does wonders as well.
Either way, though, these brownies are not to be missed. I lost count of the number of people who ate these, loved them, and had no idea that they contain no flour or sugar, and tons of root vegetables. I am not proud of this deception (ok, who am I kidding, I totally am. And I never lied, just didn't offer up some info…really, your honor! I'm innocent! Anyway.) and no one had any problem with the beets after they had tried the brownies. What about you: Does the idea of adding vegetables to your brownies sound horrifying, or a little too close to Jessica Seinfeld for comfort? Pssh, I didn't think so. Jessica Seinfeld is so 10 years ago, but these brownies are timeless.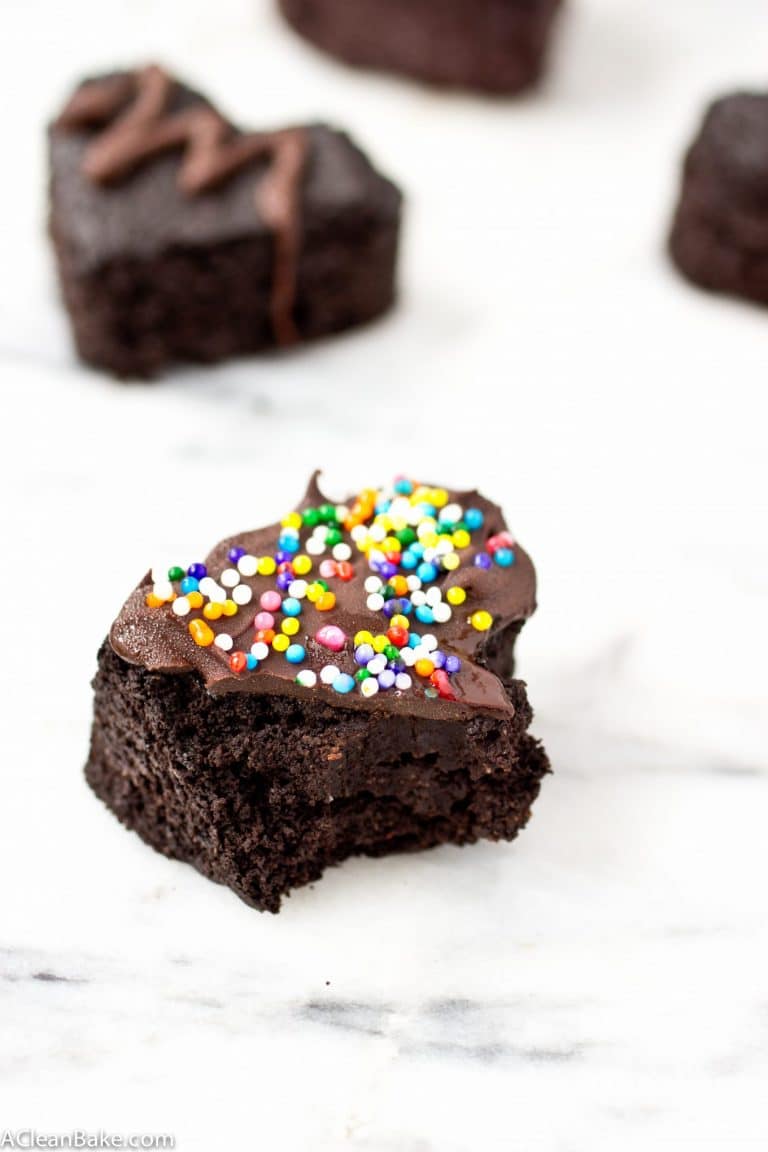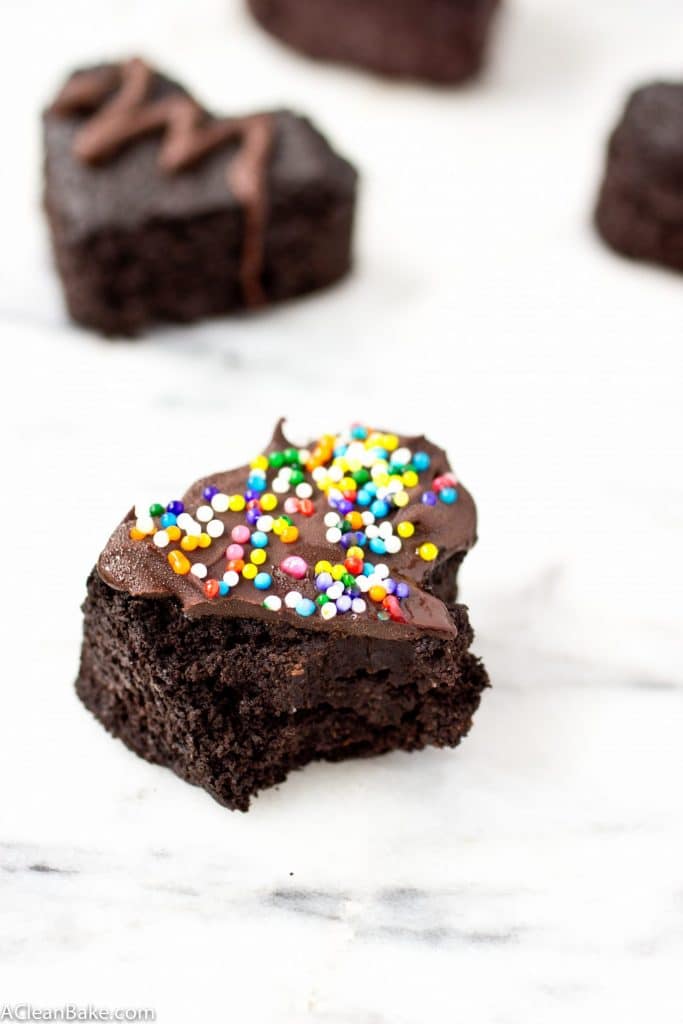 Ingredients
2/3 cup soft steamed beets, roughly chopped
2 large eggs
2 Tablespoons granulated sweetener, I used Norbu
1/2 cup coconut oil or vegan butter, but still liquid, melted and cooled
1/2 tsp vanilla extract
1/2 cup cocoa powder
1/3 cup almond flour
2 Tablespoons coconut flour
1/8 teaspoon coarse salt
1/4 teaspoon baking soda
Optional: 1/2 cup chocolate chips for garnish
Optional: Sprinkles for garnish
Instructions
Preheat the oven to 350F and lightly grease an 8"x8" baking dish.
In the bowl of a food processor, combine all ingredients and puree on high until the mixture is smooth, periodically scraping the sides and bottom of the bowl to make sure everything is evenly incorporated.
Pour batter into prepared baking dish.
If you're using the chocolate chips, you can sprinkle them across the top of the batter before baking, or save them to melt and decorate with.
Bake for 35-40 minutes, or until a tester comes out clean.
Allow to cool completely in the pan before slicing or cutting out shapes. If you plan to cut out shapes, chilling completely in the fridge before doing so yields the cleanest cuts.
If you did not garnish with chocolate chips before baking, melt the chips in the microwave or over a double boiler and use a knife or pastry bag to apply to the tops of the brownies. Follow with sprinkles if you desire.
Store in an airtight container at room temperature for up to 3 days, or in the freezer for up to 3 months.
Thank you very much to Melissa's for providing me with the beets that inspired and completed these brownies at no cost to me. Aside from agreeing to develop a recipe, they gave me total creative freedom and all opinions expressed here are my own (and I mean them!). If you're interested in trying some new flavors for yourself – and hopefully making these brownies! – you can visit Melissa's at www.melissas.com. Thanks for supporting the brands that help make A Clean Bake possible.
Thank you also to Natvia for providing the ingredients that inspired this delicious recipe. This post contains affiliate links, which means that if you click through and purchase a product, A Clean Bake receives a small commission, which goes toward continuing to bring you delicious, healthy recipes every week. This does not affect the price you pay. Thanks for supporting A Clean Bake!