3 ingredient cookies with NO gluten, grains, dairy, eggs, or added sugar! These moist and fudgy detox cookies come together in a snap! They only require a bowl and spoon to make. And they're gluten free, vegan and paleo-friendly if you switch the peanut butter for your favorite nut or seed butter!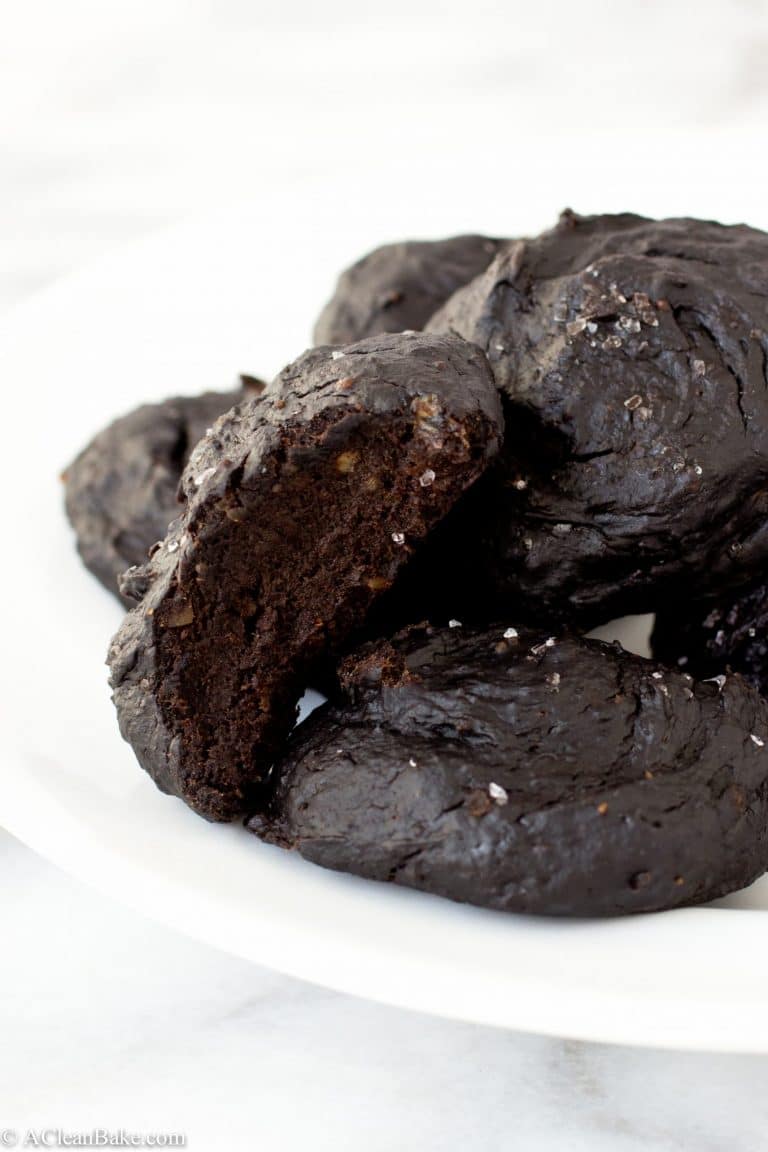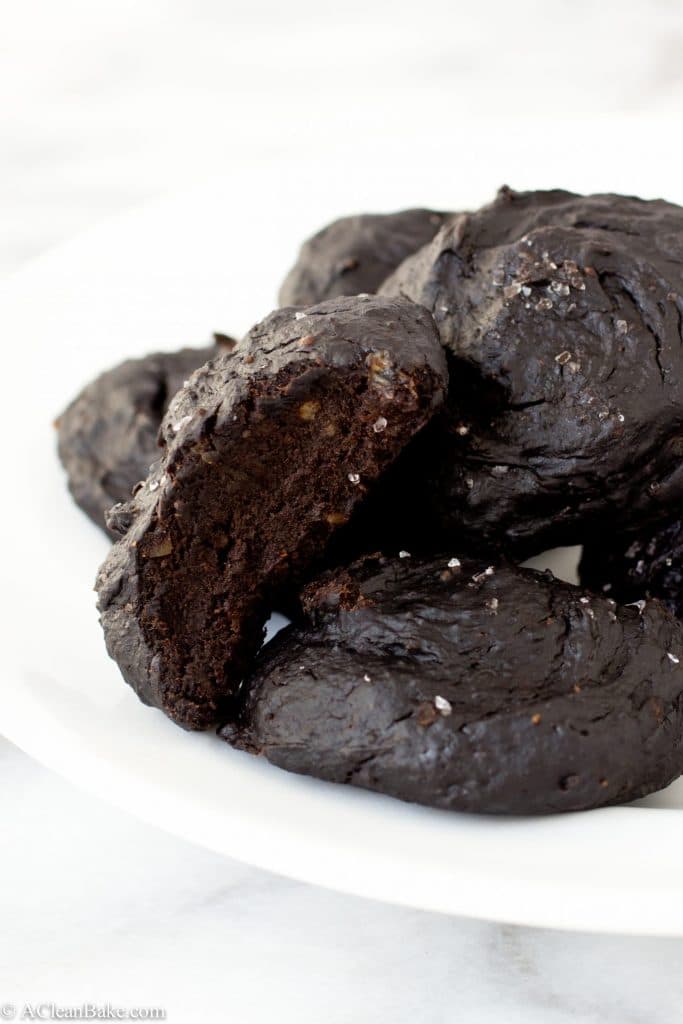 Move over 3-ingredient peanut butter cookies chock full of white sugar. Step aside, shortbread and that butter cookie recipe that melts in your mouth but leaves a gross film of cheap butter on your tongue for, like, 36 hours. You may have tried other 3-ingredient cookie recipes before, but not like these.
This simple recipes produces literally the easiest, healthiest cookies you will ever make or eat. Ready to bake the perfect cookies (healthy edition)?
They only require three ingredients, and you already have them all on hand: peanut butter or almond butter, bananas, and cocoa powder.
Even if you don't usually keep cocoa powder on hand, I'll bet you have some left over from your
Christmas cookie
recipes, right?
You probably also have a few perfectly overripe bananas that got, shall we say, overlooked in the midst of all the holiday cookies and cakes and pies. They'll do just fine and, in fact, the riper the better. Ripeness means sweetness, and sweetness makes bananas the perfect sugar substitute in these cookies.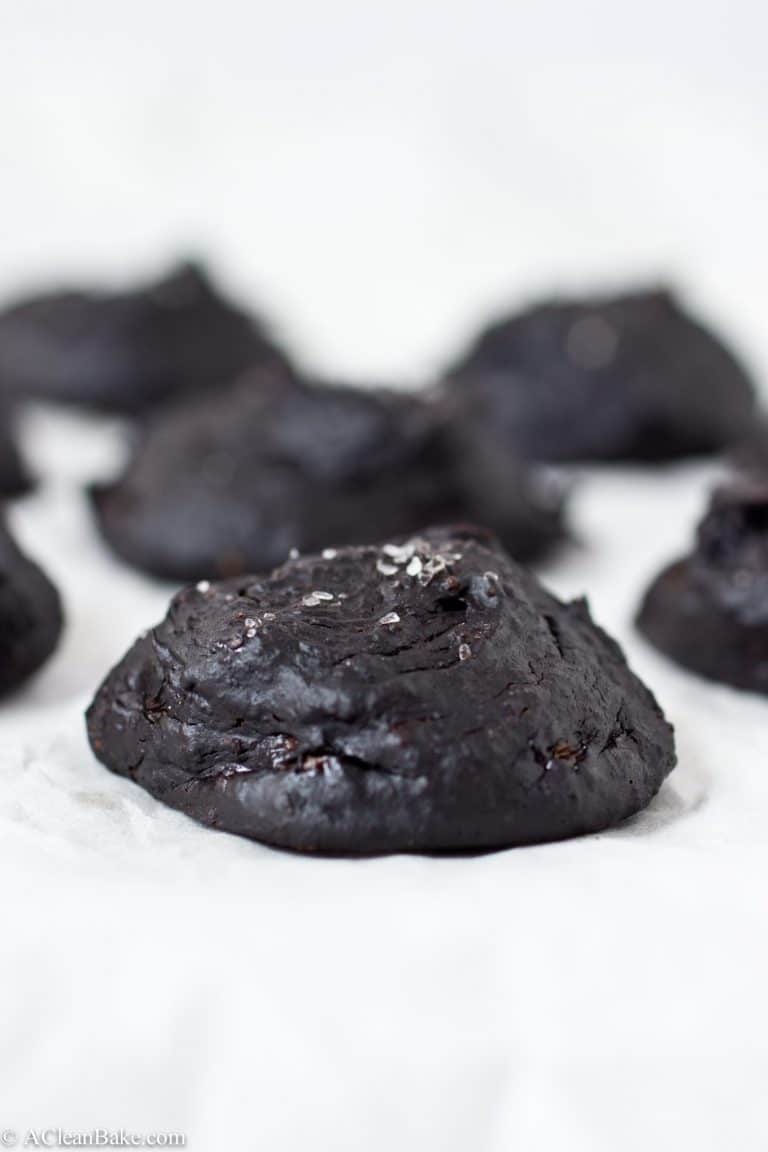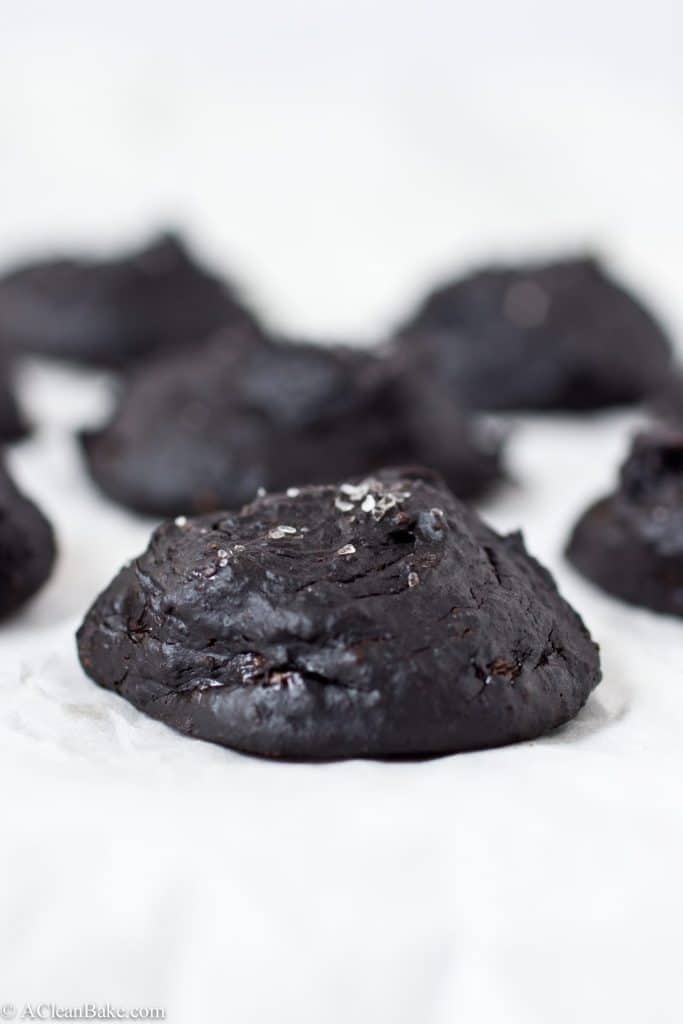 The last ingredient is peanut butter, and don't even try to tell me you don't have peanut butter! It's best if it's the unsweetened, natural, creamy kind, but use what you have. After all, these are basically just simplified peanut butter cookies, so use the kind that you'd use for those kind with the criss-crossed fork marks on top. Whatever peanut butter you use, make sure it is at room temperature when you incorporate it into the batter. Sounds strange, I know, but I just found out that some people keep natural peanut butter in their fridge!
And finally, there's the sea salt which, I suppose, is technically the 4th ingredient. Wait, don't go! You can skip the salt if you want, but the cookies won't taste the same.
The salt is what pulls the whole cookie together, making the cocoa taste more robust and bringing out the sweetness of the bananas. The salt is actually pretty important, even though it doesn't technically go in the cookie.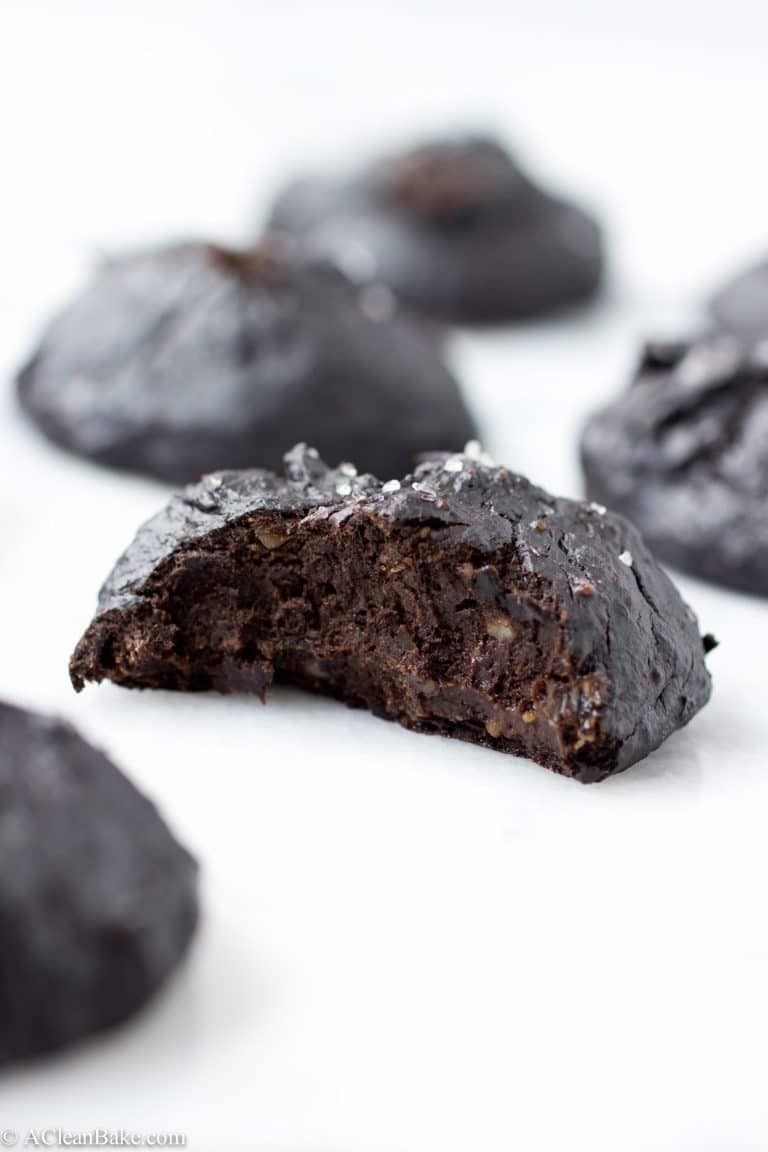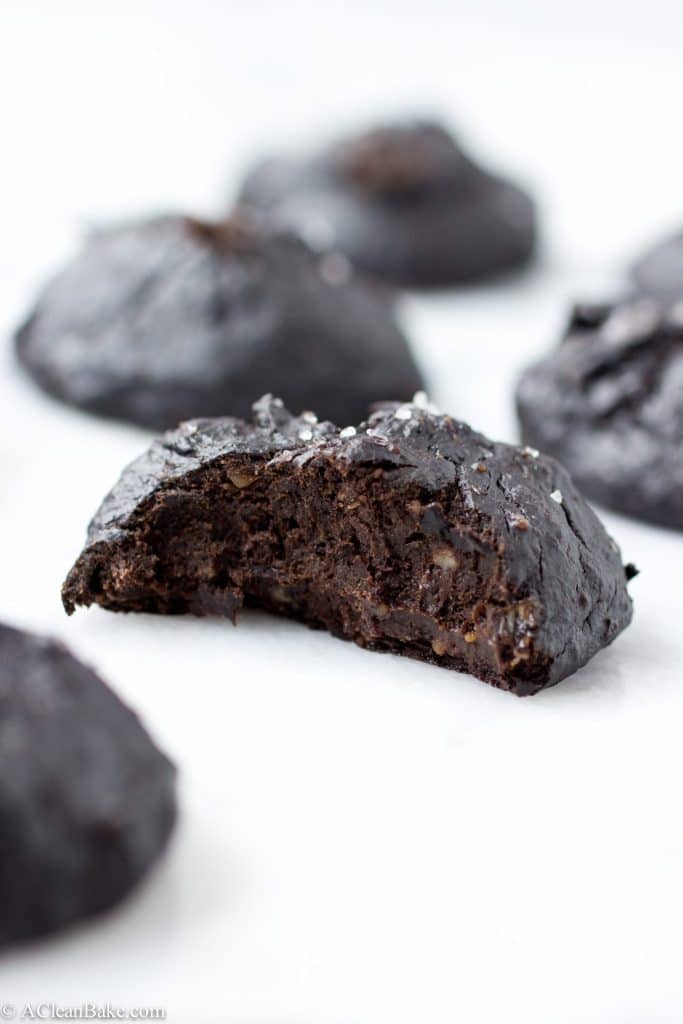 Use the course kind, and try to find the best quality you can manage. Believe it or not, different kinds of salt have different flavors and the more premium kinds have a more complex flavor than the homogenized kind that comes in a can labeled "table salt" (or whatever). That's why it's worth what might seem like a little bit of an indulgence, but you can actually find some pretty good quality course sea salt in the food aisle of TJ Maxx or Marshall's. It will last you awhile, too, since it's not something you typically use for more than a garnish.
The cookie dough is actually more of a batter, which is good news (because the salt sticks to the top well), but also – well, not bad news, just unexpected. You haven't done anything wrong. Just scoop the batter onto the prepared baking sheet (the sticky cookie dough is why it is essential to line the sheet with parchment paper or a nonstick pad) and swirl it around a little bit as it drops off of the spoon to make the little flourish-y peak you see in my photos. Or don't! Even shaped like blobs, these are still going to be great cookies 🙂
How To Make 3 Ingredient Cookies With Minimal Effort and Maximum Flavor
Anyway, these cookies are as easy to make as they are to eat. The batter will come together with just one bowl and a fork or spoon, then drop it on a baking sheet and it will become cookies after only 8-9 minutes in the oven.
Sound too good to be true? I promise they aren't! They're chocolatey, moist, and cakey, and they might be just a little ugly, but they taste pretty darn good, despite being refined-sugar-free, gluten-free, grain-free and dairy-free. (But if you're not in it for the detox aspect, feel free to melt some chocolate chips and drizzle it over the top of the cookies!)
Don't ever let anyone tell you that you can't eat healthy and still have cookies. Better make a double batch!
For a quick recipe video, click here for our new web story!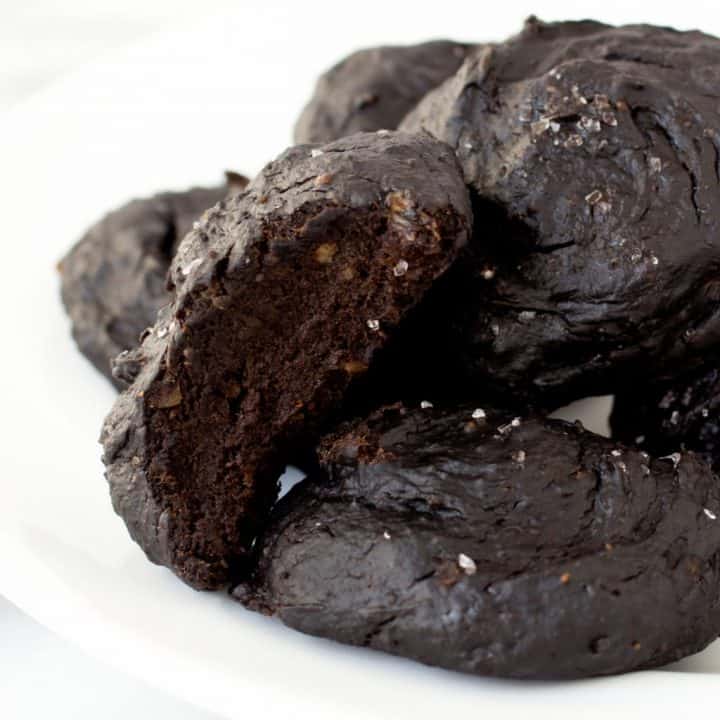 Fudgy 3 Ingredient Cookies
3 ingredient cookies with NO gluten, grains, dairy, eggs, or added sugar! These moist and fudgy detox cookies come together in a snap! They only require a bowl and spoon to make. And they're gluten free, vegan and paleo-friendly! 
Ingredients
3 ripe bananas, about 1 1/2 cups puree, mashed or pureed until smooth
1/2 cup natural creamy peanut butter. Substitute almond butter for paleo or Whole30 compliance., unsweetened
1/2 cup good quality cocoa powder
handful coarse sea salt, for garnish
Instructions
Preheat the oven to 350F.
In a large mixing bowl, use a fork to thoroughly combine the first three ingredients until it reaches a smooth and uniform consistency.
Scoop heaping tablespoons of dough onto a greased or lined cookie sheet, about 1 inch apart.
Sprinkle the tops of the cookies with a pinch of sea salt.
Bake for 8-15 minutes (see note) until cookies lose their sheen.
Allow to cool and set on the cookie sheets for 3-5 minutes before transferring to a wire rack to cool completely.
Notes
Store in an airtight container at room temperature for up to 5 days. If you're having trouble with them getting too sticky in the container, store them uncovered in the fridge, or covered in the freezer. They won't freeze solid. They're become very dense and fudgy (and extra delicious) when frozen!
Yield: About 2 dozen cookies.
Troubleshooting tips:
If your cookies are too lumpy, try running the dough in the food processor for 30-60 seconds.
The moisture content of the dough may vary (for example if your large banana is bigger than they ones I used). If the batter is too thin and watery, you can try two things: add more cocoa to absorb the moisture, and/or bake for longer.
Make sure you thoroughly stir your peanut butter. If it is too oily (such as from the top of a new jar), that might be another reason why your batter could be too runny.
On the other hand, if your PB is the right consistency, it can be tough to stir into the batter. Try microwaving it for 15-20 seconds until it's smooth and easier to work with.
Depending on the moisture content of your bananas, your baking time could vary from 8 minutes to 15 minutes.
If your dough is more like a thick batter, just plop the portions of dough on the cookie sheet and they will spread out by themselves. No need to flatten with a fork.
If you don't want to garnish your cookies with salt, add a pinch to the batter.
Nutrition Information:
Yield:

24
Serving Size:

1
Amount Per Serving:
Calories:

53
Total Fat:

3g
Saturated Fat:

1g
Trans Fat:

0g
Unsaturated Fat:

2g
Cholesterol:

0mg
Sodium:

941mg
Carbohydrates:

5g
Fiber:

1g
Sugar:

2g
Protein:

2g