I'm revisiting recipes from the early days of A Clean Bake and making them even more irresistible! These 4 ingredient cookies are an update of a recipe from 2013. They're gluten free (not paleo, though), vegan, egg free, dairy free, and whole grain for lasting energy.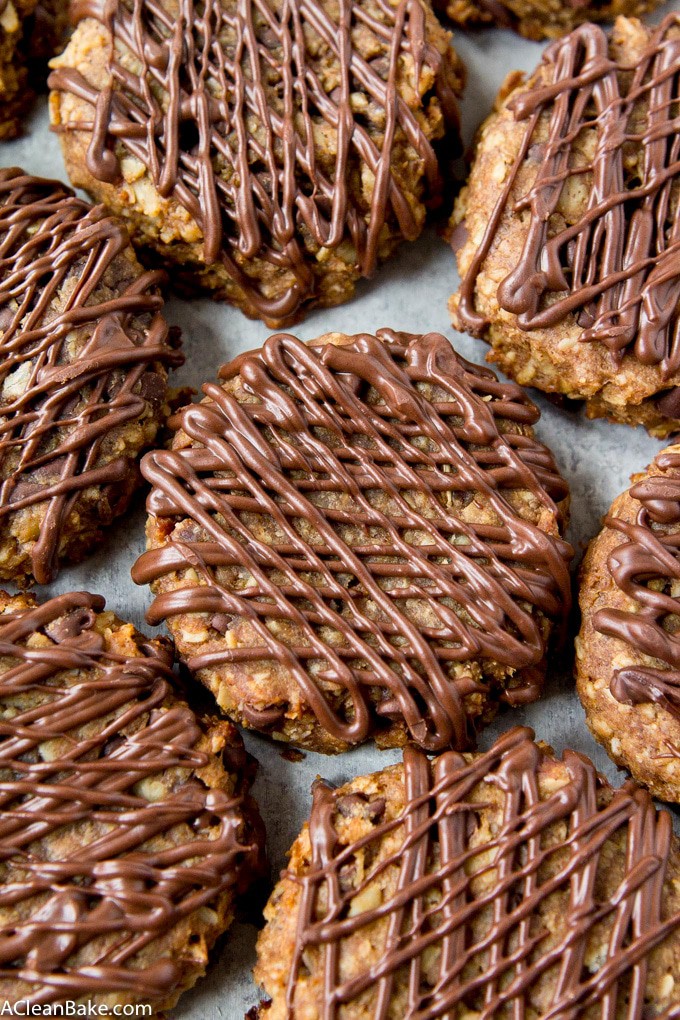 I've started the process of going back to old recipes — and I mean old; this one was originally posted on the blog that existed before A Clean Bake! — and sprucing them up. Nothing major. You know, just remaking and tweaking the recipe, reshooting the photos and somewhere along the way DRENCHING THEM WITH CHOCOLATE (the cookies, not the pictures).
It's fun, actually — the whole process, not just the chocolate-drenching. Seeing how far my photography has come is incredibly gratifying but re-reading the old copy has really given me a few good laughs.
For example, in the original post I was in graduate school in the evenings while working full time. I was tired. I mean Capital T Tired. (But let's face it: It wasn't 4-month-old baby tired.)
I needed a pick me up, and oats were, back then, a go-to food for me. So these cookies were born of a need for energy and a love of oats (and at least one of those things hasn't changed).
Here's how I described them back then:
"As cookies go, these "power cookies" are pretty nutritionally sound. They are simple, consisting of only a few ingredients, which you are sure to have on hand already. They are full of wholesome energy, fiber, and good fat, and they are a perfect snack at work or before a run, because the lack of refined sugar means no sugar spike and crash. And they come together in about 3 minutes, plus a quick 15 minutes in the oven. Simple."
That was in the days when cookies were almost exclusively made of (white, wheat) flour, and butter beaten together with (white) sugar. So the idea of making a cookies out of peanut butter and whole oats was… revolutionary.
My, how far we've come!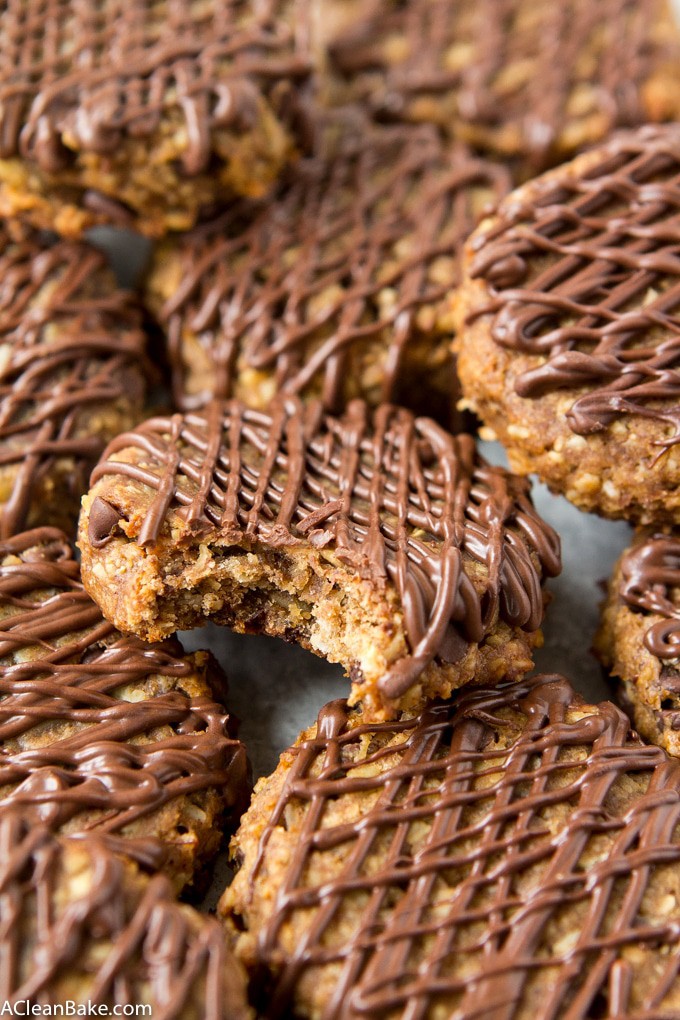 How To Make 4 Ingredient Cookies
To make 4 ingredient cookies, you'll need a ripe banana, peanut butter or almond butter, rolled oats, and a teaspoon cinnamon. You'll also need a prepared baking sheet, a large bowl, cooling rack, and a food processor.
To start, preheat your oven to 350 degrees F. Next, line a cookie sheet with parchment paper (or silicone pad) or drizzle with coconut oil. Next, in a food processor or stand mixer, combine all four ingredients until well combined. Then, pour your cookie dough into a large mixing bowl, and add in your mix-ins (I recommend walnuts, chocolate chips, pecans, vanilla extract, dried cranberries, or other favorite toppings). If you want a plain peanut butter cookie, simply transfer directly from the mixing bowl to the baking sheet.
Using a cookie scoop, form a dozen dough balls and place them on your cookie sheet. Place the cookies in the oven, and bake for 15 minutes or until the edges turn golden brown. (If you prefer a crispy cookie to a more chewy texture, leave them in the oven for 1-2 additional minutes.)
When your cookies come out of the oven, wait a few minutes before transferring them to a wire rack to cool. These cookies can be a bit crumbly, so proceed with caution when removing them from the baking sheet.
Recipe FAQs: Tips for Whole Grain Cookies Success
This is one of the first cookie recipes I ever created. Therefore, the beauty of these cookies is how incredibly simple they are to make! However, after a few years on the blog, there are a few reader questions that can help set you up for success:
Should I sweeten this recipe?

I love this recipe because — unlike most

chocolate chip cookies

— they aren't made with a

cup of sugar

. However, if you need an added touch of sweetness, I recommend adding monk fruit sweetener (monk fruit is low in

carbohydrates

and won't spike your blood sugar).

How long will these cookies keep?

These cookies will keep in an

air-tight container

at

room temperature

on the counter for four days, or in the freezer for up to three months.

Can I transform these into peanut butter chocolate chip cookies?

Yes! I encourage you to

add-in

your favorite toppings. For this classic combo, simply

add-in

semi-sweet chocolate chips. (Personally, I think they're the best

chocolate chip cookies

because they're so easy to make.)

Are you sure I don't need baking soda, eggs, or baking powder?

Yes! The four ingredients listed are all you need (pretty great, huh?).

Where can I buy certified gluten-free oats?

You can buy certified

gluten-free

oats in most health food stores or online, on

Amazon

.

Are these cookies gluten-free?

Yes. Since they don't contain any white whole wheat flour or whole wheat pastry flour, they are

gluten-free

.

Are these cookies refined-sugar free?

Yes. These cookies don't contain granulated sugar — white sugar or

brown sugar

— and therefore are free of refined sugar.
Enjoy These Easy 4 Ingredient Cookies
In my humble opinion, these are the best oatmeal cookies on the planet, simply because they're so easy to make. These breakfast cookies contain just four ingredients — bananas, oats, peanut butter, and cinnamon.
There's no need to buy any fancy ingredients or follow incredibly detailed steps. In fact, there's no need to even separate the wet and dry ingredients! These cookies are so simple I enjoyed them from the time I was a busy grad school to present-day, where I'm a busy working mom. I hope your family enjoys them just as much as I have.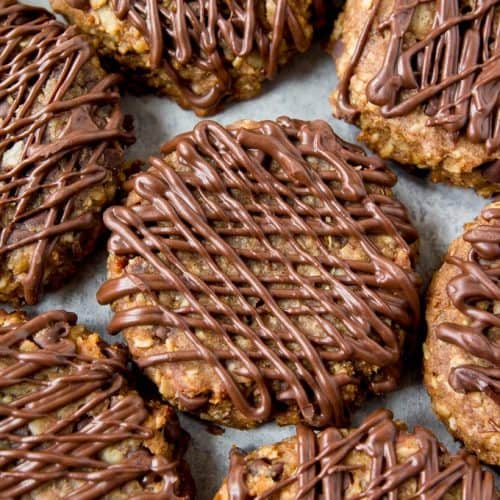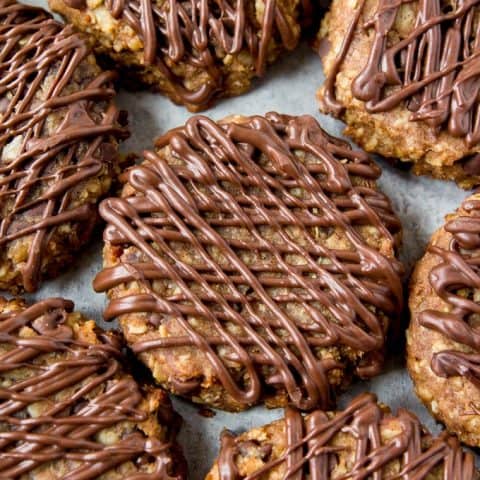 Four Ingredient Power Cookies
Ingredients
1 large very ripe banana, mashed
2/3 cup natural peanut butter, or other seed or nut  butter
1 cup whole rolled oats - certified gluten free if necessary
2 teaspoons cinnamon
Optional: 1/3 cup add-ins of choice, dark chocolate chips, coarsely chopped nuts or dried fruit; etc
Instructions
Preheat the oven to 350. Coat a cookie sheet with nonstick spray, or cover with parchment or a nonstick pad.
In a food processor combine all the main ingredients (no add-ins yet). Pulse until the oats are broken into small pieces, the banana is no longer visible, and the whole thing has formed a thick paste.
If you are using any add-ins, transfer the dough to a mixing bowl and add your mix-in of choice. Use a fork to gently fold into the batter until evenly distributed.
Roll into 2-inch balls and evenly space on cookie sheet. Press down gently to flatten balls slightly.
Bake for 15 minutes and cool completely before serving or storing.
If you'd like to drizzle chocolate on top, as shown, melt chopped chocolate in the microwave in 30 second increments (stirring in between so it doesn't seize up), the use a spoon to drizzle it in a thin stream. Alternately, for a neater look, put your melted chocolate in a zip top bag and snip a tiny piece of the corner off with a clean pair of scissors to create a piping bag. Let the chocolate set fully before serving or storing.
Notes
Store in an airtight container for up to five days, or freeze for up to three months.This recipe originally appeared at www.buttercreamfanatic.com
Nutrition Information:
Yield:

12
Serving Size:

1
Amount Per Serving:
Calories:

249
Total Fat:

16g
Saturated Fat:

5g
Trans Fat:

0g
Unsaturated Fat:

10g
Cholesterol:

4mg
Sodium:

78mg
Carbohydrates:

23g
Fiber:

4g
Sugar:

11g
Protein:

6g