Made with just a few simple ingredients, these low carb, grain free classic cookies are everything shortbread should be!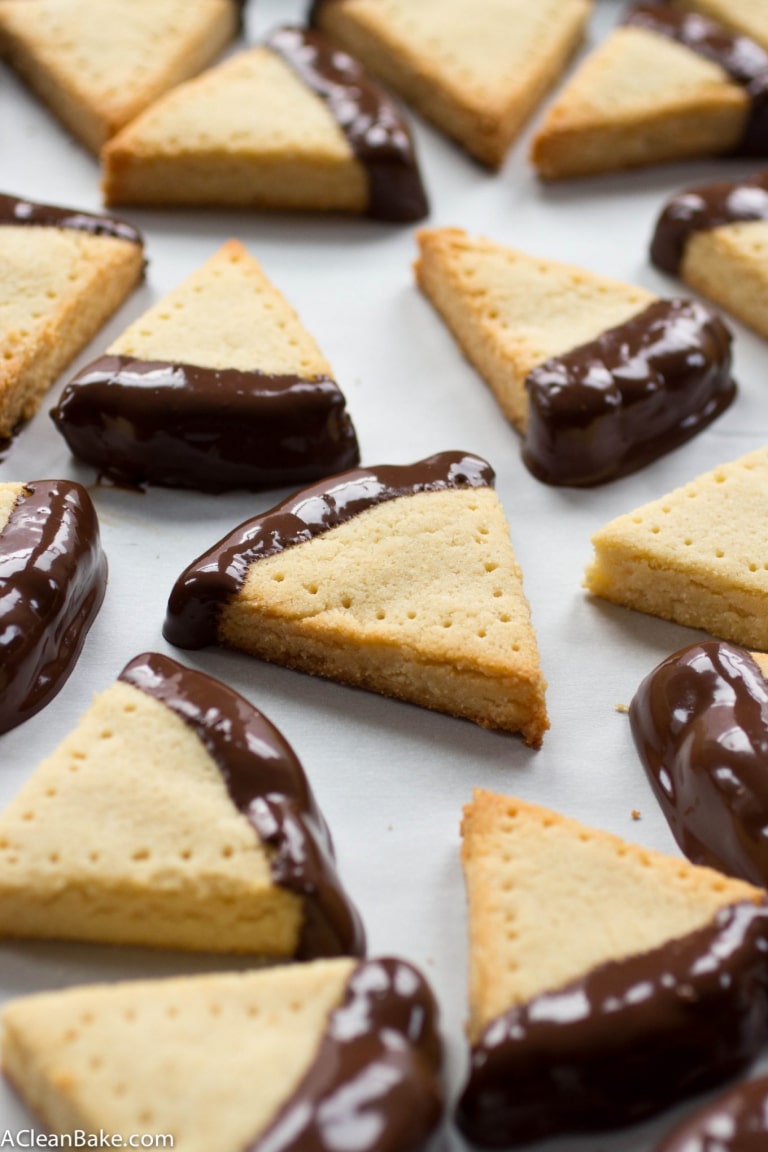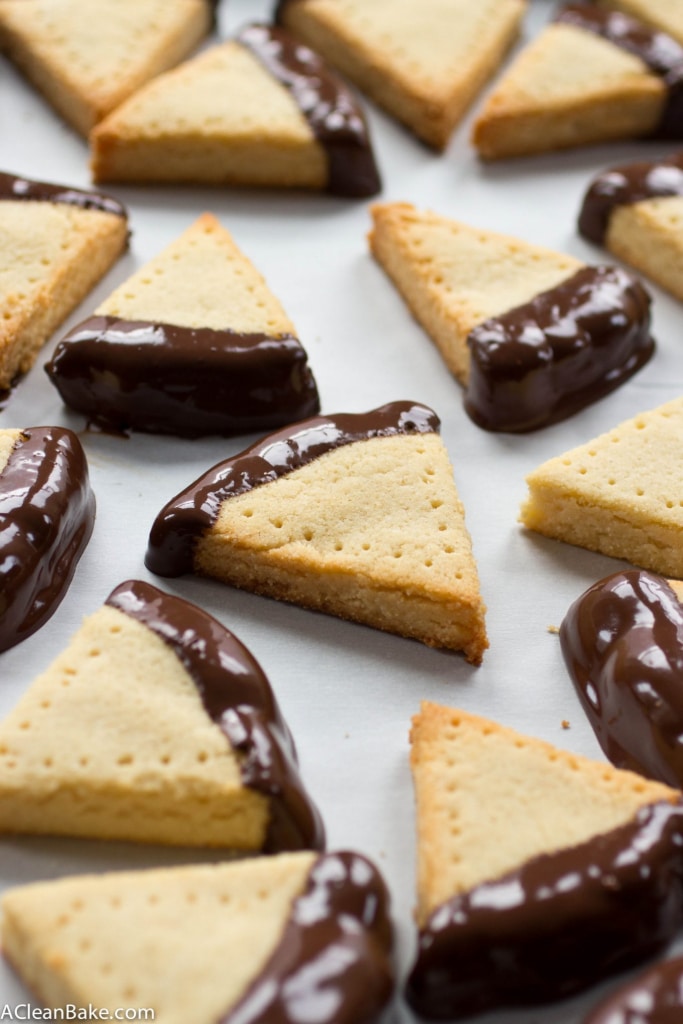 Let the cookie bonanza begin! It's about time, don't you think, in that we've had an entire week to digest our turkey and stuffing and pie. Some might say an onslaught of holiday cookies is long overdue. Fair warning: we're pretty much doing sweets for the rest of the month (maybe a few savories in there, for balance, but really, balance is for January).
To get things started off right, these grain free shortbread cookies are the first of two chocolate dipped cookie recipes in a row. I didn't do it on purpose, but I guess that goes to show where my priorities are this time of year. I'm pretty sure you'll have no qualms about jumping on the It's-December-Let's-Eat-Everything-Dunked-in-Chocolate bandwagon with me once you get a taste of these shortbread. Just like a classic shortbread should be, they're dense, buttery and very subtly sweet. They pillowy softness that characterizes almond flour-based pastries works perfectly for shortbread, but you can cook them 1-2 minutes longer than the recipe specifies if you'd like them to be a little heartier and crisper, like some store-bought shortbread.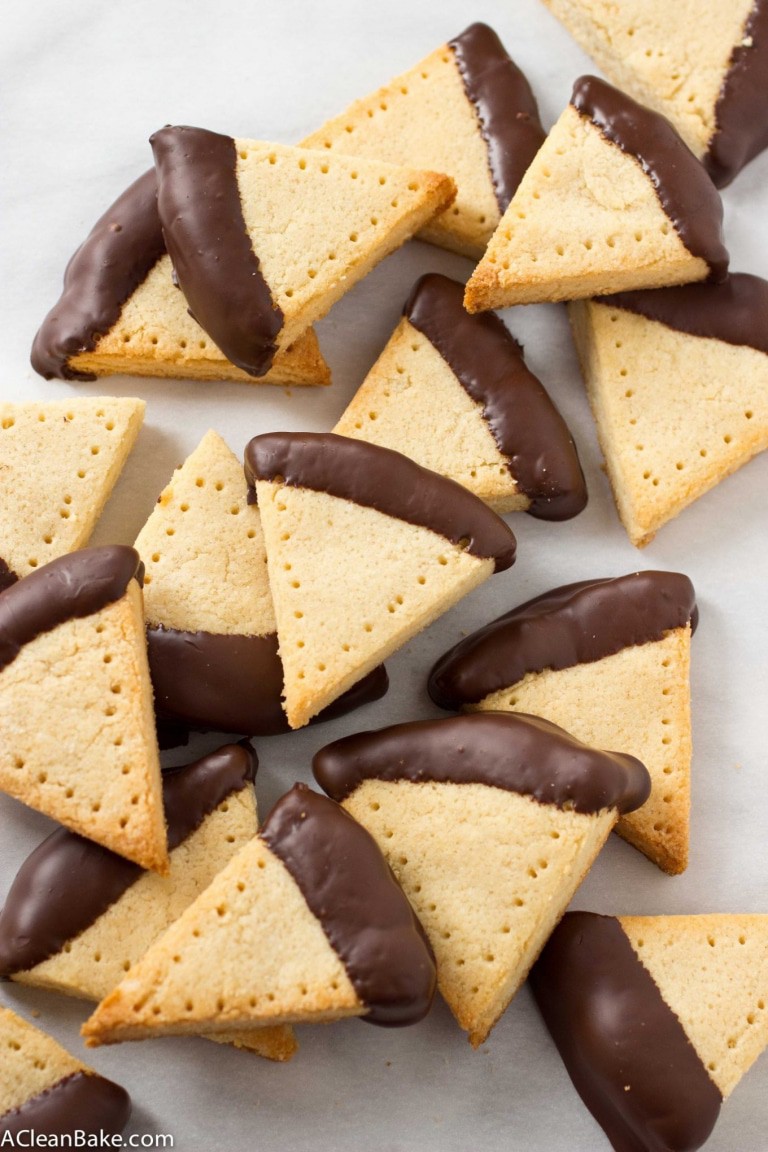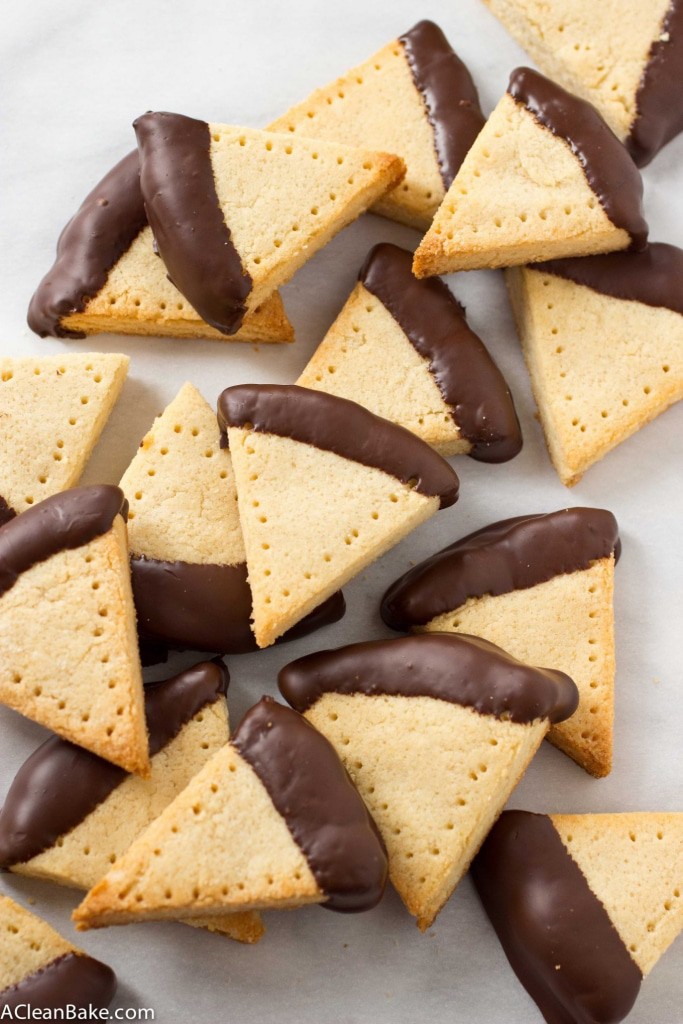 The very limited ingredient list means that each ingredient *really* counts, but take special care with the butter. I recommend using the absolute best quality unsalted butter that you can find, because the flavor will really shine through and better butters (say that 5 times fast) really do have a noticeably richer flavor. If, however, you can't tolerate dairy, you can use coconut oil instead. Like the butter, the flavor of the coconut oil will be noticeable, so these won't taste exactly like traditional shortbread if you use coconut oil.
These definitely stand on their own, so feel free to skip the chocolate dunk if you want to, but if you want to, I might worry about you. The sweet, silky touch of chocolate complements the rich, but sparse flavor of the cookie and you can use any chocolate you want: semi-sweet, dark, super dark (my personal choice), or dairy free. Oh, and if you use the homemade stuff, you'll want to keep these in the fridge until you're ready to serve them.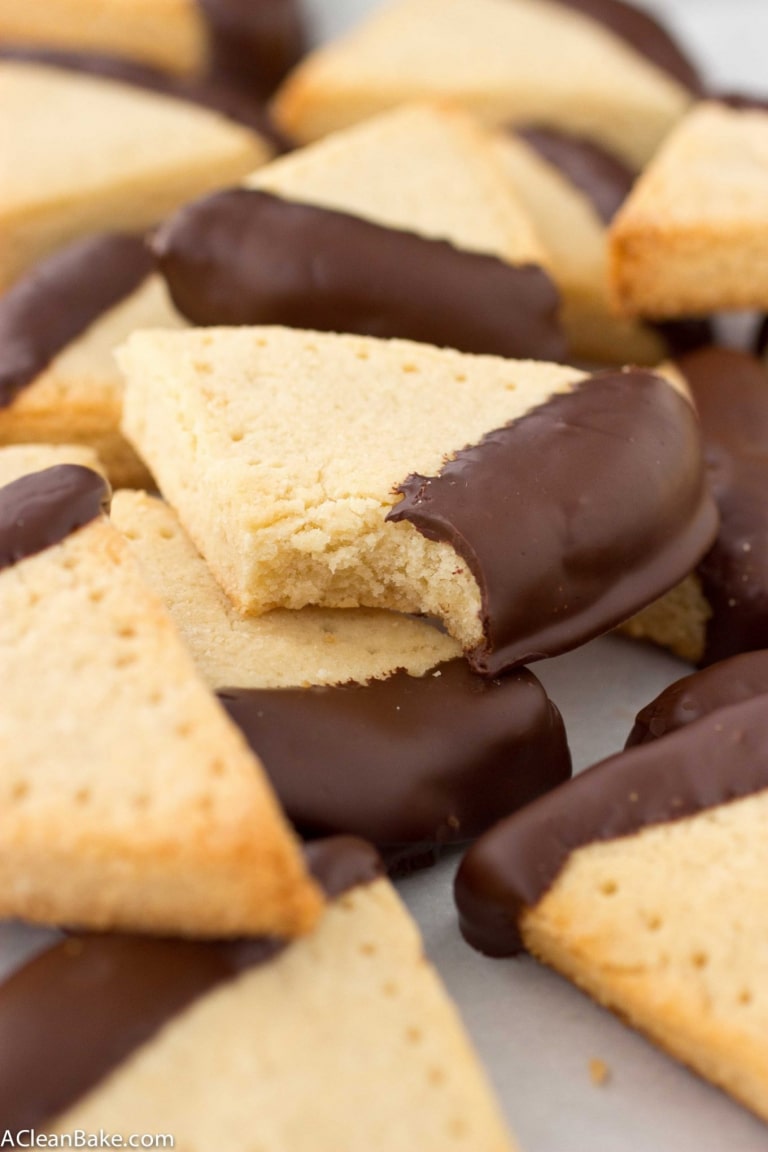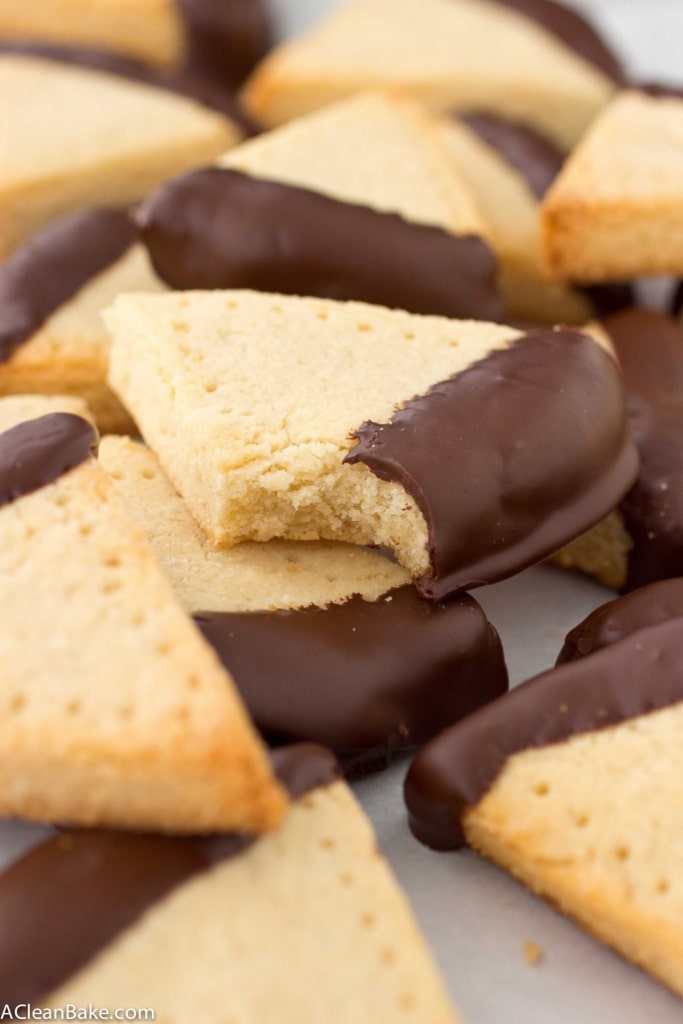 So what do you think? Are these worthy of kicking off this year's cookie bonanza?
PS: Now you can see all of the holiday cookie options on this site in one place!
PPS: Speaking of celebrations, this time of year is a big birthday season for my family, and today is my mom's birthday! As the person who taught me to bake, she's indirectly responsible for everything you see and enjoy on this site, so let's wish her a happy birthday 🙂 Happy birthday, Mom!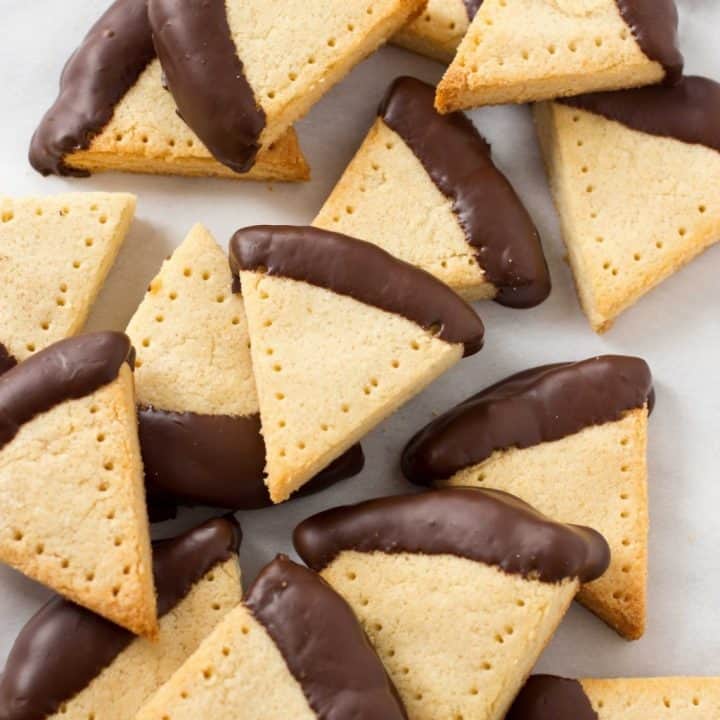 Chocolate Dipped Grain Free Shortbread
Made with just a few simple ingredients, these low carb, grain free classic cookies are everything shortbread should be!
Ingredients
6 Tablespoons good quality unsalted butter
1 1/2 cups blanched almond flour
1/4 cup + 1 Tablespoon coconut flour
1/8 teaspoon salt, omit if using salted butter
1/4 cup granulated monk fruit sweetener, or granulated stevia
2 large egg whites, should equal 1/4 cup
1/2 cup finely chopped dark or semi sweet chocolate
1 teaspoon coconut oil
Pinch espresso powder, optional but recommended; it enhances the chocolate flavor
Pinch salt, optional
Instructions
Preheat the oven to 350F. Line a cookie sheet with parchment or a nonstick pad and set aside.
Melt butter in the microwave or on the stove top and set aside to cool slightly.
In a large mixing bowl, whisk together the almond flour, coconut flour, salt and sweetener.
Add the egg whites and butter (which should be cool enough that you can hold your fingertip in it for 5-10 seconds without flinching) and stir until evenly combined. It sound be slightly sticky.
Gather the batter into a ball and turn it out onto a cutting board. Let it rest on the cutting board for 5 minutes, which will allow the coconut flour to absorb the moisture completely.
Once the excess moisture has absorbed, divide the dough into two equal portions. Gather the first half into a tight ball, then roll or press into a disk (about 1/2" thick).
Cut the disk in half, then cut each half into thirds so that you get six triangles out of the disk.
Transfer the triangles to the prepared cookie sheet, spacing them about 1" apart, then repeat the process with the remaining dough, to create another 6 cookies.
Gently poke each cookie a few times with a fork, or make a decorative border with the tines.
Bake for 18-20 minutes, remove from the oven and transfer cookies to a wire rack to cool completely and firm up.
Prepare the dipping chocolate by melting the chocolate and coconut oil in the microwave or over a double boiler. Add the espresso powder and salt (if using), and stir until completely smooth.
Grip each cooled cookie by the pointy end and swipe the wide end through the chocolate. Shake gently to remove excess chocolate, then transfer to a piece of wax or parchment paper to solidify.
Notes
The butter is responsible for most of the flavor of the cookies themselves, so use the best quality you can find.
If you can't tolerate dairy, omit the butter and substitute an equal amount of coconut oil. The cookies will need slightly less baking time (17-18 minutes), and will have a slightly coconutty flavor.
Yield: One dozen cookies