I've been making this roasted carrot salad for just about every dinner party and holiday meal for years, and it is always a crowd pleaser! It's hearty, naturally gluten free, and can be made paleo, Whole30, and dairy free by leaving out the cheese.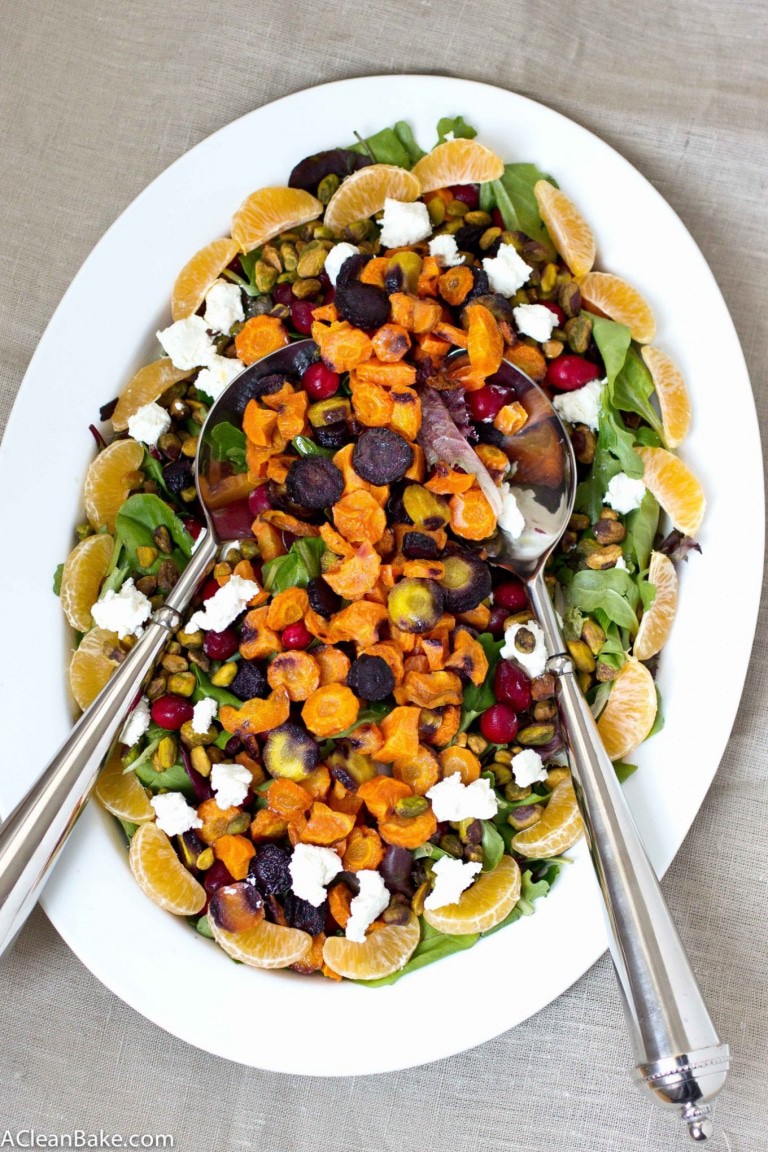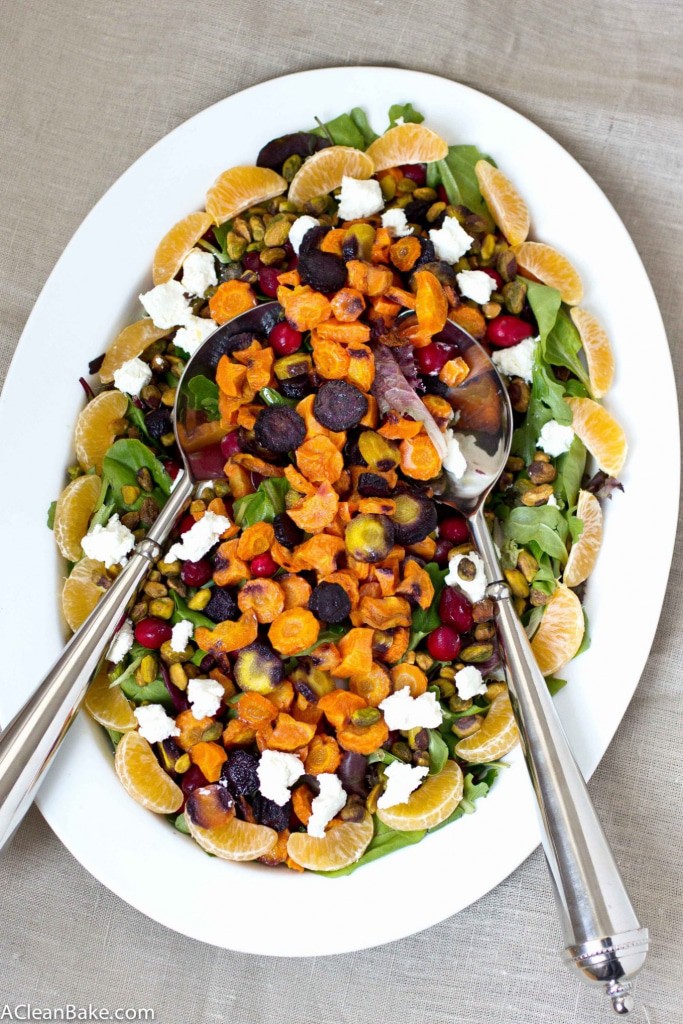 Now that I have a working oven again, I have almost nothing but sweets planned for the month of December. Or, at least, I did… until this salad. There is no rhyme or reason to where this salad came from, but I was just doing one of those stream-of-consciousness recipe brainstorming deals (to those who are slightly less obsessive about food than I am: yes, that's totally a thing) when I was thinking about what I could bring to Thanksgiving that would be salad-y, yet hold its own beside the scene-stealing turkey, stuffing and cranberry sauce.
The more hearty, wintry elements I added, the more this dish became a hybrid of a salad and a … hash? kinda? (I dunno – something mixed and heartier), as opposed to your basic flimsy green salad. It turned out so wonderfully, and got so many rave reviews at both Thanksgiving and Friendsgiving the next day, that it basically demanded that I put my cookie posts on hold for a day.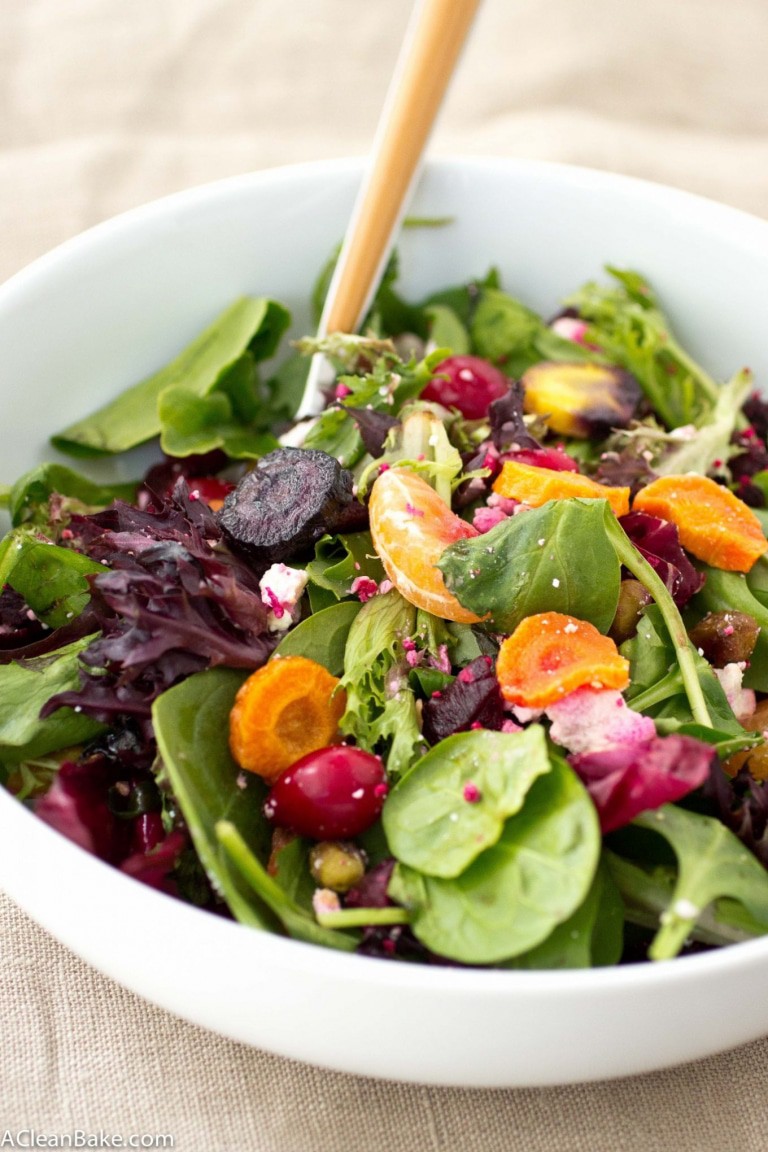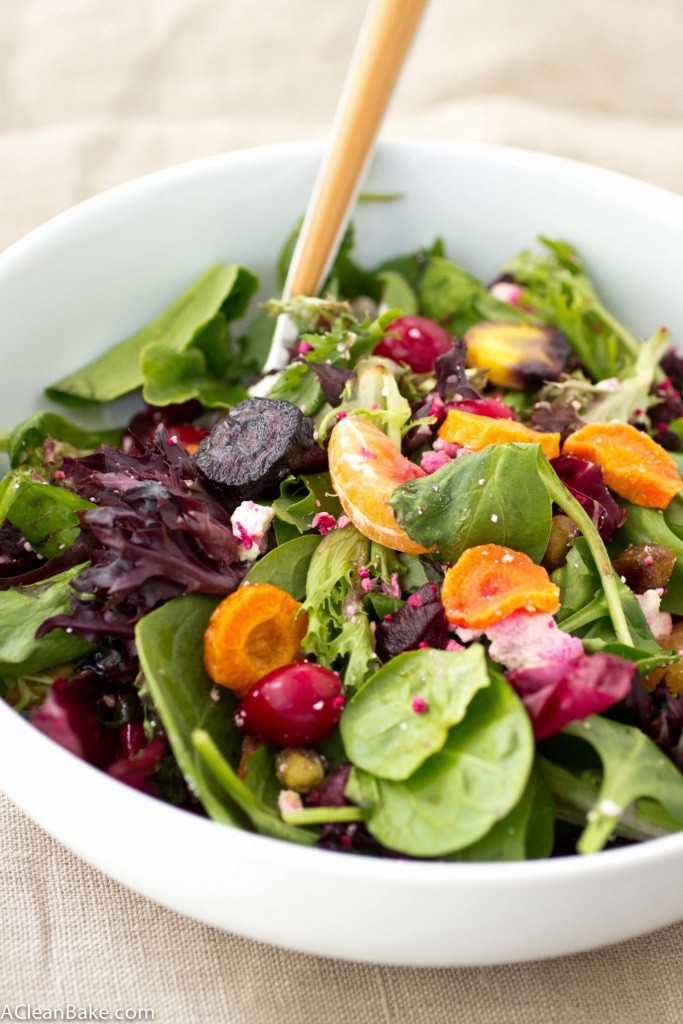 But let's not make the mistake of assuming that this is a Thanksgiving-only salad, or even a special-occasion salad. If you're in the market for a hearty, texture-heavy lunch that is full of flavor, please oh please make a big fat batch of this. Or, more accurately, make a batch because the recipe below makes a ton. Luckily, this salad holds up really well over a few days in the fridge (because what is the best litmus test of a successful Thanksgiving dish, if not its capacity for an encore or two?), as does the dressing, which should be stored separately and tossed in right before you eat.
Whatever you do, please don't wait for a major holiday to make this wintery salad!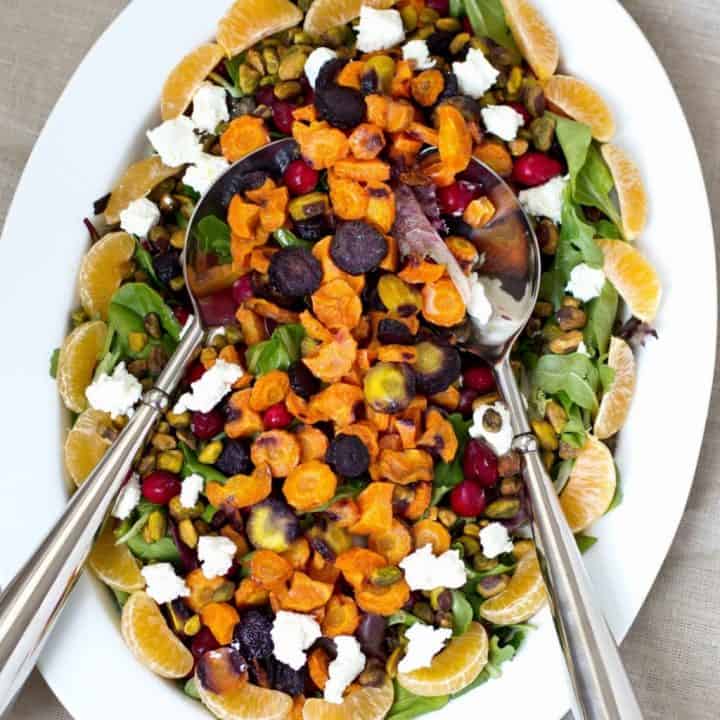 Roasted Rainbow Carrot Salad with Cranberries, Pistachios and Honey Dijon Vinaigrette
gluten free, grain free, paleo friendly, vegetarian and vegan adaptable
Ingredients
Ingredients for the salad
2 pounds fresh rainbow carrots, peeled and sliced (orange carrots are fine too)
3 Tablespoons olive oil, or other healthy
1/2 teaspoon fine sea salt
1/2 lb mixed baby spinach, about 10 cups, loosely packed
1 cup fresh or dried cranberries, washed and dried
4 ounces fresh goat cheese, crumbled
1/2 cup roasted and salted shelled pistachios or toasted walnuts
2 mandarin oranges, peeled and separated into slices
Ingredients for the vinaigrette dressing
1/2 cup good quality dijon mustard
1/4 cup extra virgin olive oil
3 Tablespoon honey, or to taste
2 tablespoons water
1/2 teaspoon garlic powder
1/2 teaspoon coarsely ground black pepper
1/4 teaspoon salt
Instructions
Preheat the oven to 350F. Line two large baking pans or cookie sheets with tinfoil (spray or brush lightly with oil) or nonstick pads. In a large mixing bowl, toss together the carrots and oil, then add the salt and toss to combine.
Divide between the two prepared baking sheets and spread into an even, well-spaced layer.
Bake both pans for 55-60 minutes until carrots are soft and browned around the edges.
Allow them to cool completely.
Assemble the salad by tossing together the greens and cranberries. Sprinkle the goat cheese over the top, then the pistachios, followed by the carrots.
Arrange the mandarin orange slices around the perimeter of the serving platter.
Make the dressing by whisking together the mustard, honey, oil, water, garlic powder, salt and pepper until smooth. Taste and adjust honey and spices to your preference.
Dress the salad immediately before serving or eating.
Notes
If you can't find rainbow carrots, just use regular orange ones.
Feel free to swap in other root vegetables like beets or parsnips for some or all of the carrots.
You can make the carrots ahead and store them in an airtight container for up to three days.
Do not dress the salad until you're ready to serve. You can make the dressing ahead of time and store in an airtight container in the refrigerator for up to 3 weeks.
Make this salad vegan or whole30 compliant by omitting the goat cheese.