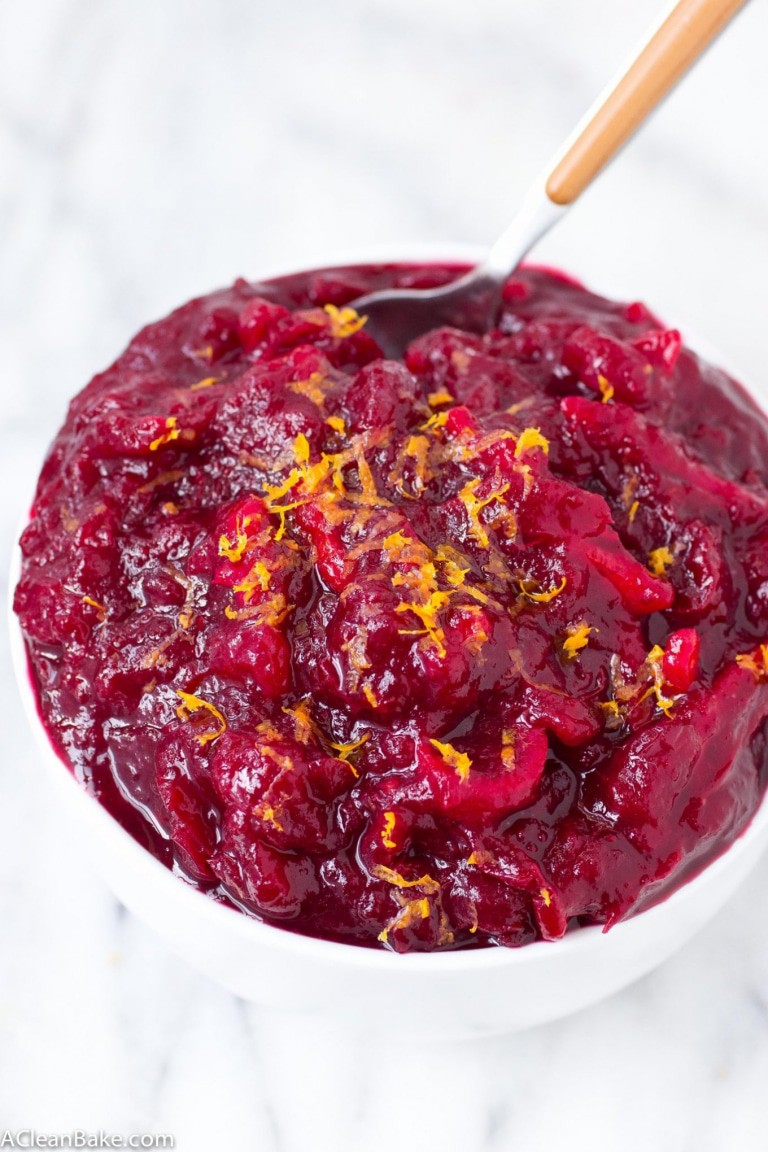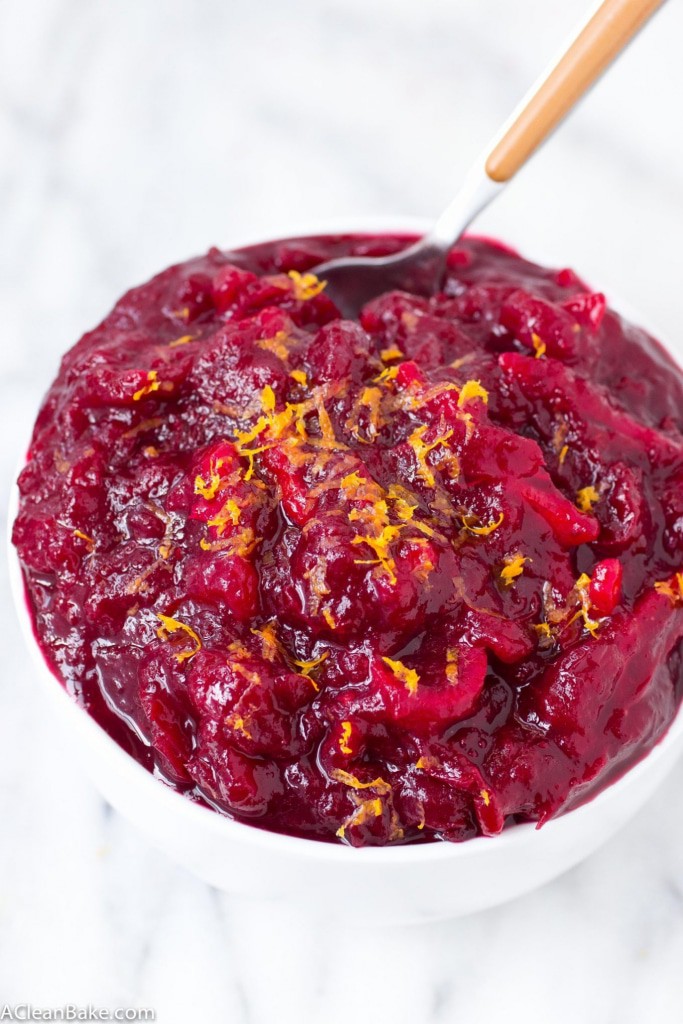 This is the ultimate last minute Thanksgiving recipe: five ingredients (one of which is water), one pot, 15 minutes, minimal stirring. Seriously, does it get any easier than that?
Before I fully go Barefoot Contessa on you (except for the whole living-in-the-Hamptons thing, and just about everything else about her perfect, stress free life; Ina would NEVER be planning her Thanksgiving menu 72 hours before the dinner), let's set the scene: it's 24 hours before Thanksgiving dinner and it dawns on you that you should bring something. Or, you're hosting and you've had this nagging feeling for days that planning is going a liiiiittle too smoothly until it dawns on you that you forgot to account for cranberry sauce, so you send your great uncle Merle out to the store for cranberries, but now you have to figure out how to transform them into sauce without disrupting the rest of your carefully planned holiday prep. Beloved Great Uncle Merle is of absolutely no help.
My point, other than the fact that I revel in naming fictitious great uncles and have (clearly) never hosted Thanksgiving dinner before, is that everyone can use a recipe like this, even if it's not Thanksgiving at all, but instead a random Tuesday night and you're looking for a way to jazz up a supermarket rotisserie chicken. It's fast, it's easy, and – most importantly – it's delicious in that sweet/tart mashup way that makes your tongue do cartwheels.
The sweetener takes the sour edge off of the cranberries without being overpowering, and the flat sharpness of the cranberries is balanced by the bright acidity of the orange juice. The sauce is smooth but the peels give it a little unexpected chew (plus, they contain pectin, which is a natural thickening agent) and the skin that the burst cranberries leave behind provides the texture necessary for the sauce to hold its own on top of a piece of turkey without stealing the show. Basically, it's perfect. So, why have we been spending so long making cranberry sauce our whole lives? 15 minutes is all you need.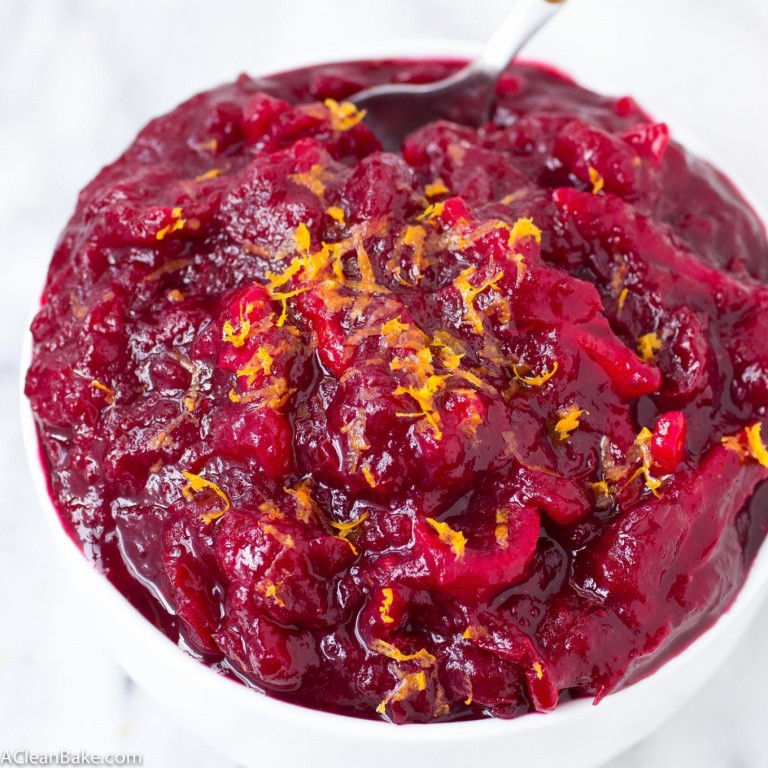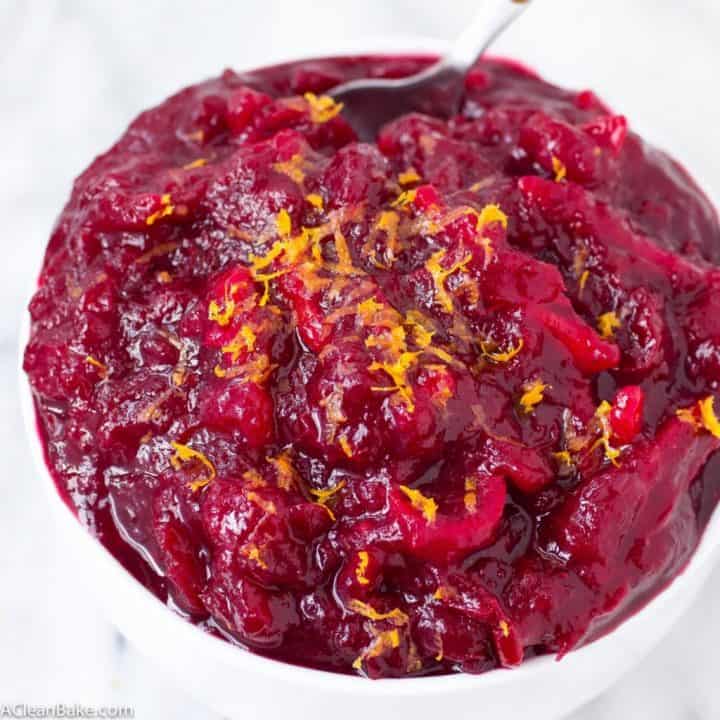 15 Minute Cranberry Sauce
gluten free, grain free, vegan, paleo, sugar free
Ingredients
4 cups whole fresh cranberries
1/2 cup granulated monk fruit sweetener
Juice and peel of 2 clementine oranges or one navel orange, about 1/4 cup juice, plus the peel, sliced into thin strips. Discard the meat and pith of the orange
1/2 cup water
1/2 teaspoon cinnamon
Instructions
Put all of the ingredients into a saucepan, stir briefly, cover and bring to a boil over medium heat (about 5 minutes).
Remove the cover and reduce the heat to bring the sauce down to a simmer.
Cook 10 more minutes, stirring periodically, until thickened and smooth. Turn off the heat.
Use the back of a fork to gently burst any cranberries that are still whole. Stir a few more times before transferring to a serving bowl.
Notes
To make this ahead of time, cool to room temperature and then store in an airtight container in the refrigerator.
This post contains affiliate links, which means that if you click through and purchase a product, A Clean Bake receives a small commission, which goes toward continuing to bring you delicious, healthy recipes every week. This does not affect the price you pay. Thanks for supporting A Clean Bake!