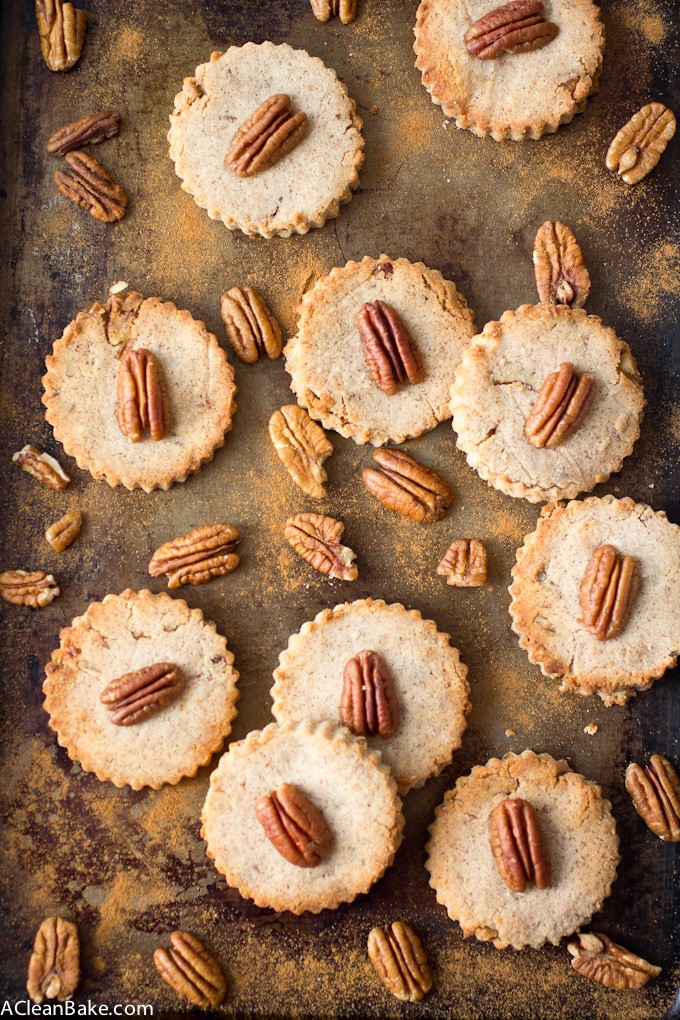 I think we've more than covered dinners and desserts, but I feel like we've tragically overlooked the most important meal of the day: snacks.
Are you a big snacker? I'm a BIG snacker. I don't eat big meals, which you may have noticed from my instagram, so I snack a lot during the day.
Since I supplement my meals with snacks, I try to make them as nutritious as possible – even when they're sweet (which my snacks usually are). So the next couple of recipes that I have on deck for you are examples of healthy, lightly sweetened snacks to enjoy throughout the day.
First, let's eat cookies in the morning. A low carb, nutrient-packed cookie, though, that will not send you on a sugar spiral before lunch. Because that's when I like to eat a cookie – around midmorning. Forget the 3pm cookie binge. Just have one (good one) in the morning and that way, you won't be sugar-deprived by mid-afternoon and eat 437 Reese's PB cups.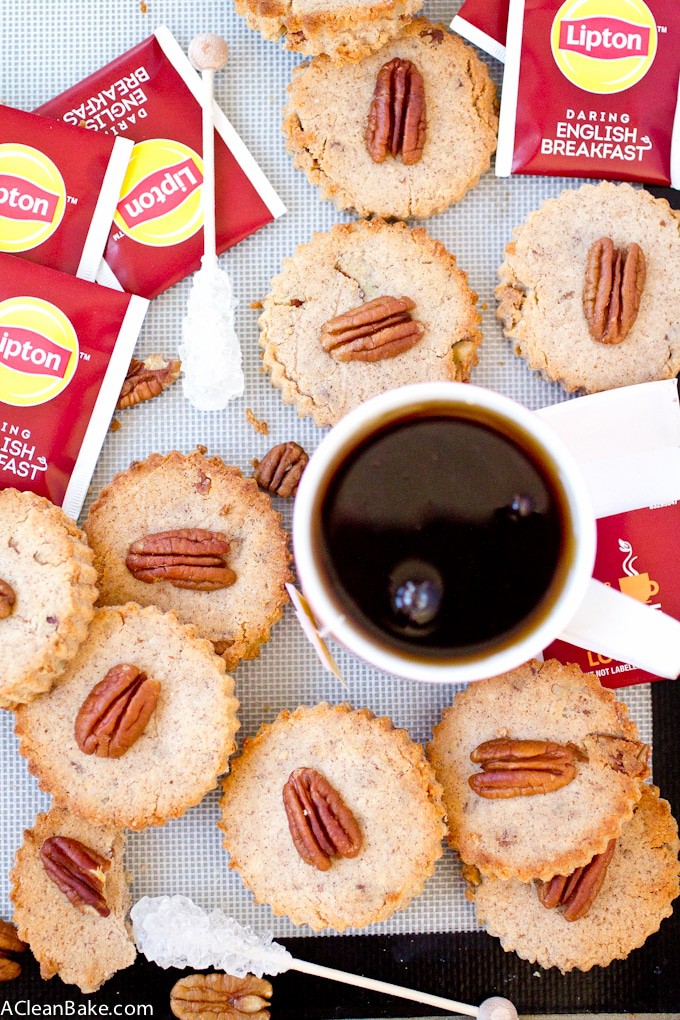 The other indispensable element of my day is tea. I drink tea throughout the day, ostensibly to stay hydrated but the truth is that I am literally freezing for 6-8 months out of the year and a constant intake of steaming beverages is really the only hope I have of reducing the ferocity of my shivering to levels that allow me to, you know, brush my teeth and type non-gibberish. Hearty, I am not.
In the mornings, I like to pair my snack with black tea, which has the most caffeine of any of the varieties of tea, but far, far less than coffee. I love classic flavors in the morning, and lately have been starting my day with Lipton's English Breakfast tea. Lipton just came out with a new line of black and herbal teas, and has updated their line of green teas, so there are tons to choose from (and in the next 2 posts, I'll pair one from each of the other two lines with a snack!). The new lines feature bold and stimulating flavors like Enticing Chai, Pure Green, Orange Passionfruit Jasmine and Peach Mango. You can check out the full line-up of Lipton Green, Black and Herbal tea flavors here.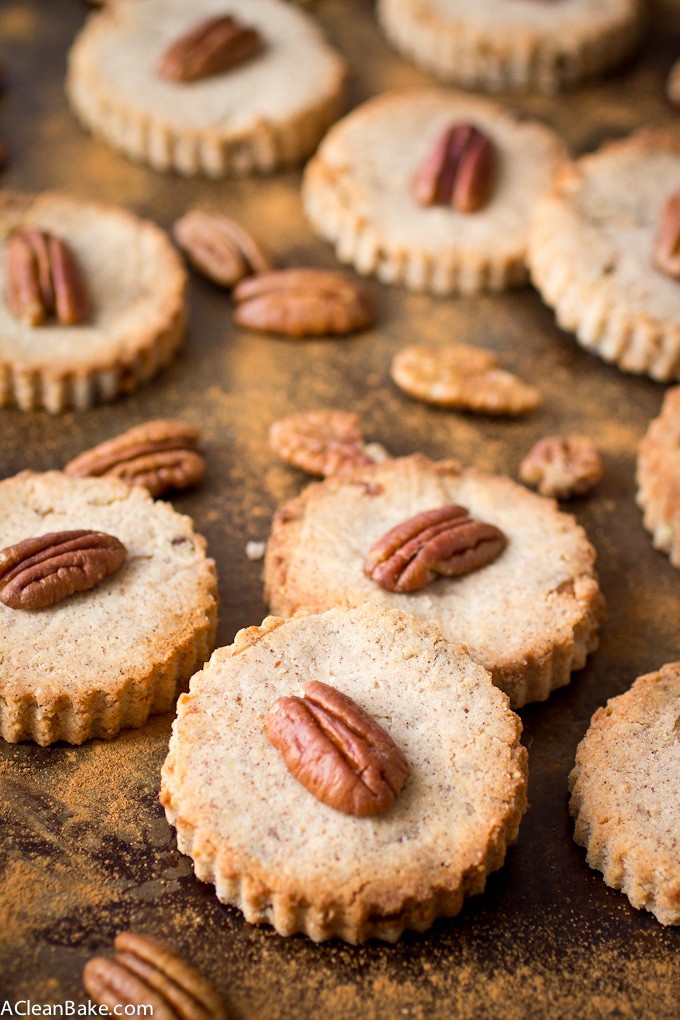 Besides the little boost of caffeine in the morning, black tea contains antioxidants (which have been linked to cancer prevention) and some research has suggested that, along with green tea, it can reduce the risk of stroke. But most of all, it's warm and comforting, and the bold aromas and unique flavors of Lipton English Breakfast pair perfectly with this nutty, slightly sweet, warmly-spiced shortbread.
If you're looking for an afternoon or evening snack, I have you covered there, too! (Or, sign up for the mailing list using the form at the bottom of this post and you'll get all three recipes in next week's newsletter.)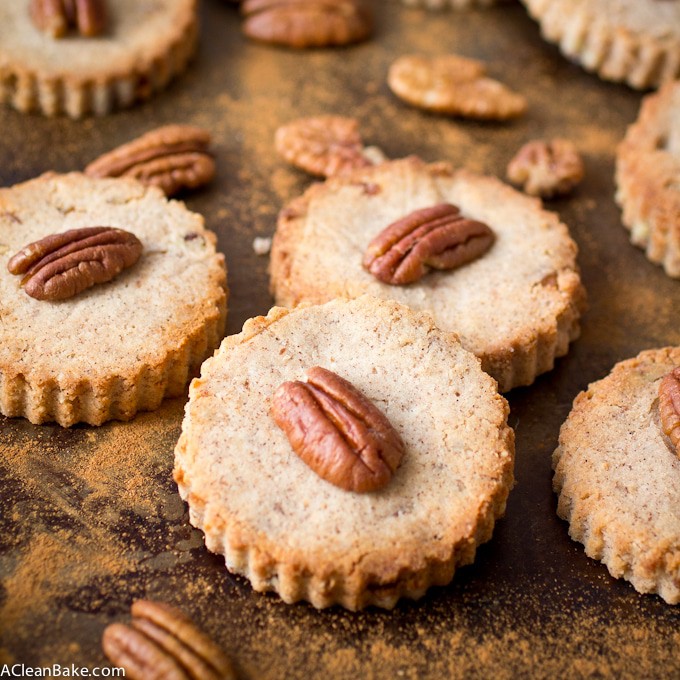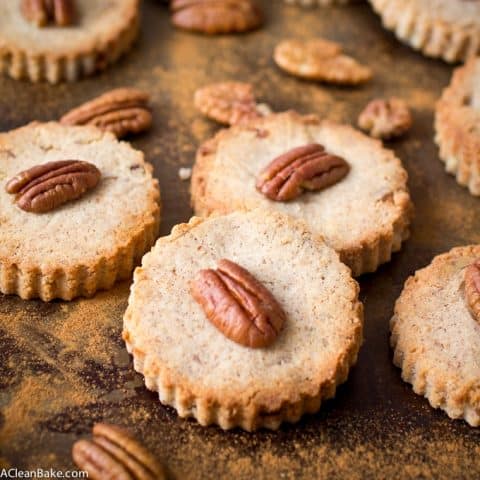 Cinnamon Pecan Shortbread
Cinnamon Pecan Shortbread - a grain free, low carb and lightly sweetened morning snack! Plus, it takes just 10 minutes hands on time to whip up!
Ingredients
6 Tablespoons good quality unsalted butter
1 1/2 cups blanched almond flour
1/4 cup + 1 Tablespoon coconut flour
1/4 cup granulated monk fruit sweetener, or granulated stevia
2 teaspoons cinnamon
1/8 teaspoon salt, (omit if using salted butter)
2 large egg whites, should equal 1/4 cup
1/4 teaspoon vanilla extract
1/4 cup finely chopped pecans,, plus halves for garnish
Instructions
Preheat the oven to 350F. Line a cookie sheet with parchment or a nonstick pad and set aside.
Melt butter in the microwave or on the stove top and set aside to cool slightly.
In a large mixing bowl, whisk together the almond flour, coconut flour, sweetener, cinnamon and salt.
Add the egg whites, butter (which should be cool enough that you can hold your fingertip in it for 5-10 seconds without flinching) and vanilla, and stir until evenly combined. It sound be slightly sticky.
Fold in the chopped pecans.
Gather the batter into a ball and turn it out onto a cutting board. Let it rest on the cutting board for 5 minutes, which will allow the coconut flour to absorb the moisture completely.
Once the excess moisture has absorbed, roll the dough out into a disc approximately 1/2" thick. Use a biscuit cutter (or glass) to cut out circles of dough.
Transfer the cookies to the prepared cookie sheet, spacing them about 1" apart.
Gently press one pecan half into the center of each cookie.
Bake for 15-18 minutes, or until the edges are golden, remove from the oven and transfer cookies to a wire rack to cool completely and firm up before serving.
Notes
The butter is responsible for most of the flavor of the cookies themselves, so use the best quality you can find.
If you can't tolerate dairy, omit the butter and substitute an equal amount of coconut oil. The cookies may need a minute or two less baking time, and will have a slightly coconutty flavor.
Yield: 11-12 cookies, depending on the size of your cookie cutter
Nutrition Information:
Yield:

12
Amount Per Serving:
Calories:

159
Saturated Fat:

4g
Cholesterol:

15mg
Sodium:

39mg
Carbohydrates:

5g
Fiber:

2g
Protein:

4g
[wprm-nutrition-label align="center"]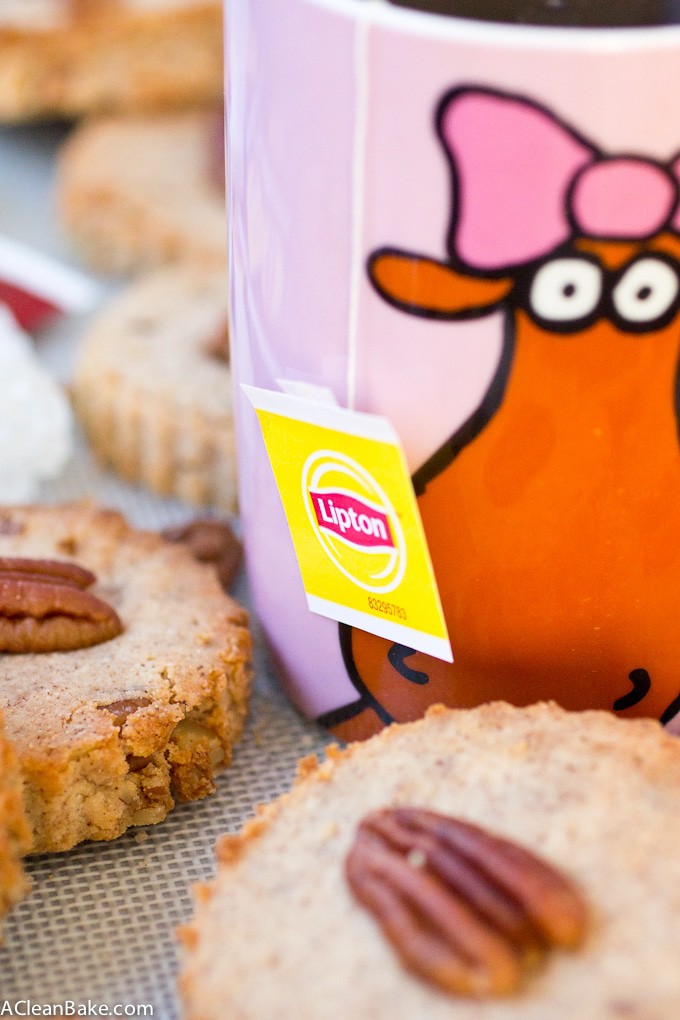 I was selected for this opportunity as a member of Clever Girls and the content and opinions expressed here are all my own.