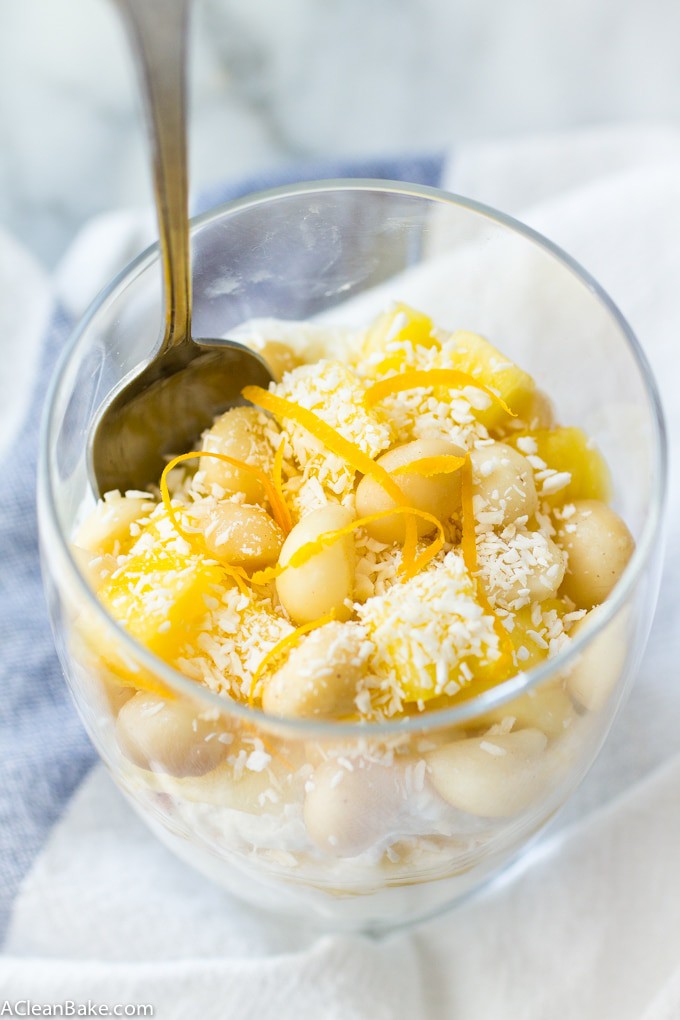 Now that we have morning snacks sorted out, I propose we move on to an afternoon snack. Who seconds this proposal? I'm assuming several of you are yelling "aye!" at your computer screen, like perfectly well-adjusted humans do.
Maybe, if we're all yelling at our computer screens, that's merely further proof that it's time for a snack. That 3pm energy dip is a killer, isn't it? While I don't usually reach for something baked – I take care of that craving in the morning, and I think you should too –  I do need something with a touch of sweetness, plus a ton of protein and healthy fat, to power me through until dinnertime.
I've been eating a lot more Greek yogurt lately, because it's a delicious, relatively inexpensive and filling source of protein (and I'm notoriously low on protein, as hard as I try) and you can top it with eleven thousand different flavors and textures to make it into exactly what you're craving when you're craving it.
That goes for all yogurt, though, so you can use regular/non-Greek or dairy-free yogurt in this recipe, if you prefer. Just go for the plain kind, because the flavored varieties are bursting with added sugar that only intensifies your afternoon crash (you know the drill).
Besides a little sweetness, and a solid nutritional profile, the third leg of my afternoon-snack-tripod is usually a little bit of caffeine. Not a cup of coffee, though, if I want to sleep sometime before next week. I usually reach for a cup of green tea, which has a perfect little nudge of caffeine (and a lot of health benefits), preferably flavored with something light and bright like jasmine or citrus.
In particular lately, I have been loving Lipton Orange Passionfruit Jasmine green tea, one of the flavors in their updated line of green teas. Lipton's updated green teas have a light, fresh taste, bright clearer color and delightful aroma that uplift and refresh you- exactly what 3pm on a Thursday calls for.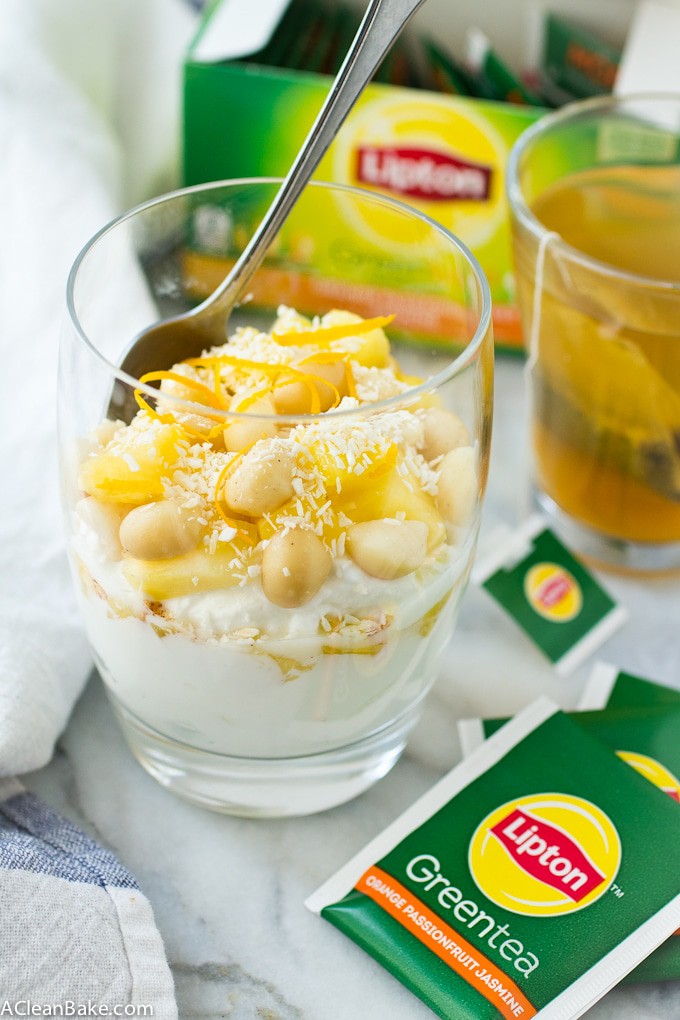 Because of the fresh, tropical flavor of the tea, I have been building my afternoon parfait with similarly island-y flavors that make me forget, just for a moment, that I'm behind a desk, not on a Caribbean beach. It starts with pineapple, which is sweet and crisp enough to balance the creamy tartness of plain yogurt just perfectly. Then I add cinnamon (pineapple's long lost BFF. Have you ever tried these two flavors together? It's magical.), macadamia nuts, coconut flakes and lemon zest for a truly sunny snack.
PS: Now that your afternoon appetite is taken care of, make sure you're covered for morning and evening snacks, too!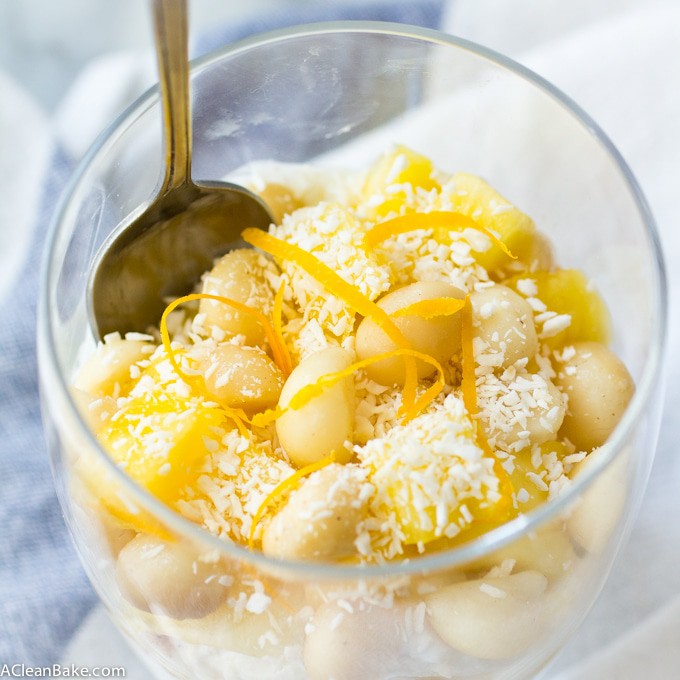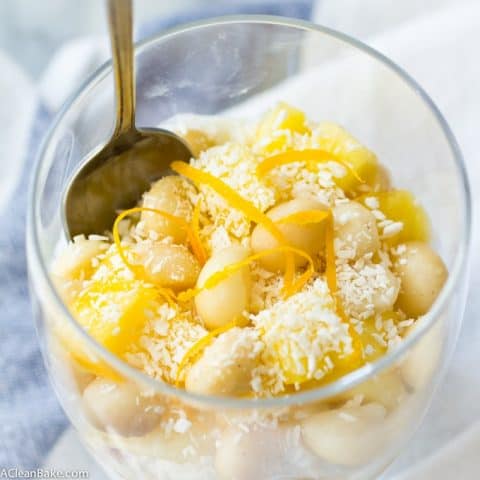 Tropical Yogurt Parfait
This tropical yogurt parfait is a gluten free and naturally sweetened hearty breakfast or snack that you'll love! (paleo and vegan adaptable)
Ingredients
1 cup unsweetened plain yogurt, divided
1-2 Tablespoons honey, optional, or to taste
pinch of cinnamon
1/2 cup chopped pineapple
2 Tablespoons chopped macadamia nuts
2 Tablespoons unsweetened shredded or flaked coconut
1 Tablespoon fresh lemon zest, loosely measured, or to taste
Instructions
If you'd like to sweeten your yogurt, whisk together the yogurt and honey in a small bowl. Skip to the next step if you're not using honey.
Spread 1/2 cup of yogurt in an even layer across the bottom of a small bowl or glass.
Sprinkle the cinnamon on top.
Distribute 1/4 cup of pineapple over the cinnamon.
Add the remaining yogurt in a single layer, covering the pineapple.
Sprinkle the remaining pineapple over the yogurt, followed by the macadamia nuts and coconut.
Finish with a garnish of lemon zest.
Serve immediately.
Notes
Use coconut based yogurt for a non-dairy or Whole30 compliant adaption.
Yield: 1 parfait (but multiply as needed)
Nutrition Information:
Yield:

1
Amount Per Serving:
Calories:

499
Saturated Fat:

16g
Cholesterol:

31mg
Sodium:

121mg
Carbohydrates:

46g
Fiber:

5g
Sugar:

39g
Protein:

11g
[wprm-nutrition-label align="center"]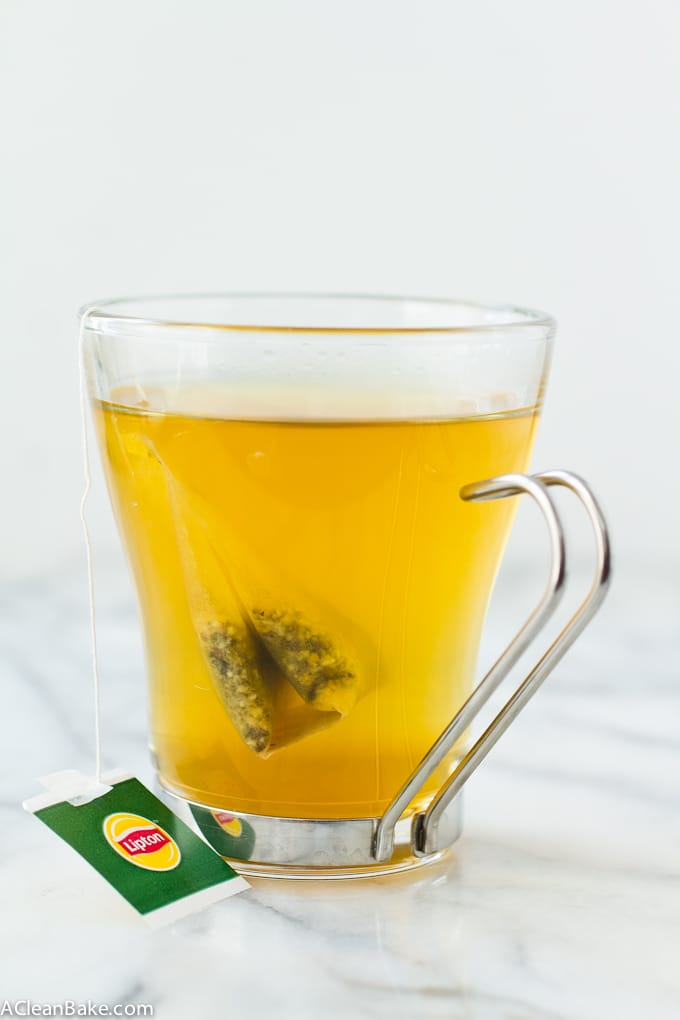 I was selected for this opportunity as a member of Clever Girls and the content and opinions expressed here are all my own.