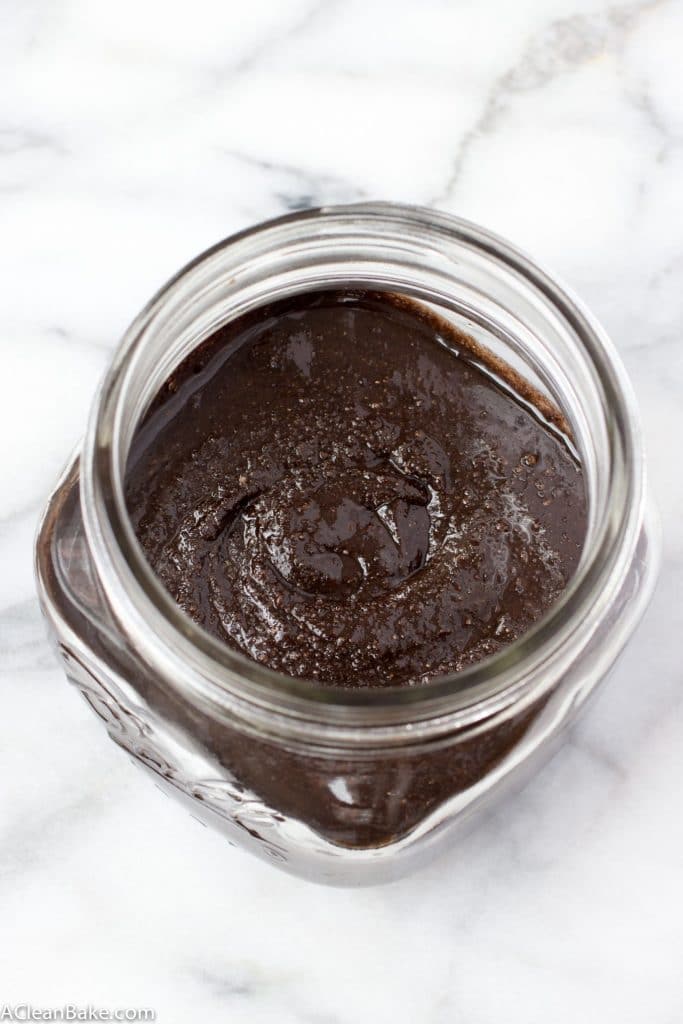 In our house, when my husband wants to surprise me, he brings me chocolate, not flowers. That's because he knows me very well, but also because once he brought me flowers to cheer me up after a week where work was terrible and my health was terrible and everything was terrible. Then my beloved cat, around whom my world revolves, ate a leaf from one of the lilies in the bouquet – which causes, I later learned – basically arsenic-meets-radiation-poisoning for cats which resulted in him being in the pet ICU for 3 days.
We no longer have flowers in the house.
This Valentine's Day, I am making all of my/our own sweet treats because, as the lily is to the cat, recently, even the most natural sugars have been upsetting my stomach lately. Including honey and coconut sugar, my go-tos! It's kind of unclear why this happened, but it's just one of those things that, when your digestion is compromised, you kind of have to go with. What was safe to eat yesterday is poison today. No problem. When live hands you dietary lemons, you make the best damn homemade lemonade you have ever eaten with a spoon. (In this metaphor, lemonade is homemade chocolate hazelnut spread, hence the spoon.)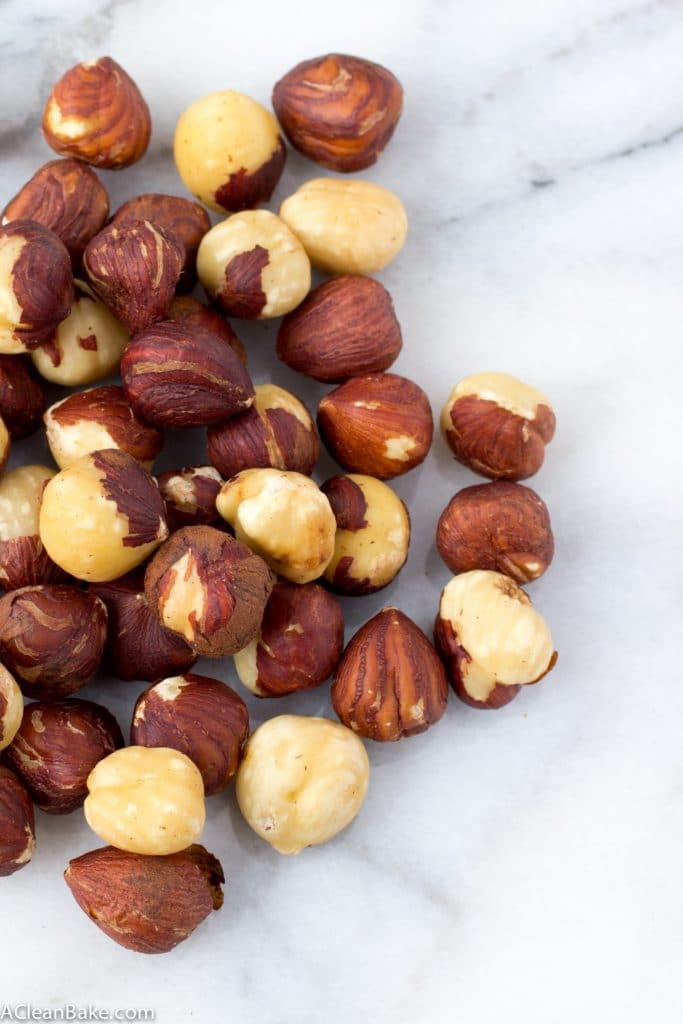 I have to stop and give a little shout out to the amazing granulated monk fruit sweetener called
Norbu
 that I used for this recipe and many of my other Valentine's Day treats (and its sister brand,
Natvia
, which is a granulated stevia product). You may have seen these ingredients in recipes on this site before, but which has really been working overtime in my kitchen lately. Ever since honey and coconut sugar started bothering me, I have turned to Norbu more and more, and have used it in place of just about any other sweetener in everything from
cookies
to brownies to my favorite 
little single serve cake
.
With Valentine's Day approaching fast, I'm excited to share some of the delicious (sugar free) treats I've made, starting with this homemade chocolate hazelnut spread, which I call Not-tella, because I love a pun. Nutella, while beloved, contains palm oil, a controversial ingredient, which I try not to consume if I can avoid it. Plus, it's sweetened with refined sugar, which is off-limits to me, especially at the moment. This version is quick to make, and only contains 4 recognizable ingredients: hazelnuts, cocoa powder, Norbu or your preferred granulated sweetener, and salt. Don't get me wrong: I love (LOVE) Nutella, but doesn't a homemade, all-natural, thick and luscious chocolate hazelnut spread just sound like the height of decadence?
Here, I brought you a spoon: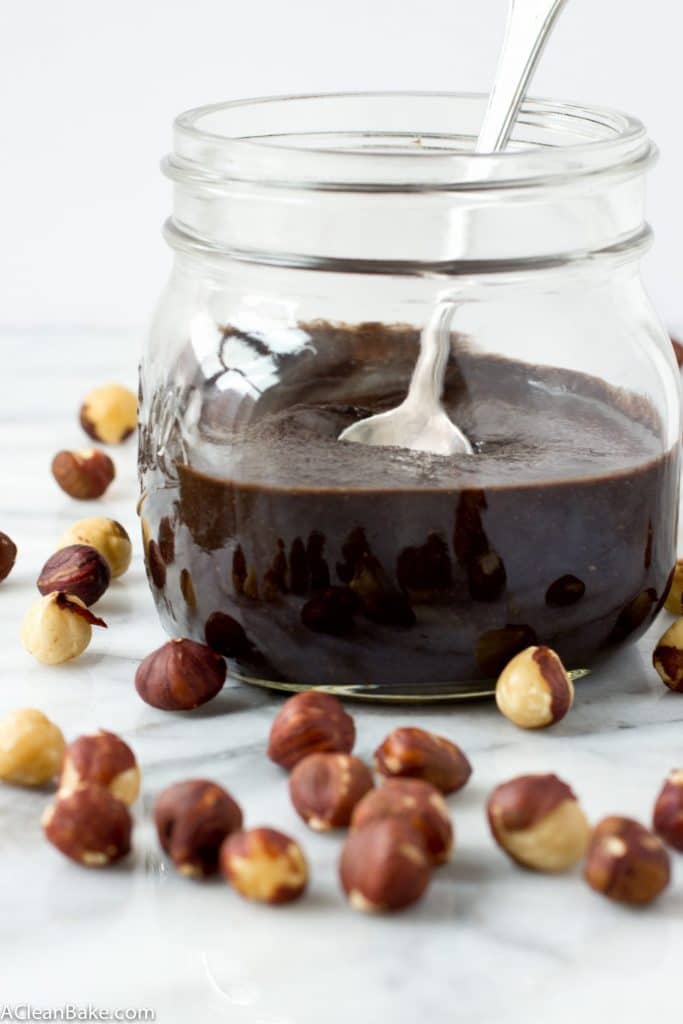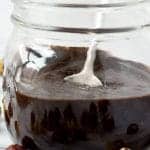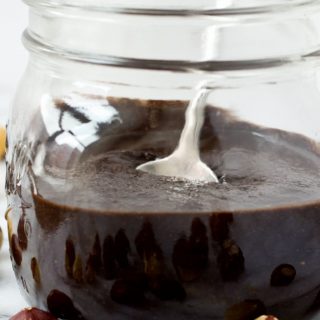 Homemade Chocolate Hazelnut Spread
Ingredients
1

cup

raw unsalted hazelnuts

Heaping 1/4 cup raw unsalted cashews

3

Tablespoons

cocoa

2-3

Tablespoons

Norbu or other granulated sweetener of choice

Pinch salt

1

teaspoon

tapioca starch or arrowroot powder if using for spreading

(as opposed to baking)
Instructions
Optional: Toasts hazelnuts in a dry pan shaking periodically, until you start to smell a toasty aroma.

Add the hazelnuts and cashews to the bowl of a small food processor and pulse 10-12 times (it takes a bit longer if you toasted the hazelnuts) until they form a coarse flour, then process continuously, scraping the sides and bottom of the bowl periodically, until it forms a thick paste. This will take a while. The nuts hold on tightly to their flour texture, then start to form a giant ball. Just keep going; eventually the oils will release and the nuts will become a loose paste.

Add the cocoa, Norbu or other granulated sweetener, salt and tapioca/arrowroot (if using) and process to combine.

Taste, adjust cocoa, sweetener and salt to your preference, and process once more to combine.

Transfer to a dish if serving immediately, or store in an airtight container at room temperature for up to 5 days, or in the fridge for up to 3 weeks.
Recipe Notes
Toasting the hazelnuts is optional and offers a slightly richer flavor to your Not-tella. Feel free to skip the step; your spread will still taste great. Do not toast the cashews.

Depending on your food processor, your spread might end up a little bit grainy. I had a lot of success transferring the grainy spread to a Magic Bullet and pureeing further to smooth it out. This should also work well in a high-powered blender. Do not replace the granulated sweetener with liquid sweetener like honey or sugar. The result will be way too runny.
Without thickeners, the spread will be a little runnier than you may be expecting. This is perfect for baking with, or to use as a dip, but if you want to spread it onto toast, add additional cocoa powder and/or the prescribed tapioca (or more) until it reaches your desired consistency. Note that it will become pretty solid in the fridge, but will soften again when brought back to room temperature.
Yield: 1 cup
Thank you to Natvia for providing the ingredients that inspired this delicious recipe. This post contains affiliate links, which means that if you click through and purchase a product, A Clean Bake receives a small commission, which goes toward continuing to bring you delicious, healthy recipes every week. This does not affect the price you pay. Thanks for supporting A Clean Bake!