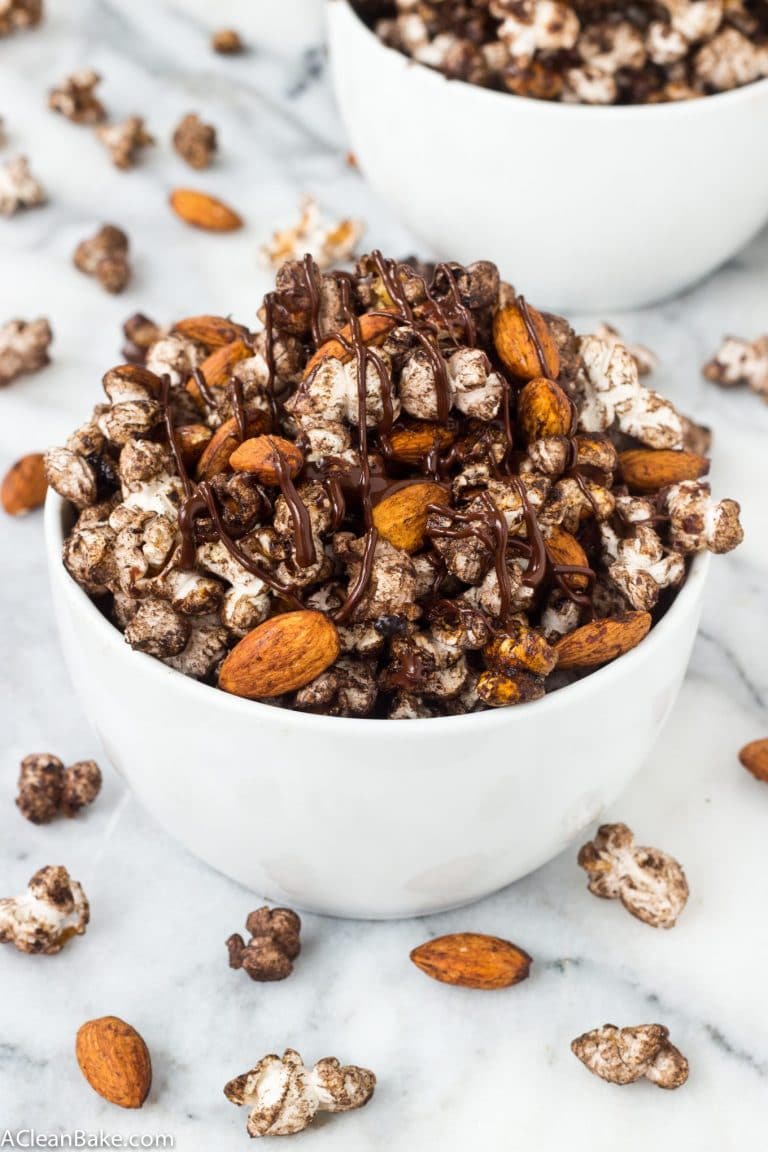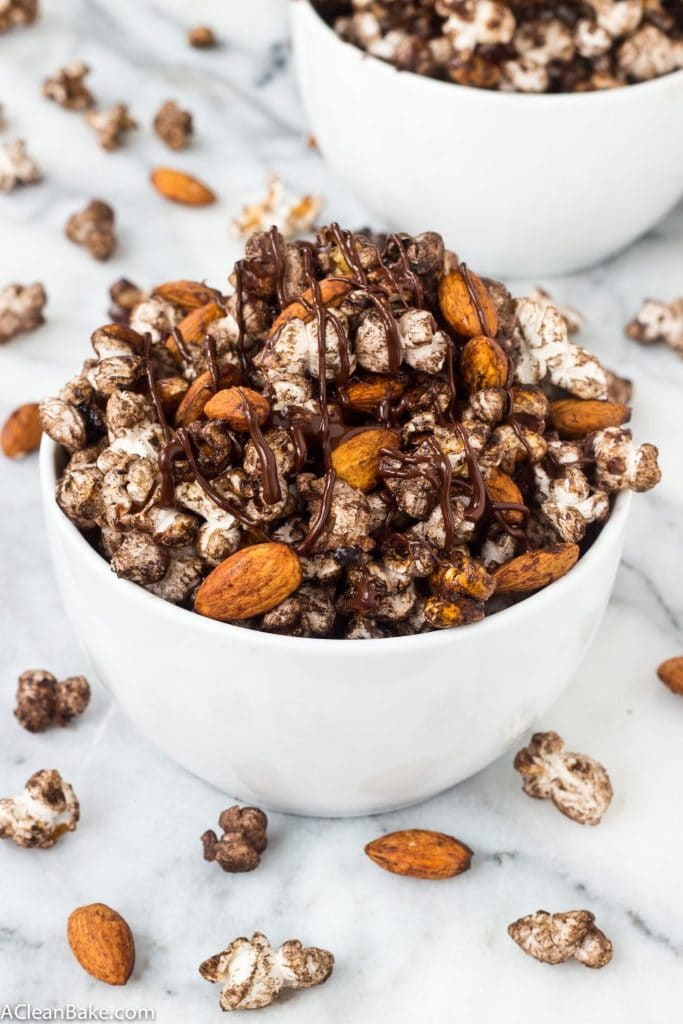 In the giant social experiment that they call Whole Foods, perhaps the most trying moment is the checkout line. I don't mean the part where they nonchalantly call out a total cost that is twice the GDP of Spain, but rather, the moments before that when you're side-eyeing all of the delicious, not-coincidentally-placed packaged snacks and sweets that are laid out on either side of you to really test your resolve. The real problem with Whole Foods is that they have successfully tricked us into believing that everything in the store is good for you. And I fall for it, hook, line and Justin's Dark Chocolate Peanut Butter Cup Shaped Sinker, every time.
My coworker and I go to Whole Foods a few times a week and always enable each other into buying some impulse sweet or another, typically of the snacky and/or chocolatey variety, and the one time we thought we were going to get out of there with everything we came for but nothing more, we came across bags of chocolate-covered, almond-studded popcorn in – of course – the checkout aisle.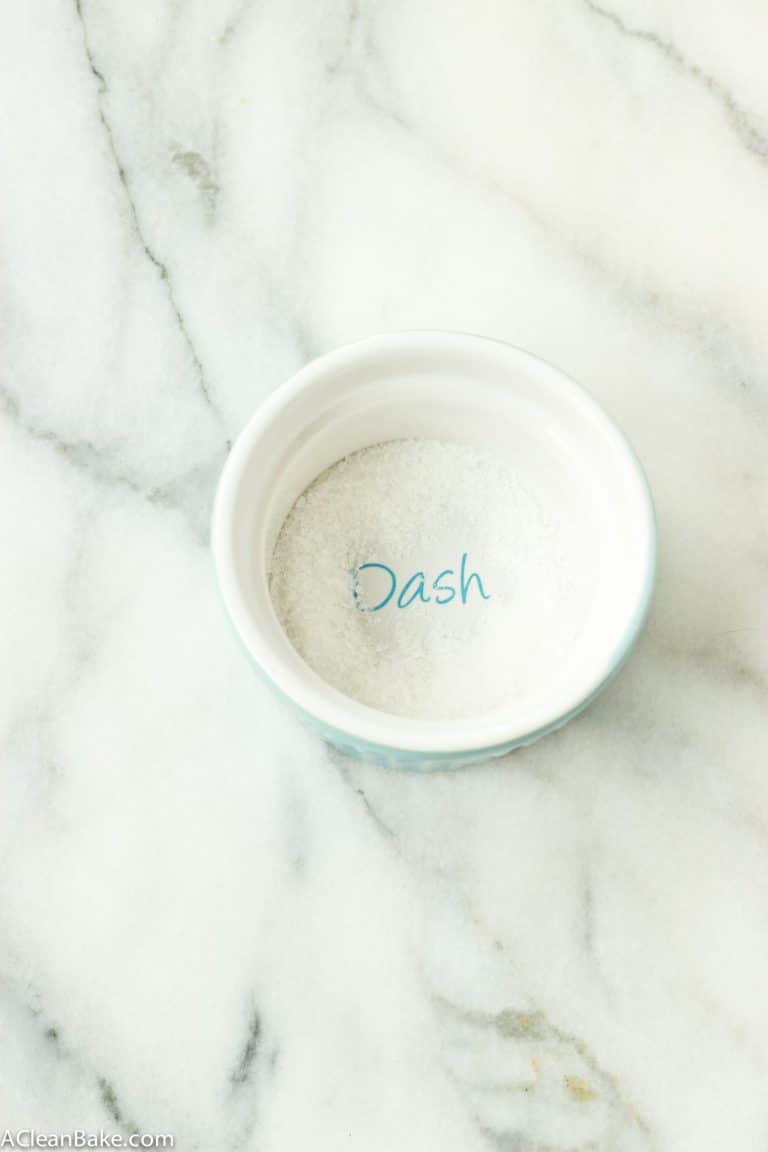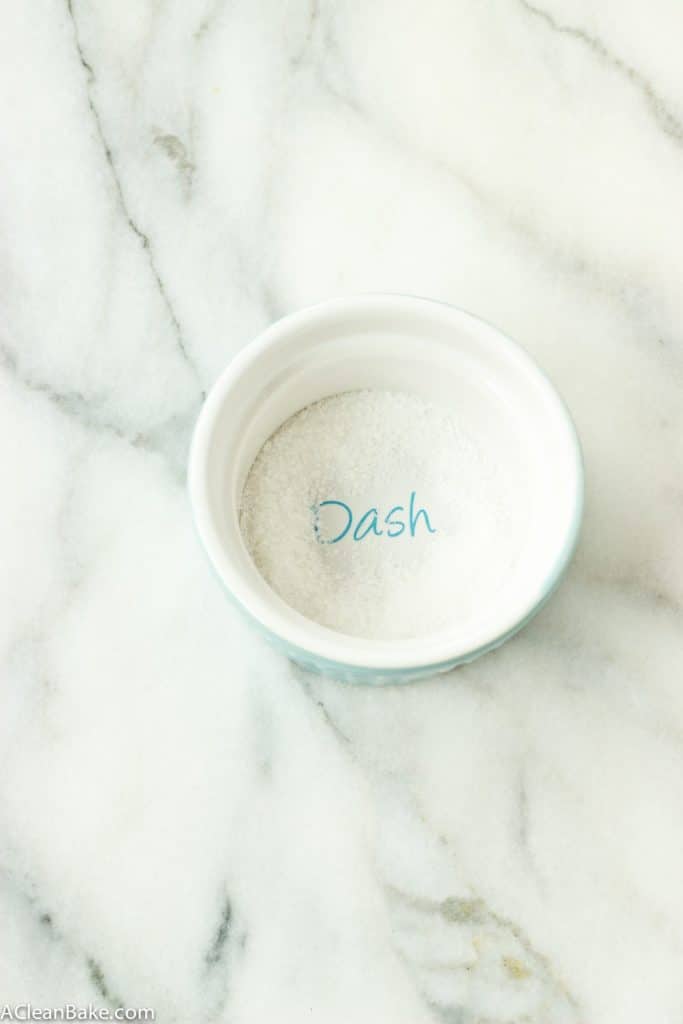 The combination of flavors and textures in a salty/sweet/crispy/crunchy/chocolatey/carby/nutty concoction such as this is just as you would expect it to be: heaven. But I thought the store-bought version was missing one thing: spice. Are you a chocolate-and-spice lover too? My husband knows that the way to my heart is always spicy truffles (a local Chicago chocolatier makes a box set with a paprika, a curry, a wasabe sesame, and a lavender dark chocolate truffle. The perfect foursome. But I kept it a little more subdued in this mix, with the addition of chili powder only, and not so much that you even taste it. It's more of a flavor suggestion than a bold flavor in this snack mix.
Of course, if you want to add more so that the taste is more powerful, feel free. On the other hand, if you think spicy-sweet isn't your favorite, or you had a Mexican hot chocolate the other day that made you gag, skip the chili powder all together, or replace it with cinnamon.
Either way, it's a quick, poppable party mix that's perfect for a party, or your 3pm snack craving!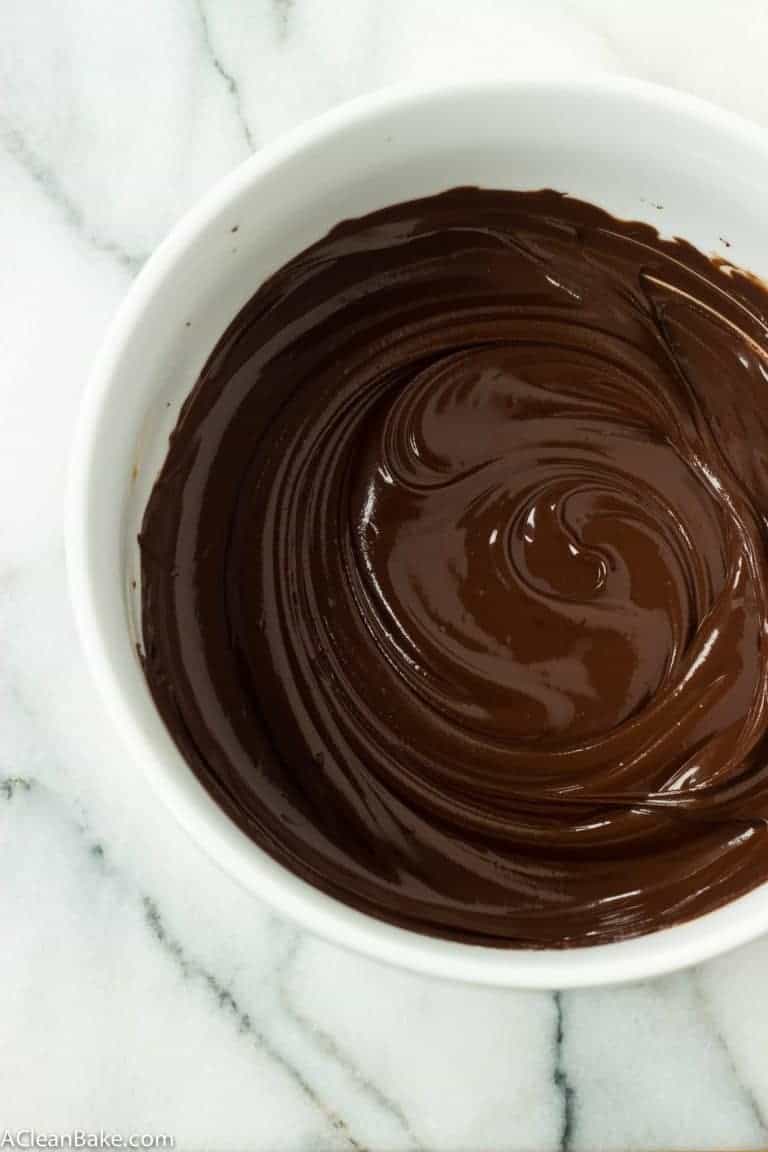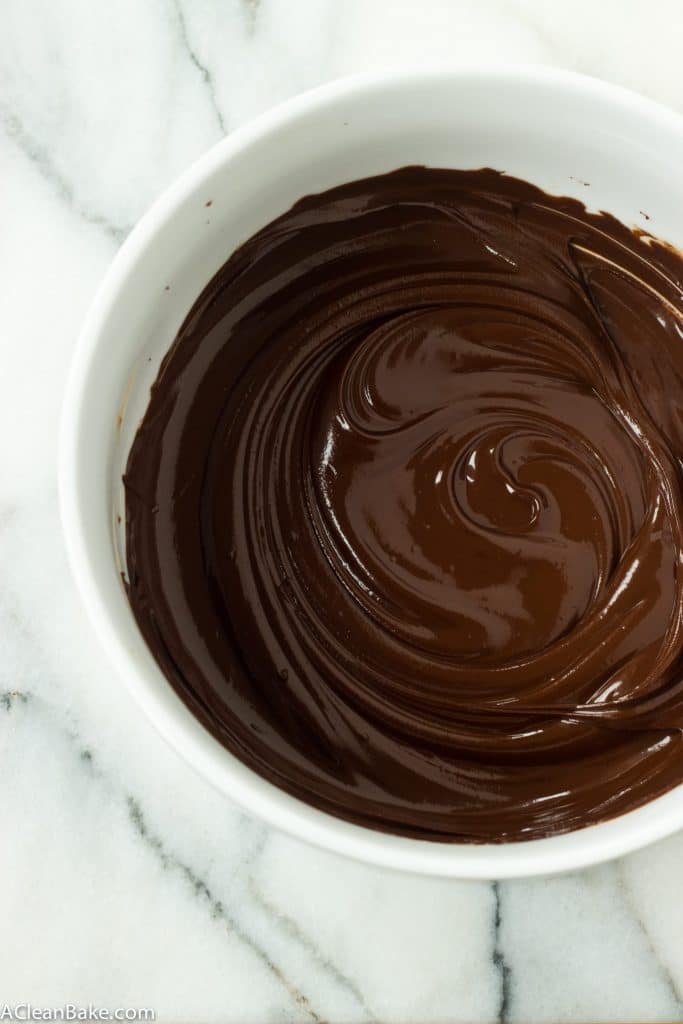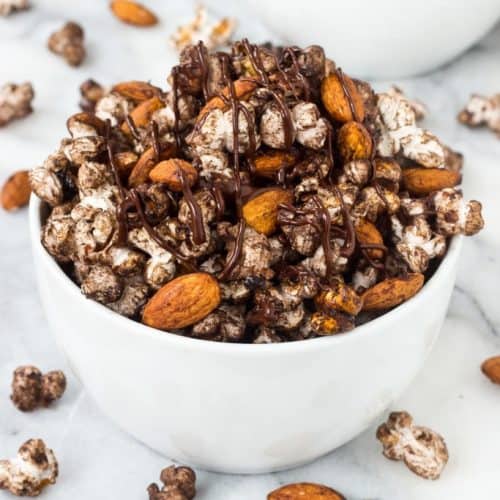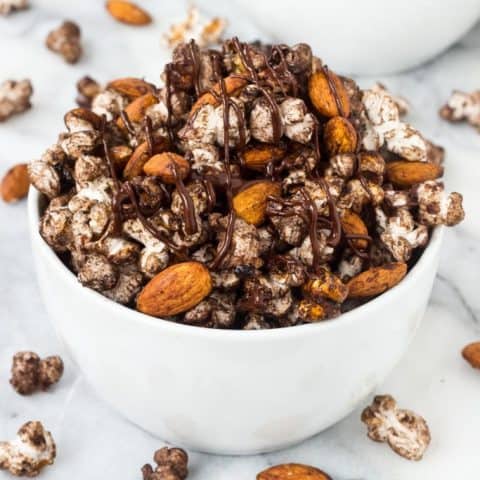 Spicy Chocolate Popcorn Snack Mix
Ingredients
1/2 cup corn kernels
2 Tablespoons flavorless oil, plus more for popping if using the stovetop
2 cups whole raw almonds
1/4 teaspoon coarse sea salt, optional, or to taste, plus more for garnish
1-2 teaspoons chili powder, optional, or to taste, plus more for garnish
1/4 cup cocoa powder, or more to taste
1 teaspoon Natvia or other granulated stevia product, adjust to taste
3/4 cup dark chocolate chips or chunks, melted and slightly cooled
Instructions
Pop the popcorn. If you want to use the stove top, toss the kernels in 2 Tablespoons of oil in the bottom of a large stock pot and cover. Cook over medium high heat, shaking periodically, until the popping slows to about 2-3 pops per second. Otherwise, pop the kernels in the microwave.
Transfer the popped kernels to a large, clean bowl or bag (I used a clean paper grocery bag) and toss with another 2 Tablespoons of oil.
Add almonds and shake again.
Sprinkle salt, chili powder, cocoa powder and stevia over popcorn, close the bag and shake vigorously to distribute. Taste and adjust ingredients if desired.
Transfer the popcorn to a baking sheet covered with wax or parchment paper, or a nonstick pad. Spread into an even layer, pour melted chocolate over the top, and toss gently to coat.
Garnish with additional sea salt or chili powder, if you want.
Allow the mixture to cool and the chocolate to firm up before serving.
Serve immediately, or store in an airtight container at room temperature for up to a week.
Notes
The almonds weigh far more than the popcorn, so tend to sink to the bottom. If you would like them to stay mixed better, try coarsely chopping the almonds before you add them to the popcorn.
If you are not a fan of spicy chocolate flavors, replace the chili powder with cinnamon or omit entirely.
Yield: About 10 cups