Paleo apple pie is much easier to make than you'd think when you fill a reliable grain free and low carb crust with three kinds of apples, warm cinnamon, and rich coconut sugar, and top it all with a thick layer of luscious crumb topping! Finish it with a dollop of ice cream and a drizzle of caramel sauce. No one will believe this apple pie recipe is gluten free, grain free, and dairy free!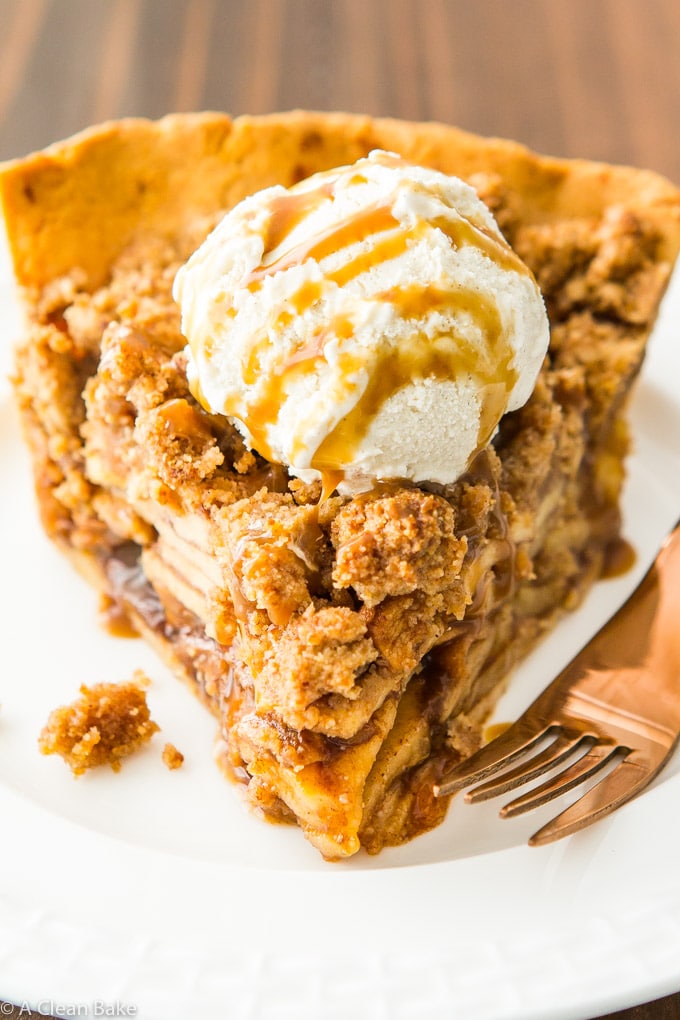 I did promise you apple pie, didn't I? And I would never break a promise that crucial.
I don't know why I don't make pies more often, because they are so satisfying to pull out of the oven. And eat, too, of course. But nothing compares to the feeling of sliding a perfect, golden brown, warm apple pie out of the oven and deeply inhaling the aroma as you place it on the stovetop to cool, and try to avoid the urge to plunge a spoon into the center right away.
Once you've waited for it to cool just enough to get to one degree below "sear your tongue so badly you regret it for days", boy have you earned your slice.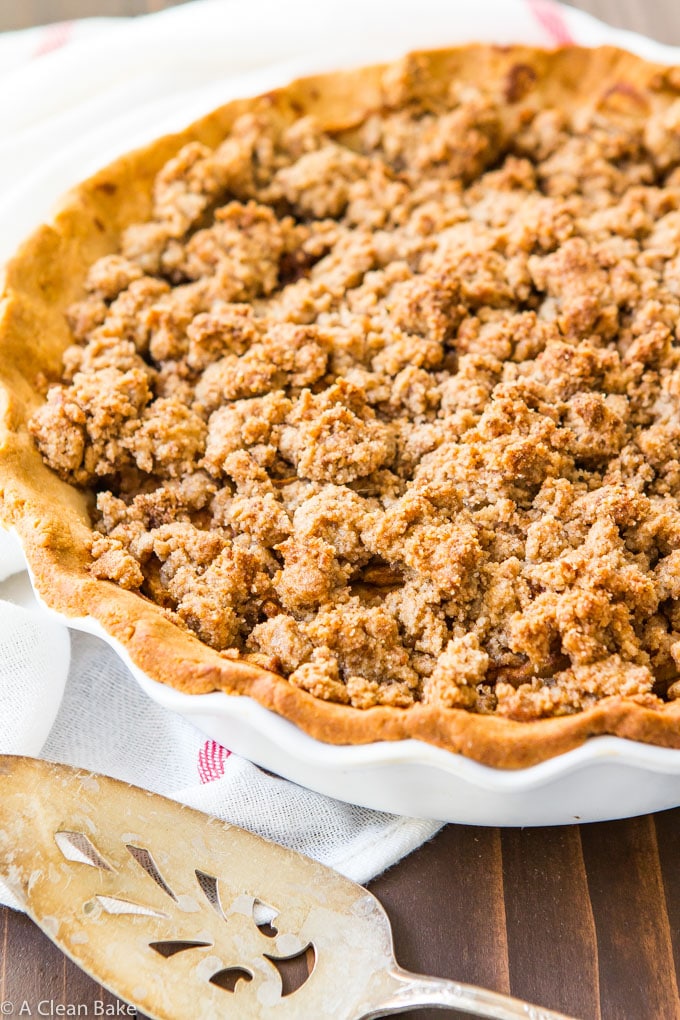 Paleo Apple Pie vs Regular Apple Pie
Maybe this is self-explanatory, but there are a couple of crucial differences between this and a traditional apple pie. While it looks pretty standard on the surface, rest assured it is (as always!) totally gluten free, grain free, refined sugar free, and paleo-friendly.
The crust
The pie starts with my go-to grain free crust recipe. It's newer to the site, made from a simple combination of almond flour, cassava flour, egg, butter (or shortening), and a pinch of salt. Plus, a few tablespoons of water to pull it all together.
You'll make the dough in the food processor (let the machines do the work!) and roll it out between two pieces of wax or parchment paper. Then carefully transfer it to the pie plate and pre-bake for 10 minutes.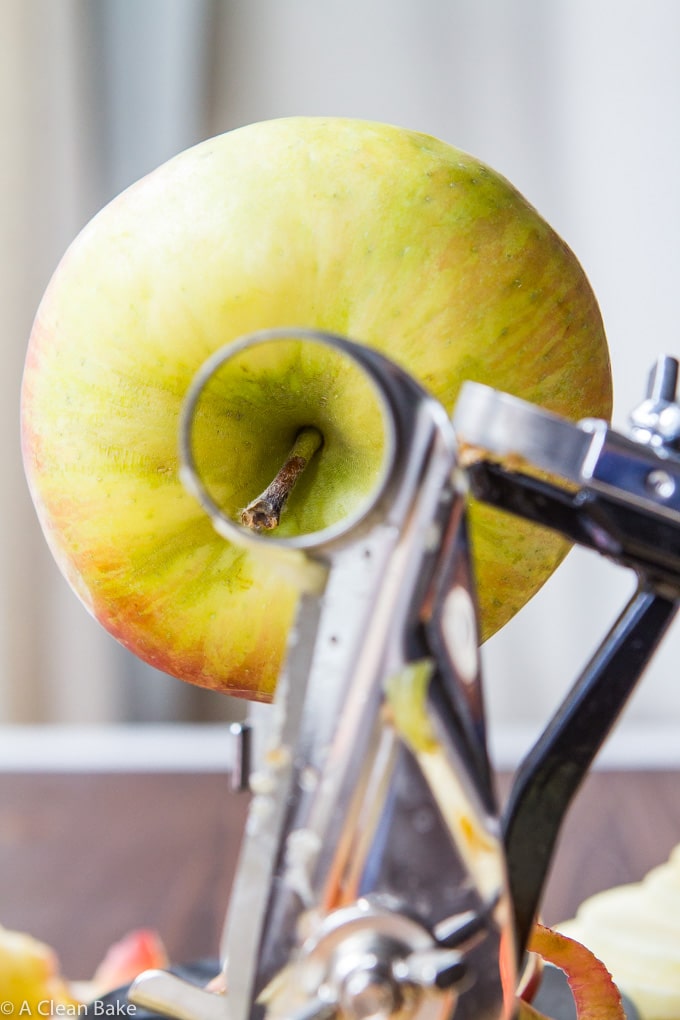 Why pre-bake?
Two reasons: First, because once the crust is filled with a thick layer of wet apple filling, it is harder for it to cook through. Pre-baking gives it a head start so that the crust is done when the filling is done
Second, because pre-baking provides sort of a shield against the moisture of the filling. Without a little bit of the sturdiness that baking provides, the crust may absorb too much moisture from the filling while it is baking and end up a mushy mess, instead of the layer of pie reinforcement that it should be.
This is a thin crust – just enough to support the apples without interfering – so it needs a little extra reinforcement.
How to pre-bake
Good question. The method is simple: Press the crust into the pan and trim the edges or fancy it up however you want to (crimp it between your thumb and first and second fingers, if you want). Then, cover the crust with a layer of lightly greased parchment paper. Do not use wax paper! The wax will melt into the pie crust. No, thanks.
Add your pie weights in to the cavity of the pie crust (the pie "shell") , on top of the parchment. What's that? You haven't felt the need to invest $10+ on a unitasker? That's ok. Me neither. Instead, I use dry kidney beans to fill my pie shells while they pre-bake. You casually find a 1-lb bag of them at the grocery store for around $0.99. A 90% savings? Yes please.
You can use any type of beans that you want, but I like kidney beans best because they are so large. But once you've used them as pie weights, don't eat them. Just let them cool completely and put them in a jar in the back of the cabinet for the next pie shell!

Next, the pie filling
It's a pretty standard filling that I modeled after the way I used to see my mom make her pies (I don't know if she ever used a recipe for the filling, actually, but I do!).
Start with peeled, cored, and sliced apples. I will admit that my hand crank peeler/corer/slicer is one of the very few unitaskers that I allow in my kitchen, but it is so worth it when you want to make apple pie. Otherwise, I guess you get a good arm workout!
I recommend semi-tart varieties of apples. I used Honeycrisp, Cortlandt, and Granny Smith for this pie and it turned out beautifully – sweet enough without being too one dimensional. If you want more information on how to choose apples for pie, check out my friend Kristen's in-depth tutorial.
You'll toss the prepared apples in a large bowl with coconut sugar (another paleo-friendly swap), fresh lemon juice (which brings out the sweetness), tapioca starch (which absorbs excess moisture in the filling), a ton of cinnamon, and… drumroll… a secret ingredient!

My secret ingredient for maximum apple flavor
Here's a trick for taking the apple-y-ness of your apple pie to the next level: dried apples. Because they are dried, their apple flavor is super concentrated, so they add exponentially more apple-y-ness (how do you spell that word?!) without extra bulk or moisture.
I chop them up pretty finely so that there are no awkward pieces in your bite of pie, and I swear, you don't even know they're there. You just taste maximum apple flavor.
You can find unsweetened dried apples online, or at Whole Foods or Trader Joe's. Target may also have them. Just make sure you are not using freeze dried. (When you find them, make sure to grab an extra bag so you can make apple pie paleola, too!)

Streusel me, baby
Once you've tossed together the quick filling, you're going to make the crumb topping. It is a simple streusel "mix dry, mix wet, combine" scenario, but once you're done – wow. It is heaven.
You'll want to eat it immediately, but resist! Muster all your self control and cover the pie with it. It is worth it, and you may never want to make a dough-lattice topped pie again once you've tried this streusel.
OK, that's everything.

A ton of information, I know, but since there are several components to this pie, I wanted to walk you through it! Thanks for sticking with me through almost 1,000 words about pie.
Now, let's bake!
For a quick recipe video, click here for our new web story!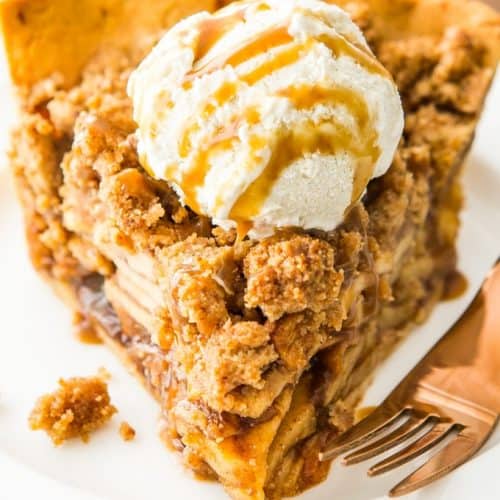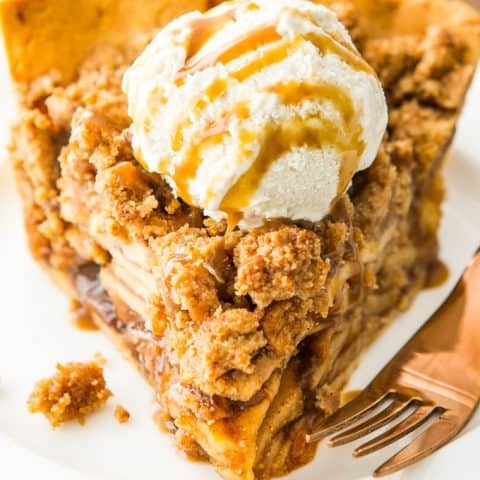 Paleo Apple Pie with Crumb Topping
Total Time:
1 hour
10 minutes
Paleo apple pie is much easier to make than you'd think when you fill a reliable grain free and low carb crust with three kinds of apples, warm cinnamon, and rich coconut sugar, and top it all with a thick layer of luscious crumb topping! Finish it with a dollop of ice cream and a drizzle of caramel sauce. No one will believe it's gluten free, grain free, and dairy free! 
Ingredients
Ingredients for the pie
7 cups apple slices, (about 6-7 semi-tart apples peeled, cored, and sliced)
1/2 cup coconut sugar
1/3 cup chopped dried apples
2 Tablespoons tapioca flour
1 Tablespoon cinnamon
2 teaspoons fresh lemon juice
Pinch fine sea salt
Ingredients for the Crumb Topping
1 cup blanched almond flour
3 Tablespoons coconut sugar
1 Tablespoon coconut flour
1/2 Tablespoon cinnamon
1 pinch fine sea salt
1/4 cup coconut oil, melted
1/4 cup maple syrup
Ingredients for finishing (optional)
1 large egg
1 Tablespoon milk of choice or water
Caramel sauce
Vanilla or cinnamon ice cream
Instructions
Make the crust
Prepare the crust according to these instructions, including pre-baking 15 minutes.
Keep the oven preheated to 350F.
Make the filling
In a large mixing bowl, toss together all of the ingredients until well combined.
Pour the filling into the pre-baked and cooled pie shell and use a spatula to spread it into an even layer. Set aside.
Make the crumb topping
In a medium mixing bowl, whisk together the almond flour, coconut sugar, coconut flour, cinnamon and salt. Set aside.
In a small bowl, whisk together the oil and maple syrup.
Pour the wet mixture over the dry mixture and stir to combine.
Use a spoon or your fingertips to drop dollops of crumble all over the top of the pie, covering all of the apples. Note: the crumble will be wetter than you may expect before it has baked! That's normal.
Optional step: Whisk an egg with 1 Tablespoon of milk or water to create an egg wash. Brush the edges of the crust. This will produce a golden brown crust, but will also make it crisper. For a more tender edge, skip this step.
Bake for 30 minutes. Then loosely cover the edges of the crust with tinfoil (or a shield) and bake for another 30 minutes or so, until the top is golden.
Cool completely (or mostly) before serving.
Nutrition Information:
Yield:

10
Serving Size:

1 Slice
Amount Per Serving:
Calories:

540
Total Fat:

32g
Saturated Fat:

15g
Trans Fat:

0g
Unsaturated Fat:

15g
Cholesterol:

46mg
Sodium:

125mg
Carbohydrates:

58g
Fiber:

7g
Sugar:

41g
Protein:

9g
Check out more paleo recipes here!